Zastryzny allows one hit in five scoreless frames
Cubs pitching prospect picks up first AFL win in 4-2 victory over Salt River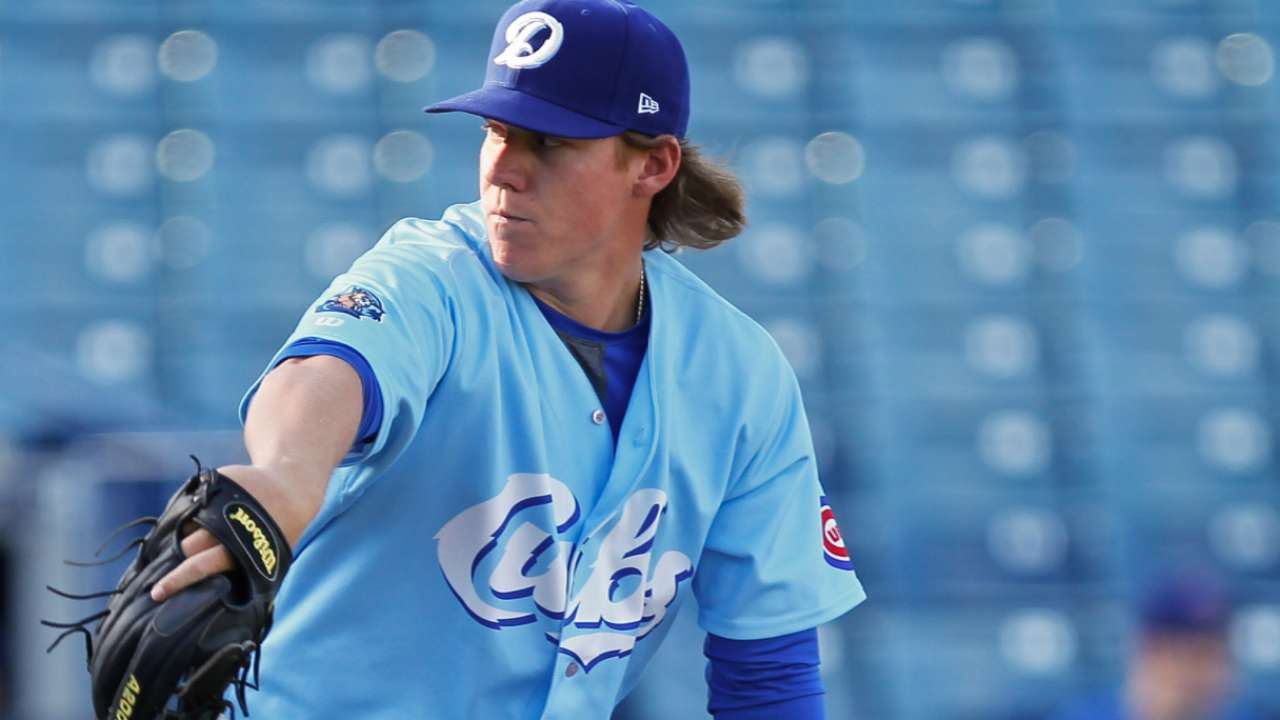 SCOTTSDALE, Ariz. -- Rob Zastryzny's first season in Double-A might not have gone as he had hoped, but the left-hander is making noticeable strides in the Arizona Fall League.
The Cubs' No. 25 prospect turned in his best start of the Fall League and arguably his best outing of the year on Thursday night, allowing only one hit in five scoreless innings as Mesa defeated Salt River, 4-2, at Salt River Fields. Zastryzny issued only one walk and struck out three in the outing, throwing 39 of his 64 pitches for strikes.
Overall, the 23-year-old has pitched to a 4.74 ERA with 21 strikeouts in 19 innings over five outings (four starts) for the Solar Sox.
Zastryzny is using the Fall League to make up for the time he lost during the regular season due to three separate stints on the disabled -- each one stemming from the same injury -- at Double-A Tennessee.
Zastryzny was struck on the foot by a comebacker during the first month of the season, and, after attempting to rehab and pitch through the injury, was ultimately diagnosed with a broken bone in his foot. When he finally came off the shelf in late June, the southpaw experienced lingering discomfort in his foot, leading to two additional stints on the disabled list, the latter of which ended his season.
In terms of his performance, Zastryzny, who spent his 2014 full-season debut at Class A Advanced Daytona, lacked consistency from start to start at Tennessee as he struggled to pound the zone with quality strikes and work deep into games.
"It was a lot more mental," said Zastryzny about the jump from Daytona to Tennessee this past season. "The umpires' zones are a little bit smaller, you don't have guys making as many errors and the hitters have a lot better eyes. Baseball just becomes better."
Even though Zastryzny's foot injury bothered him for the duration of the season, the 2013 second-rounder did make some adjustments and had moments of success during the second half.
Those adjustments, he says, have been crucial towards his performance in the Fall League.
"My delivery was a little bit erratic, so I'd be falling behind or rushing my front side. [Tennessee pitching coach Storm Davis] did a good job getting it all condensed into one same motion that I could repeat over and over again, and it's paying off here."
Meanwhile, Zastryzny was quick to offer credit to Solar Sox catchers Willson Contreras, who departed the game in the bottom of the third inning after suffering an apparent leg injury while running to first base, and Stephen McGee for his success on Thursday night.
"You never want to say this and see a guy go down, but before Willson got hurt, he was working inside a lot," he said. "Then [McGee] came in and was working away. So I kind of had two different sequences for the hitters. It was kind of enlightening for it to happen to me tonight, especially against that kind of competition. It was pretty refreshing to do that."
With a little over two weeks remaining in the Fall League, Zastryzny has one thing on his mind: consistency.
"[The Cubs] wanted me to come out here and get innings, and I asked them what they want me to work on and they said, 'Just go be successful and do what you can to be good.'"
Offensively, the Solar Sox backed Zastryzny's impressive outing by scoring four runs on 12 hits.
Marlins No. 6 prospect Austin Dean had a big game from the bottom of the order, going 3-for-4 with a triple and two runs scored, while A's No. 21 prospect Jaycob Brugman went 2-for-4 with a double and a run scored out of the leadoff spot.
Rays No. 24 prospect Jake Bauers and Angels first baseman Eric Aguilera also collected two hits each for the Solar Sox, with Bauers also tallying an RBI in the contest.
Mike Rosenbaum is a reporter for MLB.com. Follow him on Twitter at @GoldenSombrero. This story was not subject to the approval of Major League Baseball or its clubs.