Mariners in AFL: Peterson enjoying second tour
Slugger adjusting to first base, bouncing back from tough season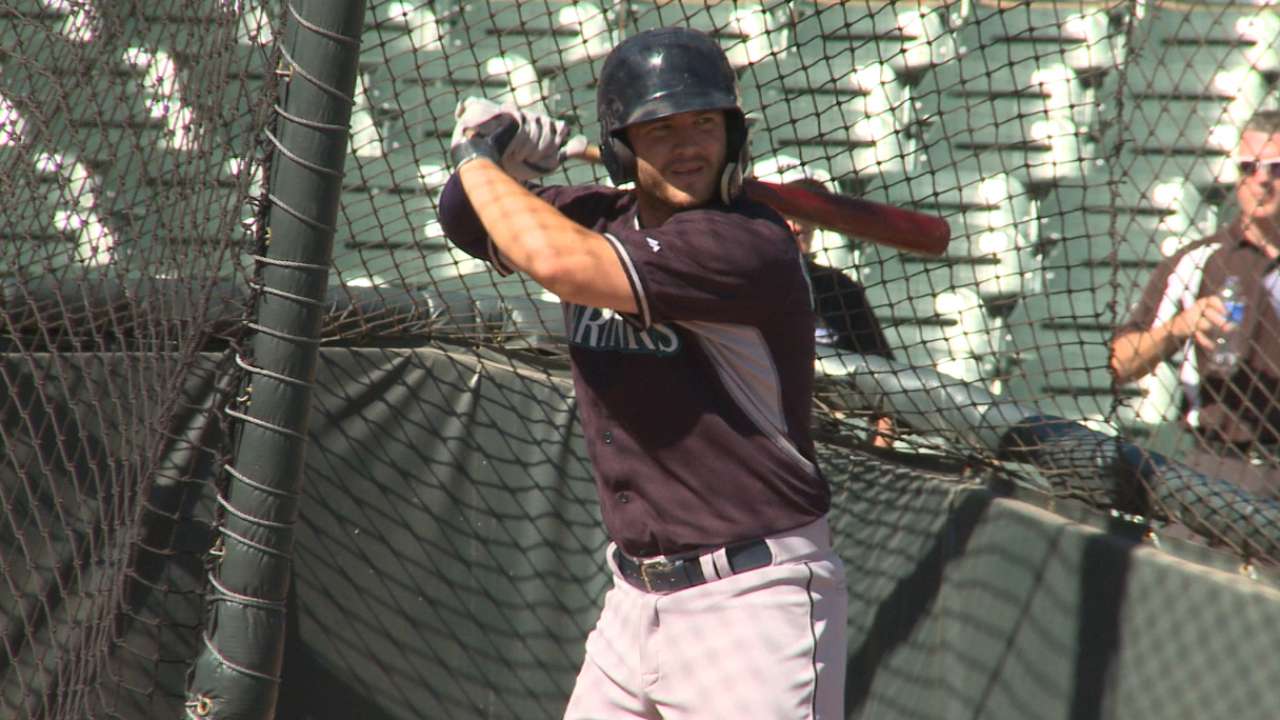 After a frustrating season in the Minor Leagues, D.J. Peterson is looking to get back on track in his second tour of the Arizona Fall League.
Just a year ago, the Mariners' No. 3 prospect was playing in the Fall League after a monstrous season in which he hit .297/.360/.552 with 31 home runs, 31 doubles and 111 RBIs in 123 games between Class A Advanced High Desert and Double-A Jackson. Although he struggled during his time in the Fall League, his dangerous bat still appeared to have him on the fast track to the Major Leagues.
However, the 23-year-old was unable to replicate his impressive 2014 campaign this past season, hitting just .223/.290/.346 with seven home runs over 93 games back in the Southern League. He did show signs in late July of finally turning things around at the plate, which prompted the Mariners to try to accelerate the process with a promotion to Triple-A Tacoma, having him finish the season in the hitter-friendly Pacific Coast League.
But the 2013 first-rounder's time at the Minors' highest level was ultimately short-lived, as he logged just four games with the Rainiers before landing on the disabled list with a season-ending Achilles injury.
"Toward the end of the year I felt like I was getting my feet back and my swing back," Peterson said. "So it was frustrating to have things end like that."
Now fully healthy, Peterson is making up for his lost time in the Fall League and addressing some of the issues which hurt his production during the regular season. "I'm focusing on and emphasizing hitting the ball to right-center," said the University of New Mexico product when asked what he's working on in the Fall League this season. "This year I got a little pull-happy and people were putting shifts on me, and it took away a lot of hits."
The 6-foot-1, 210-pounder is also working diligently to improve his defense at first base after playing a career-high 59 games at the position during the regular season.
"I'm continuously getting after it every day, doing early work over there," he said. "During Spring Training I showed up early every day and really worked at first base, because I hadn't played there much in the Minors. So I'm going to keep doing that and showing up early to get better at first base."
"I feel very comfortable over there," he added. "I played a lot of first base in college, so I feel pretty comfortable over there."
Meanwhile, Peterson is making sure to enjoy himself this time around after scuffling in the AFL last year.
"This a fun league and last year my tongue was dragging a little bit," he said. "This year it isn't after I missed the last month, so I'm excited to have fun."
Mariners pitchers in the Fall League
• Paul Fry, LHP -- A 17th-round Draft pick in 2013, Fry is having his season extended in the Fall League after a breakthrough campaign in which he posted a 2.03 ERA with 113 strikeouts in 80 innings (50 appearances) between Class A Advanced Bakersfield and Jackson.
• Ryan Horstman, LHP -- Horstman spent a majority of the 2015 season on the disabled list, logging just 13 2/3 innings across three levels. Having spent significant time on the shelf in each of his first three seasons since the Mariners selected him in the fourth round of the 2013 Draft, the 23-year-old lefty will enter 2016 with only 22 1/3 professional innings -- and no experience above the Class A level -- under his belt.
• James Paxton, LHP -- One of the more notable big leaguers in this year's Fall League, Paxton is building up innings as well as his arm strength after missing nearly four months during the regular season due to a strained tendon in his left middle finger. The 26-year-old lefty is 12-8 with a 3.16 ERA in 30 career starts for the Mariners.
• David Rollins, LHP -- Nabbed from the Astros' system in last year's Rule 5 Draft, Rollins, the Mariners' No. 27 prospect, spent the entire season on the active roster thanks in part to an 80-game suspension he received for testing positive for a performance-enhancing substance. The left-hander ultimately made 20 appearances out of Seattle's bullpen, recording 21 strikeouts in 25 innings.
Mariners hitters in the Fall League
• Tyler Smith, SS -- A 2013 eighth-rounder out of Oregon State, Smith continued to hit for average (.271) and reach base at a high clip (.361) this year in the Southern League, but, as expected, his power numbers were down compared to his 2014 campaign in the hitter-friendly California League. The 24-year-old shortstop also made strides defensively, committing 12 errors in 87 games at the position.
• Dario Pizzano, OF -- The 24-year-old outfielder was hitting .308/.366/.457 through 58 games in the Southern League before his season came to an abrupt end in late June landing after spraining a ligament in his hand on a check swing. Pizzano is getting his first taste of the Fall League after replacing outfielder Tyler O'Neill on Peoria's roster.
Mike Rosenbaum is a reporter for MLB.com. Follow him on Twitter at @GoldenSombrero. This story was not subject to the approval of Major League Baseball or its clubs.