Giants' Williamson gets going early in AFL win
Club's No. 13 prospect doubles, picks up pair of RBIs for Scottsdale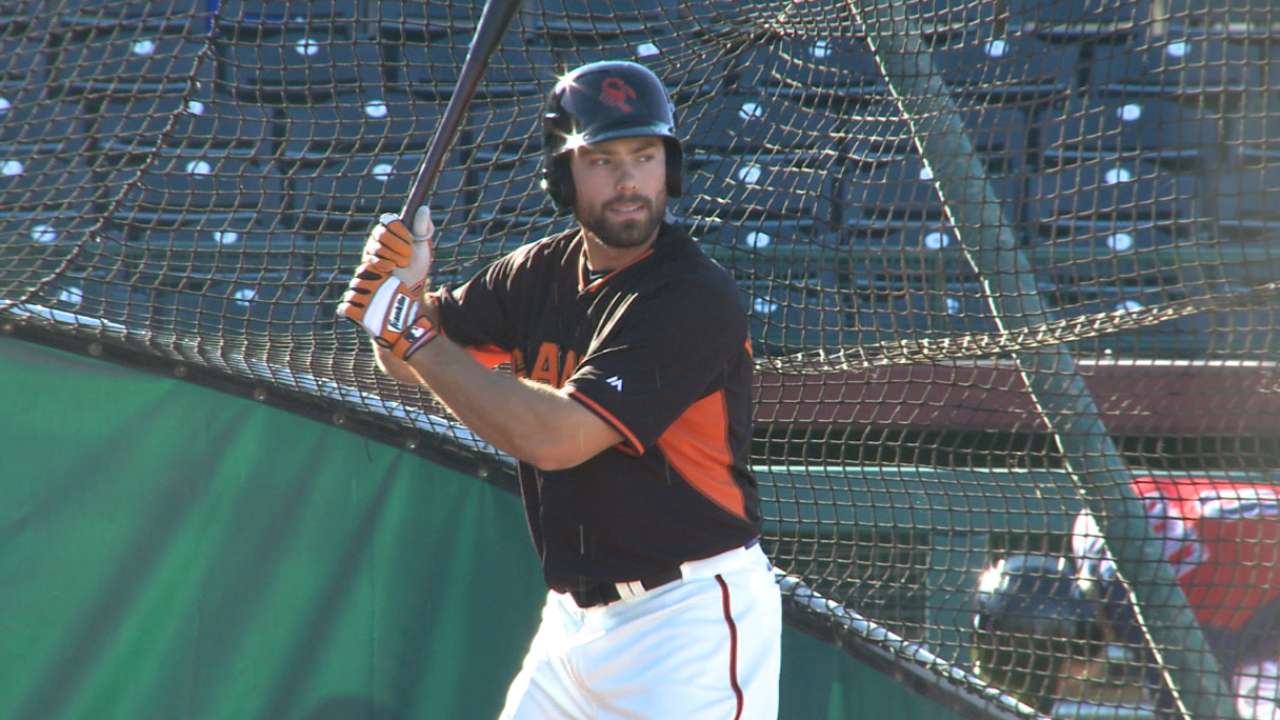 SCOTTSDALE, Ariz. -- After getting his first taste of the Major Leagues in September, Mac Williamson is playing like a big leaguer in the Arizona Fall League.
The Giants' No. 13 prospect added to his impressive fall campaign on Wednesday, going 1-for-2 with a double, walk and two RBIs as Scottsdale defeated Peoria, 5-2, at Scottsdale Stadium.
With hits in six straight games for the Scorpions, Williamson ranks among the Fall League leaders with a .378 average (tied-second) and 1.051 OPS (second) through 12 games. The 25-year-old outfielder also has three doubles, two home runs and eight RBIs in that span, during which he's also accrued more walks (nine) than strikeouts (six).
"I feel good," Williamson said after the game. "At the end of the year in Triple-A, I worked a lot with our hitting coach Andy Skeels trying to get some mechanics stuff right and get in a good position to hit. Coming back out here, Andy has been in and out and [Scottsdale hitting coach Chad Allen] has been working with me every day."
Williamson's first trip to the plate on Wednesday was a strong indicator of how he feels at the plate right now. In what was the at-bat of the day, the right-handed hitter battled Mariners left-hander James Paxton -- who has spent parts of the last three seasons in the Major Leagues -- for 11 pitches before finally lacing an RBI double down the left-field line.
"We faced him two weeks ago at their place, and he threw really well, commanding the inside part of the plate and keeping hitters off balance by changing speeds," said Williamson about the Javelinas' starting pitcher.
"Going into today, I was trying to think back about what he did well last time and then put together a good plan from that. He threw some really good pitches in that at-bat which I was able to foul off and buy myself another pitch. He left two changeups up that I think he meant to throw down a little more. One of them I pulled foul, the other one I kept fair for the double."
Williamson hit 25 home runs during his 2013 full-season debut at Class A Advanced San Jose, but logged just 23 games there the following year before undergoing Tommy John surgery.
"I actually hurt my elbow during Spring Training on this field," said Williamson, whom the Giants selected in the third round of the 2012 Draft out of Wake Forest. "We tried to rehab it and so I DHed back in San Jose for the first month or so, but it didn't look like the long-term outlook was going to be good, and I wanted to get it taken care of before I was on the cusp and having to deal with it there."
However, the 6-foot-4, 240-pound outfielder bounced back in a big way this past season, beginning the year at Double-A Richmond before moving up to Triple-A Sacramento. Williamson batted .275/.368/.433 with 13 home runs, 28 doubles and 73 RBIs in 123 games between the two levels to earn a callup with the Giants in September.
"Getting a chance up in the big leagues was something I didn't think would happen this year," he said. "Obviously it was a dream come true."
Williamson appeared in 10 games with the Giants during the final month of the regular season, collecting seven hits in 32 at-bats (.219 average).
"I started off pretty good when I got called up in September but then changed some things inadvertently and got out of whack and didn't feel very comfortable," he said.
Although Williamson didn't perform as well as he had hoped in his first taste of the big leagues, it certainly didn't detract from his overall experience.
"Being around all those guys, they're all championship-caliber players who've won the World Series two or three times. So I tried to soak up as much as I could for the time being, and hopefully I get back there at some point next season."
Mike Rosenbaum is a reporter for MLB.com. Follow him on Twitter at @GoldenSombrero. This story was not subject to the approval of Major League Baseball or its clubs.