Torii made impact on teammates, managers
Morneau, Molitor among those on hand at Hunter's retirement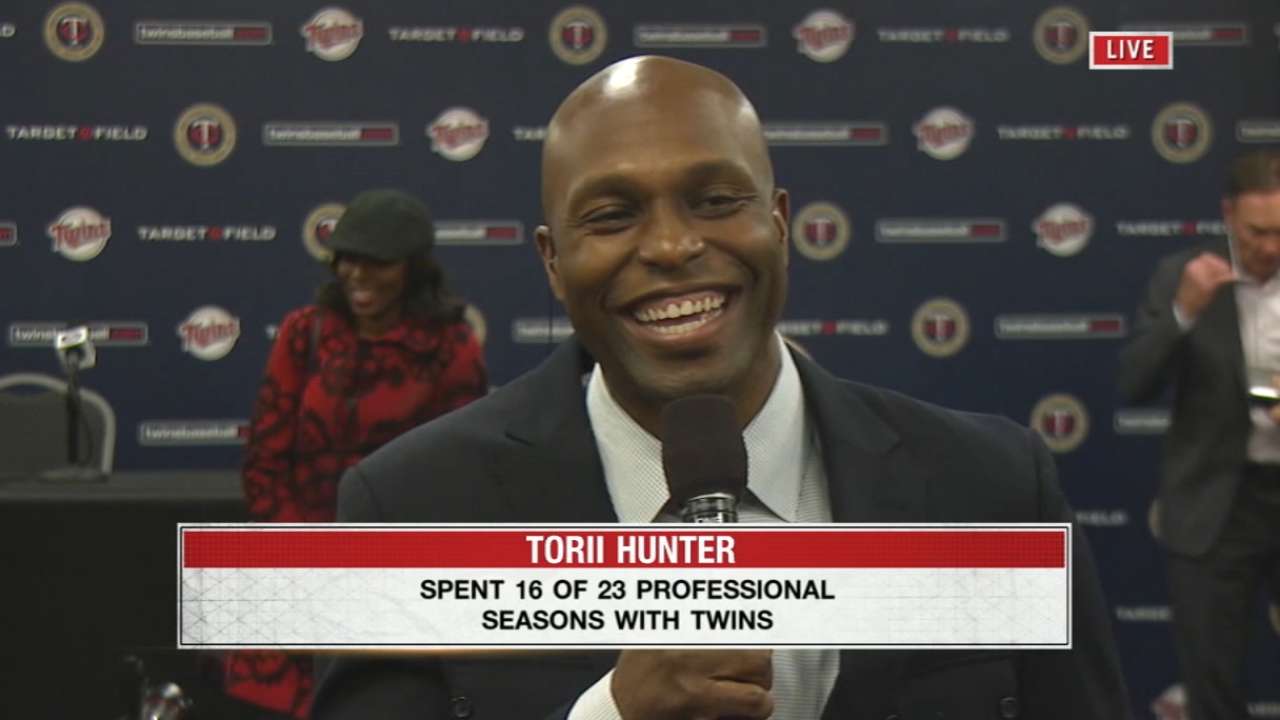 MINNEAPOLIS -- As Torii Hunter sat at the podium at Target Field for his retirement press conference on Thursday, he was flanked by Twins manager Paul Molitor and general manager Terry Ryan.
But they were far from the only ones there to support Hunter, as his former teammates Joe Mauer, Justin Morneau and Corey Koskie were in attendance as well as former manager Tom Kelly. Twins owner Jim Pohlad and team president Dave St. Peter were also there, as Hunter left an enormous impact on the organization and the community in his 12 years in Minnesota, including the final year of his career in 2015.
• Torii retires with no regrets, plenty of thanks
"It's special for me to be here today and be a part of this," said Molitor, who was both Hunter's teammate and manager. "He made this year special for me. But I don't think anybody, from Terry, to the Pohlad family, to myself, thinks we're going to replace Torii. There's a uniqueness there about what he brings."
Morneau, currently a free agent after the Rockies declined his option for 2016, surprised Hunter by being at the press conference, but Morneau said it was important to be there to support his former teammate. Morneau and Hunter played together from 2003-07 before Hunter joined the Angels as a free agent in '08.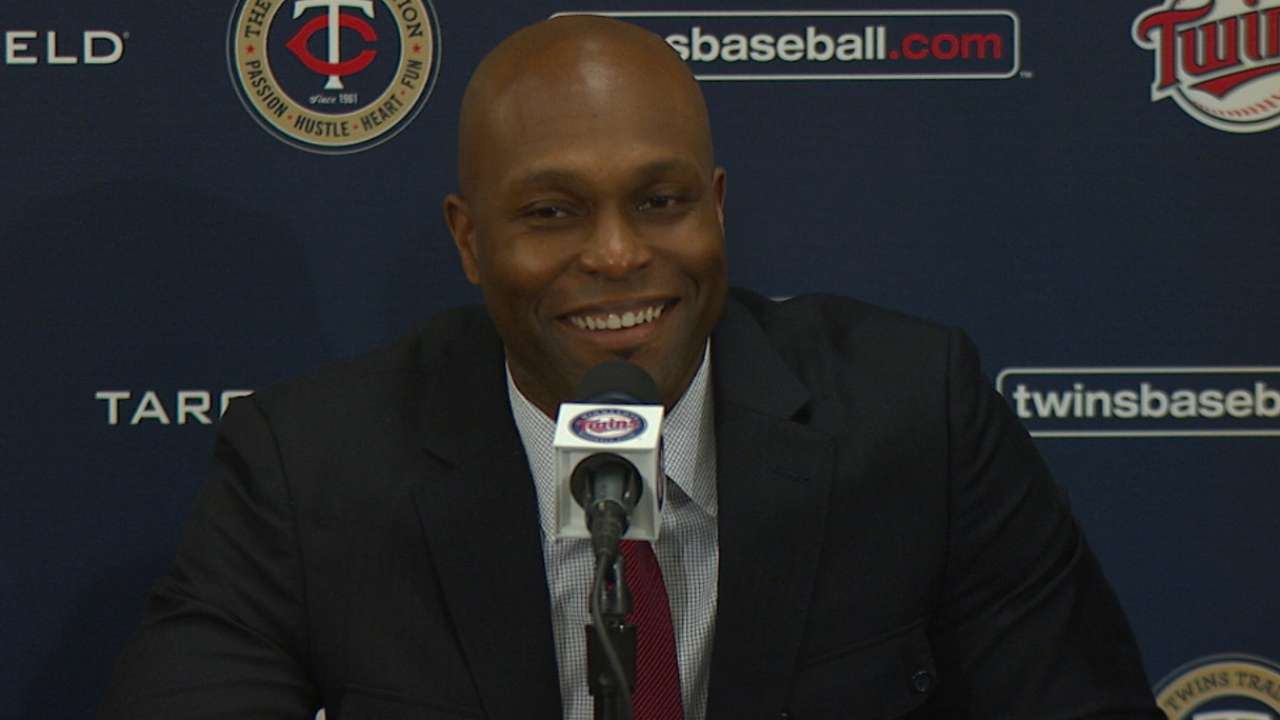 "He's one of those guys that saw me come up as a young kid, as a 22-year-old, and knew what it was like to come up at that age," Morneau said. "So just to be around a guy like that, a professional, he's a guy that would run through a wall for you. So when guys like that set an example, it's easy to follow."
Koskie was also honored to be there, as he counts Hunter as one of his best friends in baseball. Hunter said the core of Jacque Jones, LaTroy Hawkins, Eddie Guardado and Koskie remain close, as they all came up together through the Twins' system. Koskie, who played with Hunter from 1998-2004, said one of the things he admired about Hunter was his level-headedness and his propensity to treat everyone as equals.
"Torii was internally motivated so even if he was hitting .212, you didn't know if he was hitting .212 or .280," Koskie said. "He was the same guy. He respected everybody."
Kelly, like Koskie, saw Hunter as a young player, as Hunter made his debut in 1997, but didn't establish himself as a regular until '99 and didn't have his breakout season until '01. Kelly, who managed Hunter from '97-01, was proud to see Hunter's potential come to fruition.
"You saw the potential, but potential is a shaky word and one I don't like because you got to see the results on the field," Kelly said. "But Torii had all the potential in the world and it finally came together for him with time and maturity and growth. And so now, you really appreciate what he did in that clubhouse and how he's passed the torch."
As Kelly noted, Hunter served as a mentor to countless players throughout his career, and Molitor said that Hunter's leadership qualities will be missed going forward.
"Torii talked a lot about how man sharpens another, and he did a lot of the sharpening," Molitor said. "And he got some back along the way. But that's going to be tough. The things that were small that contributed to winning and the emotion we played with were a direct effect of Torii being here. Torii's contributions were instrumental."
Rhett Bollinger is a reporter for MLB.com. Read his blog, Bollinger Beat, follow him on Twitter @RhettBollinger and listen to his podcast. This story was not subject to the approval of Major League Baseball or its clubs.