Harvey named NL Comeback Player of the Year
Returning ace tallies career high in innings, posts 2.71 ERA for Mets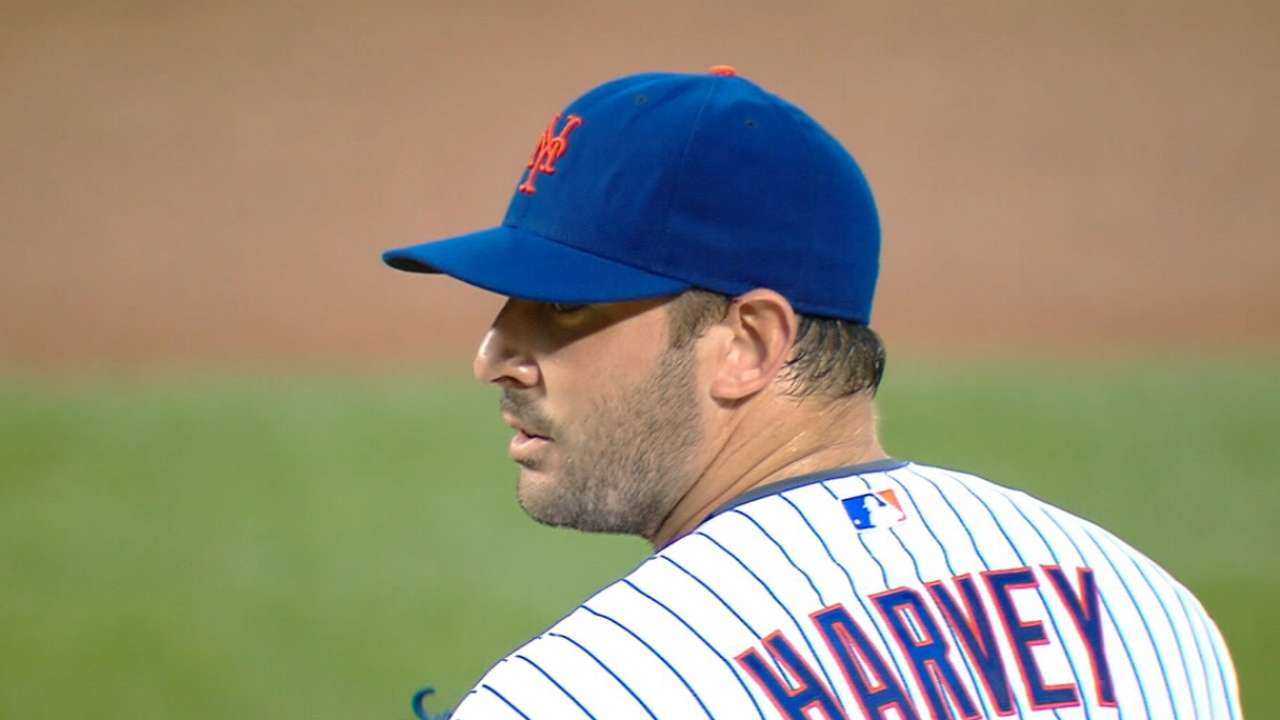 NEW YORK -- For all the issues and all the drama, Mets right-hander Matt Harvey's performance spoke loudest in the end. Major League Baseball on Thursday named Harvey the National League Comeback Player of the Year, an award presented annually to one player in each league who reemerged during the season. The Rangers' Prince Fielder won in the American League.
MLB.com's 30 club beat reporters selected the winners from a list of 30 candidates, one per club.
Harvey, 26, set career highs with 29 starts and 189 1/3 regular-season innings after missing all of 2014 due to Tommy John surgery, finishing 13-8 with a 2.71 ERA. He made four more starts and threw an additional 26 2/3 innings in the postseason.
"Leading into the season, you don't know what to expect," Harvey said during the postseason. "Obviously going from zero innings, I couldn't be happier. I think the best thing and the most positive thing is how I feel after the 200-inning mark, and quite honestly, it's probably better than I did at the 100 mark.
"For me, the season was obviously an extreme success, just being healthy, playing, going out there every fifth day or whenever it was and being healthy and being where we are now. I don't think anybody's happier at that than I am."
Such gaudy innings totals seemed unlikely in September, when agent Scott Boras suggested Harvey's season should be capped at 180 innings, and the pitcher initially agreed.
Eventually, amidst significant public backlash, Harvey vowed to pitch without restrictions in the postseason. He went 2-0 with a 3.04 ERA in four starts, though the enduring image of Harvey's postseason will be manager Terry Collins' decision to leave him in for the ninth inning of World Series Game 5. With a two-run lead, Harvey allowed a walk and a double, and the Royals went on to win the game and the Series.
"It was a no-win situation," Collins said Wednesday. "If I bring in [closer Jeurys] Familia and he gives up two, 'You're an idiot -- you should have left Matt in.' If Matt gives up the runs, 'You should have brought Familia in.' It was a no-win situation. And I've come to understand that. That's why I said: 'You know what? We made a decision. It didn't work. Let's get ready for next year.'"
Next year, Collins said, will include no innings restrictions for Harvey, who is under team control for three more seasons. He is 25-18 with a 2.53 ERA over his first three years in the big leagues.
"I think it's great," Harvey said. "As a starting pitcher and being a younger guy, I think getting to that 200-innings limit is something you always look for. You want to be a horse and go out there. You look at guys who have thrown 230 innings year after year after year. That's who I've always wanted to be.
"Once I decided I wanted to have surgery, all those doubts and thoughts -- and especially negative thoughts -- definitely went out the window. I knew I was going to go see the best surgeon in the world and have the best staff behind me and training program. From then on, it was kind of a no-doubter that I knew I'd be back."
Past winners of the Comeback Player of the Year Awards include: Casey McGehee and Chris Young (2014); Francisco Liriano and Mariano Rivera ('13); Fernando Rodney and Buster Posey ('12); Jacoby Ellsbury and Lance Berkman ('11); Liriano and Tim Hudson ('10); Aaron Hill and Chris Carpenter ('09); Cliff Lee and Brad Lidge ('08); Carlos Peña and Dmitri Young ('07); Jim Thome and Nomar Garciaparra ('06); and Jason Giambi and Ken Griffey, Jr. ('05).
Anthony DiComo is a reporter for MLB.com. Follow him on Twitter @AnthonyDiComo and Facebook, and listen to his podcast. This story was not subject to the approval of Major League Baseball or its clubs.