MLB.com Columnist
Bill Ladson
Baker introduced as Nationals' new manager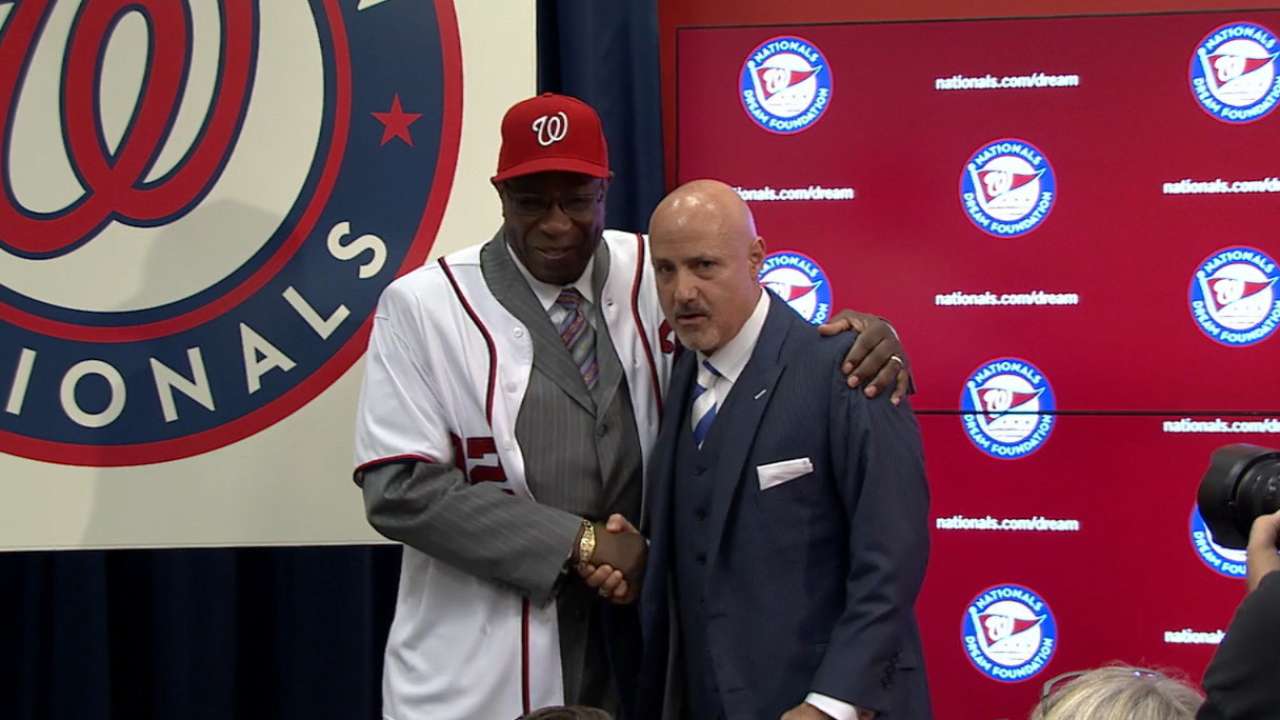 WASHINGTON -- The Nationals made it official Thursday morning by introducing Dusty Baker as their manager for the next two years.
Baker, 66, declined to call himself old, instead saying he was experienced. On this day, he was affable and dropping names, mentioning people from Barack Obama to Stevie Wonder. The bottom line is, Baker hopes to take Washington to the next level, and that's win the World Series.
Even though he hasn't managed a game in Washington, Baker called the Nationals the most talented team he had to deal with. It helps that the team has Bryce Harper and Max Scherzer on the roster.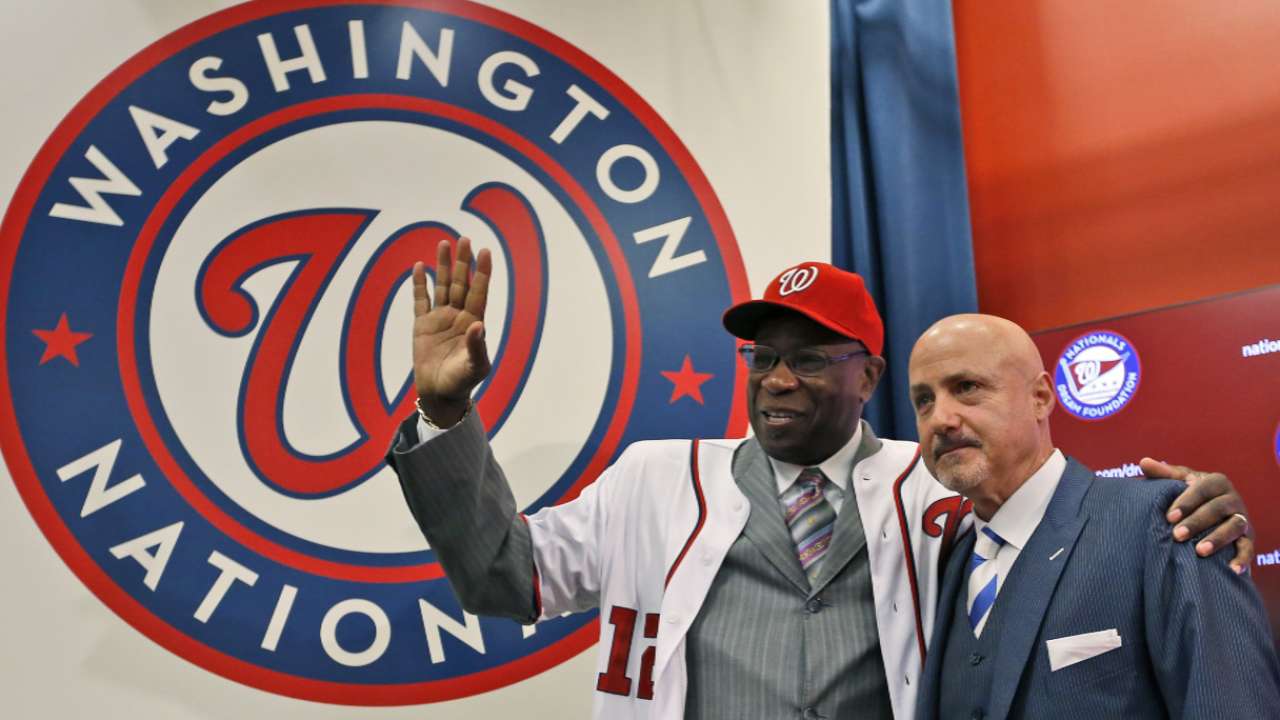 "This is my fourth and final team. Beyond compare, this is the best talent. That's why I was excited about coming here," Baker said. "Most of the other teams that I had were either on the bottom or near the bottom and [we] had to rebuild them from the bottom. …
"There's some big talent [here]. They have young talent here, some mixture of youth and experience at the same time. I always liked that formula. The youth gives you energy, they do crazy stuff. Hopefully, the veteran players can give some of their wisdom and knowledge they have acquired over the years -- on and off the field."
Baker wants to bring a brotherhood into the clubhouse. Basketball great Bill Russell and NFL Hall of Famer Bill Walsh taught Baker that a close relationship between the players brings a winning atmosphere.
"They told me a team has to be close," Baker said. "I can bring X's and O's. … They said love was the key. I was shocked they told me that. I want to get this team together as soon as possible -- top to bottom. The great teams that I have been on and the organizations I've been in, everybody had a positive attitude."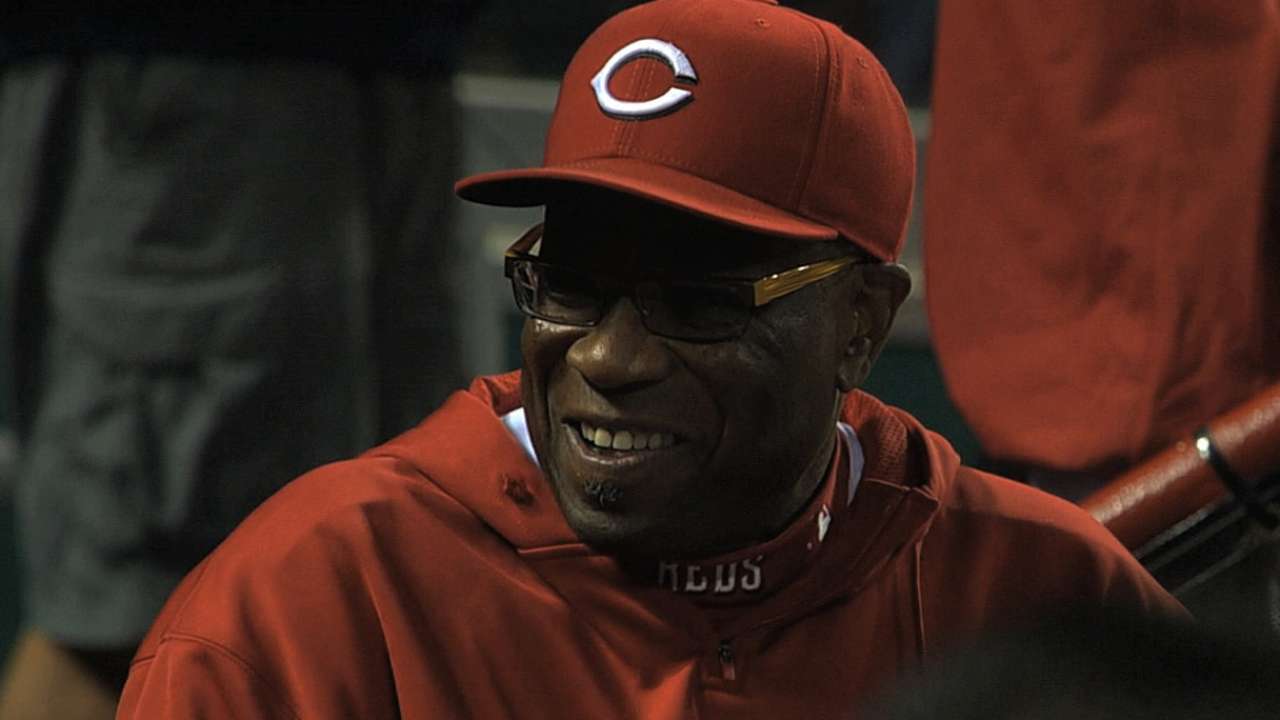 At first, Baker didn't think he was going to manage the Nats. He was on a book tour last week when he learned from his wife that Bud Black had the job, according to published reports.
Baker acknowledged that he was bewildered as to why no one from the Nationals called to inform him he didn't get the job. Baker later learned the Nats hadn't yet made their decision.
Then Baker received a call from managing principal owner Ted Lerner, who said that Baker was not out of the running and there was a good chance he would become manager of the team. Baker was named the manager of the Nationals on Monday.
"When things leak out and the media runs with it, there's not a whole lot we can do about it," Nationals general manager Mike Rizzo said. "It was a unique situation. … At the end of the day, it did not come down to money, it did not come down to terms. It came down to who we were most comfortable with. Dusty was the right choice. ... The negotiation process tells you a lot about the people that you are negotiating with. As we discussed baseball in the interview process and parameters and financial process, we came to the conclusion that Dusty Baker was the perfect guy for us."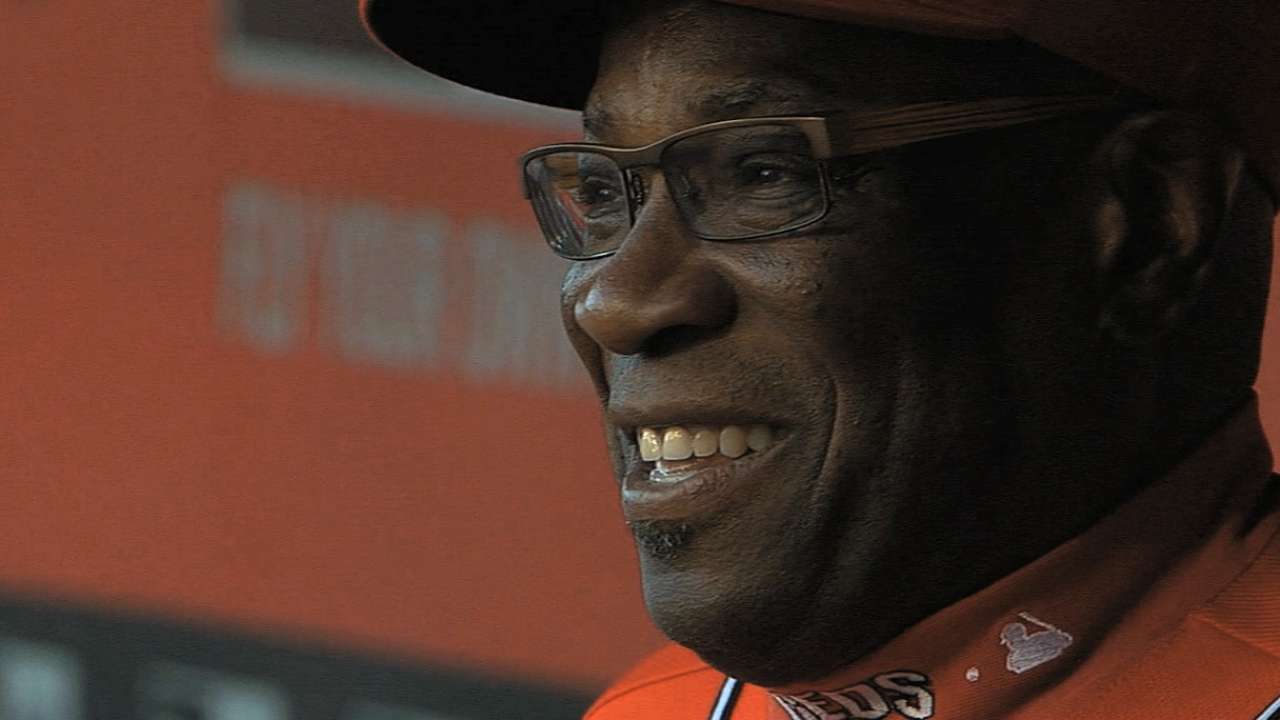 Rizzo wanted a manager with a deep resume and a history of winning. Baker, who replaces Matt Williams, has 20 years of experience with the Giants, Cubs and Reds, with a career record of 1,671-1,504, five division titles and a National League pennant with San Francisco in 2002.
Baker is 17th on the all-time managerial wins list, and he will be second only to Giants skipper Bruce Bochy (1,702) among active managers.
Baker is a three-time NL Manager of the Year Award winner in 1993, '97 and 2000 -- all with the Giants. He last managed in '13 with the Reds, guiding them to the NL Wild Card Game against the Pirates, where they lost, 6-2.
Capturing a World Series title as a manager is important to Baker, who wants to win a ring that has eluded him over the years. The closest he came was in 2002 with the Giants, who lost in seven games to the Angels.
"His strengths are plentiful. He does everything you need to do to become a successful manager," Rizzo said. "He is famous for the handling of the players and the handling of the clubhouse. But when you look farther and you dig deeper and you watch the man navigate nine innings of a baseball game, it is truly something to watch when you are looking in depth."
Bill Ladson is a reporter for MLB.com. This story was not subject to the approval of Major League Baseball or its clubs.