Bautista nabs 4 MLB Awards nominations
Jose Bautista led the Blue Jays throughout their memorable postseason run, and the star outfielder has been nominated for a number of 2015 Esurance MLB Awards for his playoff performance.
Bautista is nominated for four awards: Best Major Leaguer in the Postseason, Best Offensive Play, Best Player-Fan Interaction and Best Social Media Post.
• Is Bautista #AwardWorthy? Vote now for Best Major Leaguer, Postseason
The Blue Jays were also nominated for Best Trending Topic for their wild seventh inning in Game 5 of the American League Division Series against the Rangers.
Longtime Blue Jays fan and Rush frontman Geddy Lee is a nominee for Best Celebrity Fan. Lee relished the chance to experience postseason baseball in Toronto for the first time since 1993, and he was seen in his usual seat behind home plate with his customary scorebook throughout October.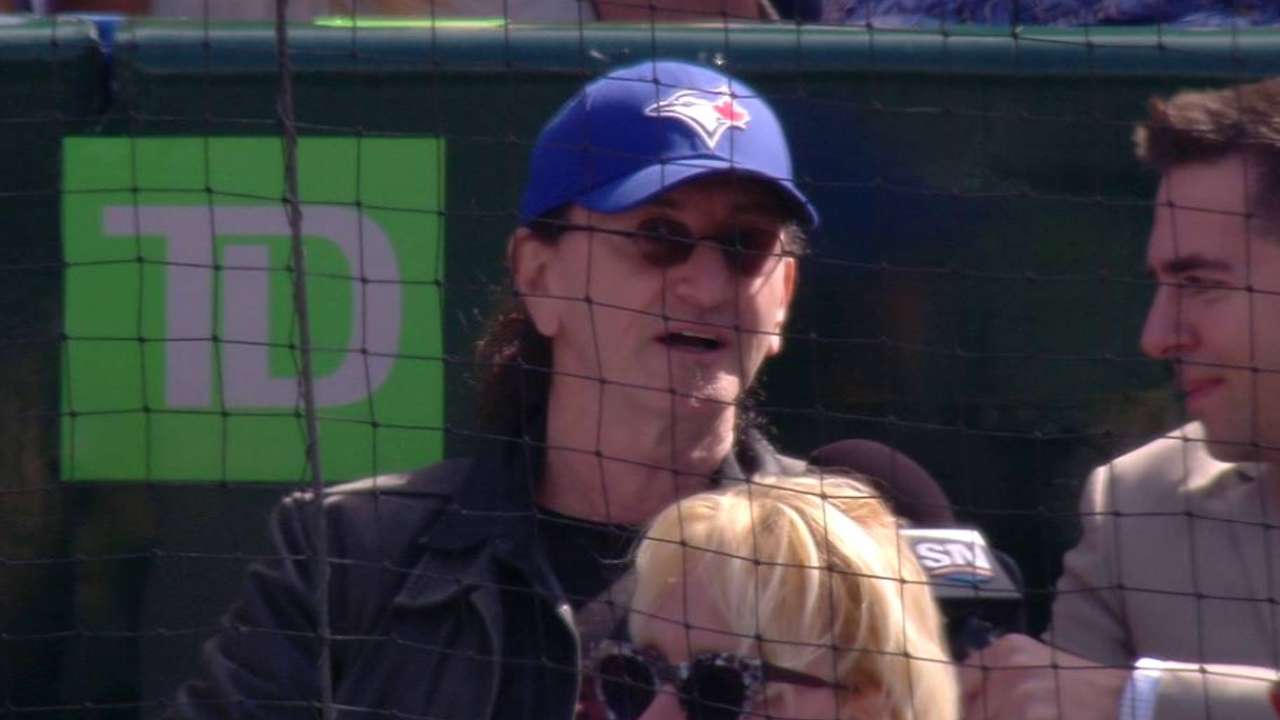 Bautista had a great postseason, reaching base in all 11 of the Blue Jays' games and batting .293 with four homers, each of which proved to be clutch. The slugger got a nod for Best Offensive Play for his go-ahead homer in the bottom of the seventh inning in Game 5 of the ALDS against the Rangers, which was arguably the franchise's biggest home run since Joe Carter's World Series-winning blast in 1993.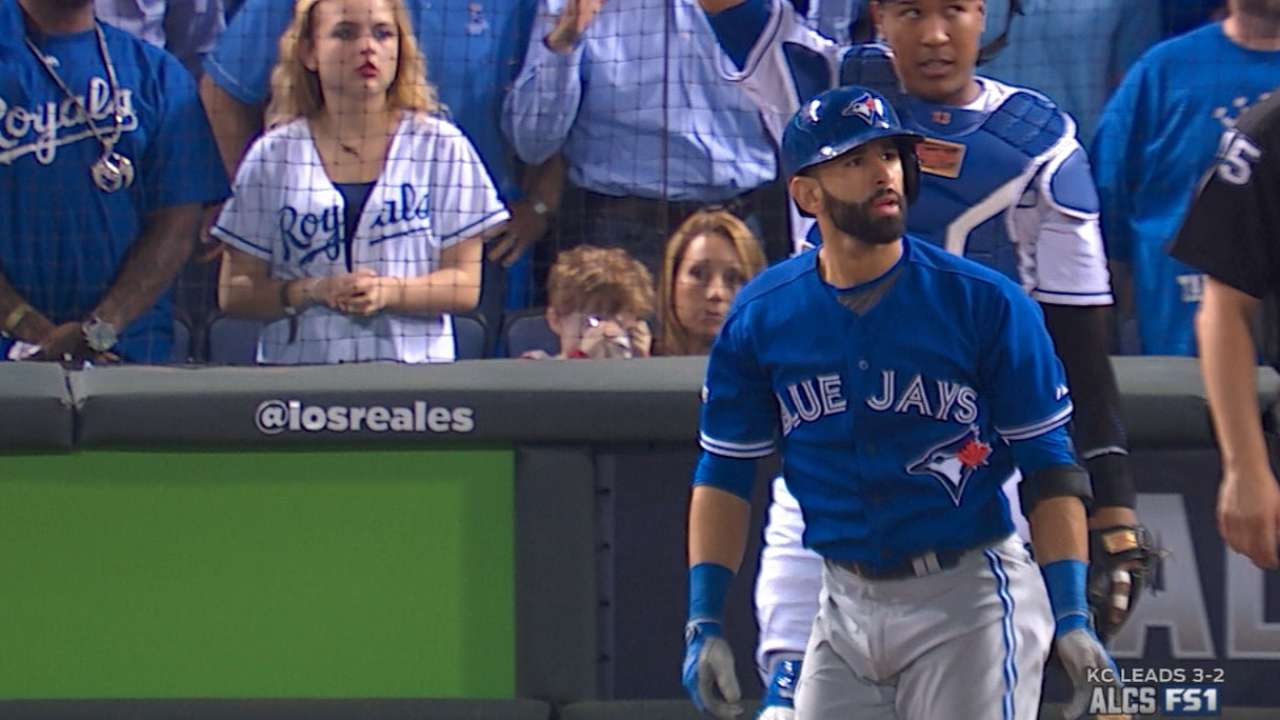 During the postseason, the baseball world became acquainted with a young Blue Jays fan playfully referred to as "Mini Bautista," who became a social media sensation after his father recorded him swinging in the stands as real-life Bautista launched his clutch ALDS Game 5 homer. That video is nominated for Best Social Media Post. Bautista met his young supporter before Game 4 of the AL Championship Series against the Royals, earning a nomination for Best Player-Fan Interaction.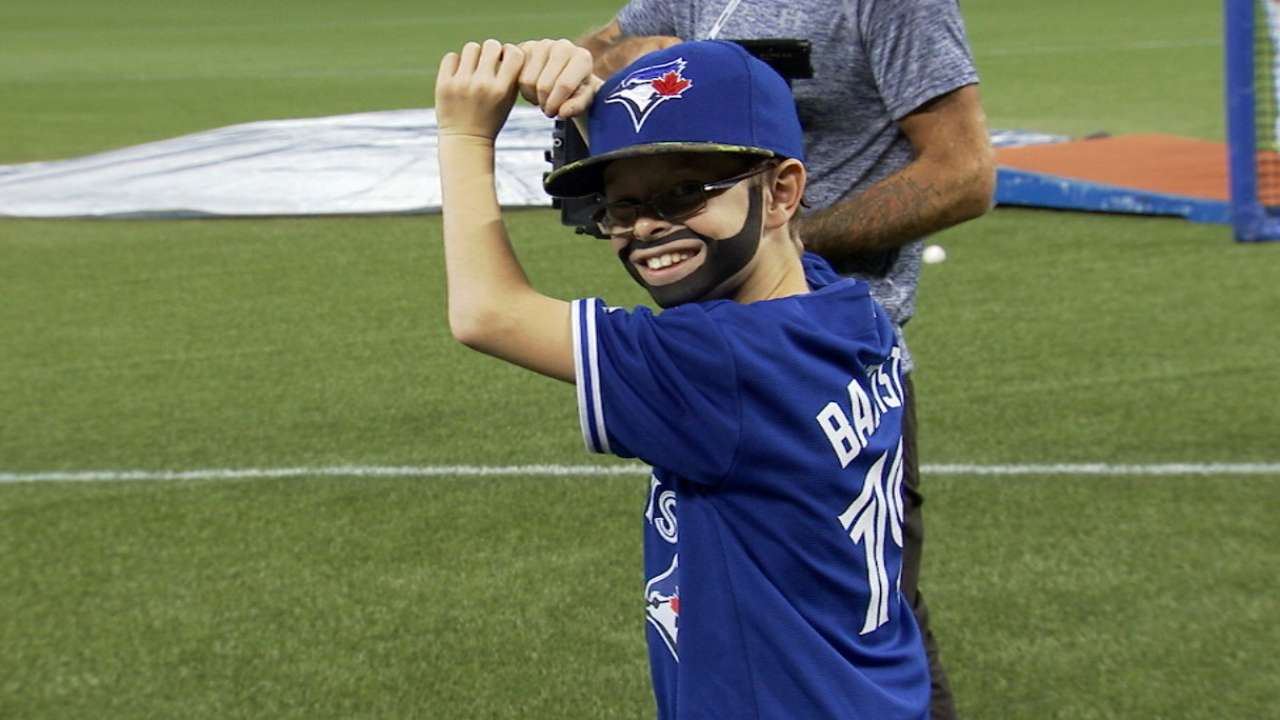 The Esurance MLB Awards annually honor Major League Baseball's greatest achievements as part of an industry-wide balloting process that includes five components, each of which accounts for 20 percent of the overall vote: media, front-office personnel, retired MLB players, fans at MLB.com and Society for American Baseball Research (SABR) voters.
Individual awards will go to the Best Major Leaguer in addition to the winners in the following categories: Best Everyday Player, Starting Pitcher, Rookie, Defensive Player, Breakout Player, Bounceback Player, Manager, Executive, Social Media Personality and Postseason Performer.
Winners will also be recognized for the year's Best Offensive Play, Defensive Play, Moment, Single-Game Performance, Social Media Post, Celebrity Fan, Fan Catch, Interview, TV Call, Radio Call, Player-Fan Interaction, Video Board Moment and Trending Topic.
Voting will remain open through Nov. 13 and fans can cast their ballot by visiting mlb.com/awards. Winners will be announced live on MLB Network and MLB.com on Nov. 20.
Austin Laymance is a reporter for MLB.com. This story was not subject to the approval of Major League Baseball or its clubs.