Indians decline option on Raburn for 2016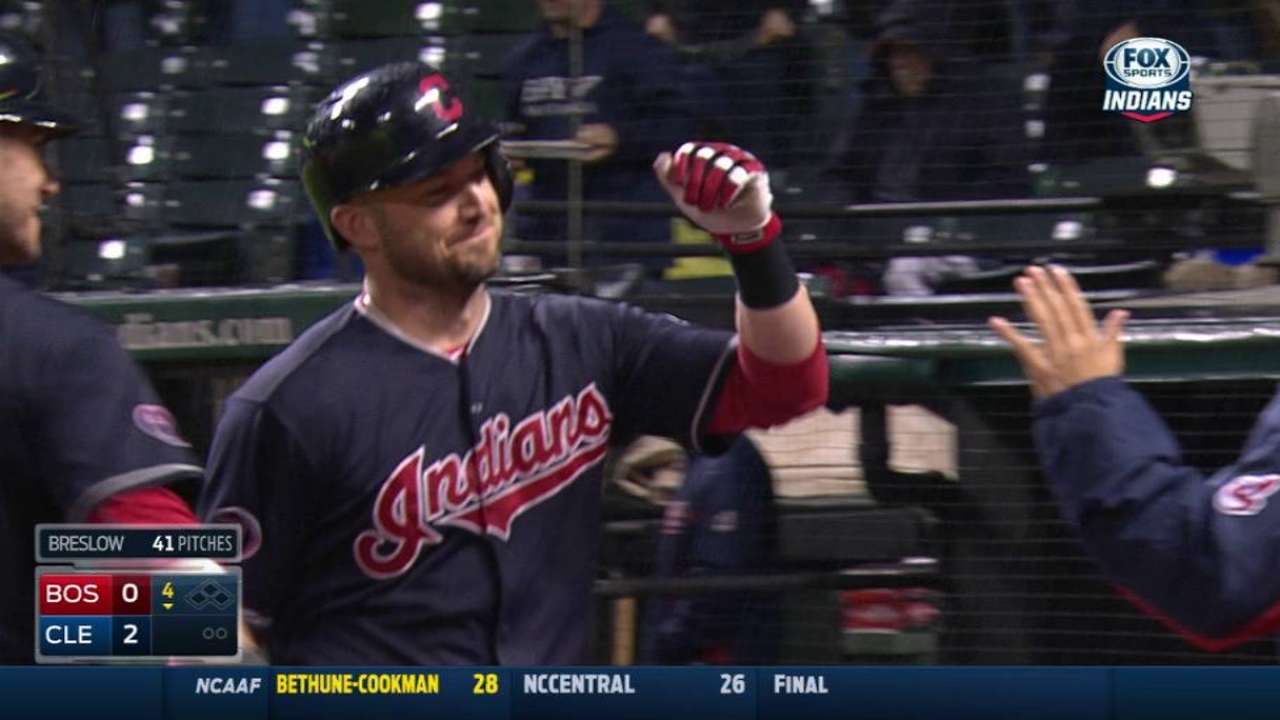 CLEVELAND -- Ryan Raburn provided the Indians with a specialized bat off the bench over the past three seasons. While the veteran might have been poised to do the same next year, Cleveland felt a little more flexibility with the roster was most important right now.
On Wednesday, the Indians declined Raburn's $3 million team option for 2016, electing instead to buy out his contract for $100,000. As a result, the 34-year-old Raburn joins Mike Aviles, Gavin Floyd and Ryan Webb as free agents this offseason.
President of baseball operations Chris Antonetti said the decision on Raburn's contract was more about the offseason than the veteran's offensive ability.
"There were a lot of factors that went into play with the decision," Antonetti said. "I don't think any one carried the day. It doesn't take away from what Ryan accomplished and the success he's had with us. We just felt, given the timing of where we are right now, we just wanted to try to have a little more flexibility as we head into the offseason."
Cleveland has roughly $41 million tied up in seven guaranteed contracts and projects to have another $13-15 million on the books through its seven arbitration cases. Add in the club's pre-arbitration players, and cash sent to Atlanta as part of the August trade that sent Nick Swisher and Michael Bourn to the Braves, and the team could be over $70 million before any offseason additions.
If the Indians plan on operating in the same range as the past few years -- the payroll has been around $85 million in each of the past three seasons -- that would leave roughly $15 million in financial wiggle room for the winter.
"We have an entire offseason in front of us to find ways to improve our roster," Antonetti said, "and figure out what the best composition will be for us heading into next year. I don't expect the roster that we sit [with] here today to be the roster that we have when we show up in Goodyear [Ariz.] for Spring Training.
"We will continue to look at a number of options to try to improve our team. As I said at the end of the season, I think most of our focus will be on the position-player side."
This past season, Raburn hit .301/.393/.543 in 173 at-bats, collecting eight homers, 25 extra-base hits and 29 RBIs in 82 games. Raburn played left and right field, gaining playing time nearly exclusively against left-handed pitching. Facing southpaws, the right-handed-hitting veteran posted a 1.004 OPS, which ranked fourth in the American League among qualified batters.
Raburn, a 10-year veteran, has been inconsistent in recent years, though. In his first season with the Tribe in 2013, Raburn thrived with a 1.020 OPS against lefties and a .272/.357/.543 slash line overall in 87 games. He hit .171 in 2012 and .200 in '14, however, while dealing with a variety of health issues in those campaigns.
"There aren't too many guys that when they come off the bench, hit in the middle of the order," Antonetti said. "I think that's really reflective of the impact that Ryan had on our team. He did his part. He certainly had a very successful 2015 season, and a very successful 2013. Unfortunately, 2014 wasn't quite what Ryan had hoped. But, on balance, he did a really good job in the time he was here in a role that is sometimes difficult to have success in."
In the second half this past season, Raburn saw his at-bats (55 after the All-Star break) diminish as the Indians offered playing time to others. Down the stretch, players such as Chris Johnson (.314/.350/.436 career slash line against lefties) and Jerry Sands (.838 OPS against lefties in '15) were given more time in the lineup against southpaws.
"Ryan is a great success story," Antonetti said. "He was a really good teammate, a guy that really had an impact in his time with us. That made the decision really difficult."
Jordan Bastian is a reporter for MLB.com. Read his blog, Major League Bastian, follow him on Twitter @MLBastian and listen to his podcast. This story was not subject to the approval of Major League Baseball or its clubs.