MLB.com Columnist
Marty Noble
Collins ready for well-earned offseason break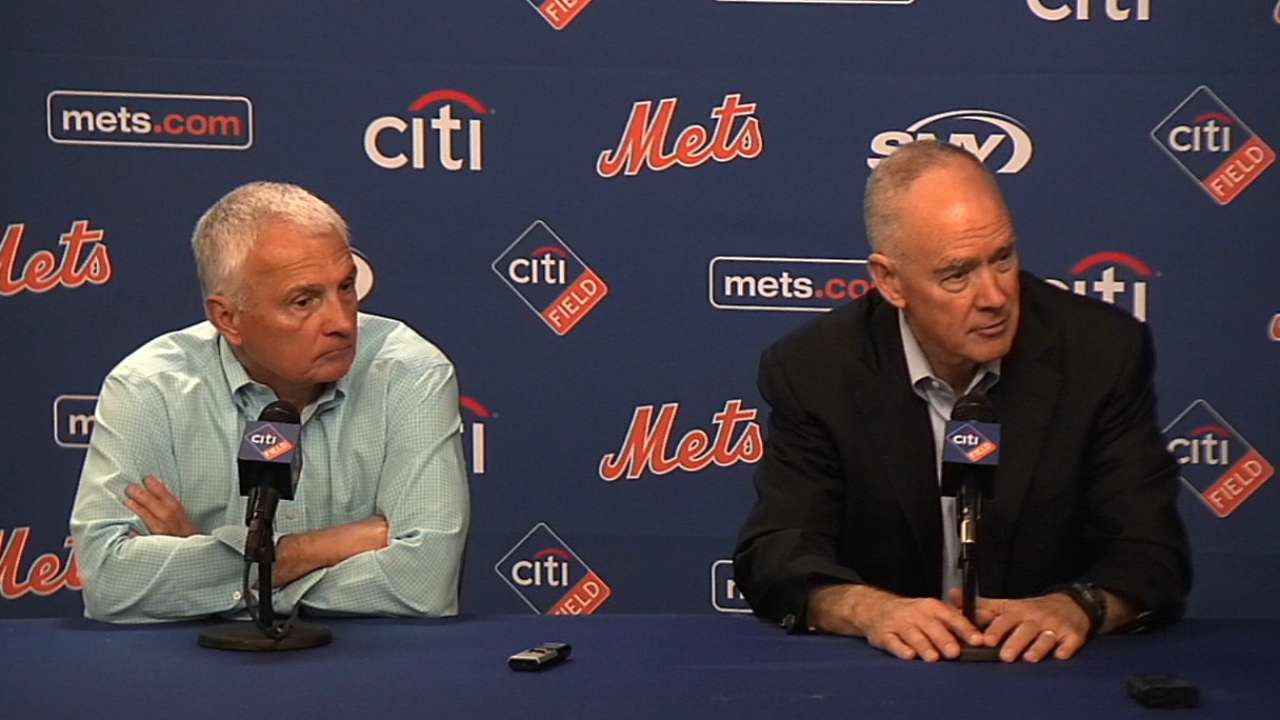 NEW YORK -- Terry Collins appeared to be at ease -- in a military sense. His feet were shoulder-width apart, his torso was relaxed and his hands were behind his back. His button-down, turquoise gingham shirt -- hardly military garb -- gave him away, though, even before hands did.
One thumb wasn't resting against the palm of the other hand in typical military manner. Instead, a small box rested in one hand. The word Titleist was printed on it.
Conclusions: Golf is at hand; the Mets' offseason is under way.
Well, almost. After a few more days of meetings, the manager who pushed his team deeper into baseball's postseason tournament than any lucid, rational baseball follower could have anticipated, will free the balls from the box and become free to enjoy all he has accomplished. And a substantial amount exists.
The time nearly has come for Collins to make his annual exit, leisure equipment in hand and hours spent leisurely in mind. By the time he begins putzing and putting around, he probably won't have finished sorting out the good, the bad and the ugly of the Mets' 2015 season. But he will be more relaxed than he's been since the All-Star break.
The frustrating and mostly unrewarding World Series had ended some 60 hours earlier by the time Collins moved away from the microphones at Citi Field on Wednesday, just before noon. In the preceding two-plus days, he had endured a Royals celebration on Mets turf, addressed his deflated players, cleared some part of his office, met with his coaches, agreed to a two-year contract, fallen asleep in his chair at 7 p.m. Tuesday night, had a full night's sleep and then returned to Citi Field late Wednesday morning to tie up more loose ends.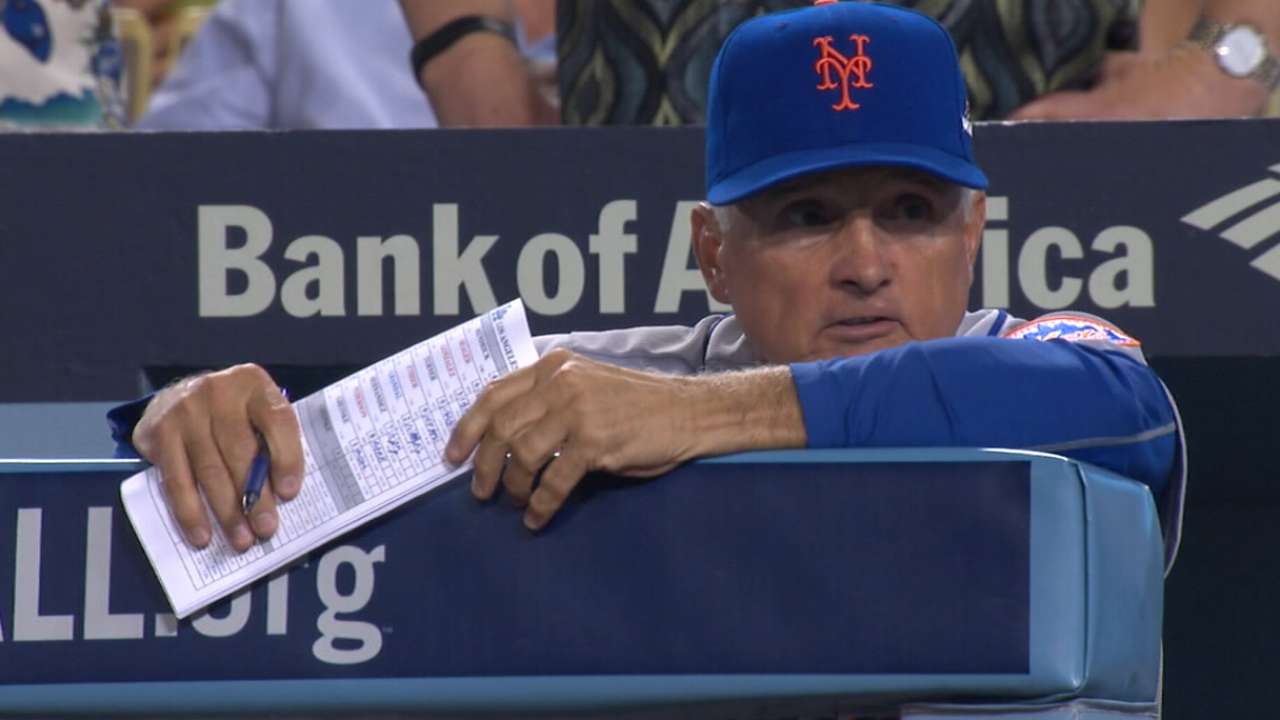 Collins announced several times that his cell phone number would be changed by Saturday morning. After that, a call of the first tee is the only one he'll answer.
"I'm known for my energy," Collins said before he disappeared from the view of those who had gathered one last time to interrogate him. "It's pretty sapped right now. But it'll be there in Spring Training. I'll get refueled."
No one doubts that. The Majors' oldest manager -- Collins turned 66 in May -- wasn't rewarded with an extension because the Mets expect the same or something less from him. They demand equal energy, which Collins undoubtedly will provide, and better results.
• Collins' contract extended through 2017 season
And expectations, incidentally, can constitute a challenge far greater than the Kansas City Royals with runners on second and third and none out in the eighth.
Expectations are the primary reason new Marlins manager Don Mattingly changed his baseball address and Dusty Baker is house-hunting in D.C. Expectations are the reason Collins spoke these words about the state of the Mets on Wednesday.
"This was good," Collins said. "But we got to be better."
The Mets' improbable 2015 run and the upcoming '16 season are strongly linked because of their success. The link prompted Collins to say, "2015 was instructive, but we can't rely on the rotation to carry us."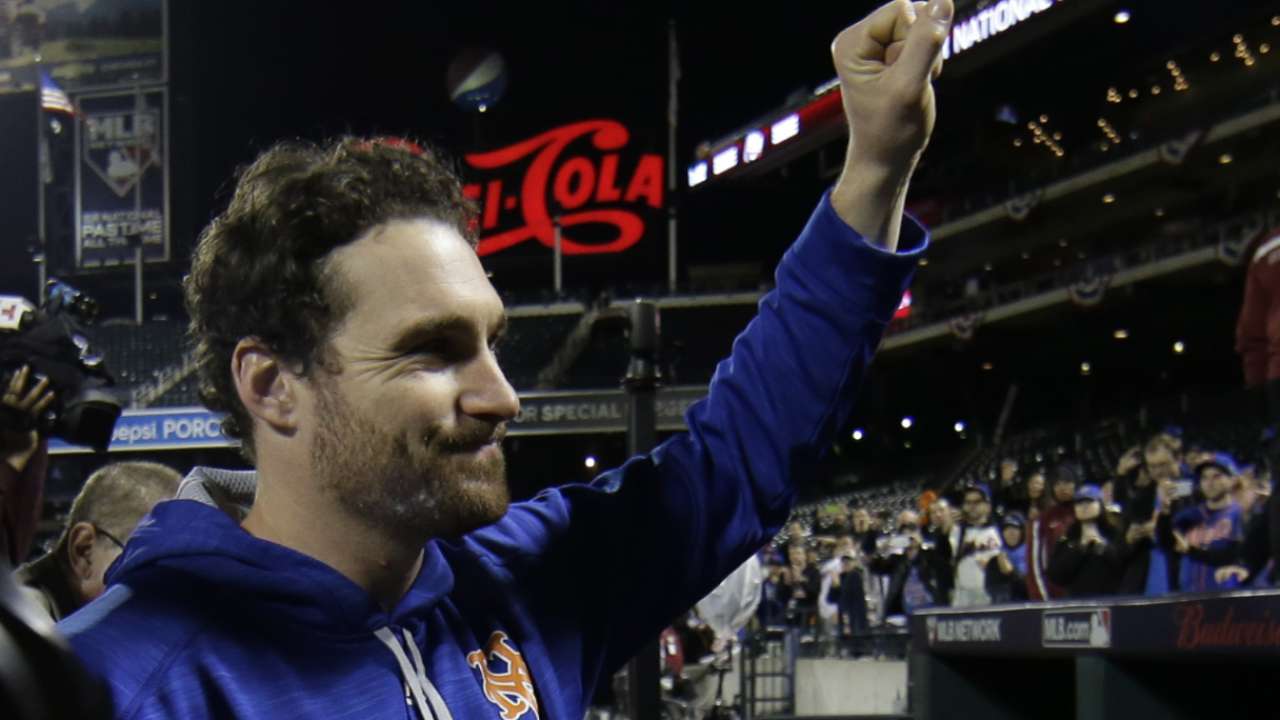 The young staff -- call it 'Murderer's Row-tation' -- put the Mets in the World Series but couldn't compensate for the shortfall of other facets of the team's game. As general manager Sandy Alderson said -- before his frightening collapse Wednesday -- "You can't always rely on certain strengths to offset certain weaknesses."
All of which was to say the Mets' armed forces can't strike out every batter and can strike out none after they've completed their workdays. And despite apparent prowess as hitters of Noah Syndergaard, Matt Harvey, Jacob deGrom and Steven Matz, they can't do enough with bats. As Alderson noted, referring only to the five-game World Series, "We didn't score enough runs [early] to separate ourselves [from the Royals], even with the pitchers batting in three games."
Moreover, a rotation of Hall of Fame pitchers can't offset porous defense in the middle infield.
* * * *
Collins again dealt with what has been identified by others as his fatal indiscretion -- allowing Harvey's pleas to sway his decision-making between the eighth and ninth innings of Game 5. The skipper admitted, "I beat myself up pretty good Sunday night."
Of course Collins did. Harvey didn't deliver. And had the manager not abandoned his original plan and replaced his starter with closer Jeurys Familia -- then what?
Familia had been well short of reliable. Had he pitched and again been unable to deliver, who, besides Collins, would have been blamed? Eight scoreless innings against the Royals was pretty compelling stuff, even if Harvey hadn't added to his strikeout total in the seventh and eighth innings.
Collins characterized the circumstances he faced as a "no-win situation." For him, it was. It always is for the manager. Had Harvey delivered, all the credit for a Game 5 victory would have been his. Had Familia fallen short again, most of the blame would have been directed at Collins.
Neither starter nor reliever saved the Mets. So the manager -- who else? -- has been indicted.
* * * *
I can't say other variables existed in the equation that had Harvey running to the mound to start the ninth and walking from it in after two batters reached base. And Collins isn't one who would even hint something was amiss. And even if nothing were, the decision remains "manager's discretion."
Collins knows more about his players than we do. That is properly stated in black and white.
And one final thought, after most of five games had been completed, did someone actually expect the Mets to prevail in the World Series? They exposed the Dodgers to a degree, they exposed the Cubs at every turn. And then their flaws were exposed in every game by the Royals. It happens to the best of them.
And to the second best, too.
Marty Noble is a columnist for MLB.com. This story was not subject to the approval of Major League Baseball or its clubs.