Williams succeeds Jocketty as Reds' GM
Veteran exec to remain president of baseball ops; pair will work together to build successful club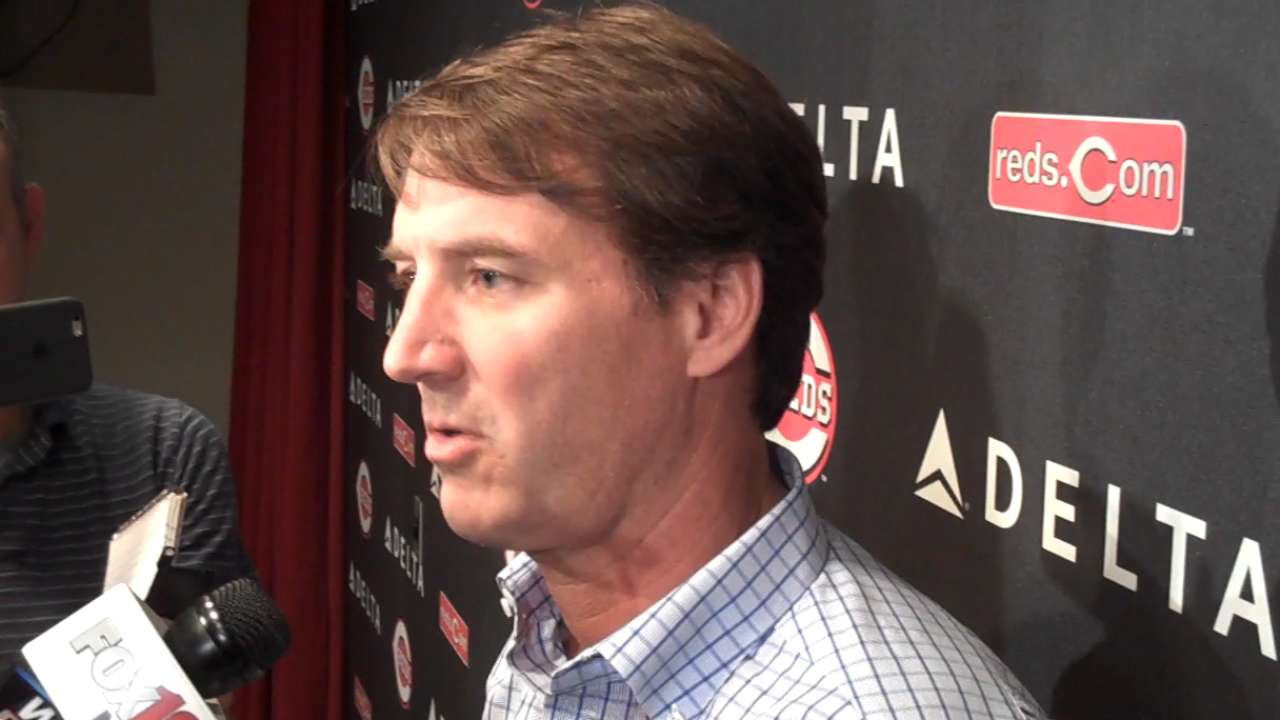 CINCINNATI -- In an announcement that defined a plan of succession in their baseball operations department, the Reds promoted assistant general manager Dick Williams to general manager on Wednesday. Williams will succeed Walt Jocketty, who will remain in his role as the club's president of baseball operations.
Jocketty, 64, first joined the Reds in January 2008 in the president's role and added the GM title that April. Williams, 44, has been part of the organization for 10 seasons, with the 2015 season being his first as assistant GM.
While he will assume his new duties immediately, Williams didn't anticipate much to change day to day in the short term.
"Walt and I have worked together closely now for eight years. It's not just the two of us," Williams said. "We've got a group of guys in the office and a group of guys outside of the office that we consult on almost every decision. I look forward to continuing that dialogue. This will give me an opportunity this year to really be a little more on the forefront, in dealing with agents, players and other teams. Walt and I will use this year well to transition into the future."
Williams has a new three-year contract as GM. Jocketty, who has a year remaining on his contract, expects to sign a two-year extension through 2018. After the 2016 season, though, he plans to step into more of an advisory role for Williams and baseball operations.
It wasn't unexpected that Williams would one day be the Reds' GM, but the timing of the announcement came as a surprise as it wasn't telegraphed publicly.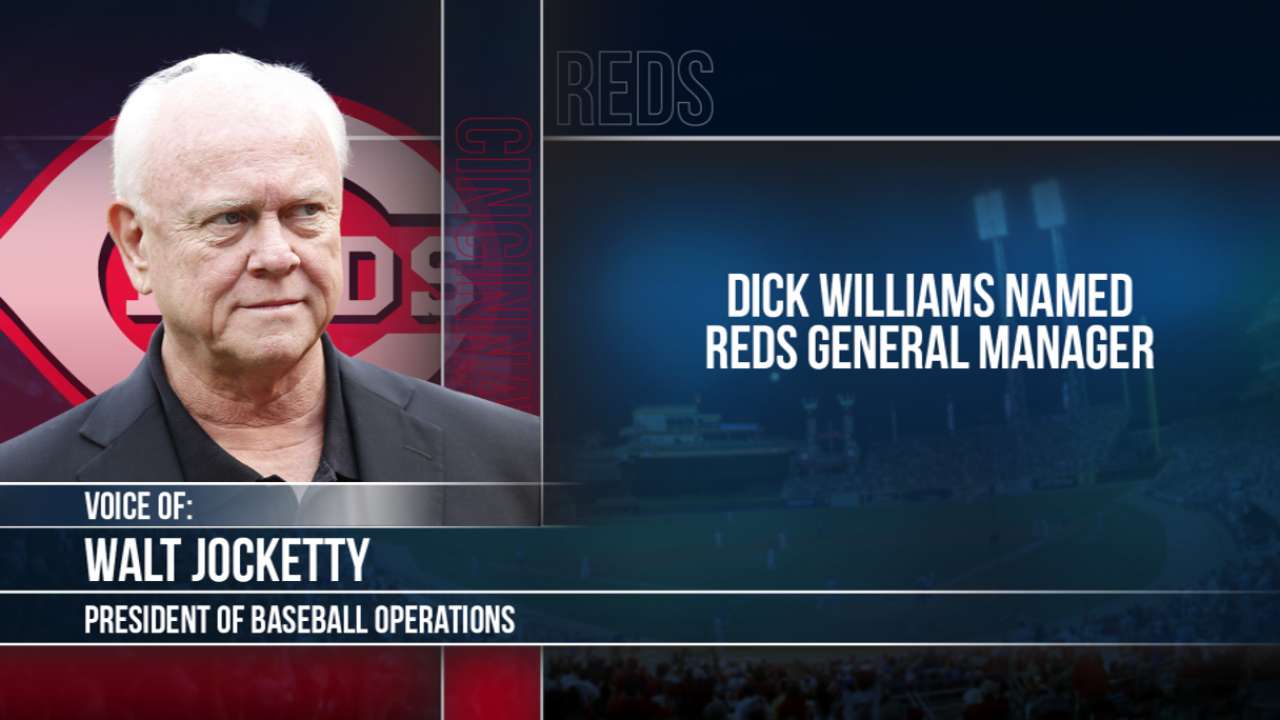 "We've been kind of grooming him for that position," Jocketty said. "It made sense to do it now, right before the General Managers Meetings and the Winter Meetings to get him in place for where he'll have even greater involvement with clubs and in trade discussions and also with agents regarding free agents."
Jocketty has spent 21 of his 41 seasons in professional baseball as a big league GM and is a three-time executive of the year, most recently in 2010. That season, the Reds were National League Central champions and returned to the postseason for the first time in 15 years. The Reds also won their division in 2012 and reached the NL Wild Card Game in 2013.
Multiple teams in recent seasons have had experienced former GMs take posts as a baseball operations president while another person takes the day-to-day GM duties. The Dodgers, with president Andrew Friedman and GM Farhan Zaidi, and the Cubs, with president Theo Epstein and GM Jed Hoyer, are two examples.
"This will be my 22nd year running a baseball operations, and I think the only one who has done it longer to my knowledge in recent memory is John Schuerholz, maybe Dave Dombrowski for 24-25 years," Jocketty said. "It's at a point where I want to still be involved quite a bit, but I don't want to be involved in the day-to-day operation."
"There's so much made of who is the guy -- this isn't a one-man job anymore, it's not even a two-man job," Williams said.
Cincinnati has struggled the past two seasons, including a 64-98 last-place finish in 2015. Jocketty began the process of reshaping the roster with the July trades of rotation mainstays Johnny Cueto and Mike Leake and hinted as recently as Monday that more moves could be forthcoming this offseason.
"The direction doesn't change. We want to win," Williams said. "I'm in this job to win a world championship. In the short term, we had a disappointing season and we have to take stock of that. I think everybody is wrapping their head around what sacrifices we want to make going forward to get back to championship baseball. And we will get there. We've got a lot of good things coming in the Minors. It's just a question of putting the right pieces together at the right time."
Williams did not set a timetable for how long the rebuilding process would take.
"We feel, right now, that we have a lot of good Major League players and we're focused heavily on building up the farm system," he said. "I think the timing is going to be sooner than we think. Walt is very much on board with what we're doing here. I think that's very important. He's taking the long view, and he has been. This past Trade Deadline and so far this offseason, he's taking the long-term view in terms of what's best for the franchise."
Williams is a proponent of the new-school methods for using analytics, but he still plans to rely on scouting to arrive at decisions.
"You have to use everything at your disposal, every piece of information," Williams said. "We have some of the best scouts in the game, so I would never say we are not heavily dependent on scouting. At the same time, we're doing everything in our power to grow our analytics initiatives. We're right up there with the other teams. We don't talk a lot about it because it really doesn't get you anywhere to let information out there publicly. We will be continuing to invest more and more in our analytics. That's just the nature of the business right now."
A Cincinnati native, Williams joined the organization when a new ownership group led by Bob Castellini assumed control of the Reds in January 2006. Castellini also has Williams' father, W. Joe Williams, and his uncle, Thomas Williams, as minority owners. Williams' grandfather, William J. Williams Sr., was a majority owner of the Reds in the 1960s and 70s.
Does the new GM have a conflict in being part of the family business?
"I think if anything, it just aligns my interests that much further," Williams said. "I am as incentivized as anyone to see this succeed."
Williams first served as director of baseball business operations and later vice president of baseball operations. In November 2014, he became vice president and assistant GM.
As someone who grew up as a Reds fan, Williams was excited to take on his next role.
"You feel a lot of responsibility," he said. "This is a very public business and a lot of people grow up cherishing the Reds. It's a big part of their life. I know it was for me. I just want everybody to know that we don't take this lightly. We feel the weight of responsibility to put a successful team out there year after year. That's what we're after."
Mark Sheldon is a reporter for MLB.com. Read his blog, Mark My Word, follow him on Twitter @m_sheldon and Facebook and listen to his podcast. This story was not subject to the approval of Major League Baseball or its clubs.