Collins has great expectations for Mets in '16
With new contract extension in hand, skipper looking forward to challenge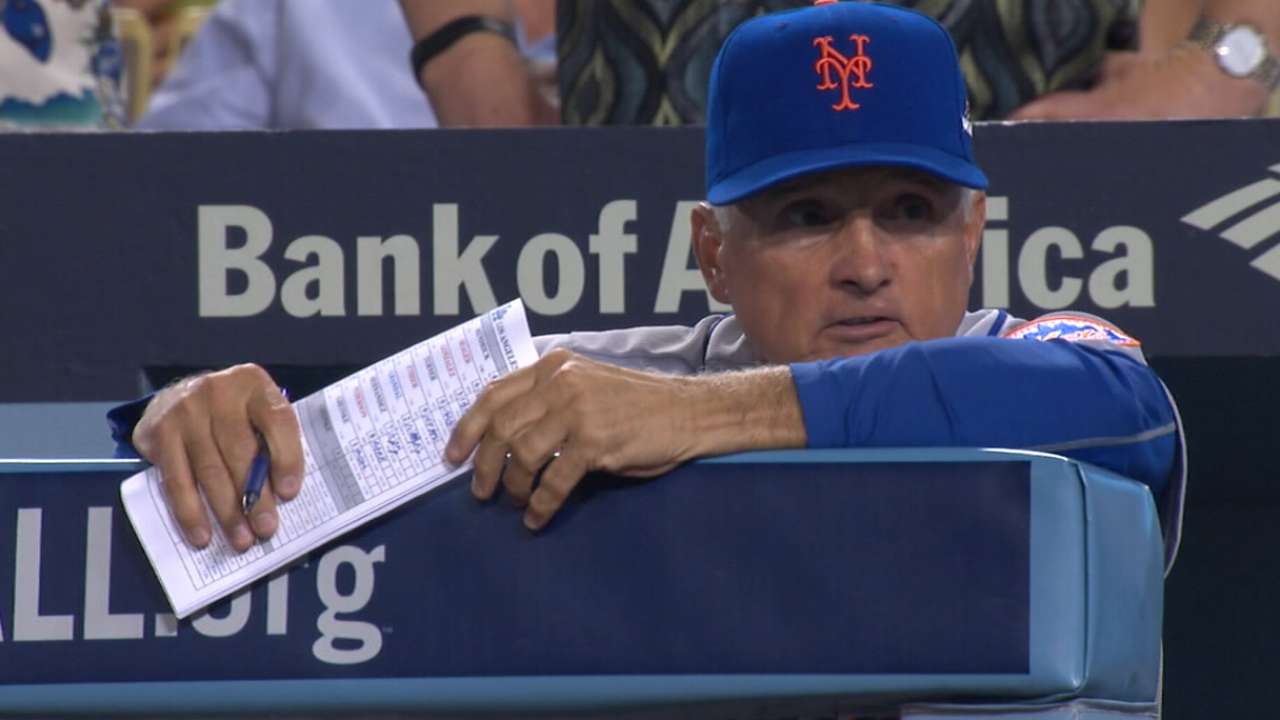 NEW YORK -- Barring something extraordinary, the Mets had internally resolved to bring Terry Collins back as manager even before the postseason began -- before they upended the Dodgers and Cubs in the first two rounds of postseason play, reaching their first World Series in 15 years.
In that sense, the two-year extension Collins officially received on Wednesday was less about leading the Mets through uncharted postseason waters, and more about his body of work over the past half-decade.
"The reason Terry is back as manager is not just because of the season we had," general manager Sandy Alderson said at a news conference Wednesday to announce Collins' extension. "Over the previous four years -- without the talent base, without the resources he ultimately had for part of this season -- he did an extraordinary job as well. This is an expression of our appreciation and our confidence in Terry going forward."
• Alderson OK after collapsing at Citi Field
Much of that confidence stemmed from Collins' work from 2011-14, when the club outperformed external expectations despite four straight losing seasons. The Mets rose from fourth place in the National League East in Collins' first two years on the job to third place in '13, second in '14 and first this season. The result was, at age 66, Collins' first trip to the Major League playoffs in more than four decades in professional baseball.
"As I sat up here last year, I said, 'It's time to win,'" Collins said. "That's the same goal we're going to have this year. But our expectations are a little bit higher than they were last year. It'll be fun to go meet that challenge. "
Added Alderson: "Our expectations going into next season should be higher than our expectations were going into this season. We had talked about a winning record. We talked about 90 wins. We talked about getting into the playoffs.
"We were in the World Series. Things didn't go all that well for us in those five games, but we made it to the World Series. Going into next season, we're starting from a different plateau."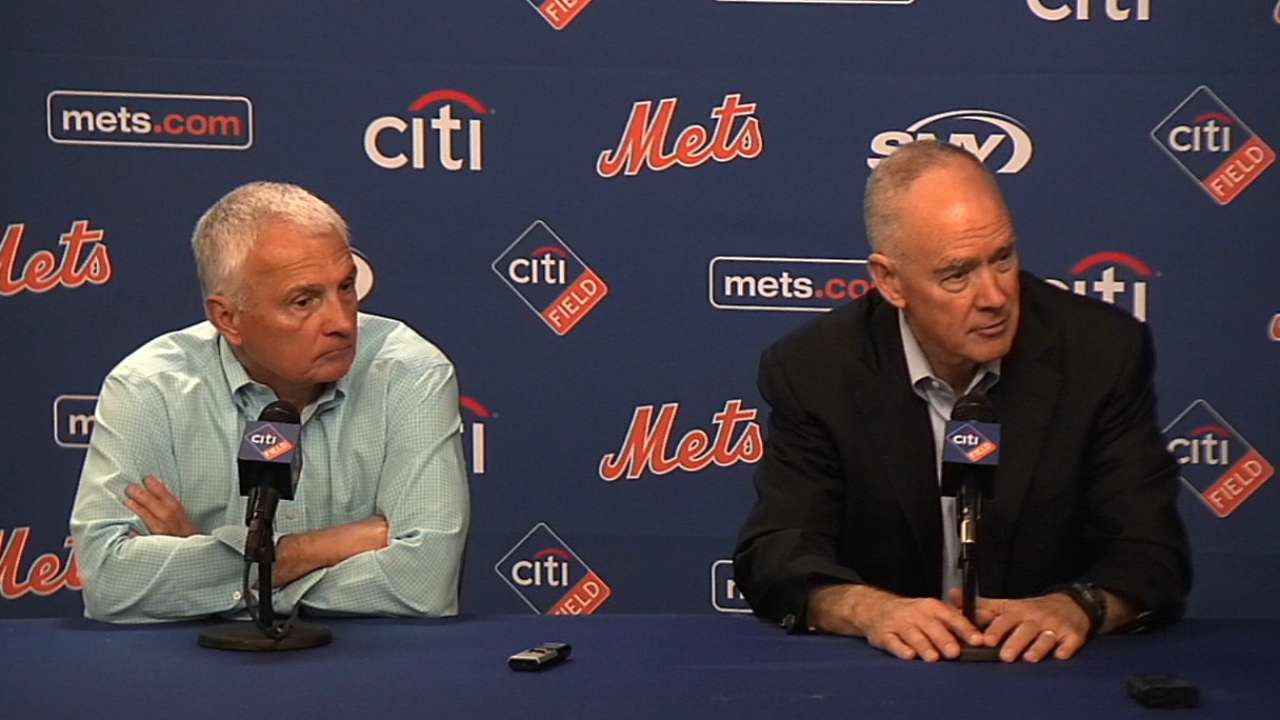 Collins' performance after receiving significant non-waiver Trade Deadline help in late July convinced the Mets of his worthiness to continue leading the club. Just 304-344 as New York's manager entering the season, Collins held another sub-.500 record as late as June 24, and his team was in second place on the first day of August. But the Mets went 41-24 (.631) over their final 65 games, winning the NL East by seven games.
"What Terry did was an extraordinary job this year under differing circumstances as time went on," Alderson said. "In the first half of the season, we had high expectations. We had a high injury rate. Terry kept the team together. He kept it competitive. He kept our heads above water. Later in the season, we got some players back, we got some players via trade, and he managed that group of players and those expectations extremely well and got us to the World Series. We expected to have a good season. You never expect to be in the World Series. From my standpoint, it was a successful season for us."
In New York's fishbowl, strategic questions will continue to dog Collins, particularly after his much-debated decision to let Matt Harvey face two batters in the ninth inning of World Series Game 5. Long-term questions will also follow Collins, who has said that he does not want to manage into his 70s. His new deal will take him to age 68; if he sees it to completion, Collins will be the longest-tenured manager in Mets history.
For now, he will simply proceed through the most exciting time of a career that has wound through Pittsburgh, Houston, Anaheim, Japan, Los Angeles and New York. Expectations are now greater than ever, particularly with starting pitchers Harvey, Jacob deGrom, Noah Syndergaard and Steven Matz all back next season. So anything less than continued success will ring hollow for Collins -- new contract or not.
"I think we all realize how difficult it is to get to the World Series, and that there's a long road between now and getting back," Alderson said. "Twenty-nine teams go home unhappy, and in some ways, I think the 29th team goes home the unhappiest of all.
"But we're only two or three days away from that final loss. We've already started working on 2016. From an emotional standpoint, we're still smarting a little bit from what happened. It's easy to say, 'We're going to go back next year.' That's a tough slog. That's our intention. But we know how difficult it is."
Anthony DiComo is a reporter for MLB.com. Follow him on Twitter @AnthonyDiComo and Facebook, and listen to his podcast. This story was not subject to the approval of Major League Baseball or its clubs.