Athletics in the AFL: Manaea's stock surging after trade
Left-hander credits change of scenery for strong second half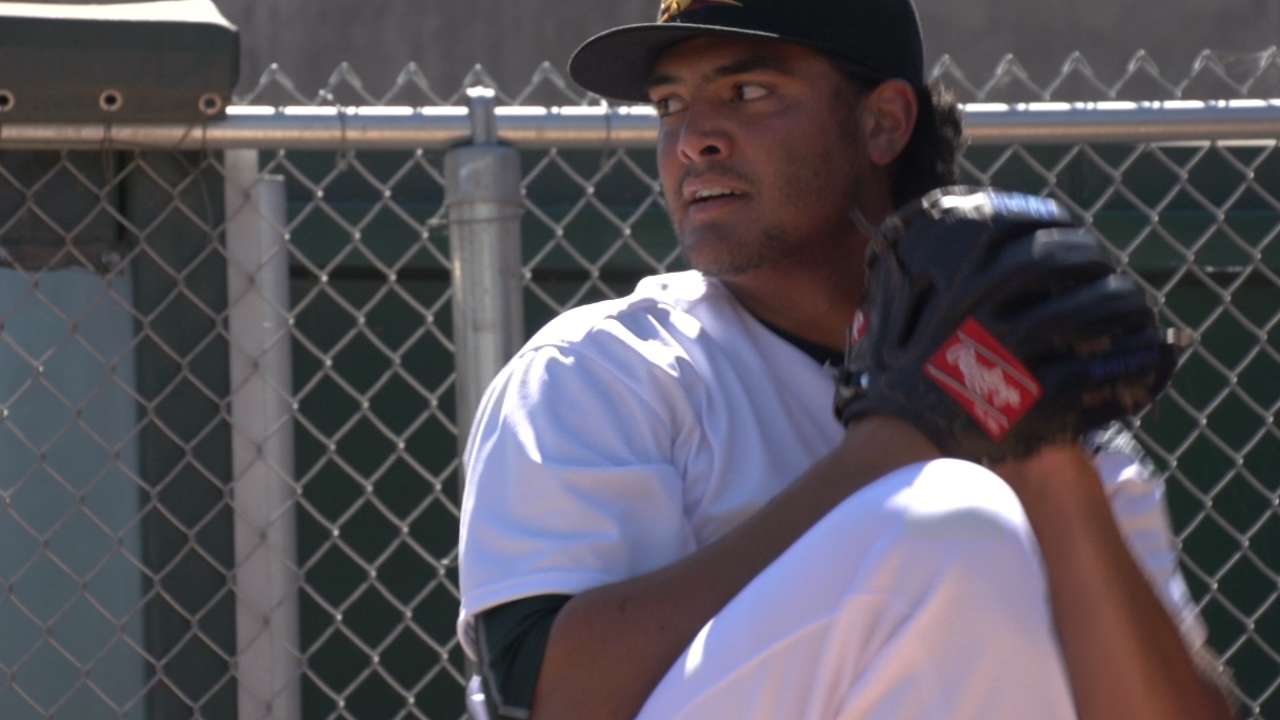 When Sean Manaea ultimately reaches the Major Leagues, people will point to his acquisition by the Oakland Athletics this past season as the turning point in the lefty's promising career.
Manaea was the key return for the A's in the deal that sent Ben Zobrist to Kansas City in the days leading up to the July 31 non-waiver Trade Deadline. At the time, the 23-year-old was still working his way back from an oblique injury that sidelined him for nearly three months during the first half of the season. He also was coming off his first two starts at the Double-A level, neither of which went particularly well.
• Complete Arizona Fall League coverage
"The first half was really frustrating -- just a lot of small things holding me back," said the A's No. 3 prospect. "I knew there was nothing I could do about it but go to rehab and do everything I could to make myself better."
However, Manaea was a different pitcher after the trade: in seven starts for Double-A Midland over the final weeks of the regular season, the southpaw went 6-0 with a 1.90 ERA and 51 strikeouts in 42 2/3 innings. Manaea also played a major role in helping Midland win its second straight Texas League title as he allowed only two earned runs and struck out 15 batters in 15 innings between a pair of postseason starts.
"I can't really say; something just clicked and I rolled with it," Manaea said about his dominance at Midland. At the same time, the Indiana State product is quick to credit both his new A's teammates and the club's front office for enabling his post-trade turnaround.
"It's been a really easy transition for me so far," he said. "Every guy I've met in the A's organization has been great, especially the guys out in Midland I played with this past season. Couldn't really ask for anything better."
That Manaea pitched so well down the stretch carried extra significance given his litany of injuries since the Royals nabbed him with the No. 34 overall pick in the 2013 Draft and gave him a record supplemental first-round bonus of $3.55 million.
"You have to be mentally strong," said Manaea, reflecting on the adversity he's faced early in his career. "It's something I learned right after the Draft when I had hip surgery and didn't get to play that season. I know [injuries] are probably going to happen more throughout my career, so I feel like having these little things is kind of a blessing in disguise. It stings at first, but just going through it and doing everything I can to come back is going to help me."
Although Manaea's performance has been up and down this fall -- he has a 5.63 ERA in four starts for the Mesa Solar Sox -- the left-hander is honored to be one of seven prospects chosen by the A's to participate in the prestigious AFL.
"It's definitely a huge honor," he said. "It's great knowing that they have confidence in me to come out here and represent the A's. Just being here is one step closer to realizing my dream.
"I'm just hoping to keep things rolling here and have a great time."
A's pitchers in the Fall League
• Kris Hall, RHP -- An eighth-round Draft pick in 2012 out of Lee University, Hall ostensibly took a step forward this year in the Texas League, posting a 2.50 ERA with 74 strikeouts in 72 innings. However, the 24-year-old righty's command was challenged at the advanced level, evidenced by his career-high 53 walks in that span.
• Brendan McCurry, RHP -- Ranked as the A's No. 30 prospect, McCurry is using the Fall League to build upon an impressive regular season, in which he saved 27 games and registered a 1.86 ERA with 82 strikeouts in 63 innings (50 appearances) between Class A Advanced Stockton and Midland.
• Jeff Urlaub, LHP -- One of the oldest players in this year's Fall League, Urlaub, 28, is looking to make up for lost time after injuries limited him to 45 1/3 innings over the last two seasons. Since his selection by the A's in the 30th round of the 2010 Draft, the 6-foot-2, 160-pound lefty has compiled a 2.12 ERA with 238 strikeouts in 239 1/3 innings across 169 appearances.
A's hitters in the Fall League
• Jaycob Brugman, OF -- A 17th-round Draft pick in 2013 out of Brigham Young, Brugman, 23, held his own in the Texas League this year but saw his power drop off outside of the California League. However, the A's No. 21 prospect still showed consistent gap power as well as strong on-base skills while seeing time at all three outfield spots for the RockHounds.
• Renato Nunez, 3B -- The club's No. 6 prospect put together a well-rounded campaign in his first taste of Double-A, hitting .278/.332/.480 with 18 home runs, 23 doubles and 61 RBIs in 93 games for Midland. The 21-year-old third baseman's consistency was a product of his improved plate discipline and pitch selection, as Nunez lowered his strikeout rate to 15.9 percent after fanning 20.1 percent of the time in 2014.
• Chad Pinder, SS -- The A's No. 7 prospect was named Player of the Year in the Texas League this past season after hitting .317/.361/.486 with 15 home runs, 32 doubles and 86 RBIs in 117 games at Midland. The 23-year-old's performance was particularly impressive considering it was his first season as a full-time shortstop after spending a majority of his 2014 full-season debut at second base. Meanwhile, Pinder hasn't skipped a beat in the Fall League, where he's hitting .346/.370/.846 batting line with three home runs and two doubles through six games for Mesa.
Mike Rosenbaum is a reporter for MLB.com. Follow him on Twitter at @GoldenSombrero. This story was not subject to the approval of Major League Baseball or its clubs.