Paulsen hopes to bulk up, carry first-base load in '16
Slugger looks to keep pounds on, seize chance after Rox decline Morneau's option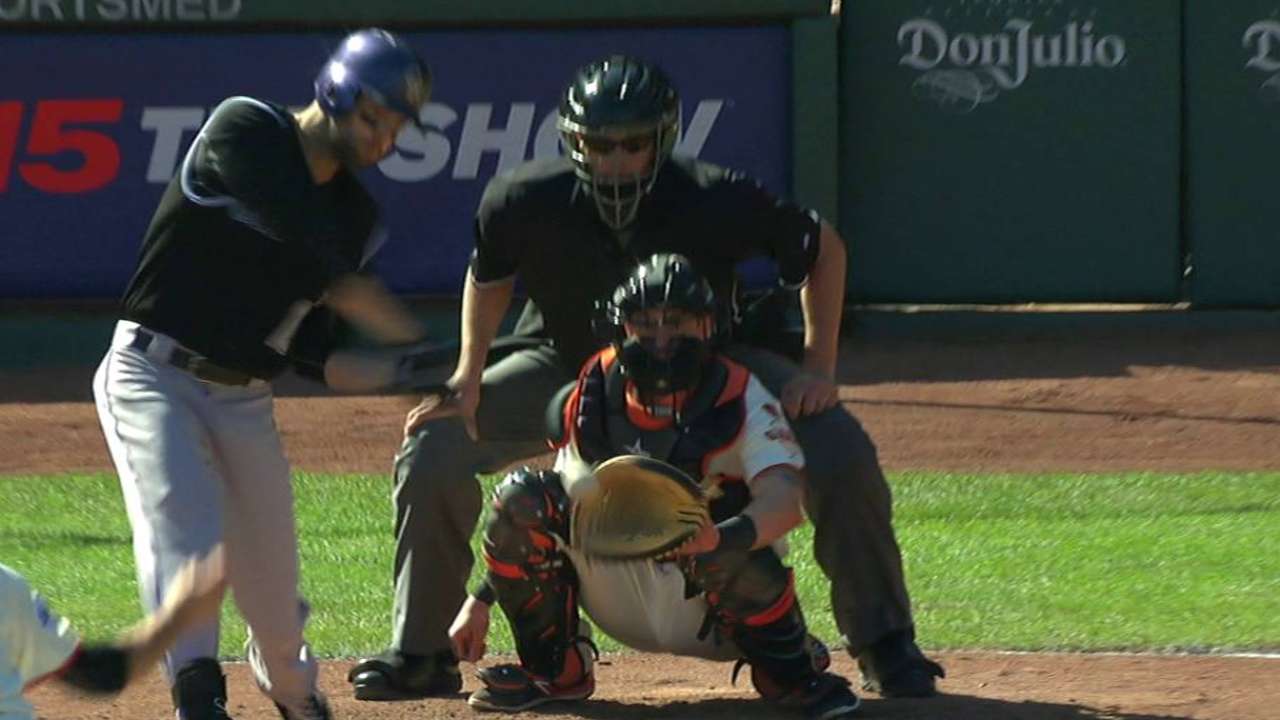 DENVER -- Playing time wasn't all that melted away late in the 2015 season for Rockies first baseman Ben Paulsen. Paulsen himself shrunk over the course of the year.
The 6-foot-4 Paulsen reported to Spring Training at 218 pounds, knowing the activity in the desert would put him at his preferred playing weight of 210-212. But during a year that saw him receive regular starts after veteran Justin Morneau suffered a neck injury and concussion symptoms in May, Paulsen dropped to around 195 pounds.
The weight loss didn't ruin his production. He hit .277 with 11 home runs and 49 RBIs in 116 games. September was his worst month with a.245 batting average, but that had more to do with Morneau's return than the disappearance of a few pounds.
Last week the Rockies declined their end of Morneau's $9 million 2016 option. That means Paulsen, 28, could be a major figure at first base next season. After talking with manager Walt Weiss and coaches, Paulsen believes he needs to be a less slender figure.
"It comes to your attention when other people notice and ask, 'Hey, is everything going OK?'" Paulsen said. "It happens every year, but I don't want it to snowball like it did. We have a nutritionist and I'll stay on top of it.
"I feel just as strong in the weight room, but it feels better to be a little heavier."
On a lighter note, Paulsen is a little heavier in the face as he grows a mustache as part of the "Movember" effort to raise funds for men's health.
Join my The #Movember Foundation team at https://t.co/FHoQWLyXES #rockies #teampaulsen

— Benjamin Paulsen (@Benjaminpaulsen) November 3, 2015
In 2016, Paulsen wants to prove he can carry the first-base load.
Got a head start,but excited to be part of #Movember this year!@Rockies #teampaulsen pic.twitter.com/uIYucyjI72

— Benjamin Paulsen (@Benjaminpaulsen) November 1, 2015
Paulsen tied for ninth among NL rookies in RBIs, finished 11th in home runs and tied for 10th in doubles (19). It was a solid followup to 2014 -- a .319 average with a .348 on-base percentage and a .571 slugging percentage in 31 games during several callups.
In 2015, Paulsen hit .282 with a .330 OBP and a .462 slugging percentage, plus all 11 of his homers came in 291 at-bats against right-handed pitching. But he batted .235 with a .289 OBP and a .265 slugging percentage in 34 at-bats against left-handers. He also hit .163 in 43 at-bats against lefties in Triple-A.
When Paulsen was called up in late May, the Rockies were rarely seeing lefty starters. Morneau's return coincided with an abundance of lefty starters, and Weiss felt more comfortable with Morneau.
The Rockies' current roster offers a platoon option in righty-hitting Wilin Rosario, but he is in his second year of arbitration eligibility after being paid $2.8 million last season and could be dealt for a better roster fit. Righty-hitting Kyle Parker, usually an outfielder, could be a first-base option if he develops the bat speed to handle fastballs from Major League lefties.
Weiss didn't rule out Paulsen becoming adept at hitting lefties.
"He's had some good at-bats against lefties this season, so it's not out of the question," Weiss said. "He's done a great job over the course of the last two seasons."
If Paulsen proves he's strong enough and adept enough against lefties, the Rockies could be feeding him all the playing time he can handle.
Thomas Harding is a reporter for MLB.com. Follow him on Twitter @harding_at_mlb, and like his Facebook page. This story was not subject to the approval of Major League Baseball or its clubs.