Champs appear on The Tonight Show, Kimmel Live
Perez, Hosmer join Fallon; Moustakas, Guthrie, Butera went west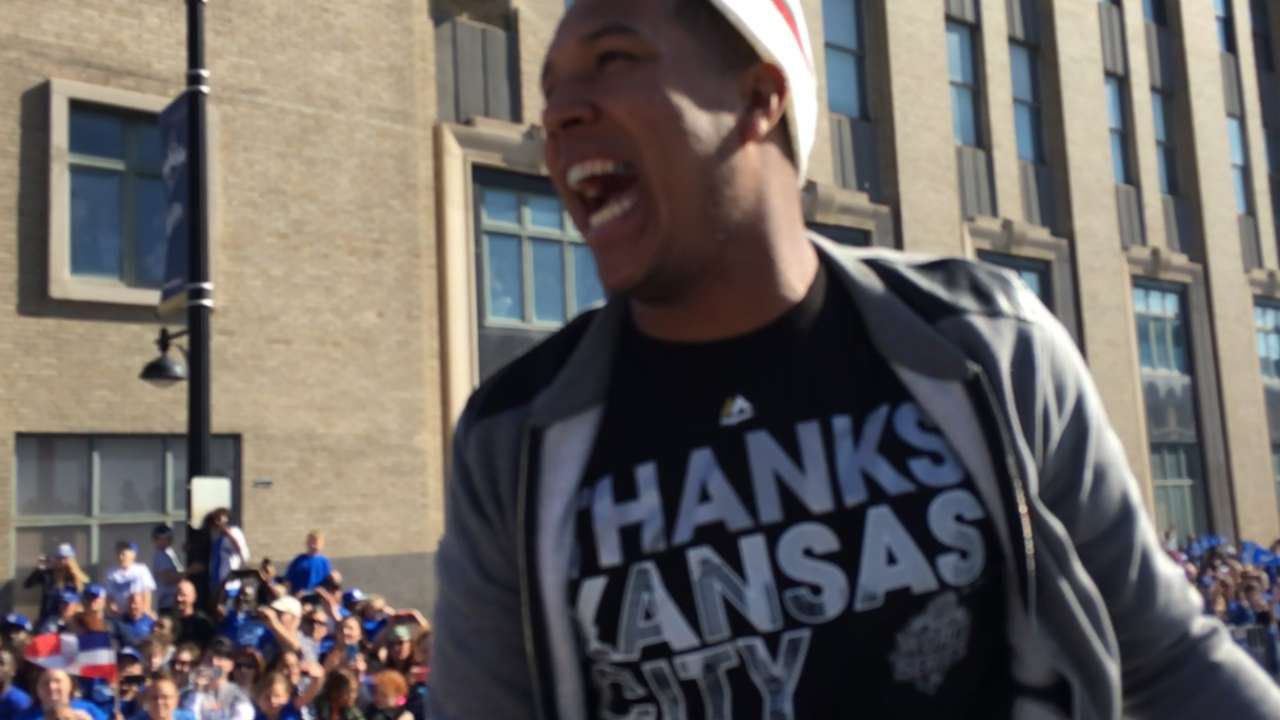 KANSAS CITY -- The postseason celebrations rolled on into late Wednesday night, when five Royals appeared on late-night talk shows -- first baseman Eric Hosmer and World Series Most Valuable Player Salvador Perez on The Tonight Show with Jimmy Fallon on NBC, and pitcher Jeremey Guthrie, catcher Drew Butera and third baseman Mike Moustakas on ABC's Jimmy Kimmel Live.
But it was Kansas City-based actor Eric Stonestreet, star of ABC's "Modern Family," who stole the show with a great line as he was cashing in on a paint-ball gunfight bet with Kimmel when he said, "We have a saying in Kansas City: If you don't like it or don't think it's fair, you can meet us 60 feet, 6 inches from the paint gun."
That, of course, was in reference to Mets pitcher Noah Syndergaard's postgame words for the Royals after Game 3 and after he threw near Royals shortstop Alcides Escobar's head on the first pitch of the game. Syndergaard challenged any Royals to meet him on the mound if they didn't like his first-pitch tactic.
On Jimmy Kimmel Live, Stonestreet cashed in on his World Series bet and lit into Kimmel, who was in New York Mets gear, with a paint gun, as did Moustakas, Guthrie and Butera.
.@EricStonestreet & the KC @Royals' @Mooose_8 @TheRealJGuts @DrewButera shoot paintballs at Jimmy TONIGHT on #Kimmel pic.twitter.com/EWMbMn9Exy

— Jimmy Kimmel Live (@JimmyKimmelLive) November 5, 2015
Across the television dial at NBC's Tonight Show with Fallon, Hosmer admitted it might have been a mistake for him to dash toward home plate with the tying run in the ninth inning of Game 5, a daring move after a Perez groundout to third that turned out successful in scoring the tying run. The Royals later won the game in 12 innings and captured the World Series over the Mets.
"I took the first two steps," Hosmer told Fallon, "and thought, 'This is a bad plan.'"
But Hosmer was safe and it helped the Royals capture their first World Series title in 30 years, which is why he and his teammates were the stars of late night on Wednesday.
Fallon seemed amazed when pictures were shown of the turnout in Kansas City for the Royals celebration parade on Tuesday. An estimated 800,000 fans turned out for the parade and celebration.
"It looks like the Pope came," Fallon said.
At the end of the Royals' appearance, the Tonight Show showed a clip from a rap commercial that 1985 World Series MVP Bret Saberhagen did for a local automobile dealership back when the Royals won their first World Series. Moments later, Saberhagen himself appeared from behind the curtain.
.@TheRealHos35, @SalvadorPerez15 invade @FallonTonight at 11:35ET. They brought a friend - the #WorldSeries trophy. pic.twitter.com/j40TOm9aDx

— MLB (@MLB) November 5, 2015
The Tonight Show chartered a private jet for Perez and Hosmer that left Kansas City for New York City on Wednesday morning. Moustakas, Guthrie and Butera headed west to Hollywood, Calif., for Jimmy Kimmel Live at the same time.
Thank you to @jimmyfallon we will see you later @TheRealHos35 @KacieMcDonnell @MarigRuiz pic.twitter.com/DQalskeVZX

— Salvador Perez (@SalvadorPerez15) November 4, 2015
Perez was accompanied by girlfriend Maria Gabriela Ruiz, while Hosmer was accompanied by girlfriend Kacie McDonnell.
We are @jimmyfallon bound. 10:30 tonight on NBC. pic.twitter.com/Odt7ro80IS

— Mike Swanson (@Swanee54) November 4, 2015
Royals vice president of broadcasting and communications Mike Swanson was on the trip as well, accompanied by the World Series trophy.
Thanks to @jimmyfallon here's a little peek at the finish of tonight's show. @SalvadorPerez15 did his thing. pic.twitter.com/5gZhLRhdRV

— Mike Swanson (@Swanee54) November 5, 2015
Jeffrey Flanagan is a reporter for MLB.com. Follow him on Twitter at @FlannyMLB. This story was not subject to the approval of Major League Baseball or its clubs.