Angels decline outfielder Murphy's club option
Club positioning to target free-agent upgrades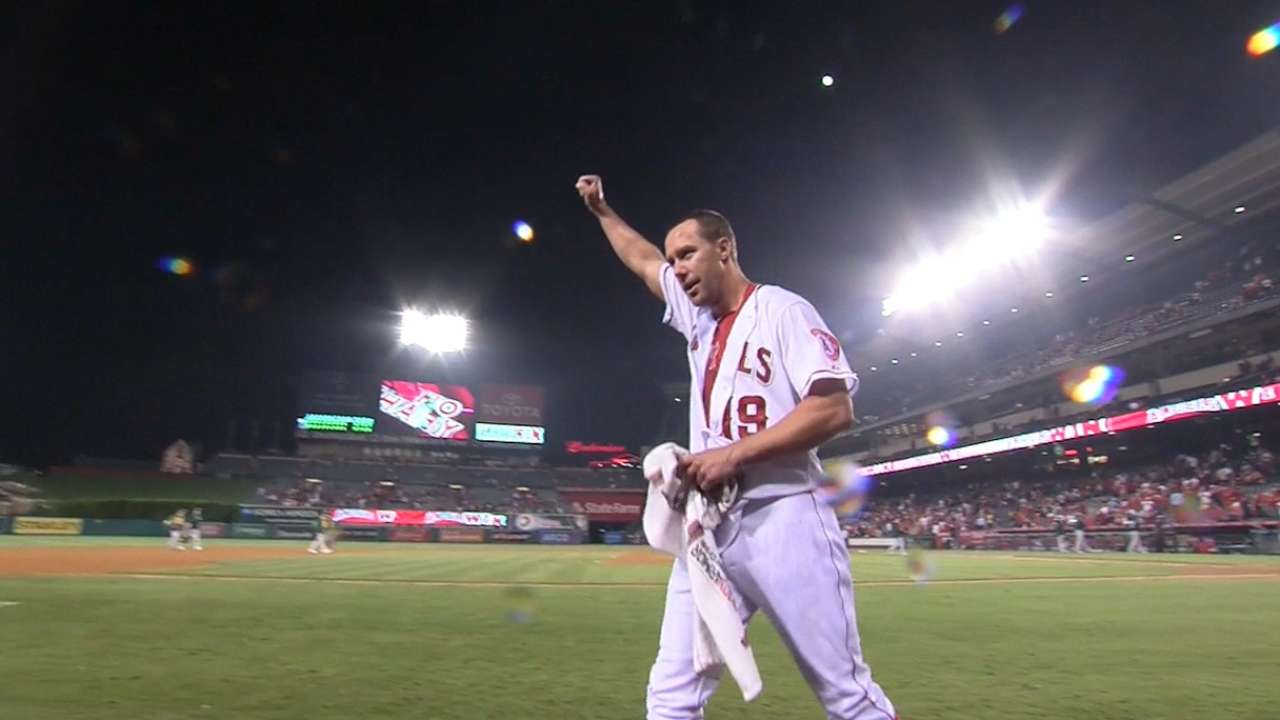 ANAHEIM -- With several holes to fill in their lineup and ambitions of potentially capitalizing on a prominent free-agent class, the Angels have declined their $7 million club option on David Murphy.
Murphy was a productive bat after coming over from the Indians midseason. But as the Angels are currently constructed, picking up Murphy's option would've meant either committing to him as their everyday left fielder or spending a significant sum on a left-handed bat off the bench.
First-year general manager Billy Eppler opted against that, informing Murphy's agent, Michael Moye, late Tuesday night.
Murphy didn't necessarily consider it good news or bad news.
"It's both," he said in a phone conversation on Wednesday morning. "I really enjoyed it there. I definitely would've been happy if my option would've been picked up. But at the same time, I don't think it's ever a bad thing to be a free agent and have control and get to pick where you want to go, assuming the right team is out there and there is mutual interest and a good fit."
Murphy, 34, has carved out a 10-year career with the Red Sox, Rangers, Indians and Angels mainly as a platoon left fielder and designated hitter who starts against righties.
• Eppler's creativity to be tested in first year
Murphy was one of three additions the Angels made before the July 31 non-waiver Trade Deadline, along with outfielders Shane Victorino and David DeJesus. Acquired on July 28 for Minor League shortstop Eric Stamets, Murphy was initially going to split time with C.J. Cron at DH. But Cron stayed hot, DeJesus struggled and Murphy essentially wound up being the everyday left fielder, batting .265/.281/.400 with five home runs over the last 48 games.
The Angels must decide on DeJesus' $5 million club option by 2 p.m. PT on Friday, but they're expected to decline that one, as well.
Murphy felt there was "a 50-50 chance" his option would get picked up.
"At times, I was given a favorable impression that I might be back," Murphy said. "But I knew that the GM was going to play a big factor in that. I don't know Billy Eppler at all. He's coming in, he wants to do everything he can to help this team win, so there's no hard feelings, by any means."
The Angels enter the offseason roughly $25 million below the luxury-tax threshold, which has basically acted as their spending limit the last couple of years. They need a left fielder and a catcher, and may also opt to upgrade at third base, second base and utility infield.
With Yoenis Cespedes, Justin Upton and Jason Heyward making up a star-studded crop of available corner outfielders, the Angels could choose to splurge on their new left fielder.
Murphy -- a lifetime .274/.333/.432 hitter -- is left to find work elsewhere.
"I'm getting older, and I know what my career splits are," said Murphy, who carries a .795 OPS against righties and a .655 OPS against lefties.
"I think, bottom line, I know that I'm probably labeled as a platoon guy, and I will go out there and give it everything I have every day. … I understand where I am, where I've been the last few years as a player, and at the end of the day, I'm still getting to fulfill my dream of being a Major League Baseball player. As long as I have a job in some capacity, I'm going to enjoy it."
Alden Gonzalez is a reporter for MLB.com. Follow him on Twitter @Alden_Gonzalez and listen to his podcast. This story was not subject to the approval of Major League Baseball or its clubs.