Inbox: Will Olivera switch positions?
Beat reporter Mark Bowman answers fans' questions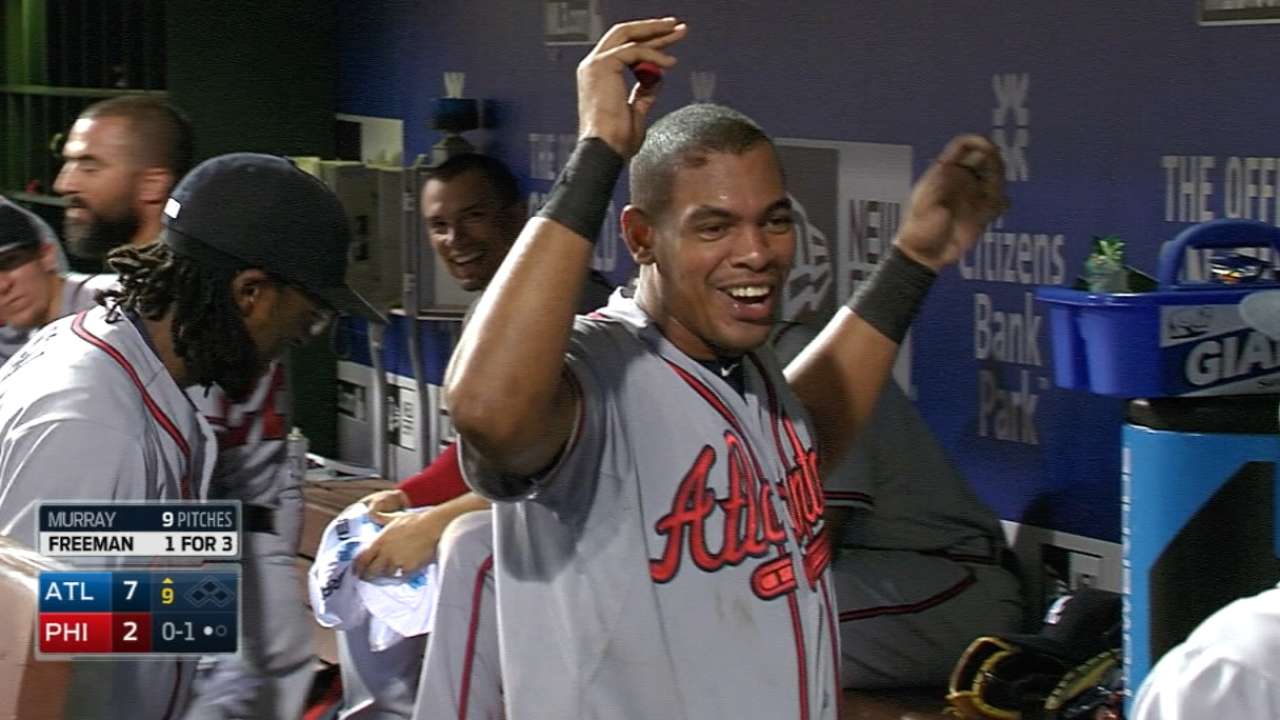 What position do the Braves see Hector Olivera playing throughout most of his career?
-- Todd K. Alpharetta, Ga.
As I reported last week, Olivera will play both left field and third base as he spends the next few weeks playing in Puerto Rico. But there is no doubt that the Braves are hoping that he proves comfortable enough in left field to give them the confidence that he can fill that position at the start of next season.
Olivera had been primarily used as a second baseman before he came to the United States this year. The 30-year-old Cuban's inexperience at third base was obvious, as he looked stiff and lacked range while manning the position for the Braves in September.
If Olivera makes the successful transition to left field, the Braves will have an immediate need to find a short-term fix at third base. There is a chance No. 8 prospect Rio Ruiz could fill the position by 2017. But regardless of whether or not Ruiz pans out, No. 16 prospect Austin Riley is certainly capable of becoming Atlanta's third baseman before Olivera's contract expires at the end of the '20 season.
The Braves have long known Olivera might soon need to transition to left field. Now, it just appears that they are ready for him to make the move a little earlier than expected.
Do you think Fredi Gonzalez will be the Braves' manager when they move into the new stadium in 2017?
-- Michael W., Nashville, Tenn.
Multiple members of the Braves organization have continued to say they hope Gonzalez remains their manager for many years to come. But at the same time, it's never wise to make any assumptions regarding this role.
Ned Yost and Terry Collins were the only Major League managers working this past weekend. But at some point over the course of the past 15 months, there had been reason to speculate about the long-term futures of those two with their respective clubs.
If the Braves were to reach a point where they were looking for a different manager, Mark DeRosa will likely be one of the top candidates. DeRosa does not possess any coaching experience. But he has remained close to the game with his MLB Network duties, and his communications skills have been lauded dating back to his earliest days as a utility man in Atlanta.
Why does there appear to be only lukewarm interest in keeping Cameron Maybin after his productive season?
-- James D., Atlanta
After acquiring him as essentially the throw-in portion of the trade that sent Craig Kimbrel and Melvin Upton Jr. to San Diego, the Braves platooned Maybin in April and then seriously contemplated trading him after he proved productive as an everyday player in May.
The Braves understandably thought it would be wise to sell high on the talented outfielder, who hit .289 with a .356 on-base percentage and .418 slugging percentage before the All-Star break. Then, after holding onto him, they saw Maybin hit just .240/.289/.311 as he battled a number of aliments and raised more injury concerns after the break.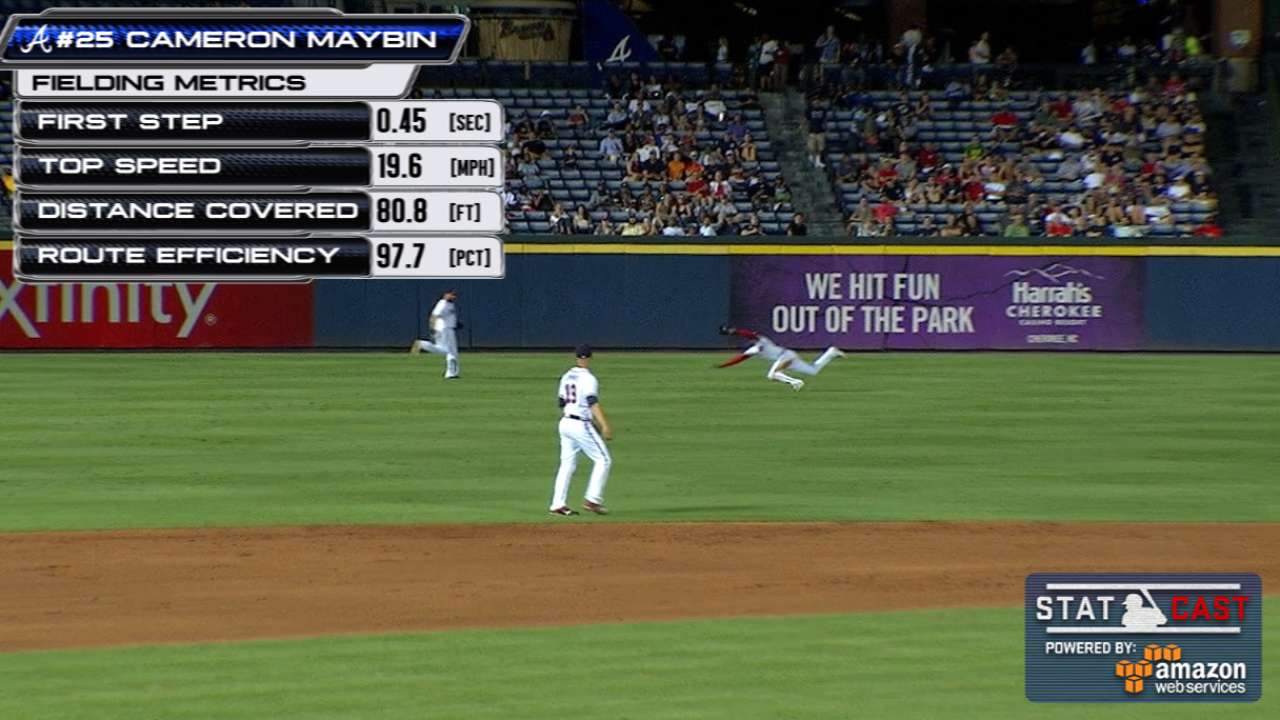 If Maybin remains healthy and matches this year's first-half success, his $8 million salary might be viewed as a wise investment. It's certainly a cost that is much more attractive than the $14 million that Michael Bourn is owed next year.
Either Maybin or Bourn will man the center field position until No. 13 prospect Mallex Smith is deemed ready at some point next year.
In the meantime, the Braves will at least look at ways to potentially cut some of the costs of the salaries owed to Maybin, Bourn and Nick Swisher ($15 million). Unfortunately, it will not be easy to trade any of these three outfielders.
Will Braves management go all out to win in 2016, or is the plan to once again look competitive in the first half and sell off players after the All-Star break while looking ahead to '17?
-- Lou P. Seattle
This offseason will provide some indication of how different the totality of the 2016 season might be. Last winter, the Braves removed significant pieces and filled them with temporary fixes that we all anticipated might be replaced by the end of July. Everything went according to plan -- minus the fact that August and the first half of September proved to be much uglier and intolerable than the Braves had envisioned.
There was nothing fake about the pain or embarrassment of which team president John Schuerholz and president of baseball operations John Hart spoke about during this year's second half. They certainly do not want to relive that experience -- especially as they are attempting to drum up excitement while preparing to move into SunTrust Park.
So, expect this winter's moves to be aimed more toward generating long-term value. If the young starters take a step forward and the bullpen is strengthened, next year's second half might provide a glimpse of what could come in 2017. The Royals won 72 games in '12 and then went 43-27 during the second half of their 86-win '13 season. This is the kind of progression the Braves hope to begin to make next year.
Mark Bowman is a reporter for MLB.com. This story was not subject to the approval of Major League Baseball or its clubs.