Brinson not done developing after impressive AFL stint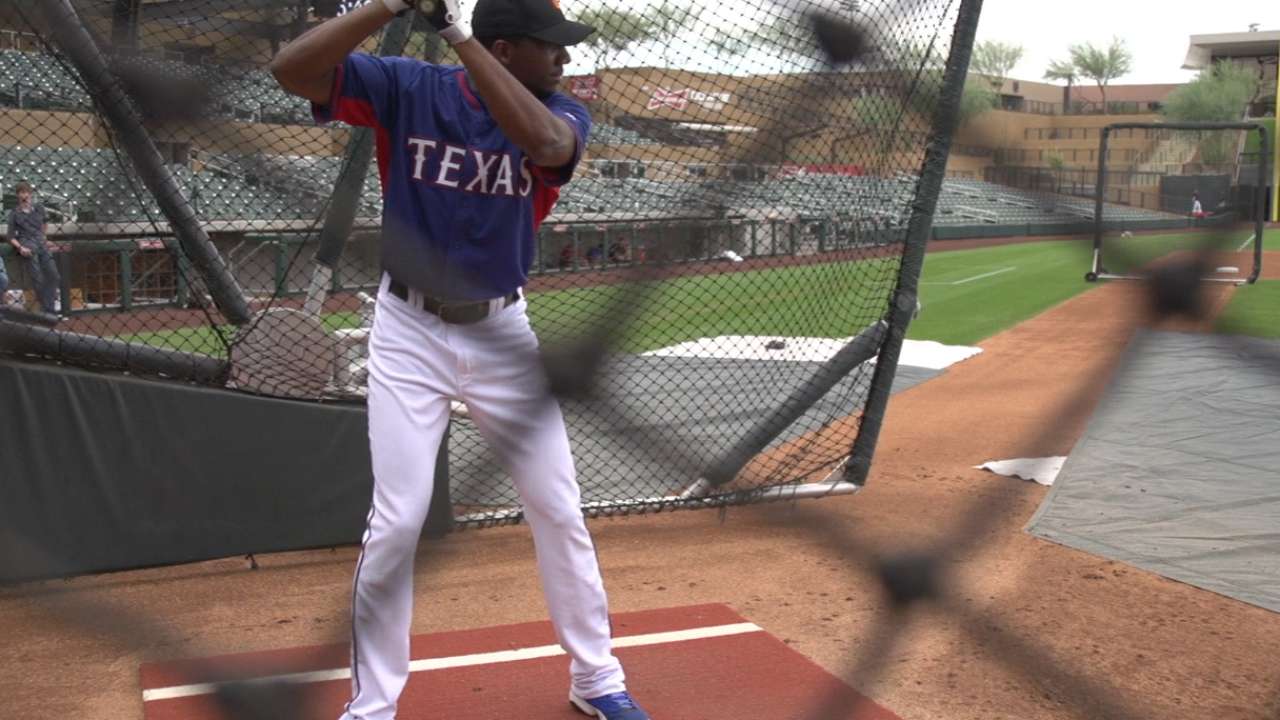 SCOTTSDALE, Ariz. -- While transitioning from high school athletics to the world of professional baseball, Lewis Brinson had to make many adjustments.
The No. 4 prospect in the Texas Rangers' organization not only had to work on his game, but also had to work on his body.
Upon graduating Coral Springs High School in Coral Springs, Fla., Brinson was a lanky 170 pounds, but it didn't take him long to realize that if he was going to accomplish his goal of playing in the Major Leagues, something had to change.
"I couldn't be 170 for the rest of my career," Brinson said. "I knew I couldn't play at that. I've always wanted to be bigger. Genetics, my family, they're tall people, but my uncles and my dad they are real slim, real slender builds, so I just had to accept that. Being a professional athlete I knew I had to eat right, eat a lot and be in the weight room constantly."
Brinson committed to the process and has put on 35 pounds since the Rangers selected him with the 29th overall pick in the 2012 Draft.
The results came, but Brinson has a naturally fast metabolism so adding the weight was no easy task.
"It was really hard," Brinson said. "I have a fast metabolism. My mom would make a joke [that] I'd eat and get up from the dinner table and burn it all off, it was that quick. It was extremely hard and I just learned what I needed to do in the offseason and during the season to maintain my weight and gain weight in the offseason. I want to play in the big leagues and those guys are not the smallest guys on the planet so I've got to look the part."
Of course, there's more than just looking the part.
Brinson also has to be able to play the part and so far, he's proving he can.
The outfielder is coming off a terrific Minor League season and has parlayed that success into a strong showing in the Arizona Fall League.
Brinson began the 2015 campaign in Class-A Advanced High Desert, worked his way up through the system, finishing with Triple-A Round Rock and hit a career-high .332 in 100 games along the way.
"It's been a tremendous jump from when I got drafted to now," Brinson said. "I wouldn't say I'm a totally different person, just on the field I'm a little smarter, a little more experienced. Anybody that takes pride in their craft, in their game, they're going to learn from their mistakes. I've definitely matured as a player. I was pretty mature coming up, I thank my mom for that, I've definitely matured as a player and going about my business every day."
The outfield prospect continued to swing a hot bat in the Arizona Fall League, hitting .300 with six RBIs in 11 games before leaving for the Puerto Rico Winter League, where he promptly homered in his first at-bat for the Indios de Mayaguez on Tuesday.
After a rapid climb through the system in 2015, Brinson has no intentions of slowing down and is intent on making his Major League debut next year.
"Hopefully in the big leagues, hopefully in big league camp," Brinson said when asked of his goals for 2016. "Hopefully get to show the big league staff and my future teammates what I can do, what kind of player I am and that I can contribute to the Texas Rangers and hopefully bring that World Series to Texas."
William Boor is a reporter for MLB.com. Follow him on Twitter at @wboor. This story was not subject to the approval of Major League Baseball or its clubs.