Fans turn out in droves for Royals' WS parade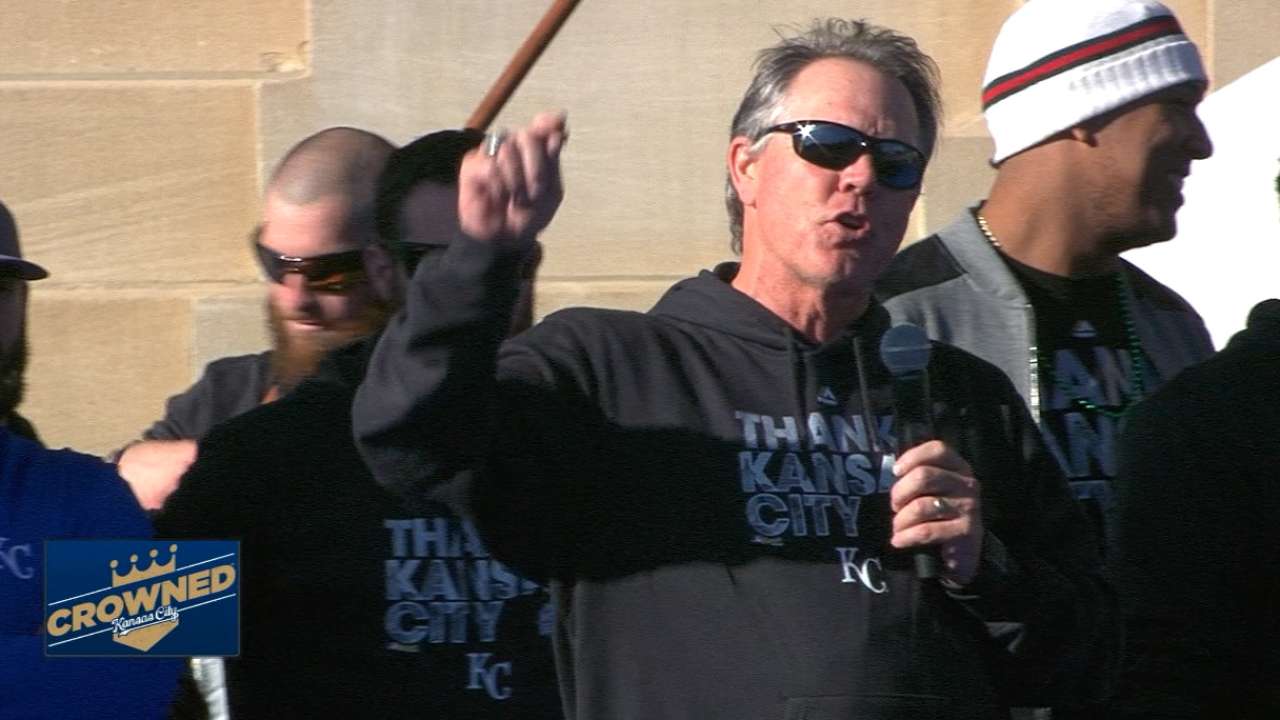 KANSAS CITY -- The view looking out from Union Station was stunning on Tuesday. A mass of blue-clad humanity as far as the eye could see in all directions. For Grace Williams, 16, it was a view she knows will be etched in her memory for a lifetime.
"I've been a Royals' fan since I can remember," Williams said. "This will definitely be one of those days that I'll tell my kids about many years from now. I am never going to forget this day. I'll sit them down and tell them how great of an experience this was and how I hope that one day they will have a chance to experience something like this, too."
• Buy Royals' World Series champs gear
Kansas City is THAT city #Crowned pic.twitter.com/XAUvfyoeGj

— McKenzie Peve (@mckenziepeve) November 3, 2015
The Royals' World Series championship parade through downtown Kansas City, which ended with a raucous rally at Union Station, drew similar sentiments from those young and old. For fans who remember the Royals' championship parade in 1985, it was a flashback to happy times. For others, it was a new experience to celebrate and savor.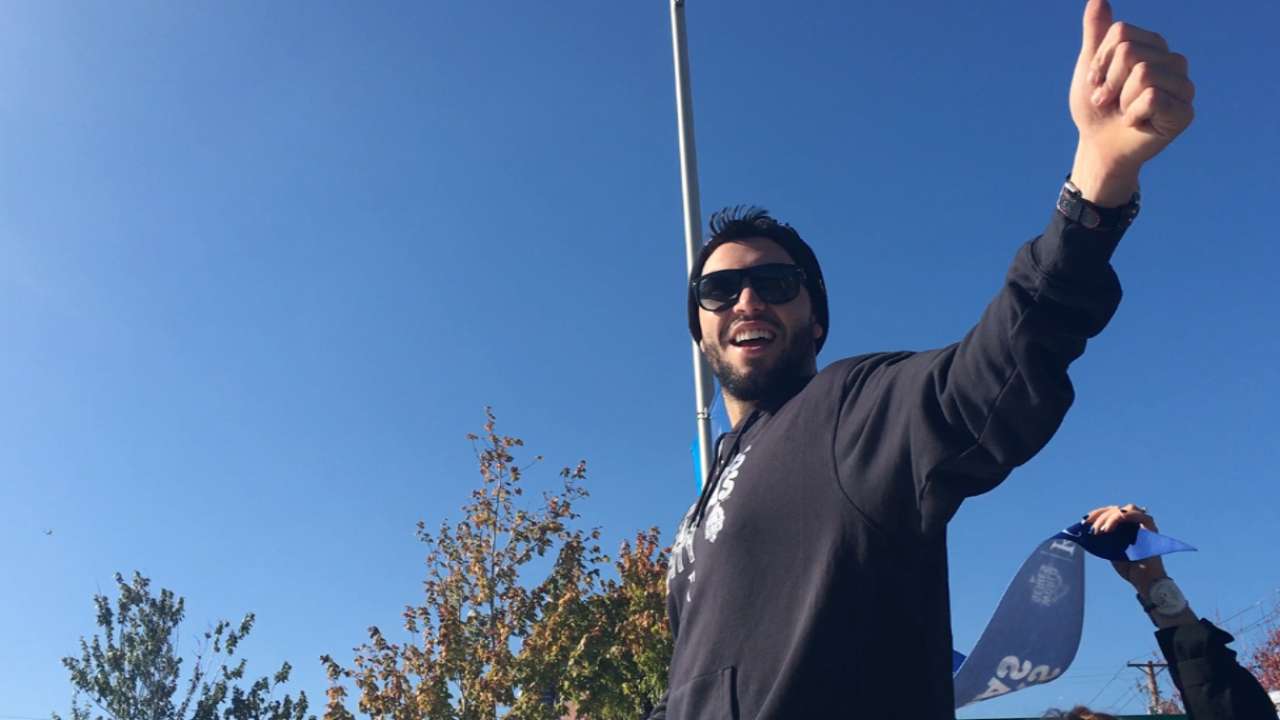 "This city has embraced the Royals, and you see just how much with this turnout," said Carol Lillis of Kansas City. "I was actually in the parade in '85 and riding on a fire truck. But this is bigger and just so grand. It reflects how the Royals have brought everybody together."
1985 vs 2015 pic.twitter.com/XdkH2YykfV

— Jerad (@Jerad_daniels) November 3, 2015
• Royals, fans revel in WS champions parade
With school districts in the Kansas City area declaring Tuesday as a Royals holiday and cancelling classes, downtown was swarming with people of all ages hours before the parade commenced at noon.
One way or the other, Williams wasn't going to miss it.
"I definitely would have called in sick," she said when asked what she would have done had school been in session.
When @SalvadorPerez15 is like 5 ft away from you #Crowned #RoyalCelebration pic.twitter.com/8GpUMLw5TU

— Amanda Burris (@woahxitsamanda) November 4, 2015
• Relive all the confetti, crowns and mic drops from the Royals' World Series parade
Willams arrived with a poster that read "Heroes get remembered, but legends never die." It was a line from "The Sandlot" and resonated with Williams. The poster had the names of all the Royals' players, and she now considers them all legends after they brought a World Series title to Kansas City.
"My mother was a senior in high school when the Royals won it in 1985," Williams said. "She didn't have the opportunity to come down here for this parade, so she really encouraged me to come and support the Royals. I had to work through a lot of Royals fans to get this spot, but it was definitely worth it."
Loved seeing all the blue today! #Crowned pic.twitter.com/pvhj6HDdw2

— Dontae White (@DontaeCW_28) November 3, 2015
• Royal celebration: KC holds parade for World Series
Brian McMillan of Spring Hill was proactive in formulating a plan that helped him get a prime location for the rally.
"I brought my RV down here last night," McMillan said. "I spent the night in the RV and was sitting here at 6:20 this morning."
McMillan didn't come to the championship parade in '85, so he was particularly motivated to attend Tuesday's salute to the champions.
"You shouldn't miss two championship parades in a lifetime," McMillan said with a laugh.
This is what happens when you #TakeTheCrown #RoyalsParade pic.twitter.com/wtrrKFyNmO

— Sam Danes (@SamDanes26) November 3, 2015
McMillan believes that the Royals bonded with the fans in a special way because of their resiliency. In tough spots, they just got tougher.
"You could just see in the late innings that the Mets were thinking, 'They are at it again.' And it was so much fun to watch that," McMillan said. "It was an amazing team all year, with its ability to step up while the other team couldn't.
"We, as fans, appreciate and respect that. And that's why we are here today. We want to honor them and celebrate with them."
Sorry, boss. Couldn't work today. There was a parade in #KC. #GoRoyals #WorldChamps #Crowned pic.twitter.com/u45I1dCkFd

— Kyle Knierim (@KyleK_3) November 4, 2015
Robert Falkoff is a contributor to MLB.com. This story was not subject to the approval of Major League Baseball or its clubs.