Fields, Guerrero provide power in Fall League win
Blue Jays prospects combine for four hits and five RBIs for Salt River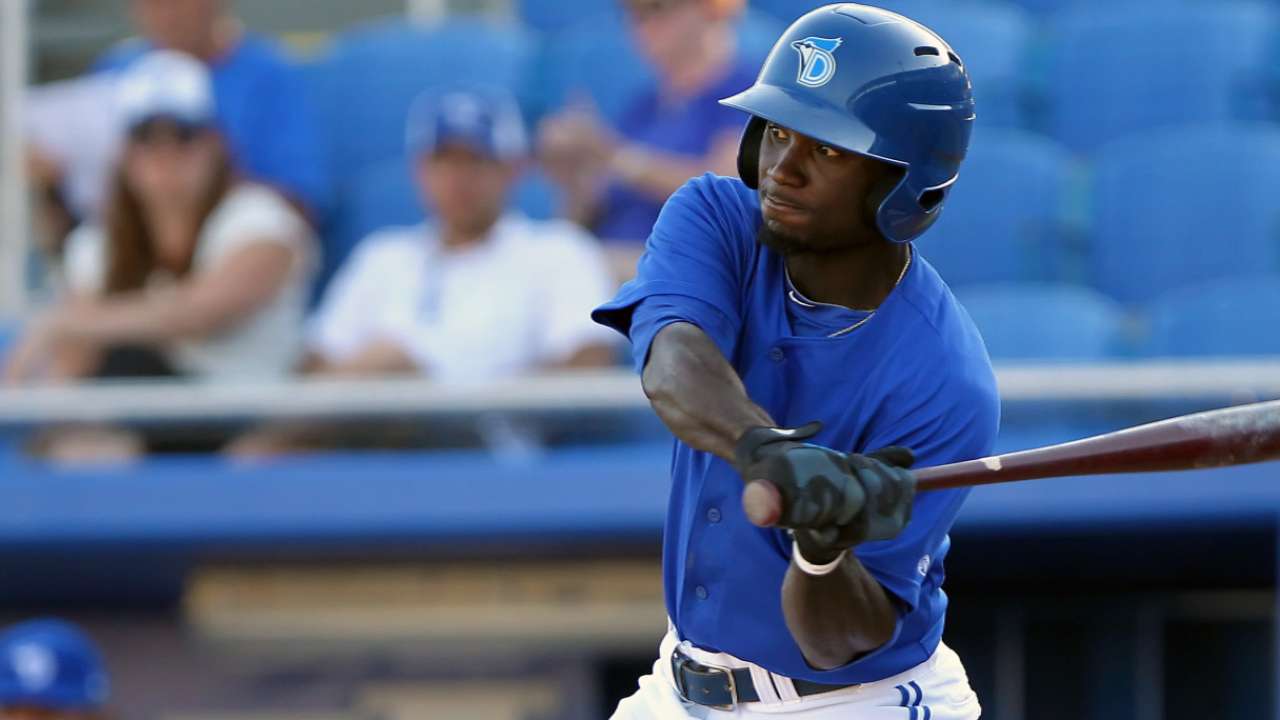 SCOTTSDALE, Ariz. -- The Blue Jays' prospect contingent was in full force Tuesday at Salt River Fields as Roemon Fields and Emilio Guerrero combined for four hits and five RBIs in Salt River's 6-2 win over Glendale in the Arizona Fall League.
Fields, the Blue Jays' No. 22 prospect, paced the Rafters' offense out of the leadoff spot, reaching base three times as part of a 2-for-4 performance that included a two-run triple and his eighth stolen base, which is tied for the most in the Fall League with Reds prosepct Phillip Ervin. The 24-year-old outfielder improved his AFL average to .229 with the pair of hits, although he's swung the bat better than his numbers suggest.
"I'm feeling comfortable and sticking to my approach," he said after the game. "I'm hitting the ball hard and trying to stay consistent."
After going undrafted out of Bethany College in 2013, Fields caught the attention of Blue Jays scouts during a tournament later that summer and ultimately signed with the organization in late August. Since then, the Seattle native has done nothing but surpass expectations.
Fields opened eyes in 2014 during his professional debut at Class A Short Season Vancouver, hitting .269/.338/.350 while pacing the Northwest League with 48 stolen bases. The performance set the stage for a remarkable full-season debut this past season in which Fields reached the Double- and Triple-A levels after beginning the year at Class A Advanced Dunedin.
"It was a lot of fun," said Fields. "I never expected that."
Between the three stops, Fields batted .262/.316/.321 with 63 runs scored and 46 stolen bases in 121 games.
Fields has continued to impress in this year's Fall League, showcasing 70-grade speed (on the 20-80 scouting scale) on the basepaths and in center field while making strides at the plate. After striking out 90 times against 37 walks during the regular season, the 5-foot-11, 180-pound left-handed hitter is exhibiting more patience at the plate, evidenced by his eight walks and eight strikeouts in 13 games for the Rafters.
On top of that, Fields also is proving to be more than just a singles hitter. On Tuesday, he laced a two-out, two-run triple, his third of the season, to the wall in right-center field.
"I'm trying to hit the ball gap-to-gap and hard groundballs, not just slapping the ball," Fields said. "I want to show people that I can hit the ball."
Guerrero also had a big day at the plate Tuesday, going 2-for-4 with his first Fall League homer and three RBIs. The 23-year-old has come on strong of late after a slow start, collecting multiple hits in three of his last four games for Salt River. Overall, Guerrero is batting .250 with six RBIs through 10 games this fall.
"I was struggling at the beginning, but that happens," said the 6-foot-4, 189-pound third baseman. "You just have to stay focused and come back."
Guerrero scuffled during the regular season between Dunedin and Double-A New Hampshire, hitting a combined .235/.278/.343 in 80 games. He also spent time on the disabled list during the middle of the season.
Now making up for the lost time in the Fall League, Guerrero is working to simplify things at the plate and get back on track.
"Just to be on time and see the ball," Guerrero said of the adjustments he's made this fall. "And also don't swing so hard."
He's also keeping things in perspective while looking ahead to 2016.
"Just stay healthy," Guerrero said. "Whatever is going to happen is going to happen, but I need to stay healthy for that to happen."
Meanwhile, Rafters starter and Mets prospect Mickey Jannis was a pleasant surprise on the mound, allowing one earned run on four hits in six innings to earn his first Fall League win. The right-hander struck out two and did not issue a walk in outing, throwing 48 of his 70 pitches for strikes, and he threw first-pitch strikes to 13 of the 21 batters he faced.
Jannis was selected by the Rays in the 44th round of the 2010 Draft out of Cal State - Bakersfield, but pitched only two seasons in the Minor Leagues before he was released following the 2011 season. Unable to catch on with another organization, the 6-foot, 190-pound right-hander reinvented himself as a knuckleballer and landed a contract with the Long Island Ducks.
Jannis' success for the Ducks caught the attention of the Mets, who signed the 27-year-old to a Minor League deal in early July. He went on to post a 3.55 ERA in 58 1/3 innings (10 starts) over the final two months of the regular season and reached Double-A for the first time in his career.
In the Fall League, Jannis has yet to yield more than two runs in any of his four starts for Salt River, and his ERA sits at 2.37 through 19 innings.
Mike Rosenbaum is a reporter for MLB.com. Follow him on Twitter at @GoldenSombrero. This story was not subject to the approval of Major League Baseball or its clubs.