Reds' Ervin drives in six runs in Fall League win
Club's No. 11 prospect hits grand slam in Peoria victory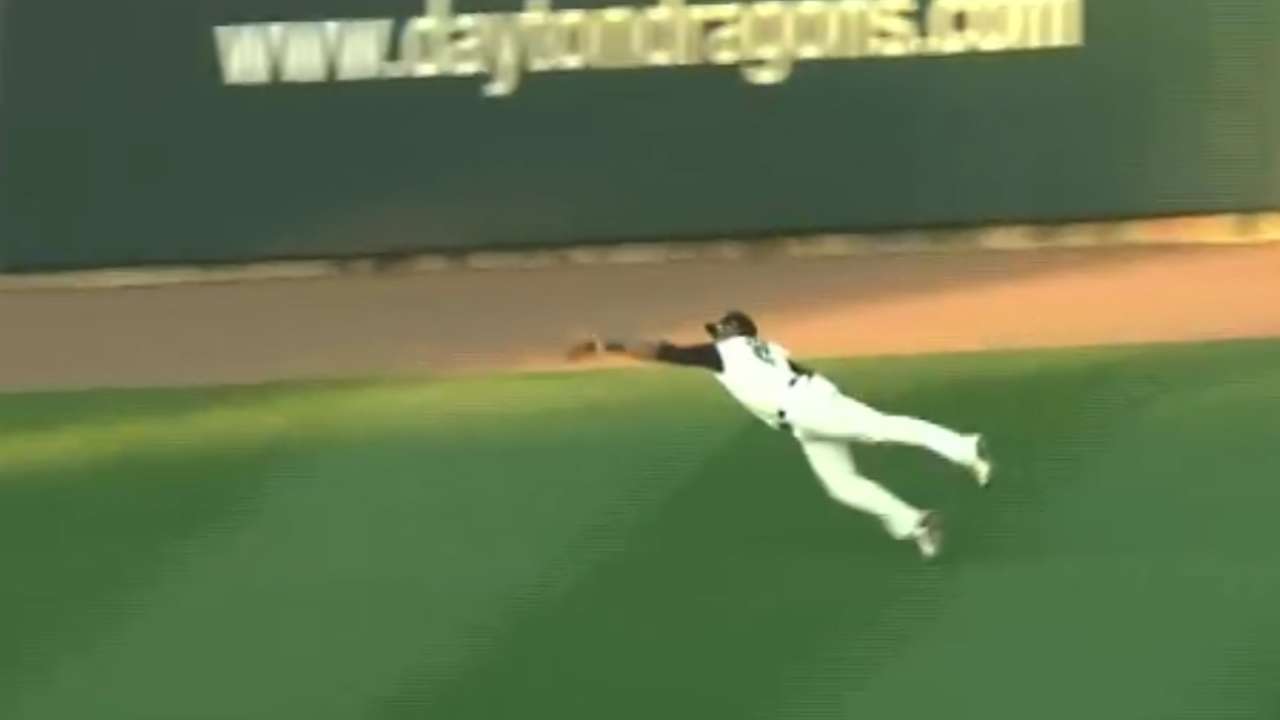 Phillip Ervin had a big day. Ervin, the No. 11 prospect in Cincinnati's farm system according to MLB Pipeline, delivered a grand slam and six RBIs in Peoria's 14-5 win over Mesa on Tuesday. Ervin's six RBIs were a high for the Arizona Fall League.
It all started early for Ervin, who played center field and batted fifth for Peoria. Ervin, a native of Mobile, Ala., rapped a two-run-single with the bases loaded in the third inning Tuesday to make it a 5-0 game. One inning later, he went deep for a grand slam to give his team an 11-run advantage.
Ervin had three hits and a stolen base, and he's hitting .293 midway through the AFL campaign.
"I was feeling good after the game yesterday, and I just tried to stick with the same approach," said Ervin, who had a 3-for-4 peformance in Monday's 6-3 victory over Mesa. "I didn't want to do too much. I was trying not to get too big and trying to put the ball in play. Everything just fell into play."
Ervin, the 27th overall pick in the 2013 Draft, made his upper-level debut with 17 games for Double-A Pensacoa this year, but first he had to progress through 109 games in the pitching-rich Class A Florida State League. Ervin hit .241 with 14 home runs combined in two stops before reporting to Arizona.
The 23-year-old played his college ball at Samford University in Birmingham, and while he only had 12 hits in 17 games for Pensacola, he drew 13 walks in his brief time squaring off against Double-A arms.
"When you're out there hitting balls and doing good in a pitcher's league, it's a confidence-booster," he said of starting off his season with Class A Daytona prior to his promotion. "It was an eye-opener to see the level of competition [in the Double-A Southern League] and how big a jump it is. I enjoyed it."
Ervin came into the year with just 16 career home runs spread over two seasons, but he nearly doubled that total by going deep 12 times for Daytona and twice for Pensacola. Ervin also stole 34 bases this season and was caught just 10 times, and he has 78 stolen bases in 304 career games.
But he was hardly the only player with a big day for Peoria on Tuesday. Peoria's first three hitters -- Adrian Marin, Johan Camargo and Nick Torres -- combined to score nine runs. Torres, Ervin and Mike Yastrzemski all had three hits.
"It felt good to win, especially when you play good," Ervin said of the 14-hit game for Peoria. "When you go out there and get the W and everybody plays good, it's a fun atmosphere to be around."
Spencer Fordin is a reporter for MLB.com. This story was not subject to the approval of Major League Baseball or its clubs.