Royals' Starling goes deep in Fall League win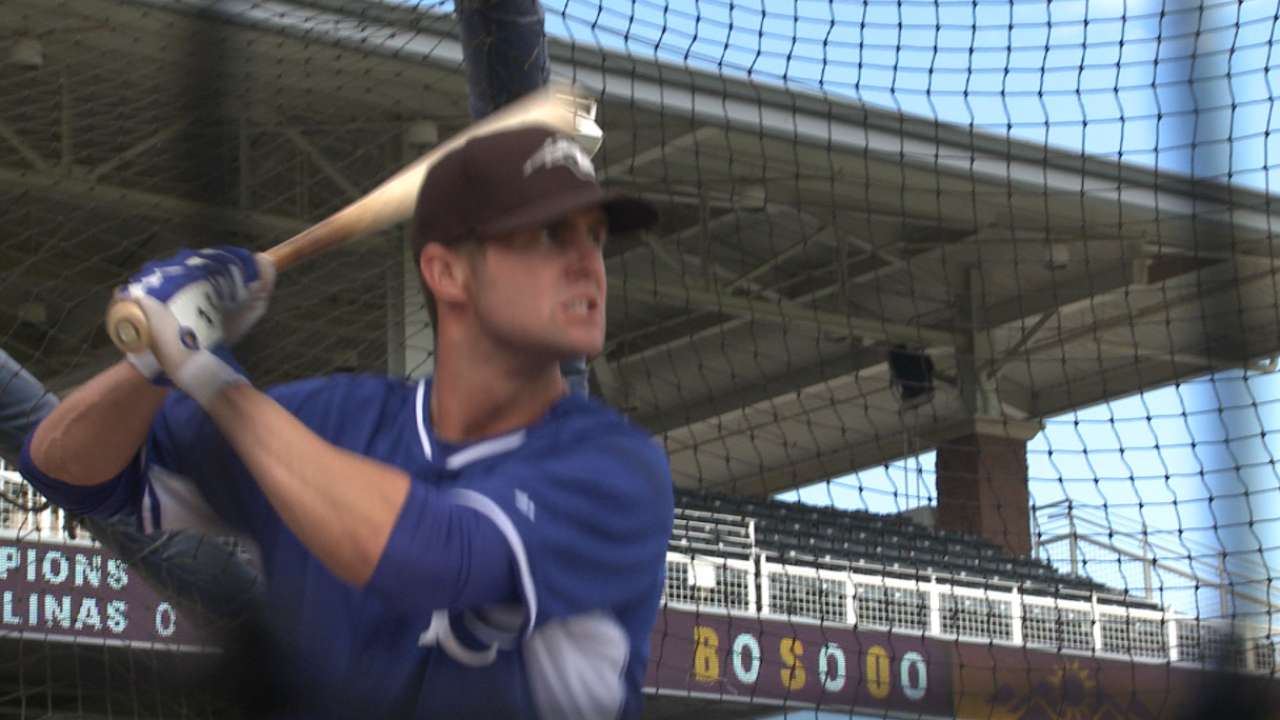 SCOTTSDALE, Ariz. -- Bubba Starling and the Surprise Saguaros had finally had enough.
The Surprise squad jumped out to an early lead and never looked back as it snapped a five-game losing streak with a 4-0 win over the Scottsdale Scorpions on Tuesday.
"We've had a rough few games it seems like the last three, four, five games and it's good to come out and get a quality win," Starling said. "The pitching was great and we were hitting up and down the lineup."
A day after being shut out, the Saguaros' offense got on track early as it scored in three of the game's first four frames, including two runs in the first.
Yadiel Rivera, the No. 18 prospect in the Brewers organization, led off the game with a ground-rule double, and St. Louis' Aledmys Diaz followed up with a two-run homer to left.
"It was great," Starling, the No. 5 prospect in the Royals' organization, said. "That's what Rivera and Diaz are about. They start us off with a ground-rule double and a home run. That's a nice way to start the game and we just fed off that the rest of the game."
Starling certainly fed off the energy Diaz created as he hit a homer of his own in the fourth inning.
The 23-year-old outfielder was called out on strikes in his first at-bat, but in his second trip to the plate he made sure to swing the bat and hammered a pitch out to left field, over the bullpen, for his fourth homer and eighth RBI.
"First pitch was a slider and I got down 0-1, and I was just looking for a fastball that I could drive and it was right there," Starling said.
Once Starling and his teammates provided the early runs, the pitching staff did the rest.
Rangers' prospect Sam Wolff turned in his best start of the AFL as he tossed 4 1/3 shutout innings.
The right-hander threw 49 of his 80 pitches for strikes and although he left with two on, fellow Texas farmhand Ryne Slack came in, induced a 4-6-3 double play and escaped the jam.
"Wolff's been solid pretty much every time he's been out there," Starling said. "It's fun being behind him. Not just me, but all the other guys love being behind him. He's got a great attitude and he works the zone really well."
While all the Surprise pitchers likely enjoy having Starling roaming the outfield behind them, Slack was the beneficiary on Tuesday.
San Francisco's Christian Arroyo led off the sixth with a line drive to straightaway center, but Starling got a good jump on the ball and made a leaping catch over his head.
"Ball was squared up right to me," Starling said. "I knew the wind was going to carry it back a little bit, I just got a decent jump on it and tried to make a play on it."
Starling hit .269 with 12 homers and 44 RBIs in 103 games this past season and is hitting .308 through 14 games in the AFL.
After Tuesday's 1-for-4 performance, Starling has hits in seven of his last 10 games, but the former first-round selection isn't worried about any of the numbers. All he wants to do is get on the field and continue to play.
"Just play more ball," Starling said when asked of his goal for the rest of the season. "The more I play, the better I feel. I missed probably a month during the season, could have played 20-25 more games and it's nice to be out here to get some of those games in."
William Boor is a reporter for MLB.com. Follow him on Twitter at @wboor. This story was not subject to the approval of Major League Baseball or its clubs.