Mets extend Collins' contract through '17
Veteran manager guided club to 90 wins, NL pennant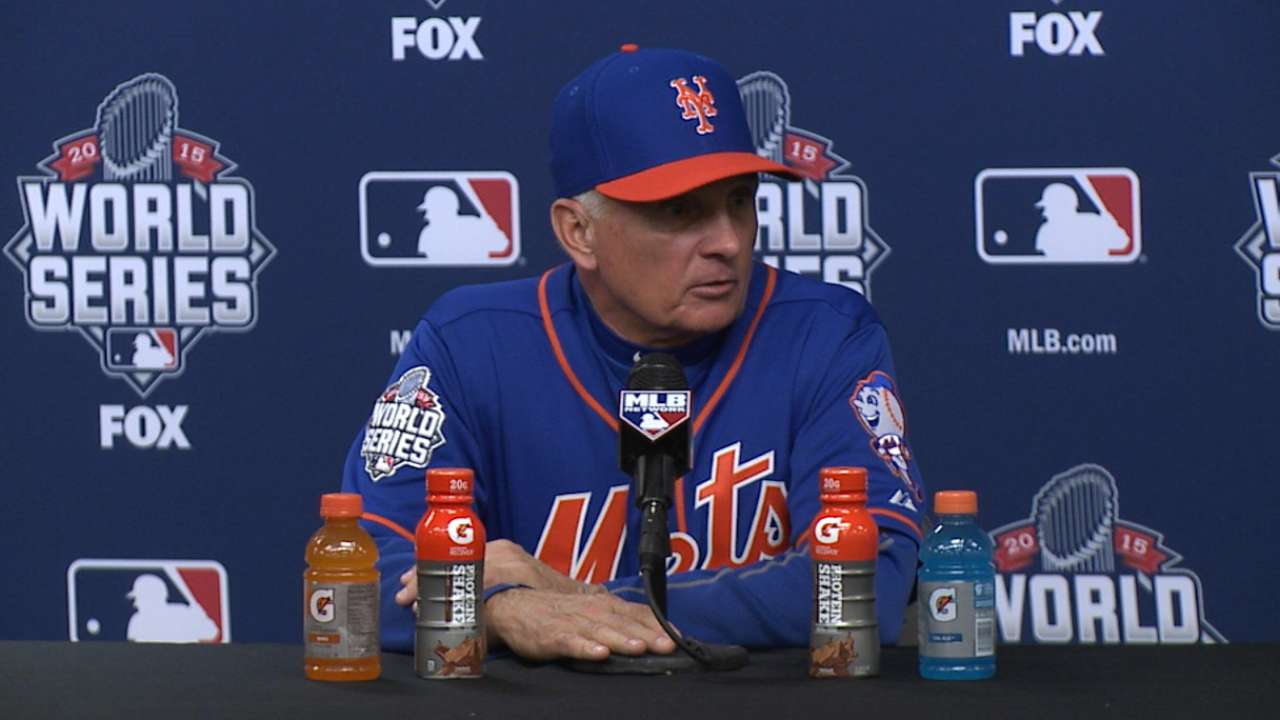 NEW YORK -- The Mets have agreed to a two-year contract extension with manager Terry Collins, keeping him at the helm through 2017. The team acknowledged the extension during a news conference held at Citi Field on Wednesday.
Collins, 66, just completed his fifth year and first winning season as the Mets' manager, going 90-72 en route to the National League pennant. Overall, he is 394-416 with the Mets, moving from fourth place in 2011 and '12 to third place in '13, second place in '14 and first this season. The result was Collins' first trip to the Major League playoffs in more than four decades in professional baseball.
"Terry did an extraordinary job this year under differing circumstances as time went on," general manager Sandy Alderson said. "In the first part of the season, we had high expectations [and] we had a high injury rate. Terry kept the team together, kept it competitive, kept our heads above water. Later, as the season wore on, we got some players back from injury and we added some players via trade. He managed that group with those higher expectations extraordinarily well and obviously got us into the World Series."
At 66, Collins was the Majors' oldest manager this season, and figures to be again next year. The former Astros and Angels manager has talked openly about retirement in the not-to-distant future, saying frequently that he has no desire to manage into his 70s. Collins' new deal will take him to age 68.
"As I've said before, this is an honor and a privilege, to manage the New York Mets," Collins said. "A year ago, Sandy and I sat up here and we said it was time to win. And we meant that. We went out there and that was the sole thing in our minds, no matter what names were on the back of our jerseys. We were going to win. Our fan base deserved it. It was time to repay their patience with a winner."
For now, Collins will remain at the helm of a club bringing back the core of its rotation: Jacob deGrom, Matt Harvey, Noah Syndergaard and Steven Matz, a group that now boasts significant postseason experience.
"They learned how to get through this," Collins said on Monday. "They learned how to get through a long season. They learned what it's like to play in October, and they're going to be a lot better because of this experience."
Anthony DiComo is a reporter for MLB.com. Follow him on Twitter @AnthonyDiComo and Facebook, and listen to his podcast. This story was not subject to the approval of Major League Baseball or its clubs.