Flowers believes he should be starting catcher
Backstop feels his pitch framing, handling of staff give him edge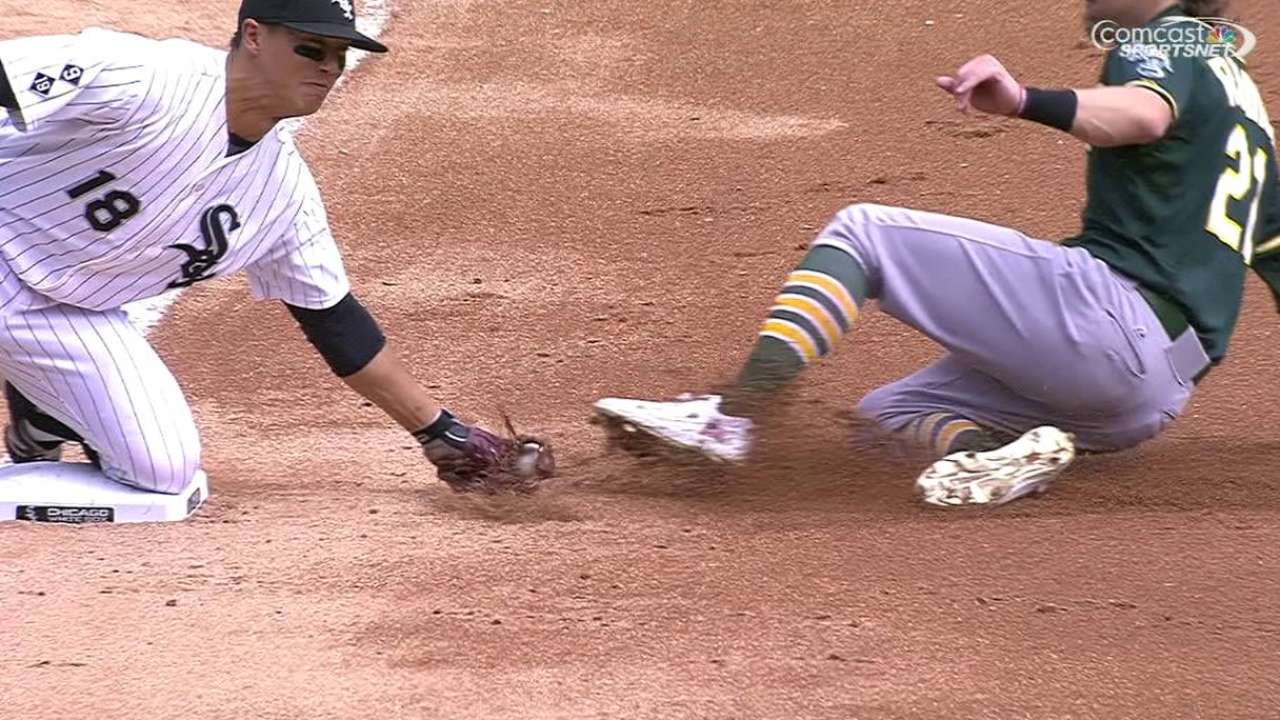 CHICAGO -- Where question of the 2016 White Sox starting catcher is concerned, the South Side fan base might not agree with Tyler Flowers' answer.
"I anticipate being back there, being the starter," the arbitration-eligible Flowers told MLB.com during a recent phone conversation. "Of course, you always have to fight for your job. That's the line of work we are in. But I don't anticipate it being too much of a challenge as far as obtaining the starting catching job, other than me challenging myself."
Flowers became a target of fan derision last season, as well as parts of the two seasons prior, because he didn't hit consistently. His 2014 numbers checked in at a .241 average, .693 OPS, 15 homers and 50 RBIs. Those statistics dropped to .239, .652, nine and 39, respectively, this past season.
A nagging right knee problem that required offseason arthroscopic surgery to remove floating pieces of cartilage and drain a baker's cyst factored into those struggles, but Flowers readily admitted that his shortcomings at the plate contributed to the team's season-long offensive struggles. So why is the 29-year-old catcher so confident in holding onto his starting job?
It's primarily because this particular position for the White Sox centers on handling the pitching staff, and Flowers has excelled in that area. Just ask staff-ace Chris Sale, who set a single-season White Sox franchise record with an American League-high 274 strikeouts in 2015 and heaped praise upon Flowers' contributions after almost every start.
Just look at some of the pitch-framing statistics attached to Flowers' work, which Flowers describes as an ability that changes outcomes of at-bats and innings. According to the Stat Corner, Flowers ranked second in baseball to Pittsburgh's Francisco Cervelli with 169 +calls. Per Baseball Prospectus, Flowers topped the AL with 121.8 extra strikes, the difference between actual and predicted strikes received by the catcher.
Geovany Soto worked with Flowers in handling the staff last season, but Soto is a free agent, so the White Sox could look for an upgrade behind the plate -- or as Flowers views it, a challenger to his everyday job -- either through free agency or via a trade.
"With what I do behind the plate and the relationship I have with pitchers, with the success a number of our starters had in particular with me, I think that fortifies anything," said Flowers, who was 9-for-62 against would-be basestealers and had 15 passed balls, but pitchers also had a 3.68 ERA with him helping to execute the gameplan. "We all work very well hand and hand.
"My expectation is to be the starter again and continue to improve on what we've done the last couple of years with me behind the plate and our staff in place. I guess we all just got spoiled with A.J. [Pierzynski] being here, hitting .300 with 28 homers, and it would be nice to contribute more offensively. Ultimately, the catcher's job is behind the plate with the pitchers, and I haven't fallen short in that aspect."
Scott Merkin is a reporter for MLB.com. Read his blog, Merk's Works, follow him on Twitter @scottmerkin and listen to his podcast. This story was not subject to the approval of Major League Baseball or its clubs.