5 key tidbits from Shapiro's news conference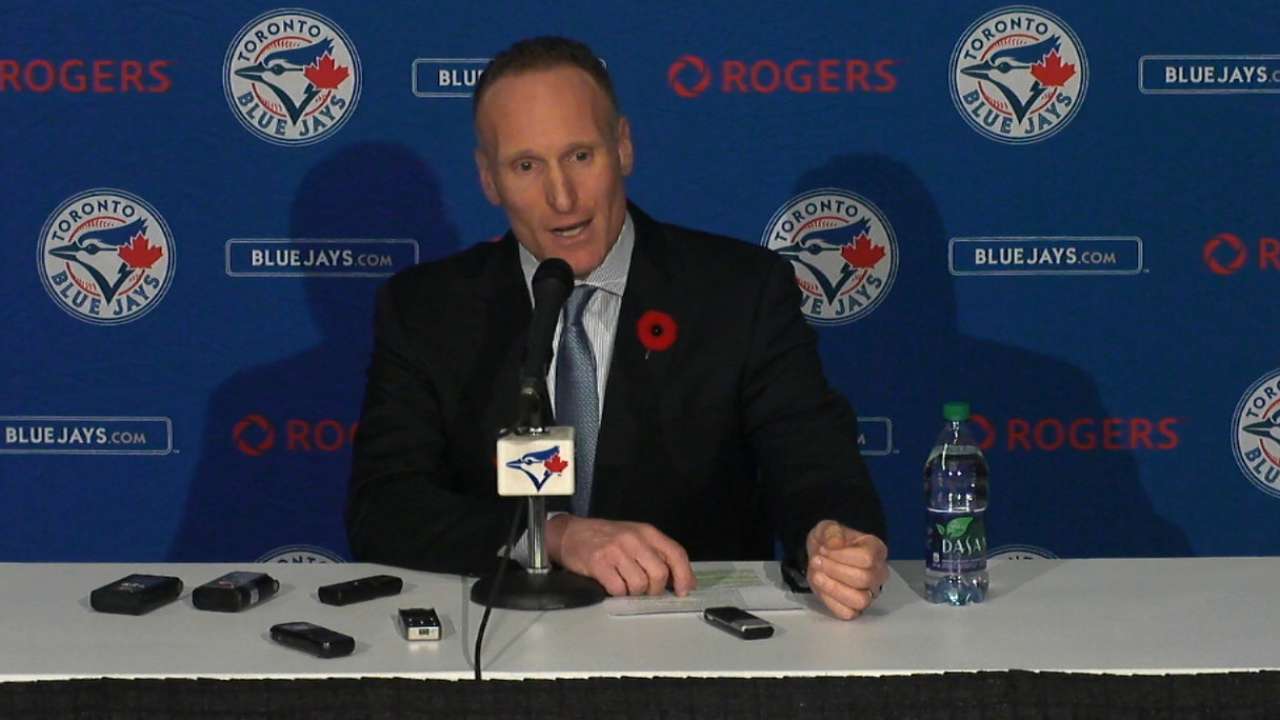 TORONTO -- Mark Shapiro will be one of the busiest men in baseball over the next several weeks as he transitions to his new role as the Blue Jays' president and CEO.
Shapiro made a couple of major announcements Monday during his introductory news conference -- Tony LaCava was promoted to interim GM and John Gibbons will return as manager in 2016 -- but that was only a sliver of the topics he discussed with the media.
Here are some of the highlights:
1. Renovations at Rogers Centre and the installation of natural grass
"I'm aware of some of the issues, I had a very top-line discussion with [vice president of business operations] Stephen Brooks. I think among the things I'm going to dig into, and certainly among the priorities on the business side for sure, is generating a long-term plan for Rogers Centre.
"I think that starts with the fan, that starts with the market. What do they want? How can we adapt a building that obviously has certain features that aren't going to allow it to be completely changed or altered? How do we adapt that building to create the best fan experience? You start with the fan and ... you'll end up with the right answer."
2. Toronto's previous club policy of not offering contracts beyond five years
"I think by and large, that's probably a good stance to take. I don't believe in absolutes ... so, no. I think in the right situation, the right circumstance, I could foresee a seven-year deal. ... The risk tolerance would have to be very clear in what you're getting, but there are certainly those situations that would justify that length of contract."
3. Representing the country and continuing a partnership with Baseball Canada
"It wasn't a light decision for me. Twenty four years in one spot, having raised a family in that area, and as I considered the decision and talked to my wife about it, raising our family here in Toronto for the next part of their childhood, that was really with the responsibility of what it would mean to move here, live in this city and take on that understanding that this team represents not just the city, but the country.
"To me, that was an incredible opportunity. To me, that was remarkable. Baseball Canada does it as well as anybody, so I want to be a part of that. I want to take on that opportunity to represent not just a city but a country and help lead an organization that does that. I think it's a unique position, a special one and something that was very much a part of being here today."
4. Qualities that he's looking for in a new GM
"I probably have an ideal set of characteristics and attributes that I'll focus on. Certainly a leader, a decision-maker, a communicator, someone who hires effectively and surrounds themselves with quality and talented people and empowers those people.
"But I do think it's somewhat situational. I do think there are people with different strengths and it's as important that you build a team around a GM, as it is the GM. I think part of the GM's job is to build that team. Not just build the team on the field but build the team in the office."
5. Upgrading or changing Spring Training facilities
"Spring Training complex, as a generality, I think needs to be something that there's some attention paid to. I was aware of that coming in -- certainly not hard to be aware of that -- and I can just tell you, my general philosophy and belief is that Spring Training is one of the most important resources in building a championship culture.
"It needs to be a state-of-the-art facility that provides a culture capable of rehabbing, training, developing players in a cutting-edge environment that provides a competitive advantage. We'll look to do that, hopefully in Dunedin."
Gregor Chisholm is a reporter for MLB.com. Read his blog, North of the Border, follow him on Twitter @gregorMLB and Facebook, and listen to his podcast. This story was not subject to the approval of Major League Baseball or its clubs.