Iwakuma qualifying offer an unsure thing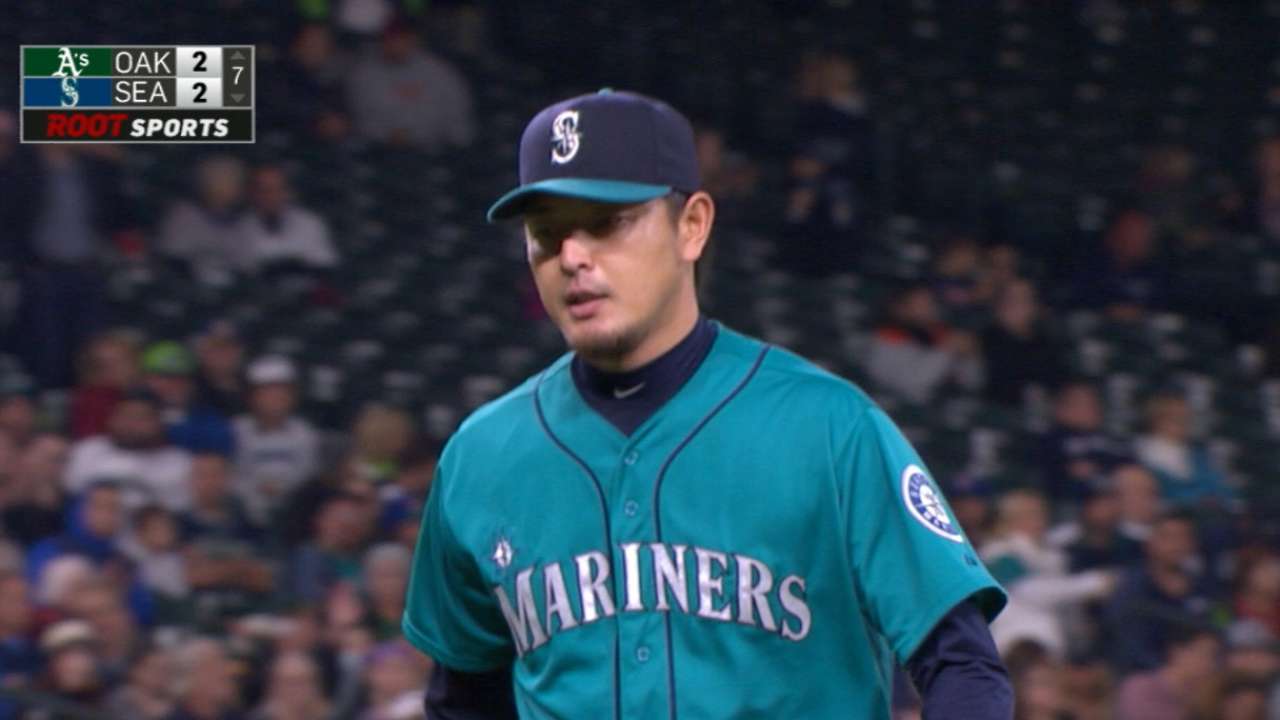 SEATTLE -- While it appears likely that the Mariners will make a one-year, $15.8 million qualifying offer to free-agent pitcher Hisashi Iwakuma before Friday's deadline for such bids, that decision isn't a slam dunk.
While no Major League player has yet accepted a qualifying offer in the three years of the current Collective Bargaining system, new Mariners general manager Jerry Dipoto and his staff must determine if Iwakuma is worth that kind of salary on the open market, since he could indeed accept the deal and lock Seattle into a one-year contract that would reduce their payroll flexibility this offseason.
Iwakuma and his agents are interested in a multiyear deal that would guarantee his salary and situation for several seasons, given that he's 34 years old and perhaps looking at his last chance to make a significant free-agent splash.
But Iwakuma wouldn't likely earn $15.8 million per season in a multiyear deal, instead settling for less per annum in exchange for a longer contract. How much less depends on how other teams view Iwakuma's worth on the open market. And how many years he can command is another huge piece of the puzzle.
The Mariners must decide if they would be OK if Iwakuma accepted their offer, as they'd be adding that $15.8 million onto a payroll that already has committed $77 million in 2016 to five players (Felix Hernandez, Robinson Cano, Nelson Cruz, Kyle Seager and Seth Smith), or if they'd be better off spreading that money around to bring in several other free agents.
Both parties want to work out a deal, but that doesn't guarantee anything. A year ago, veteran reliever Joe Beimel wanted to come back to the Mariners, and they wanted him back, but Beimel pushed for a multiyear deal that ultimately didn't come from Seattle or anywhere else. He wound up without a contract until agreeing to a non-guaranteed $1.5 million offer from the Rangers after Spring Training began.
That ploy further backfired when Beimel struggled in Cactus League play, was released and wound up back with Seattle on a lesser Minor League deal. Beimel will need to again determine his value on the open market this winter, as will the Mariners' other free agent, outfielder Franklin Gutierrez.
Iwakuma's is a different scenario, however. He has far more marketability as a 2013 American League All-Star pitcher with a 47-25 record and 3.17 ERA in 97 starts the past four seasons. Iwakuma made only 20 starts last season due to a disabled-list stint with a strained lat muscle, but went 9-5 with a 3.54 ERA and threw the fifth no-hitter in franchise history against the Orioles in August.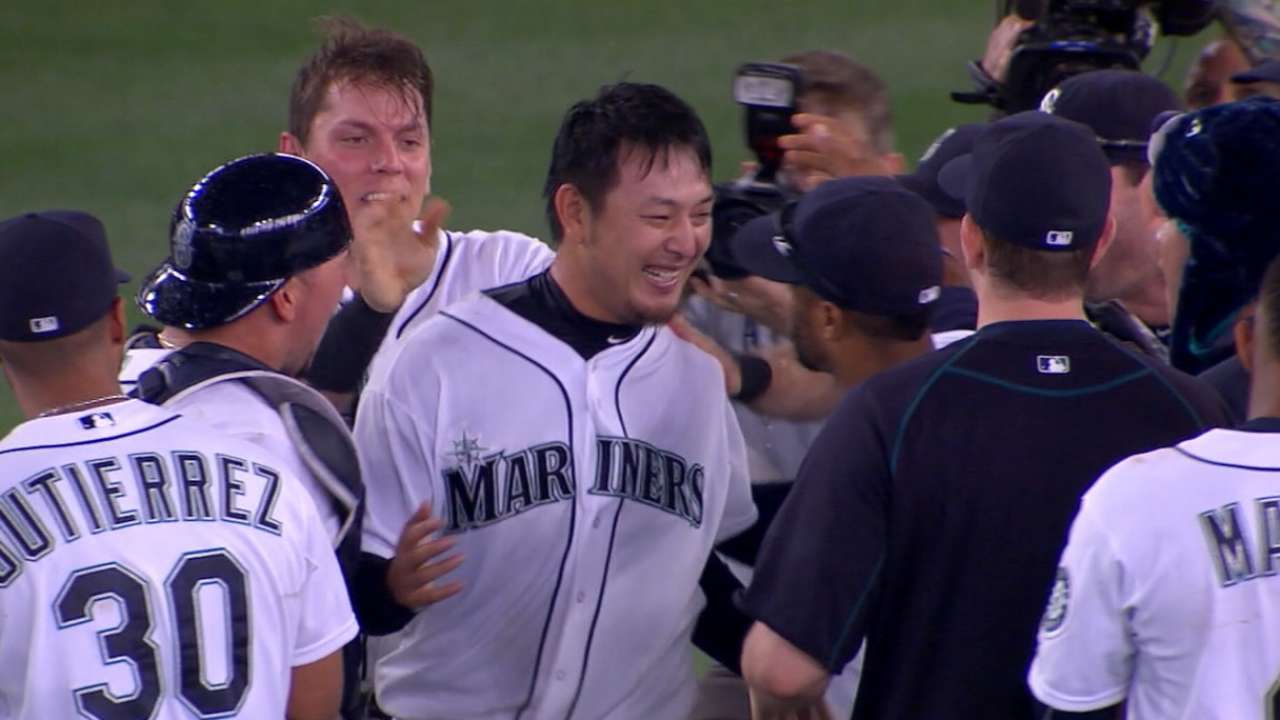 The Mariners would like to keep Iwakuma, who slots nicely into the middle of their rotation behind Hernandez and offers a strong veteran presence to go along with youngsters Taijuan Walker, James Paxton and Roenis Elias.
But as always, the question is at what price and if the two sides find common ground in terms of years and dollars.
Iwakuma earned $7 million in each of the past two seasons and figures to be in line for a sizable raise, but he does come with some questions about durability and age. Those are questions new GM Dipoto must answer by Friday, which is the deadline for making a qualifying offer.
If the Mariners make that offer, Iwakuma would then have until the following Friday to accept or decline. If he declines, he'd become a free agent, able to negotiate with the Mariners or any of the other 29 teams.
Seattle has made only one qualifying offer -- to Kendrys Morales in 2014 -- in the three years since the system was instituted. Morales declined and wound up sitting out the start of that season until signing with the Twins and eventually being acquired back by the Mariners in a trade.
History indicates Iwakuma will decline as well. All nine players turned down the $13.3 million qualifying offer in the first year of the system prior to the 2013 season. All 13 players declined qualifying offers of $14.1 million prior to the 2014 season, including Morales and the Yankees' Cano, who then signed with Seattle.
And all 12 players declined last year's $15.3 million qualifying offers, including Baltimore's Cruz, who signed with the Mariners.
The dollar amount of the qualifying offer is based on the average of the top 125 salaries in baseball the prior season. Teams that make a qualifying offer to a player who winds up signing elsewhere receive a compensatory Draft pick the following season, which is one of the reasons the Mariners likely will make an offer to Iwakuma.
That Draft pick provides some return for the loss of a quality player, and Dipoto is attempting to build up a Mariners system that didn't have a first-round Draft pick last year after signing Cruz.
Teams that sign a qualified free agent forfeit their highest unprotected Draft pick. The 10 teams with the worst win-loss records the previous year have their first-round pick protected, but Seattle had the 11th-worst record among the 30 teams, at 76-86, and thus would surrender that No. 11 selection in the first round if it signs one of the qualified free agents again this offseason.
Greg Johns is a reporter for MLB.com. Follow him on Twitter @GregJohnsMLB and listen to his podcast. This story was not subject to the approval of Major League Baseball or its clubs.