Personnel moves to follow Mets' terrific season
Key contributors Murphy, Cespedes set to hit free agency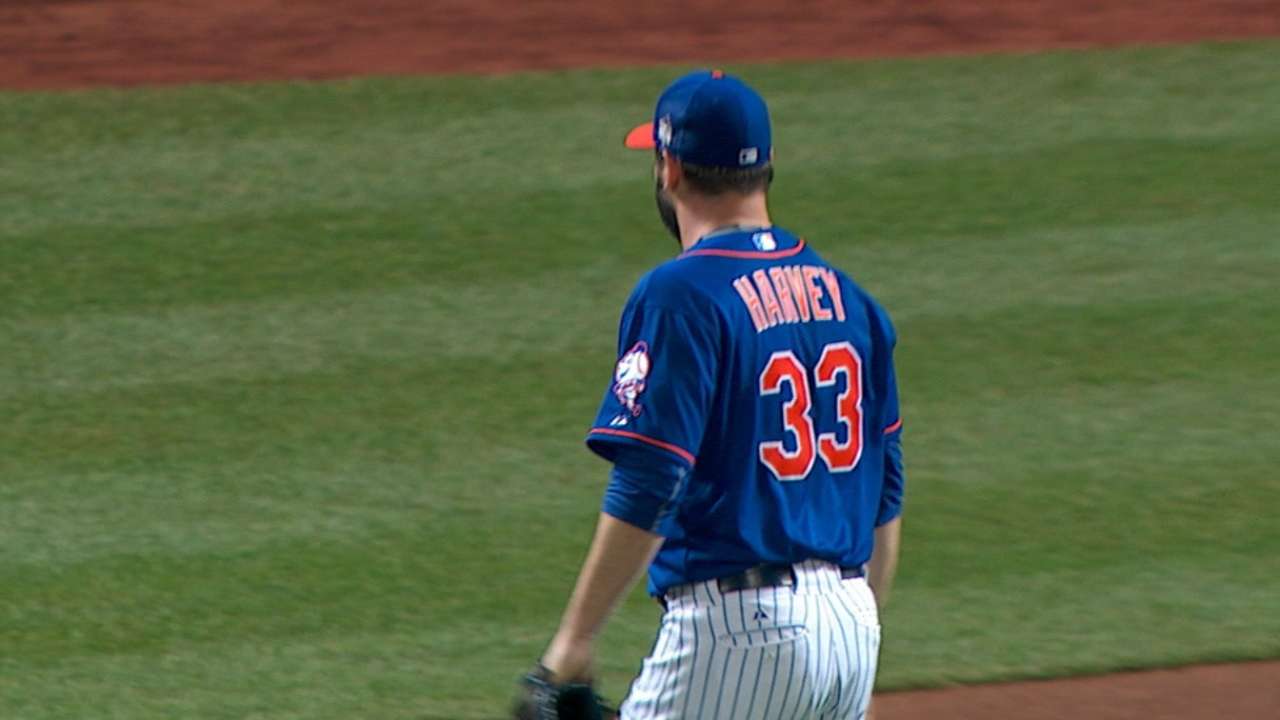 NEW YORK -- Unlike last offseason, when the Mets had a clear agenda -- sign an outfielder, trade a starter -- there is no two-dimensional path for them to take this winter. New York does need to upgrade the outfield, fill out the bullpen and make some tough decisions in the middle infield. But there are any number of ways the club can go about those things.
The first of the personnel decisions occurred Wednesday, when the Mets and manager Terry Collins worked out a two-year contract through the 2017 season.
Next up is the process of making a one-year qualifying offer for second baseman Daniel Murphy, ensuring Draft-pick compensation under the likely scenario that he declines it.
• Mets proud of surprising championship season
Once those issues are out of the way, New York will move into the free-agency period itself. With both Murphy and outfielder Yoenis Cespedes unlikely to return to Flushing, the Mets must figure out the most efficient way to replace them. Second base could be as simple as promoting from within. Outfield appears a bit more complex.
What's clear is that the team that reports to Port St. Lucie, Fla., in February won't entirely resemble the group that won the National League pennant. That's not entirely a bad thing. But it is a challenge that begins now.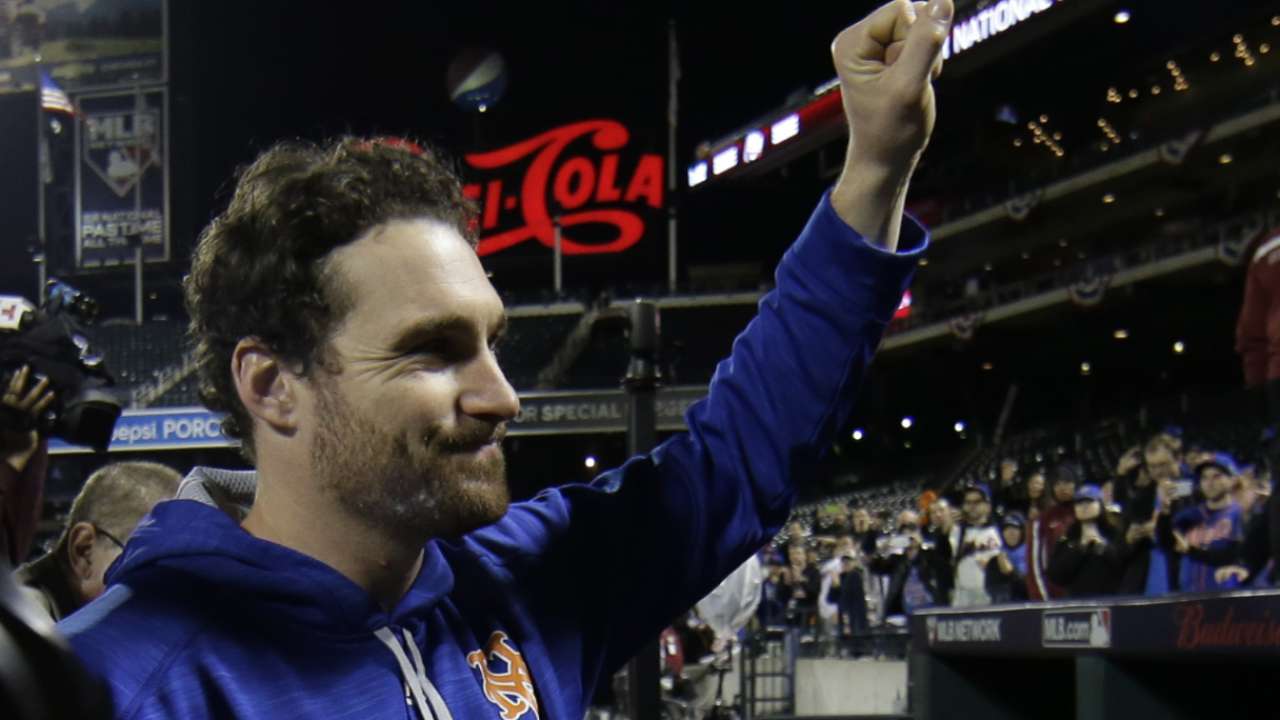 Arbitration-eligible: RHP Buddy Carlyle, RHP Jeurys Familia, RHP Matt Harvey, RHP Jenrry Mejia, RHP Addison Reed, RHP Carlos Torres, LHP Josh Edgin, C Anthony Recker, 1B Lucas Duda, SS Ruben Tejada, OF Eric Young Jr.
Free agents: RHP Tyler Clippard, RHP Bartolo Colon, RHP Bobby Parnell, LHP Jerry Blevins, LHP Eric O'Flaherty, IF Kelly Johnson, IF Murphy, IF Juan Uribe, OF Cespedes
Rotation: At a time of year when most clubs are scrambling for starting pitching, the Mets are well stocked. Jacob deGrom, Harvey, Noah Syndergaard, Steven Matz and Jon Niese will all be back next season, unless the Mets shock the world with a Harvey blockbuster. Colon is set to depart via free agency, but former top prospect Zack Wheeler should return from Tommy John surgery around midseason. He still possesses plenty of upside, even if he's unlikely to reach peak performance until 2017.
Beyond that bunch, the club is thin in the upper Minors for the first time in years. Logan Verrett will return to provide some insurance, and Rafael Montero could contribute despite an injury-riddled '15 season. Prospects Gabriel Ynoa, Matt Bowman and Seth Lugo could all debut at some time next season, though the Mets expect their postseason-tested horses to carry most of the load.
Bullpen: Arbitration-eligible for the first time, Familia will receive a hefty raise to remain the closer. He, Hansel Robles, Sean Gilmartin, Erik Goeddel, Verrett and Dario Alvarez will all be back next season, and possibly Torres as well, forming much of the bullpen nucleus in some combination. New York is also expected to tender a contract to Reed, who will return as Familia's setup man.
Expect the club to part ways with Mejia, who will spend most of next season serving out his second performance-enhancing drug suspension. And expect lefties Edgin and Jack Leathersich, both of whom are recovering from Tommy John surgery, to make some noise before the year is through. Almost certainly, the Mets will add to this mix with at least one big league free agent; despite his poor October, Clippard is a candidate to return, as is Blevins.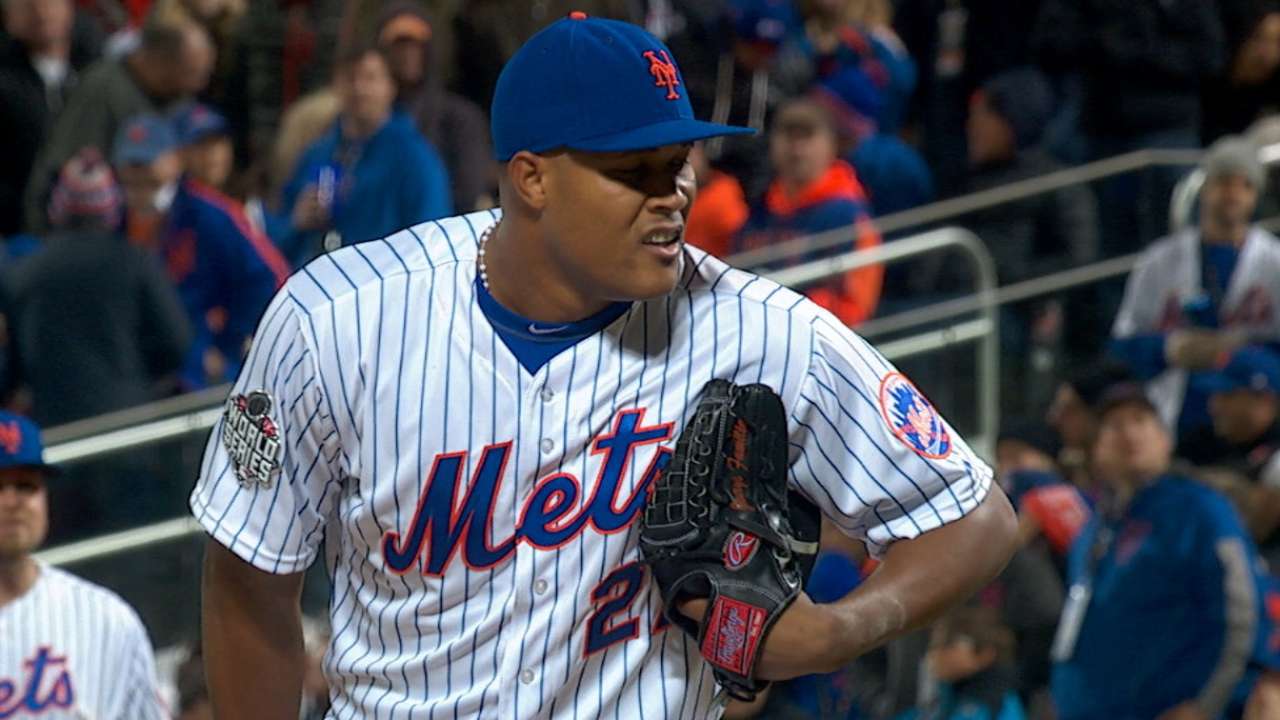 Catcher: The Mets are still committed to Travis d'Arnaud, who has one more season before arbitration. But after injuries limited d'Arnaud to just 175 games over what should have been his first two full big league seasons, the first whispers of a position change are starting to surface. For now, he's the starting catcher, with potential to be an elite offensive one if healthy. In part because Kevin Plawecki sapped his trade value with a .576 OPS as a rookie, he's in line to return as the backup. Recker, who is due for arbitration, will move on unless he's willing to accept a Minor League deal.
First base: Duda followed up his 30-homer season a year ago with a 27-homer effort, which -- his World Series Game 5 error aside -- should earn him a significant raise over the $4.2 million he made in 2015. The Mets attempted to negotiate a long-term contract with Duda in Spring Training, and they still could look to buy out his first year or two of free agency this winter. At the least, it's reasonable to expect Duda, who is under team control for two more seasons, to tide them over until No. 5 prospect Dominic Smith arrives on the scene. Given Duda's improvement against lefties this season, something would have to go wrong for him not to receive the lion's share of playing time over the next two years.
Second base: Unless Murphy shocks Flushing by accepting a one-year qualifying offer, he's as good as gone. The Mets feel they can reallocate money elsewhere by handing the starting job instead to Dilson Herrera, who slugged .511 at Triple-A Las Vegas this season and held his own during brief stints in New York. With Tejada still around as middle-infield insurance, New York remains reasonably well stocked here despite a dearth of impact prospects at the position. Re-signing Johnson for the bench would give the Mets even more cushion at second base.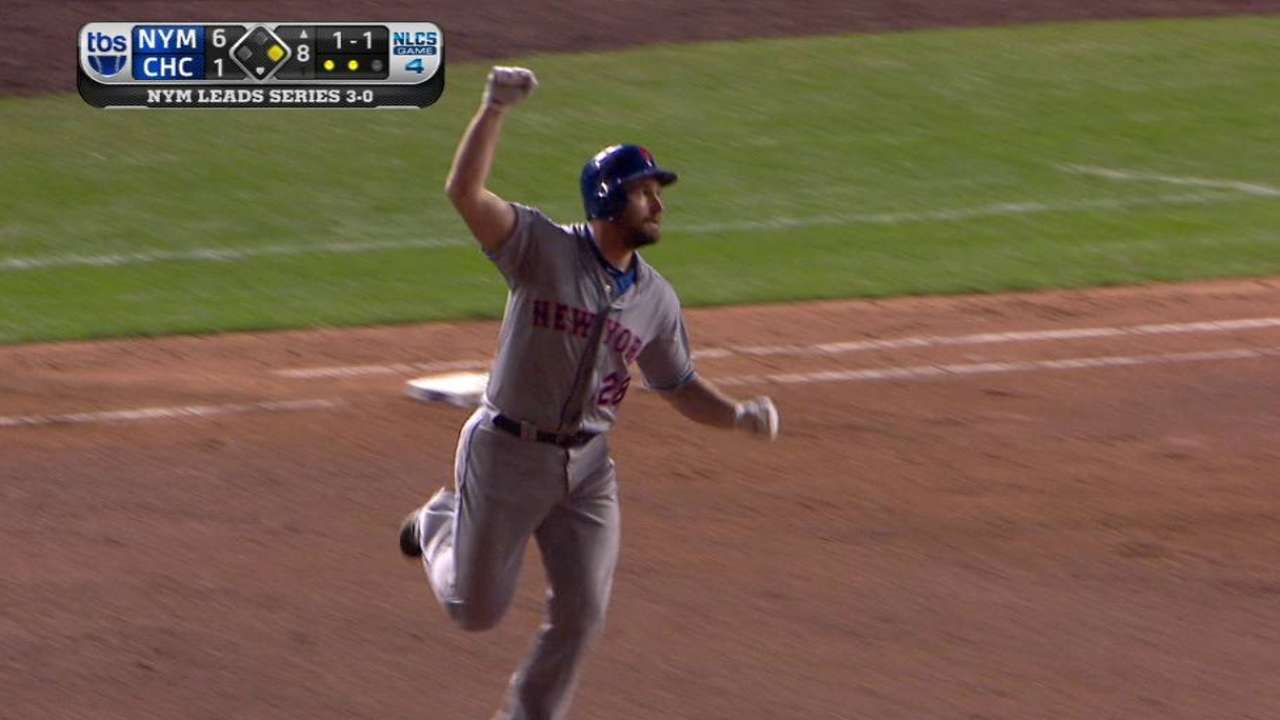 Shortstop: This is where New York has a chance to be creative. Wilmer Flores was adequate but unspectacular in his first season at shortstop, while No. 7 prospect Matt Reynolds appears close to ready despite a down year in the Minors. If this season taught the Mets anything, it's that Flores has value on the open market. They could trade him and sign a free-agent shortstop such as Ian Desmond, with Tejada serving as insurance and Reynolds -- along with No. 3 prospect Amed Rosario -- waiting in the wings. More likely, the club will proceed with Flores and Tejada at shortstop, hoping the former cashes in some of his yet-untapped upside.
Third base: David Wright still has three more $20 million seasons in his future, before his bell-curve salary schedule dips in 2019 and '20. Though the Mets will never again be able to anticipate a full, healthy season from Wright, they have no choice but to cross their fingers and hope he gives them one at age 33. General manager Sandy Alderson will hedge those bets by signing a veteran backup, perhaps bringing Johnson or Uribe back on a short-term deal. But Wright fully plans on retiring a Met, making this position -- for better or worse -- his for years to come.
Outfield: With Cespedes almost certainly gone, there's plenty of gray area for a club that received thin outfield production from April through July. Michael Conforto and Curtis Granderson are entrenched in the corners, and the Mets can reasonably expect improvement from Conforto in his first full season. But they must answer questions in center field, where they have committed $23 million to Juan Lagares over the next four years. With No. 2 prospect Brandon Nimmo still at least half a season away, New York is likely to invest in a left-handed free agent capable of playing center, giving Lagares a platoon-mate until Nimmo arrives. Colby Rasmus fits that description, as does Denard Span.
Anthony DiComo is a reporter for MLB.com. Follow him on Twitter @AnthonyDiComo and Facebook, and listen to his podcast. This story was not subject to the approval of Major League Baseball or its clubs.