MLB.com Columnist
Barry M. Bloom
Wright's next goal is remaining healthy
NEW YORK -- The World Series is over and for David Wright, the real work begins. Wright admitted Sunday that perhaps he returned a bit prematurely from the back injury that caused him to miss more than four months of the regular season.
Now that he has persevered through that phase of it, he must sit down with doctors during the offseason and determine a routine that will keep him active and productive on a regular basis next season.
"I'm hoping that it continues to get better," Wright said after the Mets lost the Series to the Royals in five games at Citi Field. "I'm sure there were more things I could have done, more time that I could have missed to try and get it better and better. Unfortunately, in baseball you don't have the luxury of taking too much time or else you're going to miss the whole season.
"So I'm hoping that with some more rest, some more doctor consultations and some tests run we can come up with a game plan this offseason so when we start Spring Training it's even better than it is is now. That's my goal and I'm hopeful that can be the case."
Wright, only 32, was diagnosed with spinal stenosis, an injury that compresses the nerves in the lower back. Surgery could be career-ending and thus far the Mets captain and seven-time All-Star third baseman has been able to avoid that. In its stead, he has developed a routine of stretching and exercise that has allowed him to play every day.
There have been good days and bad ones, living with the pain since he returned Aug. 24 in Philadelphia and hit a home run. Wright said that during the stretch run and postseason, the pain wasn't severe enough for him to ask out of the lineup.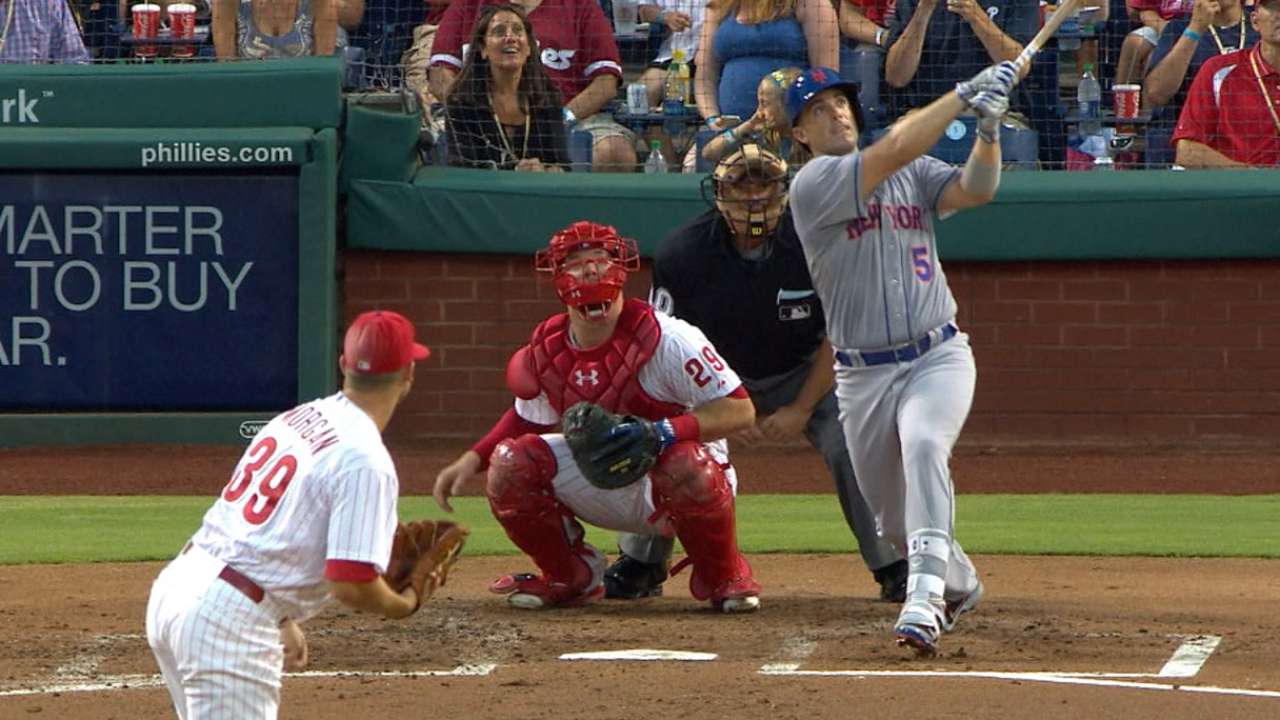 The day-to-day intensity of winning the National League East and playing three rounds of the postseason might have been a good reason for Wright's ability to play as adrenaline kicked in. But that certainly might be a bit different as he attempts to traverse a 162-game big league season for the 13th time.
Some may question his effectiveness. Wright batted .185 (10-for-54) with a homer, seven RBIs and seven runs scored this postseason and didn't miss any of the 14 games. The homer, a two-run shot, helped win Game 3 of a World Series in which Wright batted just .208 and made two errors, hardly looking like his former fluid self at third base.
Yet, he is the captain, the Met with the longest current tenure and arguably the most significant player in the club's 54-year history. Like the retired Derek Jeter, the captain who led the Yankees to five World Series titles, Wright is considered the heart and soul of the team.
"Not only is he a tremendous player, but he's a tremendous person," said Mets teammate Michael Cuddyer, who has played with some good ones in his career, including Joe Mauer and Justin Morneau with the Twins and Todd Helton with the Rockies.
"If he would have bounced from team to team to team, he would still be a tremendous player and a tremendous person. But the fact that he's done it for one team his whole career and in a market such as New York is impressive. And I've got all the admiration in the world for him."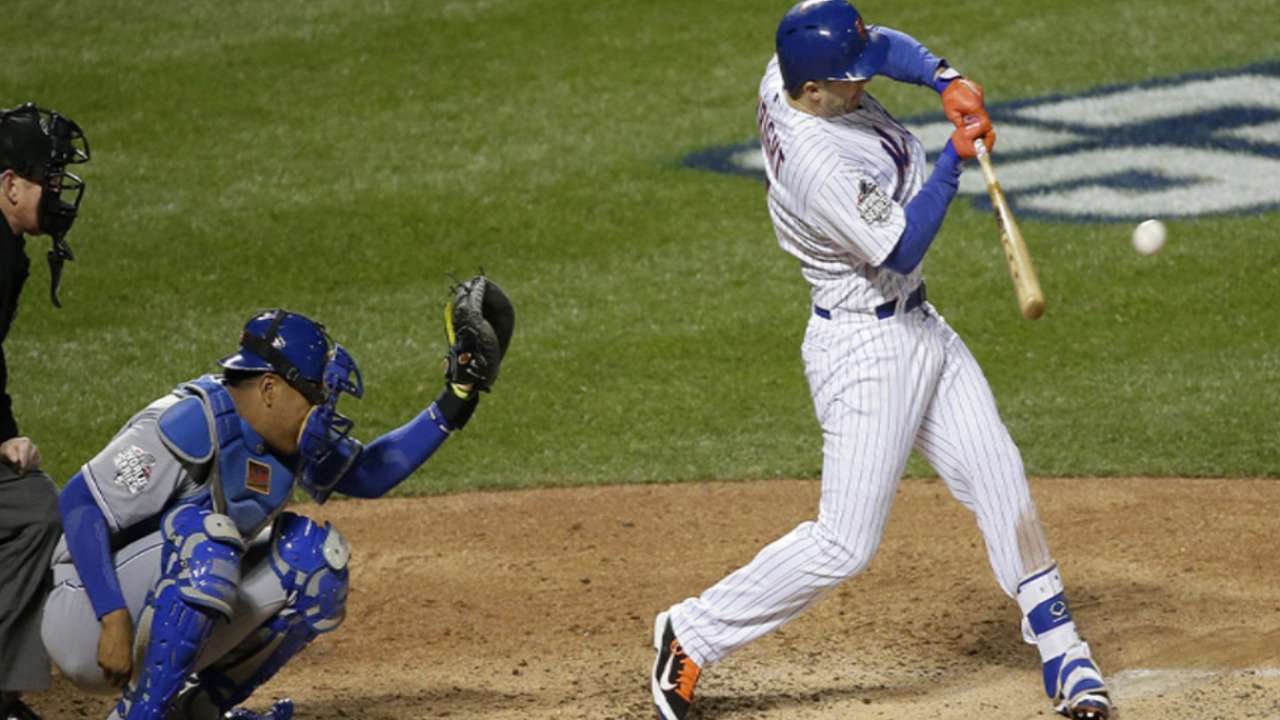 But it all is so ephemeral, Wright is well aware. There was a moment earlier this year when Wright said he was pretty stunned by the diagnosis. But once he overcame the shock, he began a course of therapy in Los Angles that brought him back at least to the point he's at now.
"I'm not sure I ever thought about it that way, that it could end my career," Wright said. "I've always thought that it was going to be a challenging road, a long road. But I knew that from the get-go. This is not the kind of thing where you stay on the disabled list for a couple of weeks and all of a sudden you just pop back up and hit the ground running.
"Throughout the process there was some frustrations, there were some days where obviously you can't help but to mope around a little bit and feel a little sorry for yourself. Then you think of it like a game, like a competition, and every day you set goals for yourself and just get up again and go back out there."
Wright played 30 regular-season games after returning from the prolonged absence, having left the lineup after the game on April 14, and batted .277 with four homers and 13 RBIs -- .249 with five homers and 20 RBIs when the 14 postseason games are added.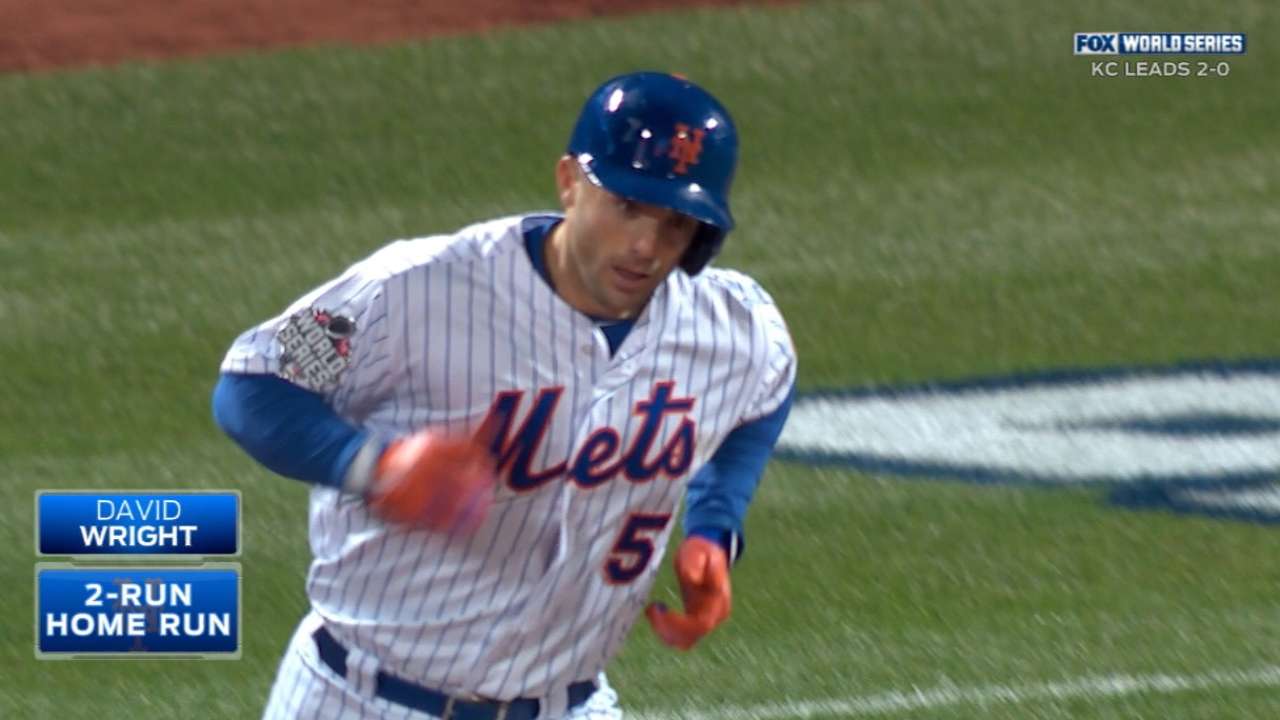 His career totals are .298 with 235 homers and 956 RBIs, an average of 19.5 homers and 80 RBIs a year. The immediate question is whether he can ever again attain that level, considering a condition he will have to cope with for the remainder of his life.
The Mets, of course, have him under contract for another six seasons at a total cost of $87 million.
Wright has already told manager Terry Collins to take him out of the lineup when he's struggling if there's a better option. He said he certainly doesn't want to hold the team back. His goal is to win.
That's a conversation for next season as Wright tries to remain healthy and find a solution to his physical problems while the Mets attempt to repeat as NL champions. The Mets want to mimic what the Royals did this season: Get back to the World Series and win. Wright's health is an essential facet of that equation.
"Obviously it takes a lot of skill to get to this point," Wright said. "But it also takes a lot of luck. You've got to stay healthy, the veterans have to continue to get better, the young guys have to continue to get better. The mindset heading into next Spring Training will be different: We not only know we're good, we've proved it. Hopefully this was just a little taste of what is to come."
Barry M. Bloom is a national reporter for MLB.com and writes an MLBlog, Boomskie on Baseball. Follow @boomskie on Twitter. This story was not subject to the approval of Major League Baseball or its clubs.