Mets proud of surprising championship season
Trades, sterling rotation, emergence of Conforto highlighted campaign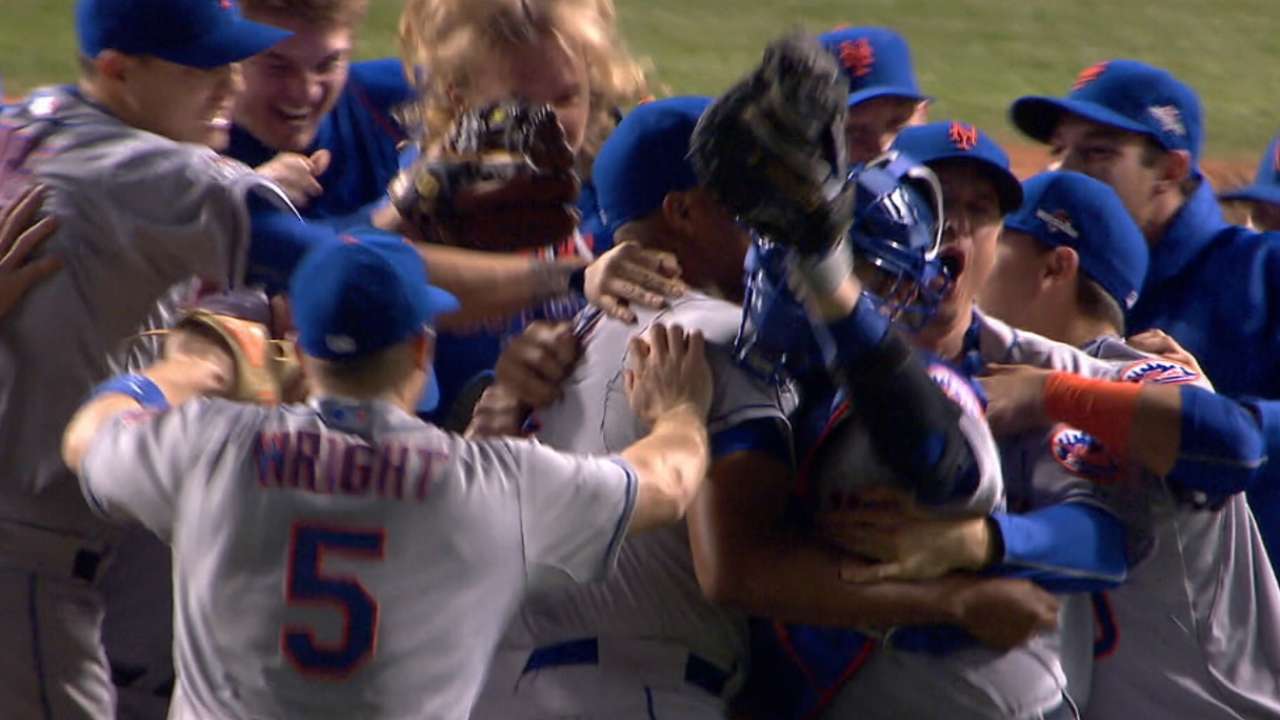 NEW YORK -- His emotion still raw early Monday morning, David Wright forced himself to think with perspective. The Mets had just lost the World Series to the Royals, yes. But they had also turned what could have been a lost season for him, personally, and for the Mets as a ballclub into one of the most memorable in franchise history.
"Rightfully, this stings," Wright said, still standing in uniform in the postgame clubhouse. "Our heads are going to be down for a little bit. But as much as it stings, a couple of days from now, a couple of weeks from now, we'll be able to sit back, take a deep breath, and just think about how cool this was, and how much fun we had and how proud we should be of what we accomplished this year."
What the Mets accomplished was bringing the National League pennant back to Flushing, where it had not been in a decade and a half. They wowed their fan base. They overachieved. And they did it all despite appearing dead in late July, before an influx of Trade Deadline talent transformed everything. Like all successful clubs, the Mets overcame their share of injuries and adversity. But they also swatted aside the weight of external expectations and criticism, including the notion that they could not reach the heights they did.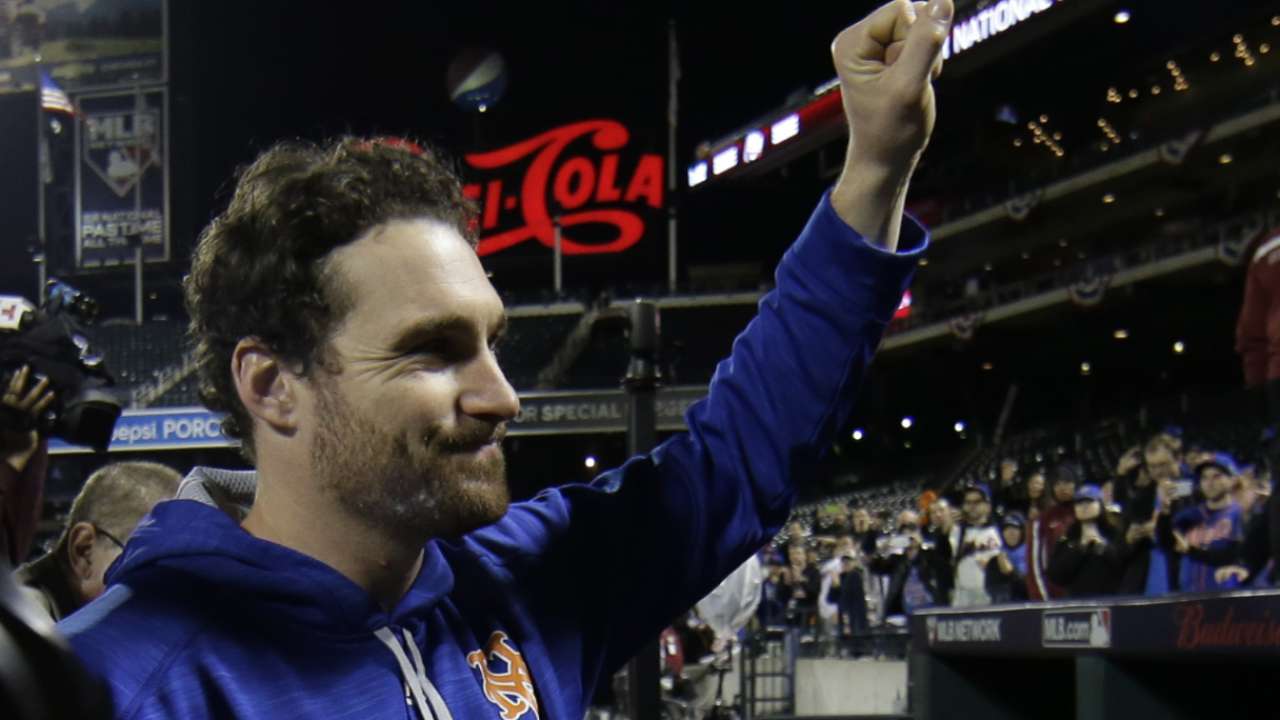 "They should all be happy," manager Terry Collins said. "They need to hold their heads up. There were two teams left, and we were very proud we were one of them."
• Mets set in rotation, but have other needs
Before the Mets forever leave this season in the past, here's one last look at how it unfolded:
Record: 90-72, first place, National League East.
Defining moment: Everything changed during a 48-hour span in late July. It began when Wilmer Flores, believing he had been traded to the Brewers, openly wept while playing shortstop for the Mets. That deal fell through due to concern over Carlos Gomez's medical files, prompting the Mets to scramble for an alternate solution. They wound up trading for Yoenis Cespedes two days later. The rest was fairy tale stuff. Flores hit a walk-off homer later that night, Cespedes turned into a dominant force and, within days, the Mets had taken over first place from the Nationals. They never looked back en route to the pennant.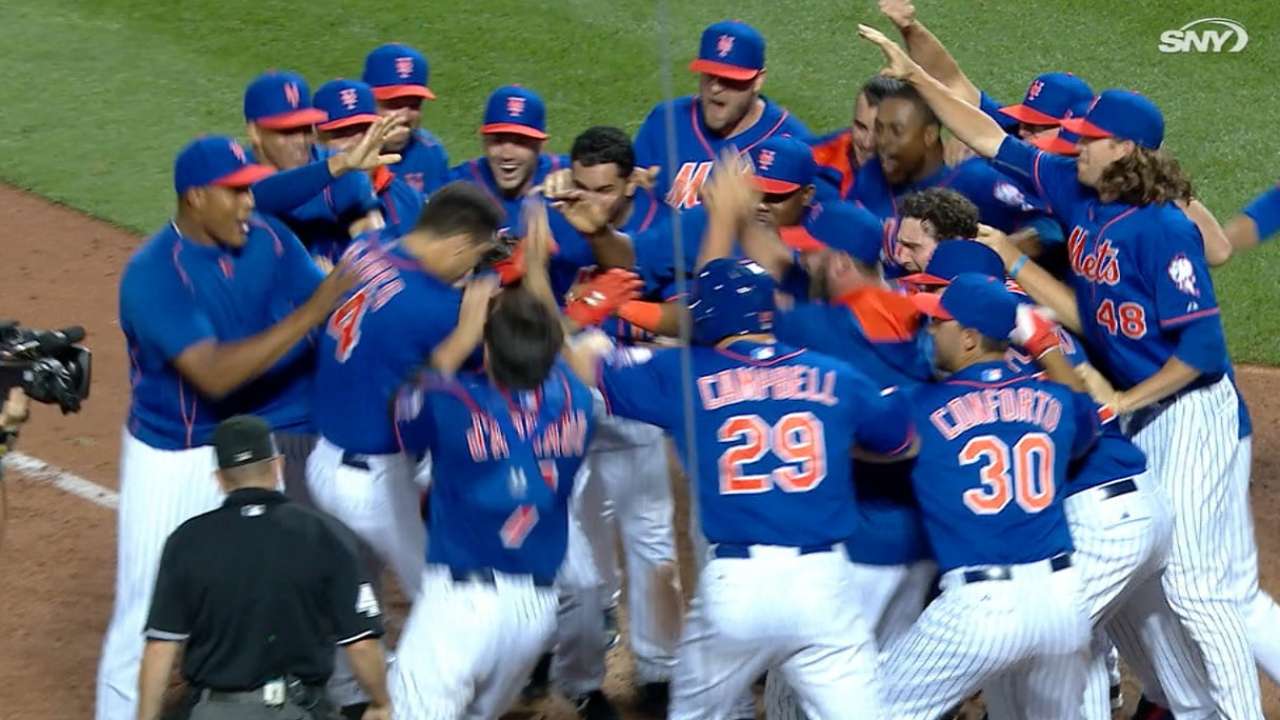 What went right: Starting pitching carried the Mets through the good times, the bad times and everything in between. Jacob deGrom, Matt Harvey and Noah Syndergaard were all sensational for the bulk of the summer. Steven Matz was too, when healthy, and even Jon Niese and Bartolo Colon enjoyed long stretches of success. If not for that group, the Mets would have been toast by midsummer.
General manager Sandy Alderson's Trade Deadline acquisitions outperformed all reasonable expectation, thanks in large part to Cespedes' 17 homers during one 31-game stretch.
Curtis Granderson, Lucas Duda and Daniel Murphy submitted solid, mostly healthy seasons, anchoring the lineup throughout the summer.
Rookie Michael Conforto, who began the year in Class A ball, not only made it to the Majors but thrived once there.
Jeurys Familia stepped into the closer's role in April and rapidly developed into one of baseball's best.
The Mets put all of it together to win their first division title since 2006 and their first pennant in 15 years.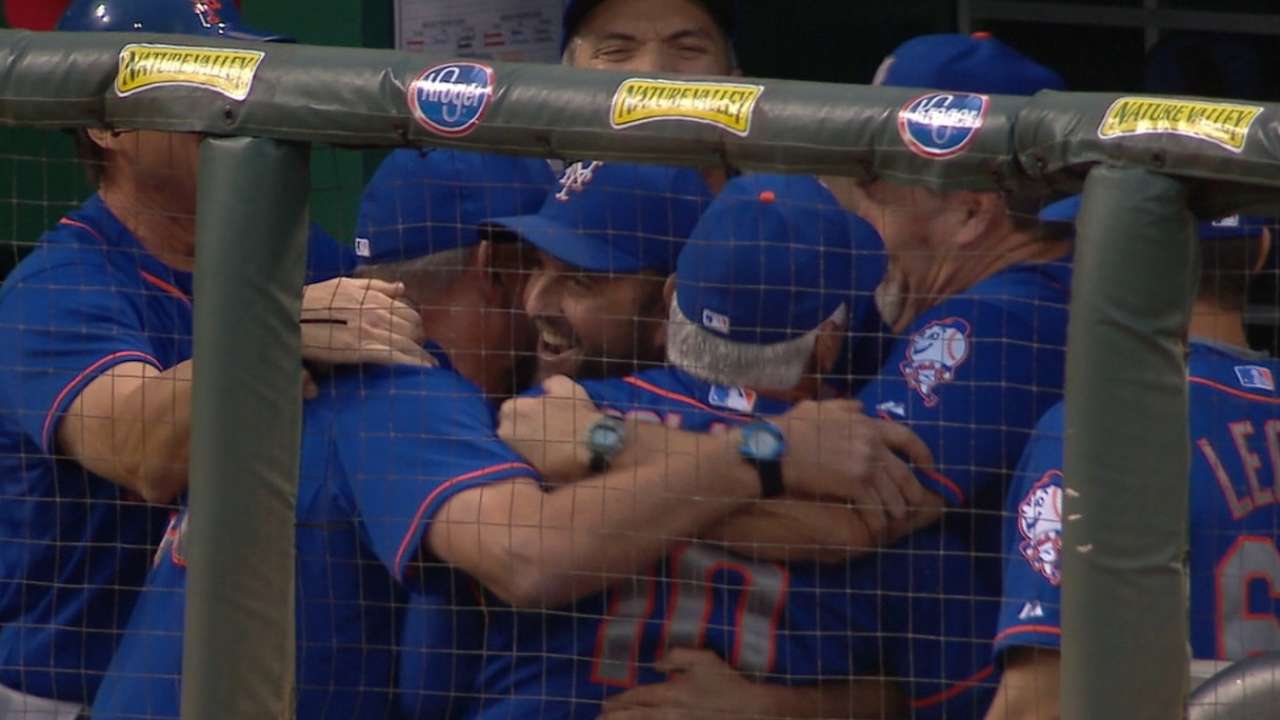 What went wrong: Injuries struck often early in the year, most notably when Zack Wheeler tore the ulnar collateral ligament in his pitching elbow and underwent Tommy John surgery. Wright strained his hamstring in April, ultimately missing four months with an injury that turned out to be spinal stenosis.
With their captain shelved, the Mets ranked among baseball's worst teams in nearly every major offensive category for three months, threatening the 1969 Mets' franchise records for hitting ineptitude. To drive home that point, Chris Heston and Max Scherzer both no-hit them.
Harvey's innings-limit drama derailed the Mets' plans for a six-man rotation in May, disappeared for most of the summer, then resurfaced with a vengeance in early September. It affected the way the Mets pitched down the stretch.
Opening Day closer Jenrry Mejia missed almost the entire year due to multiple performance-enhancing drug suspensions.
Three blown saves and some key errors in World Series play ensured that the Mets' charge would end there, forcing them to watch the Royals celebrate on their field.
Biggest surprise: Conforto. Not because he succeeded, but because he received the opportunity in the first place. As late as mid-July, it seemed unlikely that Conforto would reach the Majors at all this summer, barely a year removed from college and the Draft. But desperate for offense, the Mets tried their luck. Conforto never stopped hitting long enough for them to send him back down to the Minors, dodging a couple of near-demotions before settling in for good.
Hitter of the Year: With due respect to Duda, Cespedes and Murphy, all of whom carried the Mets at times this season, no one matched Granderson for consistent production. Coming off a down season that had many questioning the value of his four-year, $60 million contract, Granderson hit .259/.364/.457 at age 34. From May through October, he never posted worse than a .750 OPS in any calendar month.
Pitcher of the Year: At the All-Star Game in Cincinnati, deGrom announced himself to the world with a radar gun-popping one-inning, three-strikeout, 10-pitch performance. But distilling deGrom's year into five good minutes would do him a disservice. The reigning NL Rookie of the Year improved across the board in his first full season, going 14-8 with a 2.54 ERA, 205 strikeouts and 38 walks in 191 innings. Every one of those numbers was a career best.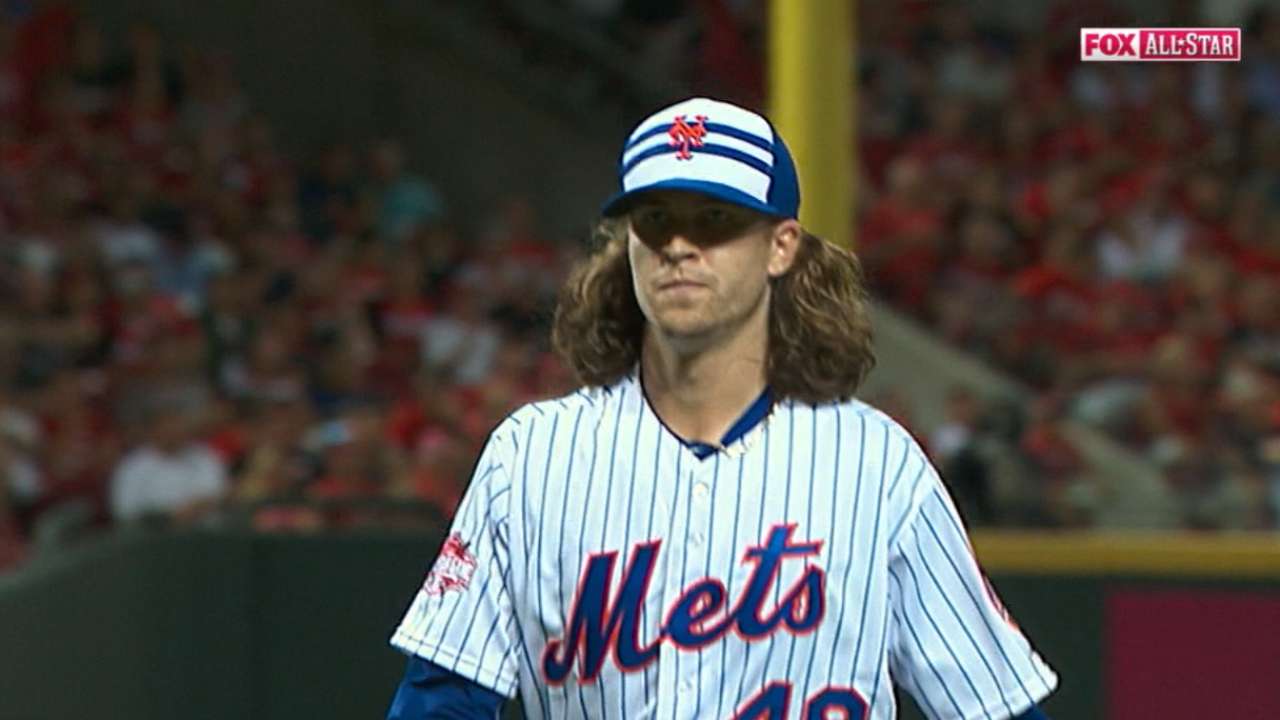 Rookie of the Year: A nod goes to Conforto, who might have won this given more service time. But this one was not particularly close. Syndergaard grew stronger as his rookie season progressed and into October, and few will forget his 101-mph showcase during Game 2 of the NL Division Series in Los Angeles. Even disregarding his postseason success, Syndergaard is a near-lock to finish in the top three of NL Rookie of the Year voting.
Anthony DiComo is a reporter for MLB.com. Follow him on Twitter @AnthonyDiComo and Facebook, and listen to his podcast. This story was not subject to the approval of Major League Baseball or its clubs.