Twins' Rogers throws four scoreless in AFL win
Club's No. 13 prospect lowers his Fall League ERA to 2.65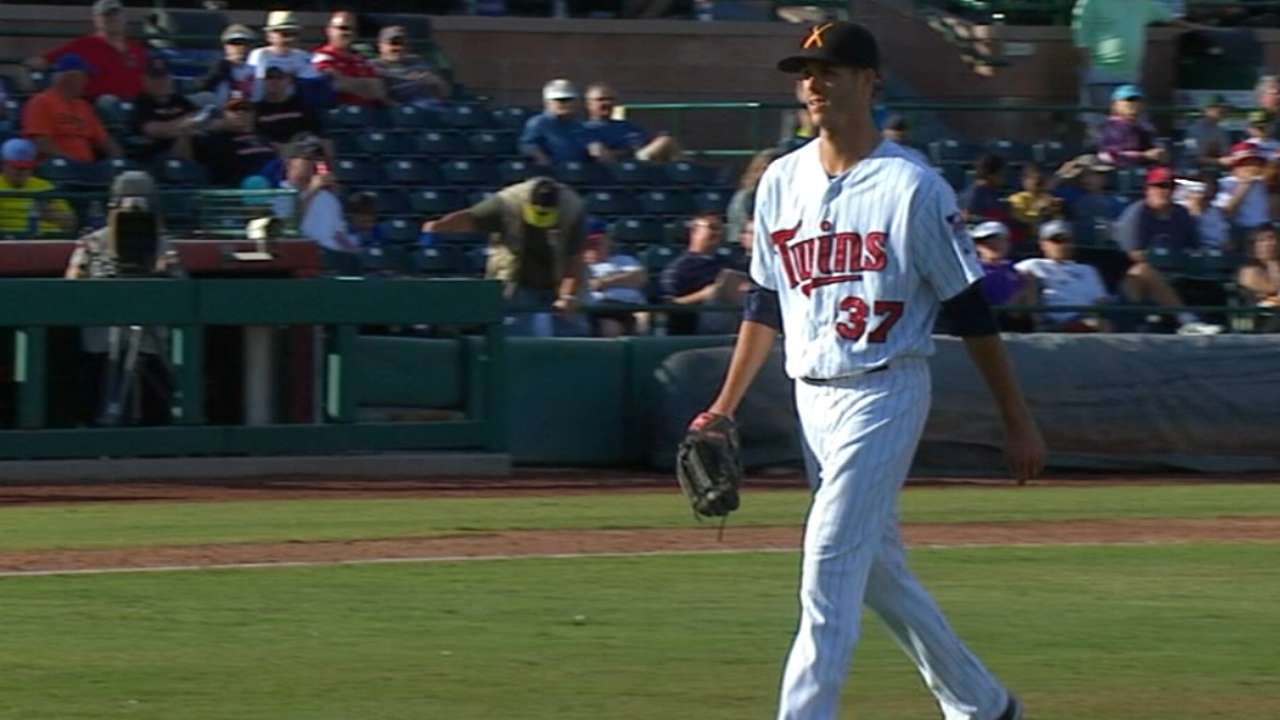 SCOTTSDALE, Ariz. -- Alex Reyes might have drawn the crowd on Monday afternoon at Salt River Fields, but it was Taylor Rogers who stole the show.
The Twins' No. 13 prospect added to his strong Arizona Fall League campaign with four scoreless innings as Scottsdale blanked Surprise, 5-0. The left-hander allowed one hit and one walk and struck out a pair in the outing, with 24 of his 40 pitches going for strikes.
With his performance against the Saguaros, Rogers has now logged nine consecutive scoreless innings between his last two starts, and he's allowed just three hits in that span. Overall, the southpaw owns a 2.65 ERA in 17 innings across four starts in the Fall League.
Rogers kept the Saguaros' offense off balance over the first four innings by effectively mixing his pitches and changing hitters' eye levels. The 24-year-old pitched to both sides of the plate with his 88-91 mph fastball, working in and out against right- and left-handed hitters alike. He also showed improved feel for his changeup in the outing, although the pitch still registered on the firm side, at 85-86 mph, which is something Rogers is working on in the Fall League.
"I'm working on my change, predominantly," Rogers said after the game. "I'm trying to figure out a good grip to use and slow it down a little bit, because it was a little too hard early on this year. So I'm just trying to find something I'm comfortable with, really."
Rogers appeared comfortable with his changeup on Monday, though, throwing it in counts in which he normally would have used his slider.
"I took a big step with [my changeup] today and kind of had a moment where it clicked," he said. "I only threw four breaking balls today. I feel like if I can take that [pitch out] of my game, then I put more pressure on my changeup. Kind of like a sink-or-swim attitude; if you're not going to throw it well, you're not going to do well."
Rogers actually received his first taste of the Fall League in 2014, but his campaign was cut short after he was struck by a line drive during his third outing for Salt River. Needless to say, he's happy to be back in the league this year and pitching well.
"Since I was here last year and got hit with that line drive, it's nice to come back here and get a second shot at it," he said. "I just want to take advantage of it and work on some stuff, and a little success in the meantime feels good."
An 11th-round Draft pick in 2012 out of the University of Kentucky, Rogers spent the entire 2015 season at Triple-A Rochester, where he went 11-12 with a 3.98 ERA and set career highs in both starts (27) and innings pitched (174).
Rogers pitched particularly well during the first half of the season, posting a 3.19 ERA in 115 2/3 innings over 17 starts for Rochester. However, the Littleton, Colo., native ran into some trouble after the All-Star break, going 4-6 with a 5.55 ERA over his final 10 starts during the regular season.
According to Rogers, his problems during the second half stemmed from his inability to consistently execute his changeup.
"It's something that needs to get better, and it kind of showed during the second half of this year seeing teams for the fourth and fifth times," he said. "If I can get that going, I think it'll help out."
The Scorpions' bullpen was dominant in relief of Rogers, allowing just five hits without issuing a walk over the final five innings to preserve the shutout. Twins No. 12 prospect Nick Burdi and Giants No. 19 prospect Ray Black worked the eighth and ninth innings, respectively, with both right-handers hitting triple digits on the radar gun.
Meanwhile, Red Sox No. 23 prospect Carlos Asuaje paced Scottsdale's offense in the win, going 3-for-4 with a run scored, and shortstop Tzu-Wei Lin went 1-for-3 with two RBIs.
For the Saguaros, Jurickson Profar continued to swing a hot bat, collecting two hits in four at-bats, while Rangers No. 23 prospect Ronald Guzman, who was added to Surprise's roster on Monday, went 3-for-3 with three opposite-field singles in his AFL debut.
Reyes, the Cardinals' No. 1 prospect and No. 16 overall, was handed his first Fall League loss after yielding five earned runs on five hits and three walks in 3 1/3 innings for Surprise. The highly touted right-hander once again showed good stuff but struggled to get ahead of hitters from the onset, ultimately throwing 42 of his 78 pitches for strikes before departing the game.
Mike Rosenbaum is a reporter for MLB.com. Follow him on Twitter at @GoldenSombrero. This story was not subject to the approval of Major League Baseball or its clubs.