Adding starting pitchers at top of Tigers' list
New GM Avila looking to add two players to rotation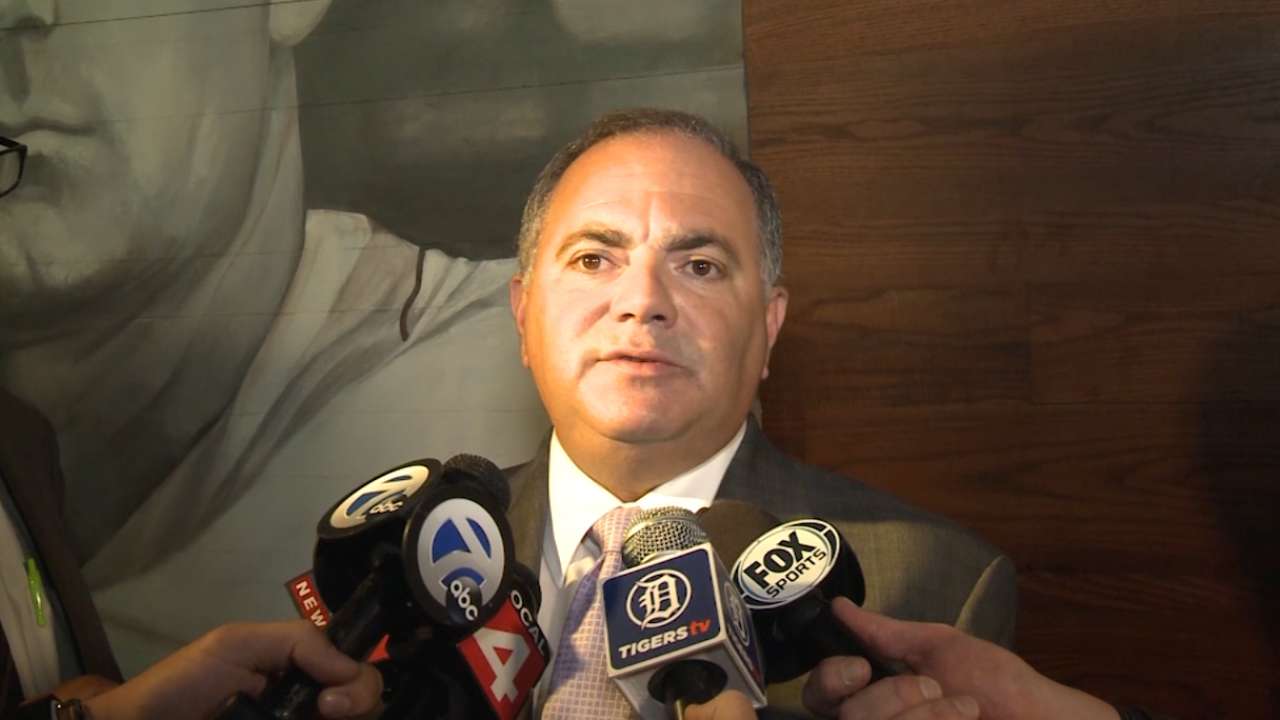 DETROIT -- The Tigers watched the Royals win the World Series title that Detroit has been trying to capture for about a decade. Now comes the Tigers' effort to answer.
After four consecutive division titles, the Tigers were sellers at the non-waiver Trade Deadline, trading away David Price, Yoenis Cespedes and Joakim Soria for prospects. But new general manager Al Avila has emphasized that they're not on a rebuilding project. He goes into his first offseason in charge with the goal to restock with pieces for another run at the postseason in 2016, not three years down the road.
It's not simply about counting on healthier seasons for Victor Martinez, Justin Verlander, Miguel Cabrera and Anibal Sanchez, or the growth of youngsters like Daniel Norris, Matt Boyd, Shane Greene and Ian Krol. Detroit needs help, nowhere more than a pitching staff that ranked last in the American League in ERA. With a new GM, increased analytical research and a new base of young talent, the Tigers could take a different approach to getting there.
Free agents/options: The July trades cut the Tigers' free-agent crop to catcher Alex Avila, outfielder Rajai Davis, reliever Tom Gorzelanny, right-hander Alfredo Simon and lefty Randy Wolf. Joe Nathan will join that group once Detroit declines his $10 million option for next season. The only one GM Avila said at season's end was likely headed elsewhere was his son, given the supply and demand of the catching market. Still, none are pressing needs to retain. Davis could reprise a role as the right-handed hitter in a left-field platoon, while Gorzelanny could warrant a low-risk camp invite.
Needs: Avila has said he's looking for two starting pitchers -- one front-line starter, another likely to fill out the rotation -- and two or three relievers to rebuild the pitching staff. One of those relievers is likely to be a closer, though not necessarily an established one. Left field is also likely to be addressed, either with a full-time player or a right-handed hitter to platoon with Tyler Collins.
Potential targets: The Tigers have plenty of starting pitching options in a deep market, but with a handful of spots to fill, it would be difficult to stay in play for Price or Zack Greinke at the top and address all their needs. The next tier includes front-liners such as Jordan Zimmermann, Johnny Cueto (the Tigers had interest in the summer), Jeff Samardzija, Scott Kazmir and Hisashi Iwakuma. Pair one with a Doug Fister, Marco Estrada or Mike Leake (another pitcher the Tigers scouted in July), and Detroit's rotation lines up well behind Verlander. With a thin closer market -- Tyler Clippard and Soria are at the top -- Avila has said he'll lean on his analytics department to look at relievers who could project to fill needs. Setup men Darren O'Day and Antonio Bastardo could fit that category.
Trade assets: Detroit's farm system is deeper thanks to July trades, but the Tigers are looking to hold onto young pitching to help fill long-term needs. One area of surplus is at shortstop, where Dixon Machado's stretch run, Jose Iglesias' return from a lost 2014 and JaCoby Jones' post-trade breakout give Detroit and other clubs options to ponder. But to get in play for potential big-name trades, the Tigers will have to be willing to part with top pitching prospects.
Financial situation: The Tigers have about $112 million in payroll guaranteed for 2016 -- including $6 million to the Rangers as part of the Ian Kinsler-Prince Fielder trade -- and slugger J.D. Martinez up for arbitration. Detroit hasn't crossed the luxury tax threshold (now at $189 million) since 2008, and isn't expected to change that.
Bottom line: The Tigers have work to do, not just to compete with the Royals but to catch up with the upstart Twins. They might not make a massive signing, but they could end up among the busiest teams of the offseason.
Jason Beck is a reporter for MLB.com. Read Beck's Blog, follow him on Twitter @beckjason and listen to his podcast. This story was not subject to the approval of Major League Baseball or its clubs.