RHPs Butler, Yardley pitching well in Arizona Fall League
Hedges, Liriano hit second homers in Dominican Republic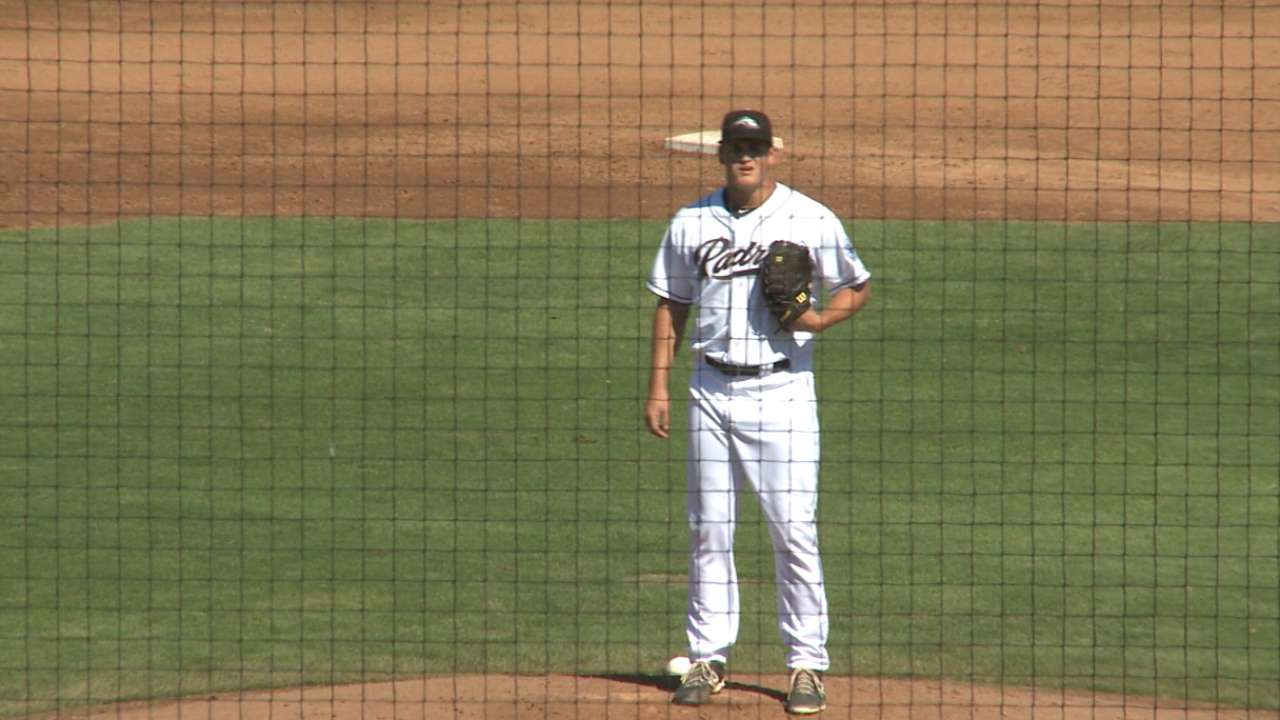 Bill Center, longtime sportswriter for U-T San Diego, is an employee of the Padres.
Despite missing considerable time with shoulder fatigue last summer, right-handed pitcher Ryan Butler was one of the fastest movers in the Padres' Minor League system.
A seventh-round pick out of North Carolina-Charlotte in 2014, the 23-year-old Butler reached Double-A San Antonio the season after being drafted. Now he's making another statement in the Arizona Fall League.
After three appearances, including one start, Butler is 2-0 with a 1.50 ERA. He has allowed one run on four hits and three walks with two strikeouts in six innings.
"He looked aggressive, and the ball was coming out really well," said Sam Geaney, the Padres' director of player development, after seeing Butler's start in the AFL.
Butler opened last season with Class A Advanced Lake Elsinore and was 3-2 with a 3.66 ERA in 12 appearances, including seven starts. He was 0-3 with a 4.78 ERA in three starts with Double-A San Antonio. However, the shoulder fatigue limited Butler to just 64 2/3 innings.
At the moment, the Padres are still discussing whether the 6-foot-4, 225-pound Butler projects better as a starter or a reliever. Also undetermined is where Butler might start the 2016 season.
Butler is not the only prospect pitching well for the Peoria Javelinas in Arizona.
Right-hander Eric Yardley has been selected to play on the West team in Saturday's AFL All-Star Game. Yardley has appeared in six AFL games and is 1-0 with three saves (second in the AFL) and a 3.86 ERA in seven innings. He has allowed three runs on six hits and a walk with two strikeouts.
Yardley was a California League All-Star and Lake Elsinore's Pitcher of the Year last season. He was 2-4 with a 2.72 ERA and 16 saves in 20 chances with the Storm in 2015. He appeared in 47 games with Lake Elsinore and made five appearances (0-1, 5.14 ERA) with San Antonio.
Outfielder Nick Torres is hitting .268 (11-for-41) with one homer for Peoria.
Meanwhile, in winter ball, catcher Austin Hedges and outfielder Rymer Liriano each hit their second homers in the Dominican Republic last week. After 10 games, Hedges and Liriano have identical lines -- 10-for-33 (.242) with the two homers. Liriano has driven in seven runs, while Hedges has three RBIs.
Right-handed reliever Tayron Guerrero has a 1.93 ERA through his first four appearances in Venezuela. Guerrero has allowed a run on three hits and a walk with three strikeouts in 4 2/3 innings. Switch-hitting catcher Jason Hagerty is 10-for-40 with a homer and six RBIs in 12 games in Venezuela.
Second baseman Luis Urias is hitting .324 with Obregon of the Mexican Pacific League. He has six RBIs in 14 games. Shortstop Juan Carlos Gamboa is hitting .273 with a homer and 12 RBIs in 16 games for Mochis in Mexico. He ranks 10th in the MPL in RBIs and tied for 12th with 12 runs scored.
Catcher Ryan Miller is 7-for-26 with two homers and seven RBIs in Australia.