Reds' Ervin rakes in AFL victory
Club's No. 11 prospect goes 3-for-4, doubles, drives in pair of runs in Peoria win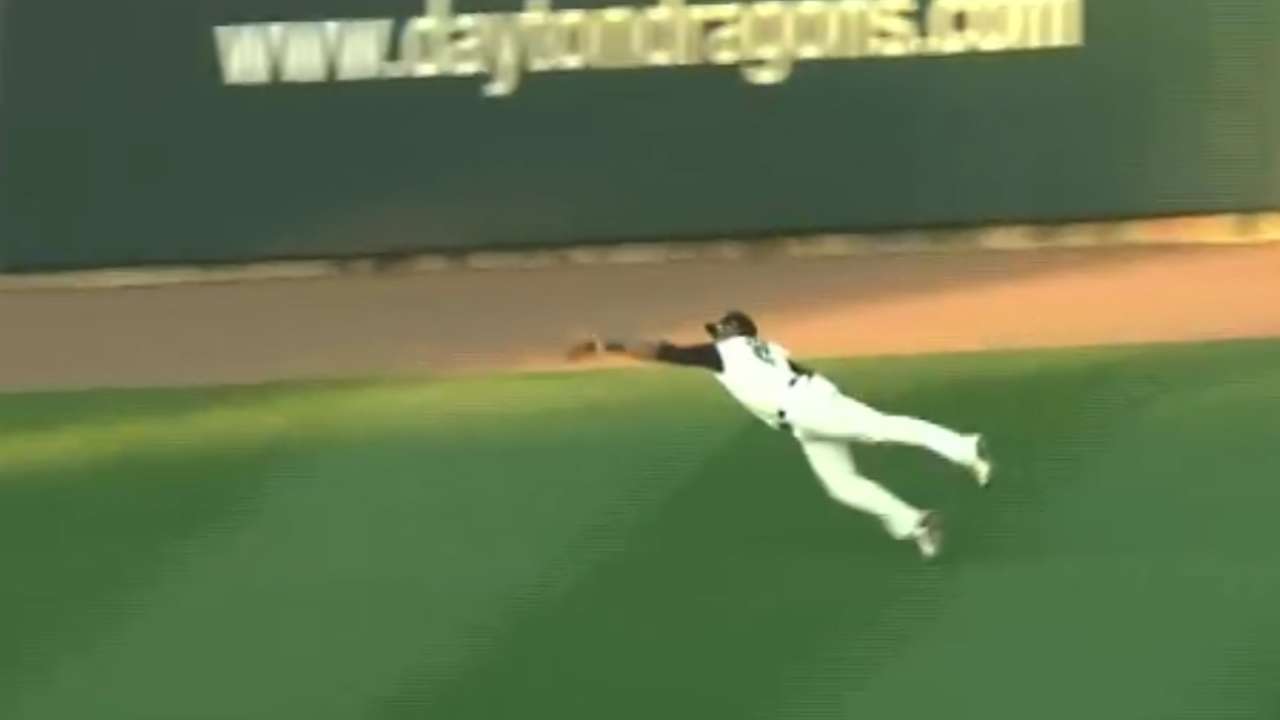 MESA, Ariz. -- After a rough 2014 campaign, Reds prospect Phillip Ervin bounced back in 2015, and has continued to do so in the Arizona Fall League.
The outfielder led the Peoria Javelinas to a 6-3 win over the Mesa Solar Sox on Monday afternoon as he turned in his best game of the Fall.
"I feel like I played really good today," the No. 11 prospect in the Reds' system said. "I just went up there and tried to have fun and tried not to do too much and it seemed to work."
Ervin went 3-for-4 with a double and two RBIs in his second multihit game of the season.
Although Ervin led his team to six runs on 11 hits, and Mesa countered with three runs and five hits, the game was not void of strong pitching.
Dylan Bundy, the Orioles No. 2 prospect, started the game for Peoria and threw a perfect inning. Then Lucas Sims, Atlanta's No. 7 prospect, threw three no-hit innings of his own.
Sims retired nine of the 10 batters he faced, with the lone baserunner reaching on an error.
Opposite Bundy and Sims was left-hander Sean Manaea, who showed why he's so highly regarded in the A's system as he gave up one run on four hits in four innings.
However, the Javelinas' bats really came to life once Manaea left the game as Peoria promptly plated a trio of runs.
Ervin drove in a run with an RBI single -- his third hit of the afternoon -- and scored one batter later when Seattle's Dario Pizzano doubled.
"I feel like when I first tried to come back here I tried to do too much before I could get my timing down," Ervin said. "Today I just felt really good at the plate."
Mesa responded in the bottom half of the inning with three runs of their own as Oakland's Chad Pinder and Miami's Austin Dean hit homers.
But that was the only offense Mesa could come up with all afternoon.
The AFL season is an important one for Ervin as he tries to reestablish himself as a top prospect.
Selected in first round of the 2013 Draft, Ervin came with a lot of potential, but in the 2014 season, he struggled in ways he wasn't used to, hitting .237 with 110 strikeouts in 132 games.
"I just felt like, that was my first time really ever failing, and I didn't take it too well," Ervin said. "I struggled with it mentally and this year, I just feel like when I was in a slump, I handled it better."
The struggles were frustrating, but they helped Ervin mature as a player and in 2015 he hit .241 with 14 homers and 77 RBIs in 126 games between Class-A Advanced Daytona and Double-A Pensacola.
"I enjoyed it," Ervin said of his 2015 campaign. "I think it was a lot better year than I had in my first full season, I just look at it as a stepping stone."
William Boor is a reporter for MLB.com. Follow him on Twitter at @wboor. This story was not subject to the approval of Major League Baseball or its clubs.