Braves to continue reconstructing ballclub
Offseason unlikely to be as busy as last year, but Coppolella could surprise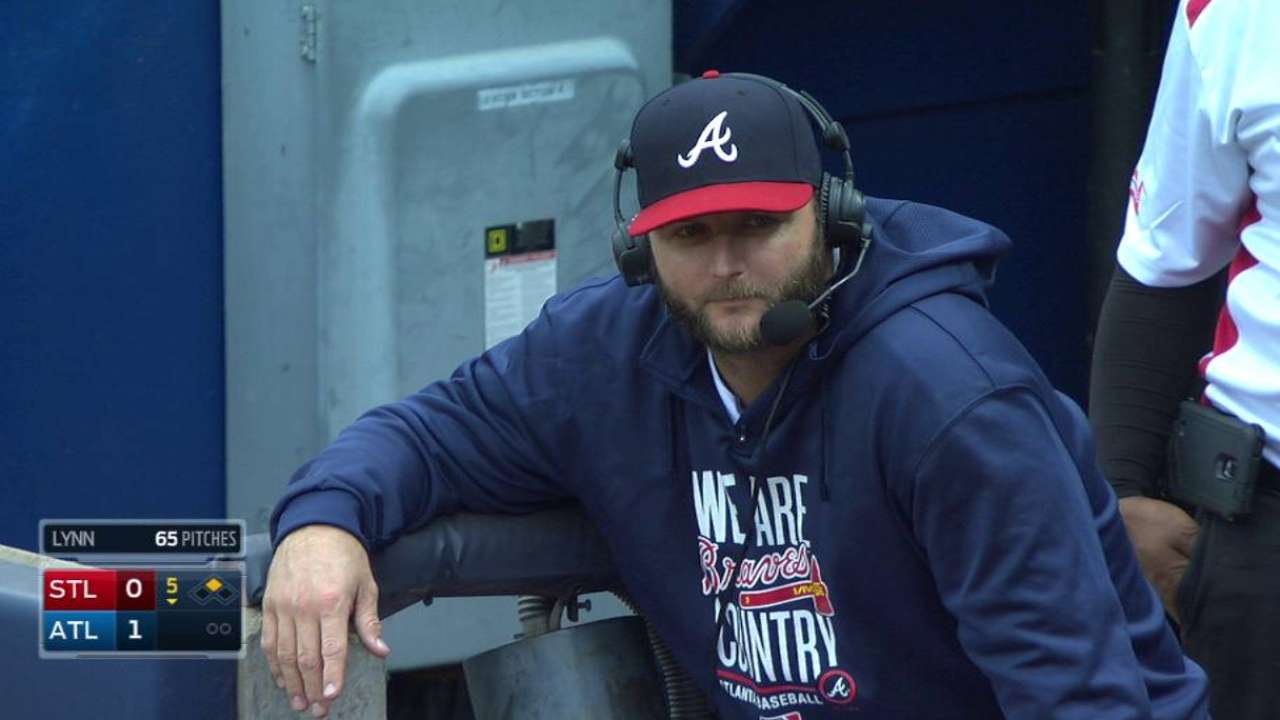 ATLANTA -- When the Braves entered last year's offseason, we essentially knew they were going to reshape their future by trading Jason Heyward, Justin Upton and Evan Gattis.
Now that this year's Hot Stove period is upon us, it is easy to assume the Braves will not be nearly as busy as they were last winter. But this past year probably should have taught us that it is never wise to make assumptions about anything that can be influenced by general manager John Coppolella's creative mind.
Truth be told, the Braves are likely still at least one year away from being legitimate postseason contenders again. But the rough second half could influence the aggression shown by Braves president of baseball operations John Hart as he attempts to produce a competitive product in 2016 and move another step closer toward the completion of the massive reconstruction process that began last year.
• Braves determined to step forward in 2016
Free agents/options: The Braves would love to lure A.J. Pierzynski back to Atlanta next year to at least serve as their backup catcher. Unfortunately, Pierzynski's success this season enhanced his cost and demand, especially among American League clubs that could use him as both a catcher and designated hitter.
There might also be some interest in keeping right-handed relievers Peter Moylan and Edwin Jackson. They would likely need to sign an incentive-based deal or agree to a Minor League contract.
Needs: Even if Pierzynski returns, the Braves will still likely search for a veteran to fill that starting catching role Christian Bethancourt will likely never gain in Atlanta. There will also be a focus placed on acquiring two relievers to strengthen the bullpen. Hart and Coppolella want to create depth in the relief corps department to compensate for the uncertainty surrounding Jason Grilli (Achilles) and Shea Simmons (Tommy John surgery).
The Braves will also look to add an affordable veteran starting pitcher who has the potential to strengthen the back end of a rotation and also provide valuable experience to a very young rotation.
Potential targets: Though there will be some talk about free agent Matt Wieters, it seems more likely that the Braves will land at least one catcher via the trade route. Chris Iannetta stands as a wild card among the free-agent candidates.
Joakim Soria, Jonathan Broxton (assuming the Cardinals don't exercise his 2016 option), Tyler Clippard, Darren O'Day and Tony Sipp are among the relievers who could draw attention from Atlanta.
As for a starting pitcher, Mark Buehrle (Pierzynski's longtime White Sox teammate) would be a decent fit. But Buehrle has provided some indication he might retire. Doug Fister and Yovani Gallardo are among the other experienced pitchers who might draw interest if the price is right.
Trade assets: The Braves are sure to get some calls about some of the pitching prospect depth they have compiled over the past year. Nine of their top 12 prospects per MLB.com are pitchers, and that is not counting former top prospects Mike Foltynewicz and Matt Wisler, who both experienced long stretches in Atlanta this year.
Julio Teheran enhanced his value with his late-season success, but the trade of Alex Wood seemingly increased the importance of keeping Teheran in Atlanta. Over the summer, the Braves talked to clubs about Teheran and Andrelton Simmons. But unless a hefty value is being provided in return, Teheran and Simmons are both likely to stick around.
Financial situation: When the Braves traded Chris Johnson to the Indians in exchange for Nick Swisher and Michael Bourn in August, they took on more payroll for 2016 in order to make their '17 payroll more attractive. Still, they have approximately $30 million to spend this winter.
Bottom line: Though there might not be an obvious target this offseason, there is no doubt that the Braves will need to add a key offensive piece over the next year to be where they want to be in 2017. They will weigh whether it makes more sense to do that now or next winter, when they will have more money.
Mark Bowman is a reporter for MLB.com. This story was not subject to the approval of Major League Baseball or its clubs.