Bundy hurls perfect inning in return in AFL action
Orioles No. 2 prospect throws seven pitches in his first start since May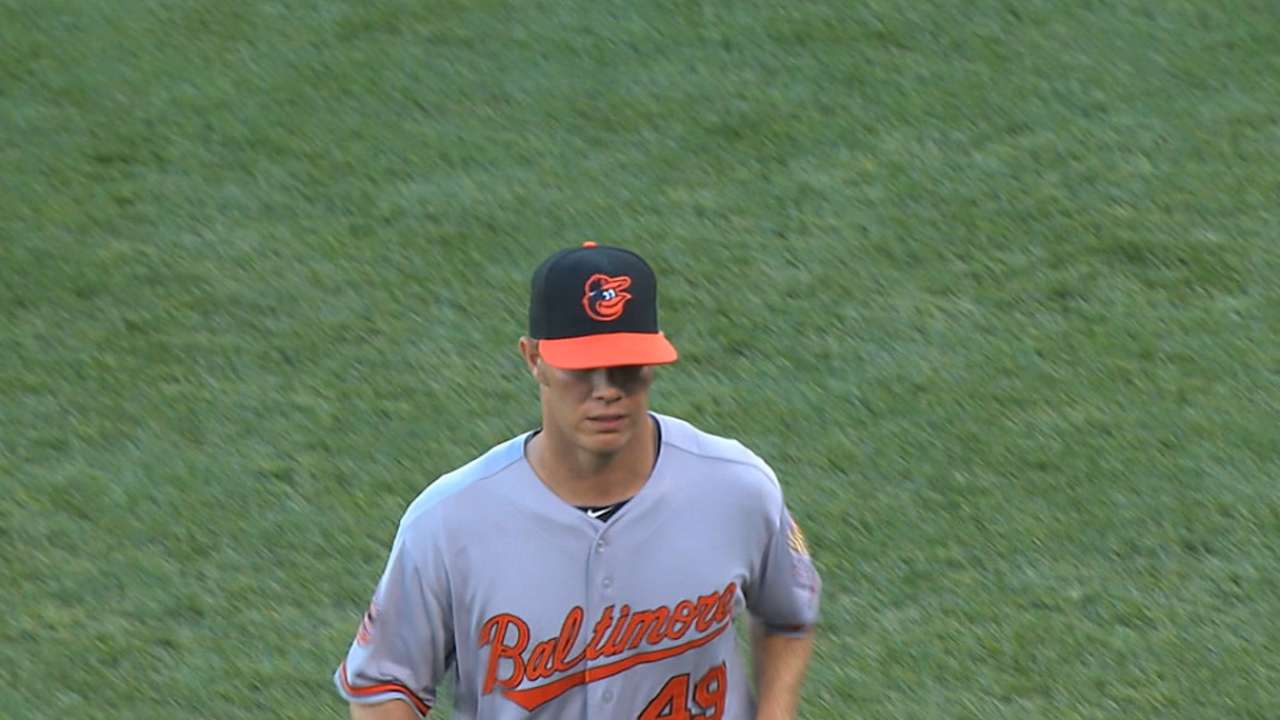 MESA, Ariz. -- Dylan Bundy's return to the mound went about as well as anyone could have hoped.
The right-hander, making his first start since May 21, threw one perfect inning for the Peoria Javelinas in the Arizona Fall League on Monday afternoon. He needed just seven pitches, five strikes, to retire the side in order -- two flyouts and a strikeout -- in his lone inning. Bundy's fastball sat between 92 and 94 mph.
"It was efficient," Bundy said. "Seven pitches. Anytime you can throw under 10 pitches, it's fun."
But perhaps more important than all the numbers, is the fact that Bundy was healthy. The No. 2 prospect in the Orioles organization had Tommy John surgery in '13 and was shut down with shoulder inflammation in May.
"About as normal as it can get, didn't get to experience a lot out there today," Bundy said when asked how his arm and shoulder felt. "Maybe next time I'll get to throw more pitches, I know that sounds bad, but I would like to throw more pitches and work on some stuff out there."
After being selected fourth overall in the 2011 Draft, Bundy skyrocketed his way through the organization and made his Major League debut in Sept. 2012.
However, he's pitched in just 17 games since then, making Monday's start all the more meaningful.
"It's been a long time since I've been out there, so you've got to get used to that again," Bundy said. "I just went out there, was trying to throw the ball over the plate, let them hit it and see what happens -- got the first one under the belt."
Although Bundy's inning was quick, the Orioles are playing it safe with the prospect and there were no deliberations about sending him out for a second inning.
"No. Not one discussion at all," Bundy said. "It was one inning only and that was it."
Bundy was reinstated from the 60-day disabled list earlier in the day. With the move, the Orioles have 35 players on their 40-man roster.
William Boor is a reporter for MLB.com. Follow him on Twitter at @wboor. This story was not subject to the approval of Major League Baseball or its clubs.