Mariners eye complementary pieces in Hot Stove season
New GM Dipoto figures to add depth to team's core this offseason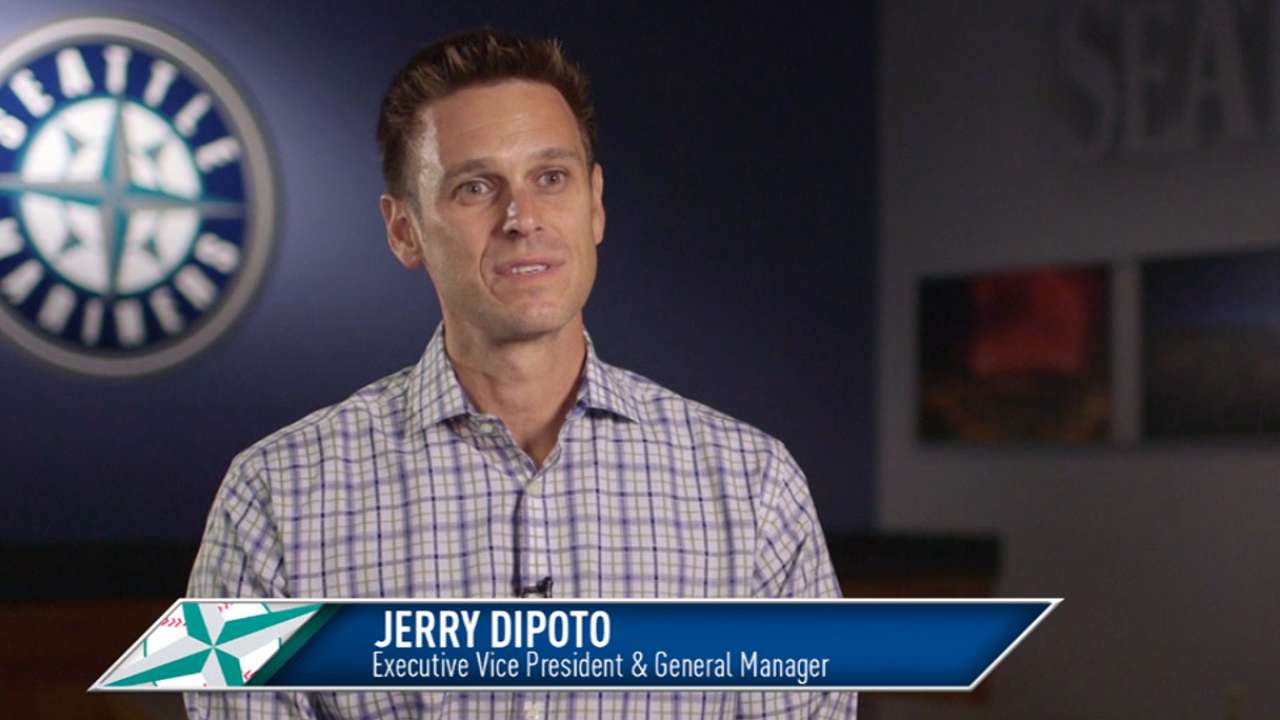 SEATTLE -- New Mariners general manager Jerry Dipoto worked quickly to put his front office team in place in time to hit the ground running this offseason, and that group will soon have a chance to make its mark as the Hot Stove season now opens in earnest following Sunday's World Series-clinching win by the Royals.
Eligible players become free agents at the conclusion of the World Series, and those players can begin signing with other teams on Saturday. While most moves won't come that quickly, it won't take long for the Mariners and others to begin probing ways to improve their teams.
In Seattle's case, that should make for an interesting winter as Dipoto looks to bolster a team many felt had the nucleus to challenge for a postseason berth last year.
Free agents: The Mariners have three players hitting free agency -- right-handed starter Hisashi Iwakuma, left-handed reliever Joe Beimel and outfielder Franklin Gutierrez. Re-signing Iwakuma will be the highest priority, and he likely will be extended a one-year qualifying offer of $15.8 million as he's proven to be one of the American League's most-reliable right-handers (46-24 with a 3.09 ERA in 97 starts in his four seasons). The 34-year-old has been a bargain the past two seasons at $7 million a year and is certainly in line for a raise.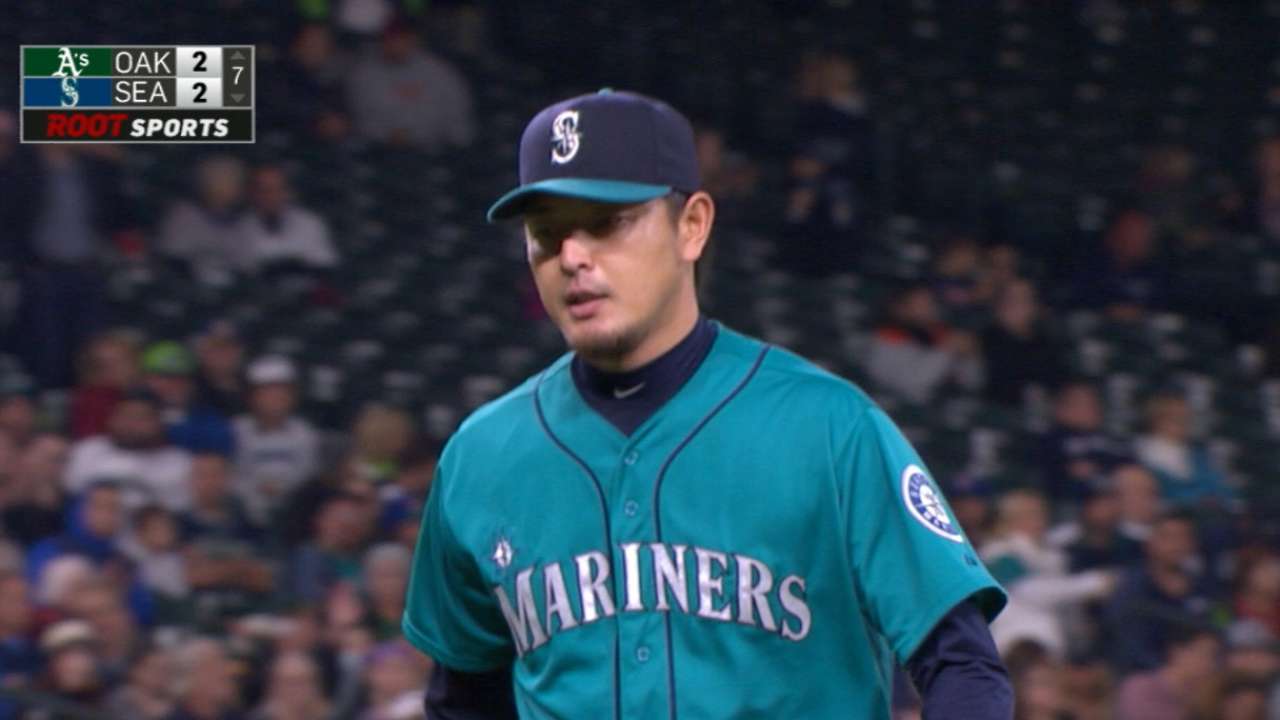 No Major League player has accepted a qualifying offer in the three years of the current system, and Iwakuma likely will decline as well and seek a multiyear deal on the open market, but he likes raising his family in Seattle and the Mariners figure to be the front-runner to retain his services.
Beimel and Gutierrez both provided value as veterans on Minor League deals last year and will seek Major League contracts, either in Seattle or elsewhere, though their markets are clouded by age (Beimel turns 39 in April) and injury history (Gutierrez has been limited by his ankylosing spondylitis condition for the past four years, though he hit .292 with 15 homers in 59 games last year).
Needs: Bolstering the bullpen figures to be a high priority after the club dealt a number of power arms in recent years trying to add offense and paid the price in 2015. A veteran catcher to supplement Mike Zunino seems imperative, and Dipoto would like to add speed and athleticism to better suit Safeco Field, with the outfield -- particularly center field -- being the logical place to address those traits. First base, shortstop and depth across the board are also areas Dipoto could explore.
Potential targets: With a large chunk of payroll already tied up in returning players, Dipoto likely will look to fill numerous holes through trades and smaller free-agent deals to provide a better support crew for that core. Matt Wieters figures to be the big catcher in free agency, and there will be big bidding wars over the likes of Chris Davis, Justin Upton, Yoenis Cespedes and Jason Heyward. But rather than chasing another big splash as they did with Robinson Cano and Nelson Cruz, the Mariners might follow more of the Royals model and spread their remaining assets to several players. Tigers catcher Alex Avila might be a better fit in that regard. Mark Lowe is a logical target to bring back in the bullpen. Gerardo Parra or Denard Span seem to be the type of outfielder the Mariners pursue.
Trade assets: It's hard to guess what direction Dipoto might go, given he has no history with the current Mariners roster. But he proved willing to pull the trigger on trades in Anaheim and has a clear vision of the kind of roster he'd like to assemble in Seattle, so expect wheeling and dealing this winter. Dipoto traded Mark Trumbo to acquire pitching for the Angels two years ago, and Trumbo could be dangled again as he'll likely earn about $9 million in arbitration. Jesus Montero figures to have lesser value at this point as he's out of options, but he's a first baseman without a place to play as long as Trumbo and Logan Morrison are on the roster. Any of those players could be moved this winter. Young shortstops Chris Taylor and Brad Miller could be shopped if Dipoto believes Ketel Marte is the answer there. The Mariners' farm system is thin at the top, though there are always prospects of interest to other clubs in the right deal. Dipoto wants to add depth to the organization, however, and figures to take a longer-term view as he assumes control.
Financial situation: Felix Hernandez ($25 million), Cano ($24 million), Cruz ($14 million), Kyle Seager ($7.5 million) and Seth Smith ($6.75 million) add up to $77 million for next season, and Iwakuma figures to be in line for a $15.8 million qualifying offer as he hits free agency. Four arbitration-eligible players (Trumbo, Morrison, Tom Wilhelmsen and Charlie Furbush) will likely add up to about another $18 million. Barring trades, that's $110 million already committed to 10 players.
Bottom line: The Mariners figure to expand some on last year's $125 million payroll, but clearly there isn't room for another whopper free-agent splash like Cano or Cruz if Dipoto wants to address multiple needs while retaining that expensive nucleus. Expect this offseason to be more about pursuing players who better fit the new regime's thinking toward athleticism and defense and adding complementary pieces and depth to help that core group succeed during the window when those players are still in their prime.
Greg Johns is a reporter for MLB.com. Follow him on Twitter @GregJohnsMLB and listen to his podcast. This story was not subject to the approval of Major League Baseball or its clubs.