Best postseason performers up for MLB Award
There were 36 postseason games in 2015, four more than last year. It took nearly a month of joy and heartache and heroes and goats to finally decide on a winner among the Astros, Blue Jays, Cardinals, Cubs, Dodgers, Mets, Pirates, Rangers, Royals and Yankees.
Now that the Royals have clinched their first World Series title in 30 years, it is time for all fans to help put a bowtie on an unbelievable October/November chase. Voting is underway through Nov. 13 at MLB.com to help determine who will be the MLB Esurance Awards winner in the category of Best Major Leaguer, Postseason.
There are 10 nominees, half of them currently in celebration mode: Jose Bautista of the Blue Jays, Lorenzo Cain of the Royals, Wade Davis of the Royals, Jacob deGrom of the Mets, Alcides Escobar of the Royals, Curtis Granderson of the Mets, Daniel Murphy of the Mets, Salvador Perez of the Royals, Kyle Schwarber of the Cubs and Ben Zobrist of the Royals.
• VOTE NOW: Esurance MLB Awards Best Major Leaguer, Postseason
The Esurance MLB Awards annually honor Major League Baseball's greatest achievements as part of an industry-wide balloting process that includes five components, each of which accounts for 20 percent of the overall vote: media, front-office personnel, retired MLB players, fans at MLB.com and Society for American Baseball Research (SABR) voters.
In addition to this top postseason performer honor, which recognizes the best overall body of work, individual awards will go to the Best Major Leaguer, Best Everyday Player, Best Starting Pitcher, Best Rookie, Best Defensive Player, Best Breakout Player, Best Bounceback Player, Best Manager, Best Executive, Best Social Media Personality and Best Celebrity Fan.
Winners will also be recognized for the year's Best Offensive Play, Best Defensive Play, Best Moment, Best Performance, Best Social Media Post, Best Fan Catch, Best Interview, Best TV Call, Best Radio Call, Best Player-Fan Interaction, Best Video Board Moment and Best Trending Topic.
"It's been such a great year for us," Commissioner Rob Manfred said after the trophy presentation, "I kind of hate to see it come to an end."
Here is a closer look at the 10 nominees who generated much of that postseason excitement:
Bautista: Four home runs, 11 RBIs, seven runs and one unforgettable bat flip after a classic home run in Toronto against Texas during the American League Division Series.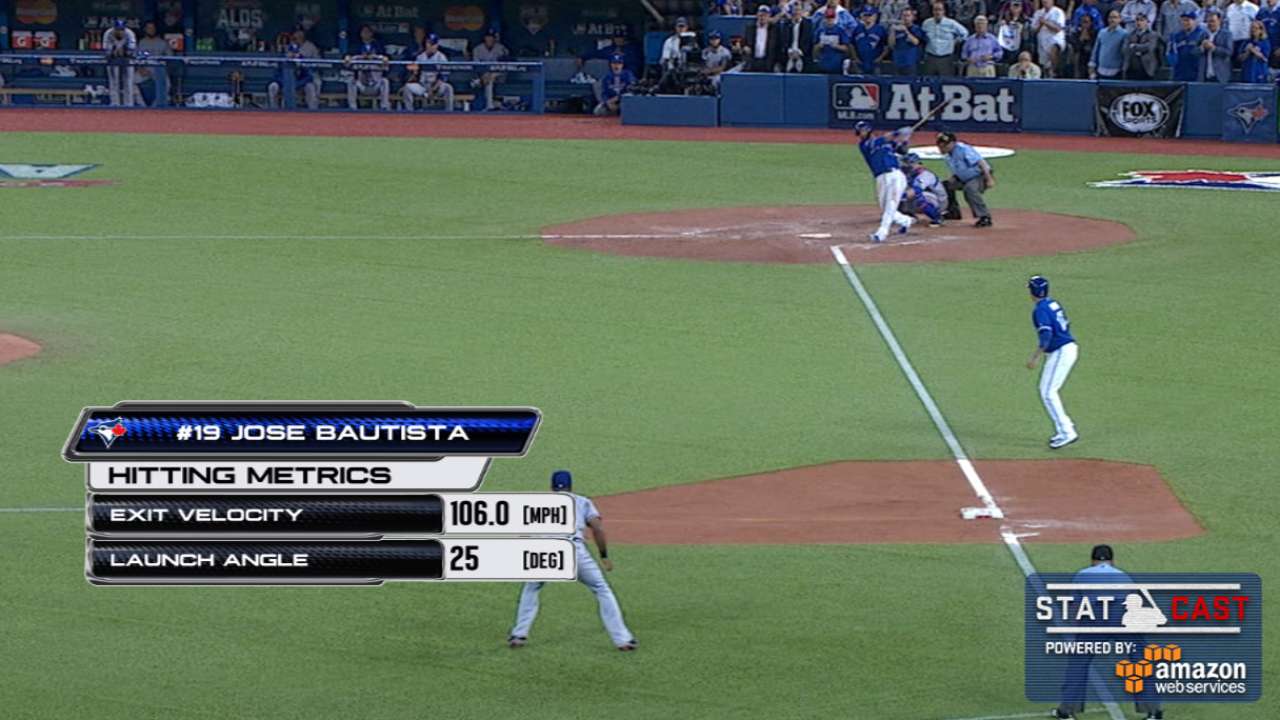 Cain: The Royals' center fielder scored 11 runs and drove in the same number, and his two steals in the Game 5 clincher against the Mets gave him a Royals-record six in the postseason.
Davis: Continuing a seamless transition as Royals closer after All-Star Greg Holland underwent Tommy John surgery, the big right-hander converted four saves, struck out 18 and compiled a 0.84 WHIP in 10 2/3 innings. His two-inning save in Game 4 of the World Series was enormous, and he threw the last pitch of 2015 past Wilmer Flores.
deGrom: Mets fans won't forget how he outdueled Clayton Kershaw in the National League Division Series opener at Dodger Stadium. The right-hander then won the NLDS clincher, and he improved to 3-0 in the postseason by winning Game 3 in the NLCS sweep of the Cubs. One big fifth inning was his undoing in Game 2 at Kansas City, and he never had the opportunity for a Game 6 start as the Royals clinched, but the body of work makes him a certifiable contender here.
Escobar: The "Esky Homer" will live forever in Royals lore, an inside-the-park leadoff shot against Matt Harvey that set the tone in the 111th World Series. Overall, Escobar set a Major League record with a 15-game postseason hitting streak (a feat not possible before 1995, excluding '81) and his 23 hits broke Derek Jeter's record for most hits by a shortstop in a postseason.
Granderson: Many were starting to think "MVP" after the Grandyman clubbed his third homer of the World Series, when the Mets' fortunes were looking better. He was brilliant in right field, reached base safely in all 14 playoff games and tied the Mets' single-postseason record with 12 RBIs.
Murphy: He set an MLB record by homering in six consecutive postseason games, and his victim list including Kershaw (twice), Zack Greinke, Jake Arrieta and Jon Lester. He was so good in the NLDS and the NLCS that the legendary Foley's bar in Manhattan temporarily renamed itself "Murphy's."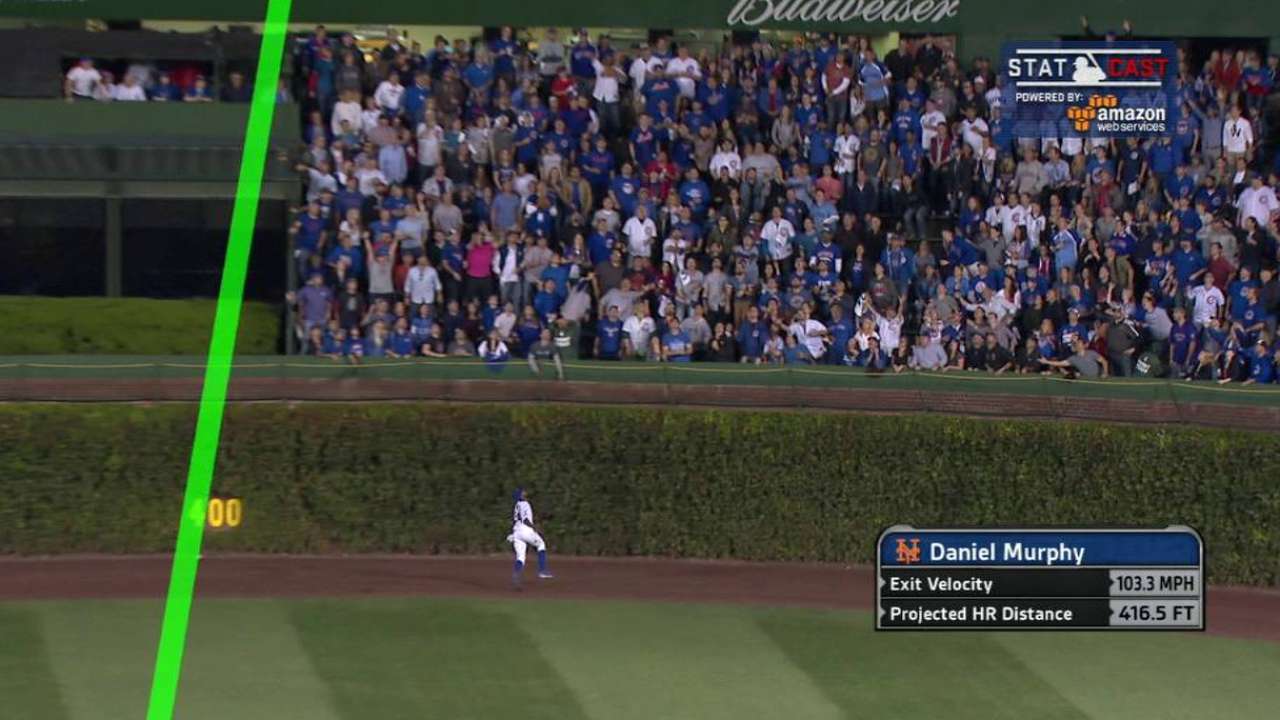 Perez: What a change from 2014, when he made the last out of the World Series in Game 7 with Alex Gordon standing on third base. Perez hit a combined four homers over the first two rounds and then batted .364 against the Mets, becoming the seventh catcher in history to be named World Series MVP and the first since Toronto's Pat Borders in 1992.
Schwarber: There's a glass-encased baseball that sits for posterity on top of the right-field "Schwarboard" at Wrigley Field. The Cubs' left fielder had played in just 69 Major League games prior to the postseason, but he was clutch with a big power display that included five homers and a 1.308 OPS. He had his struggles against the Mets like most Cubs, but Statcast™ ranked two of his home runs among the three longest shots of the postseason, and the big one still rests on display.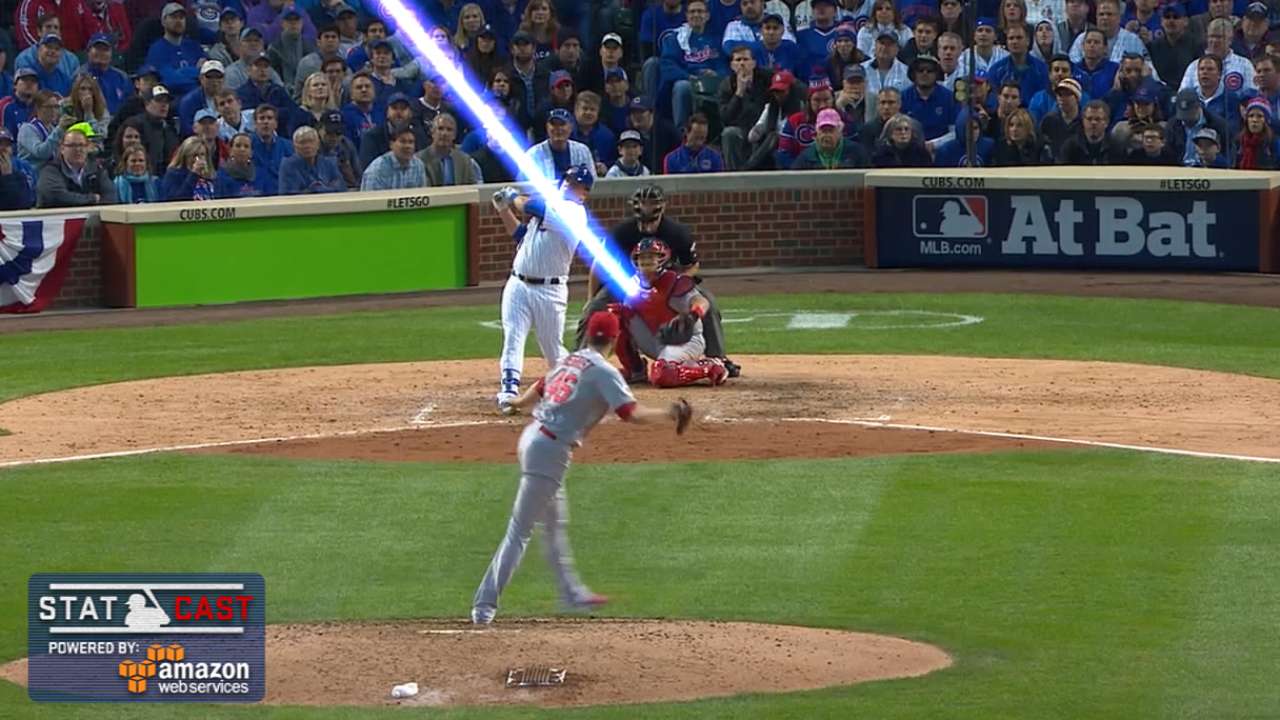 Zobrist: While famously awaiting word of impending fatherhood again, the Royals' second baseman always seemed to be giving the Mets problems. He hit .303 overall in the postseason, scoring more runs (15) than any other '15 playoff participant and tying the Major League mark for a single postseason with eight doubles.
The MLB Esurance Award winners will be announced live on MLB Network and MLB.com on Nov. 20.
Mark Newman is enterprise editor of MLB.com. Read and join other baseball fans on his MLB.com community blog. This story was not subject to the approval of Major League Baseball or its clubs.