MLB.com Columnist
Jonathan Mayo
Phillies in AFL: Knapp aims to improve defensively
Club's No. 16 prospect hit .360 in 55 Double-A games following promotion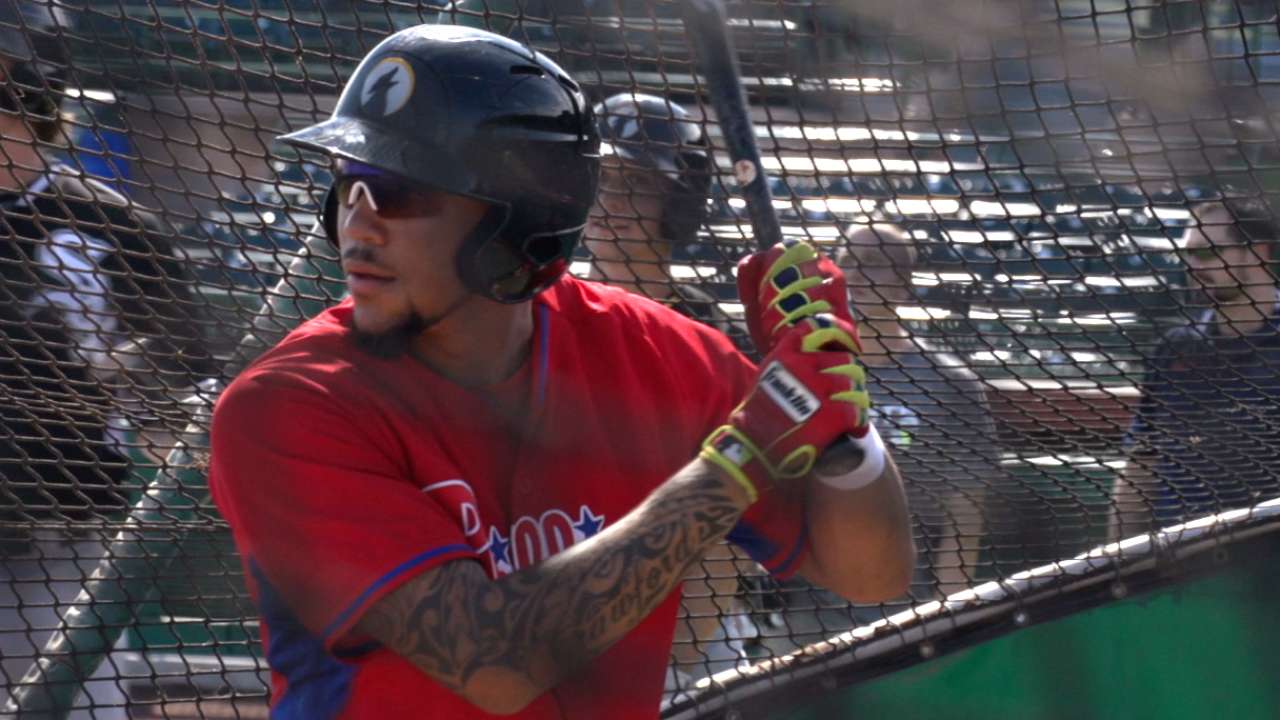 It would be difficult to overstate how important statistical analysis has become in how decisions in baseball are now made. Every so often, however, something happens that seemingly defies what the numbers say.
After going 1-for-3 in a Class A Advanced Florida State League game on June 24, Phillies catching prospect Andrew Knapp was hitting .262/.356/.369. On the surface, those rather pedestrian numbers do not scream promotion. Yet Knapp did get bumped up to Double-A. What happened next, it's unlikely anyone expected.
Knapp simply went off in Reading, kicking things off with a 17-game hitting streak and never really looking back. The 2013 second-round pick hit .360/.419/.631 in 55 games, earning Phillies Minor League Player of the Year honors before heading to the Glendale Desert Dogs and the Arizona Fall League.
"Honestly, I think I just got a little bit more selective," Knapp said. "Earlier in my career, I'd be swinging at a 1-1 changeup that probably wasn't a good pitch to swing at. Then once I got moved up to Double-A, I started laying off those pitches and started flipping some counts to 2-1 or 3-1 and started getting some fastballs. I think that was the biggest adjustment I made."
It's something Knapp was working on in Clearwater, even if it didn't translate to better numbers until after he moved up. Knapp feels that, along with the work he put in on the defensive side of the game, is what made the organization comfortable with the promotion.
"The last month there in Clearwater, I started making those adjustments," Knapp said. "I think part of it, too, was the advancement behind the plate, being able to handle the game, handle the pitching staff more. I think that's what they saw. Sometimes a change of scenery is all you need to get a little boost and a little confidence. I think that helped, too."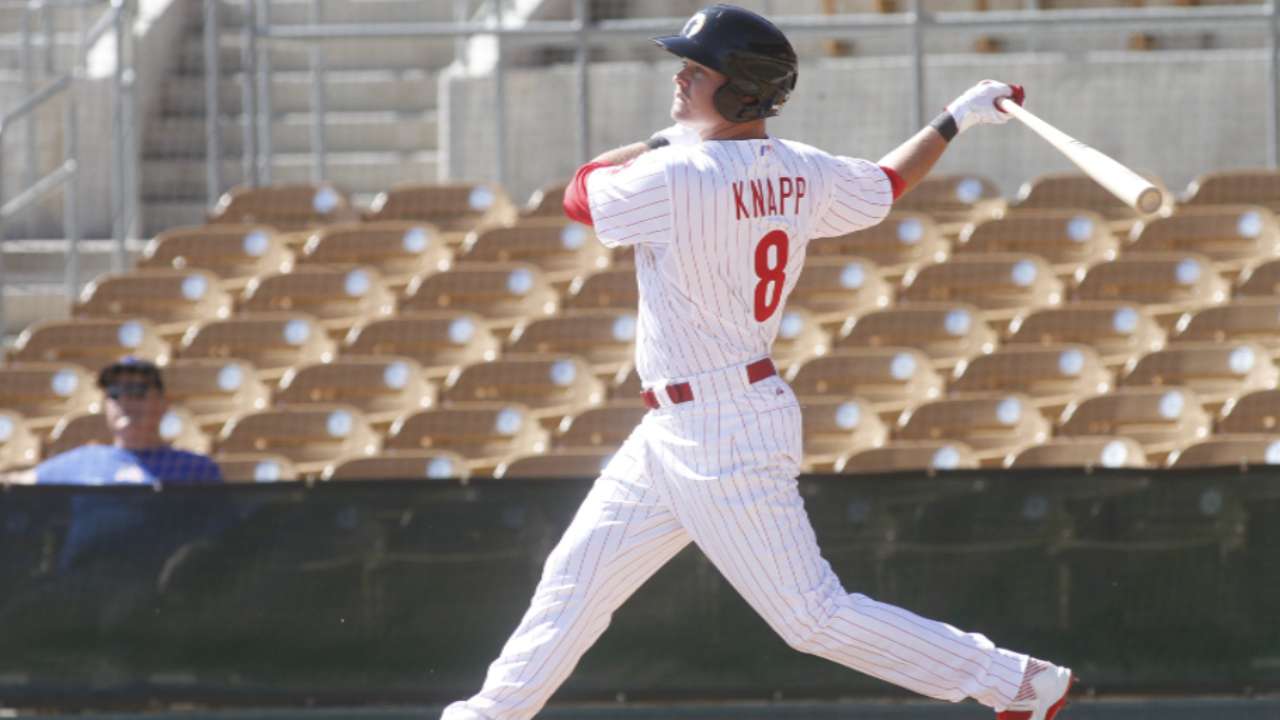 His time in the AFL will undoubtedly aid in his development as well. While Knapp is continuing to pretty much do what he did in Double-A with the bat, he knows there is work to be done behind the plate if he wants to be an everyday catcher at the big league level.
"I think defensively is one of those things I want to tighten up," Knapp said. "Tighten up the receiving, tighten up the throwing. We worked a lot behind the plate this year off the field, working on the mind game a little bit. Trying to manage a pitching staff and work from behind the plate. That's what I'm focusing on."
Knapp has some defensive skills, namely arm strength that allowed him to throw out 36 percent of would-be basestealers in 2015. While the AFL is known more as a hitters' league, Knapp sees plenty of opportunities to improve his catching, from working with advanced pitchers to picking the brains of his coaching staff, including manager Bill Haselman of the Dodgers, himself a former big league backstop.
"These are guys who know what they're doing on the mound," Knapp said of the pitchers on the Glendale staff. "You can get a ton of work in the bullpen. I'm working with the [coaches from the] Dodgers and the Phillies in the cages and on the side fields. You get a little more down time, less playing, but you get to work on the side, so that's good."
Getting to talk with catchers is nothing new for Knapp. His father Mike caught at Cal just like his son did and spent parts of 11 seasons catching in the Minors, reaching Triple-A. He had former big league catcher Dusty Wathan as a manager in Reading and now has Haselman in Arizona.
"Throughout my career, I've pretty much been surrounded by catchers," Knapp said. "You get to pick those guys' brains. They've been there before, they've done it, they've caught over 100 games in a year, they know how the body feels, and how it's mentally draining, too. It's been awesome to see how they do it and gain that little bit of experience from them as I'm going through it."
Phillies hitters in the Fall League
• Aaron Brown, OF - A two-way standout at Pepperdine, the Phillies took Brown as an outfielder in the third round of the 2014 Draft. Coming off his first full season as a hitter only, Brown hasn't played a ton, but the at-bats he is getting should help him make the jump to Double-A in 2016.
• J.P. Crawford, SS - Crawford was the highest-ranked prospect in the AFL (No. 5 overall), but went home with a left thumb injury after just six games. He should be 100 percent for Spring Training.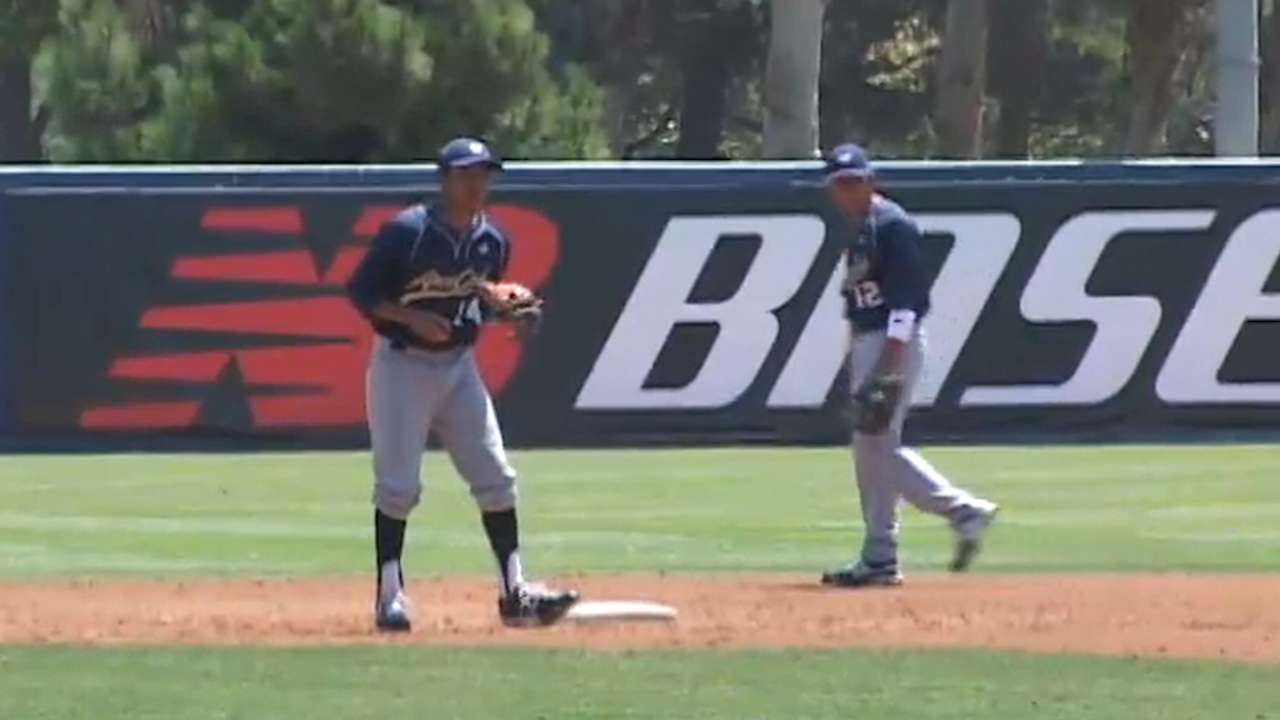 • Drew Stankiewicz, 2B/SS - The Phillies' 11th-round pick in the 2014 Draft, Stankiewicz was added to the Glendale roster to replace Crawford. He played at two levels of A ball in 2014 and saw time at both second base and shortstop.
Phillies pitchers in the Fall League
• Edubray Ramos, RHP - Originally signed by the Cardinals, Ramos was released by St. Louis in February 2011. He signed with Phillies in November 2012 and finally got moving more quickly in 2015, reaching Double-A -- a level he may be ready to master after pitching well in the AFL.
• Yacksel Rios, RHP - The 2011 draftee has spent much more time relieving than starting, but three of his first four AFL outings have been starts, something he may get the chance to do in Double-A next year.
• Jesen Therrien, RHP - The Montreal native is coming off a very solid year out of the bullpen in 2015, one that saw him spend most of the year in the Florida State League. His AFL innings should prep him for Double-A in 2016.
• Tom Windle, LHP - Windle made a successful transition to the bullpen midway through his first season with the Phillies. He's continued to adjust to the role this Fall.
Jonathan Mayo is a reporter for MLBPipeline.com and writes a blog, B3. Follow @JonathanMayo on Twitter. This story was not subject to the approval of Major League Baseball or its clubs.