Red Sox expected to target ace in offseason
Need to bolster pitching staff could lead to active winter for Boston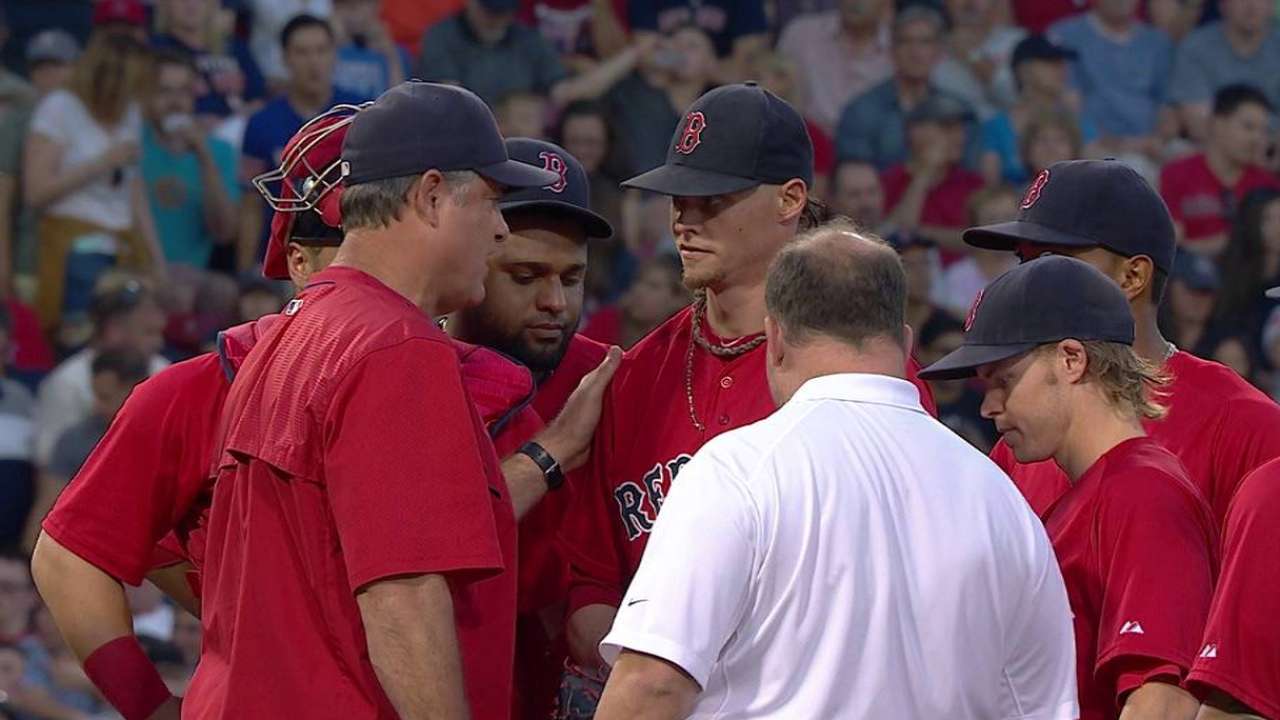 BOSTON -- Now that the World Series is over and the Royals have been crowned champions, the Red Sox can get going on a Hot Stove season they've been eagerly anticipating for weeks. It became clear by August that the 2015 Red Sox would not be a postseason entry, and that was the same month Dave Dombrowski was hired as president of baseball operations.
Dombrowski has spent the last couple of months learning every in and out of the Red Sox organization, and he will soon execute moves designed to create a team that will play meaningful games all season long.
"I think we have a chance to be competitive next year," said Dombrowski. "I think a lot's going to be dependent on continued growth of our young players, some of the veterans coming back and staying healthy and also the situation where we improve our club. First and foremost, we've talked about trying to improve our pitching staff, our starters and our bullpen -- that will be a primary focus where we go after."
• Bogaerts, Papi rise up in underwhelming 2015 season
Free agents/options: The Red Sox expressed confidence that Clay Buchholz is healthy, exercising the right-hander's $13 million option for 2016 on Tuesday. Buchholz's season ended in mid-July due to a right elbow injury, but the club believes it is no longer an issue and he should have a normal winter.
Lefty Rich Hill, who had a stunningly successful four-start comeback considering he hadn't been a starter for six years, is eligible for free agency. Though the Red Sox have always liked Hill, a local product out of Milton, Mass., the lefty might be better off going somewhere with a clearer opportunity in the rotation.
Veteran lefty reliever Craig Breslow is someone the Red Sox could have interest in re-signing. Righty reliever Alexi Ogando was a bit of a disappointment in 2015, and it wouldn't be surprising if he signs elsewhere.
Needs: The Red Sox need a stud to put at the top of the rotation. The lack of a true ace was glaring in 2015. Perhaps Dombrowski's biggest chore is improving the bullpen. As the Royals have demonstrated the last two Octobers, power pitching in the late innings is essential to success. Koji Uehara will be 41 on Opening Day, and the Red Sox want to acquire another reliever who can close, at least as an insurance policy. Though the Red Sox love the defense of Rusney Castillo, Mookie Betts and Jackie Bradley Jr. in the outfield, only Betts has proven for sure he can hit in the Major Leagues for a sustained period. That could lead to Dombrowski pursuing a corner outfield bat.
Potential targets: Look for the Red Sox to be right in the heart of the free-agent sweepstakes for lefty David Price and righty Johnny Cueto. Either one of those pitchers would instantly become the ace in Boston. Dodgers righty Zack Greinke exercised an opt-out clause in his contract and the Red Sox will be in pursuit. Jordan Zimmermann is another free agent to keep an eye on. Boston is again expected to have one of the highest payrolls, and ownership isn't likely to hold Dombrowski back if he finds an ace there for the taking.
Trade assets: Though the Red Sox love Bradley's defense and were enthused by the flashes of brilliance he showed offensively in August, he could be a chip the club uses to help fill a hole in the rotation or the bullpen. Lanky lefty Henry Owens turned in some strong performances after his callup from Triple-A Pawtucket, and the Red Sox have enough pitching depth to be able to trade him if need be.
Financial situation: When you combine guaranteed contracts with options the club is expected to pick up and projected arbitration settlements and renewals, the Red Sox have roughly $145 million committed to the payroll for 2016. The team's payroll was in the neighborhood of $185 million in '15, and that's a range the club will probably approach again for the coming year.
Bottom line: Expect Dombrowski to make his mark on his new franchise with an active winter, one which should re-shape the pitching staff with the addition of power arms. Assuming Dombrowski can get the ace everyone is waiting for, the outlook on the Red Sox will be greatly improved. As it is, the club has a strong core of young position players to build around, and its two most established hitters (David Ortiz and Dustin Pedroia) back in the fold.
Ian Browne is a reporter for MLB.com. This story was not subject to the approval of Major League Baseball or its clubs.