Shapiro introduced as Blue Jays president
Former assistant general manager LaCava promoted to interim GM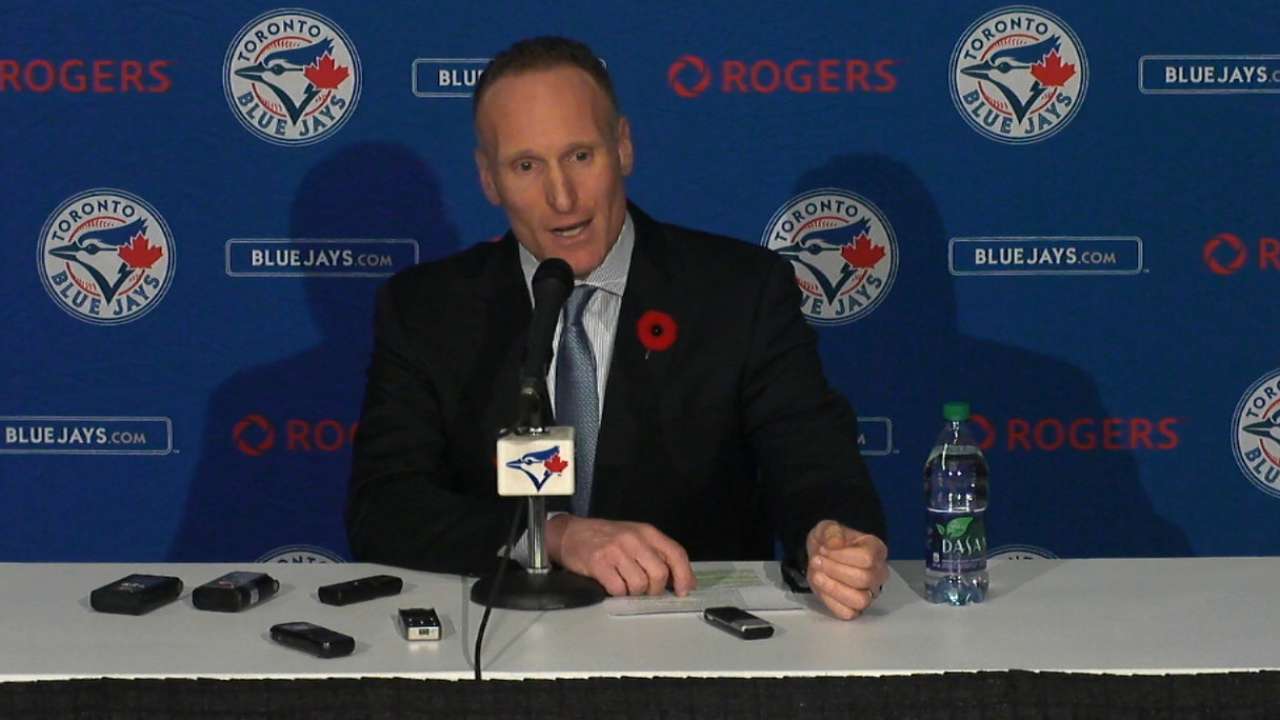 TORONTO -- The Mark Shapiro era in Toronto officially began Monday afternoon as the Blue Jays introduced the seasoned front office executive as their new president and CEO.
Shapiro didn't waste any time getting down to business, as he used his first day on the job to announce that John Gibbons will return as manager in 2016 while Tony LaCava has been named the club's general manager on an interim basis.
The Blue Jays originally hired Shapiro at the end of August to replace the retiring Paul Beeston, but he didn't officially start until this week. Beeston's contract expired on Oct. 31, but he will remain with the organization on a short-term basis to help with the transition process.
"I guess I want to say from outset, to set the tone, I know that you don't know me yet," Shapiro said in his opening remarks. "I know that in time what you will learn about me is that I will act with consistency, with character, with candor, with integrity. I know over time you will learn to trust what I have to say and you'll understand when I speak, I speak with honesty."
Shapiro's first few weeks on the job will be a lot more chaotic than he originally anticipated. His first order of business is finding a new general manager after Alex Anthopoulos declined to sign a five-year contract and instead opted to leave the organization.
Anthopoulos is no longer around, but his presence still loomed large during Shapiro's first news conference in Toronto. Shapiro was peppered with questions about why an agreement could not be reached with the architect behind the 2015 American League East champions.
Shapiro said he was "surprised" and "disappointed" by Anthopoulos' decision to leave, but he was not able to provide specifics as to why the former GM felt that Toronto was no longer a good fit.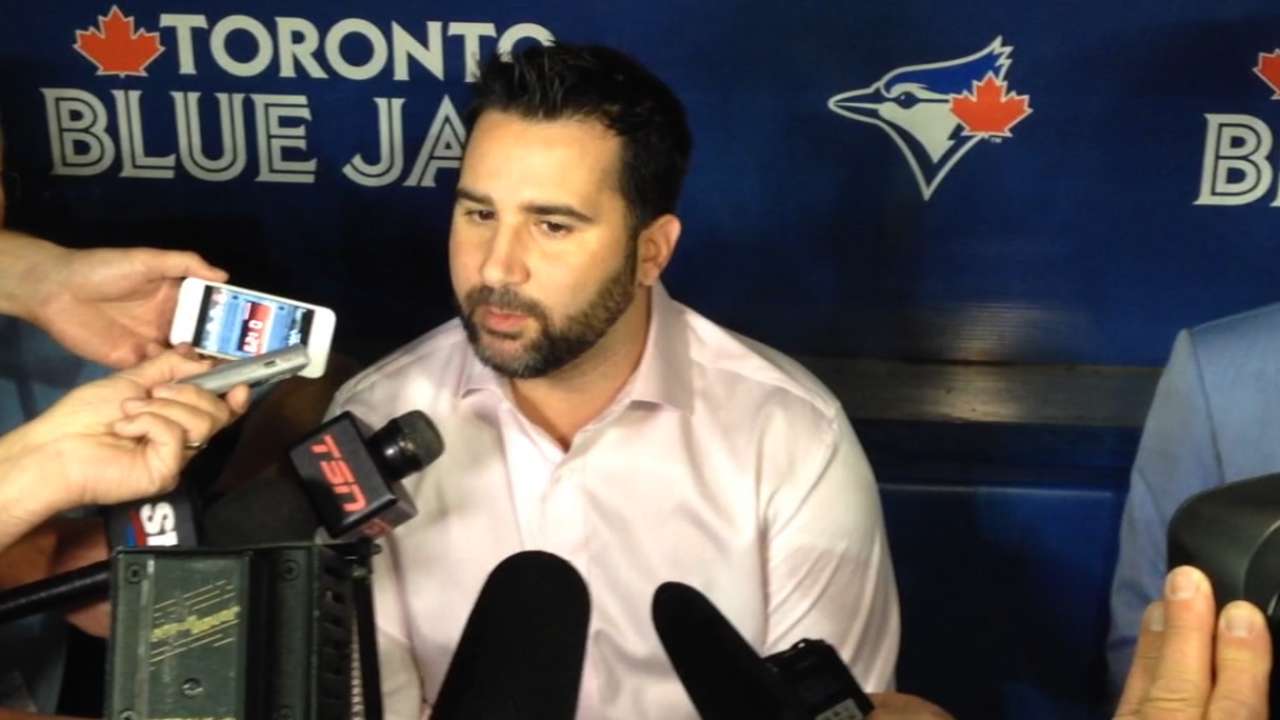 Anthopoulos' previous comments seemed to indicate he was not offered full control over baseball operations and would instead have to clear everything through Shapiro. Shapiro didn't outright deny that claim, but he did speak about his philosophy that involves a hands-on approach from everyone in the organization.
"I know that I worked with a general manager for five years in this capacity who probably has among the most autonomy in Major League Baseball," said Shapiro, who was the Indians' president from 2010-15. "I think what's more important is this, I don't know any situation where there's that much focus on pure autonomy.
"I think where I want to work, and who I want to work with, are the people that are just focused on arriving at the best decision. Whether that information, whether that input, comes from someone in a cubicle, comes from a scout in the Pacific Northwest ... if it makes us better, if it helps us arrive at the best decision, that's all that matters."
Shapiro brings an impressive resume of accomplishments to his new job in Toronto. He spent 10 years as Cleveland's general manager from 2001-10, and twice he was named Major League Baseball's Executive of the Year by Sporting News ('05 and '07). He oversaw a pair of 90-win teams and will now look to bring that success to a talented Blue Jays organization.
Regime changes usually take place at the start of a rebuilding process and not when an organization is in the midst of something special. That's what makes Shapiro's arrival and Anthopoulos' departure so unique, and while some long-term philosophical adjustments can be expected, for now the organization will stay the course despite the change in personnel.
"One that has an incredible current foundation on the field," Shapiro said. "A chance to win the World Series next year and one that, like every organization, is only going to achieve sustainable long-term success with a healthy and vibrant farm system. That's just the reality.
"If you want to have a championship organization that can contain success, regardless of market and payroll, then you need to have a healthy and vibrant farm system. Sometimes that's to make trades, like the ones that were just made, and sometimes it's built as the core of your foundation. You will have an obsessive focus on winning and on building a strong farm system."
Gregor Chisholm is a reporter for MLB.com. Read his blog, North of the Border, follow him on Twitter @gregorMLB and Facebook, and listen to his podcast. This story was not subject to the approval of Major League Baseball or its clubs.