MLB.com Columnist
Richard Justice
Royals built as winners with staying power
The Kansas City Royals couldn't have been more optimistic about their immediate future when last season ended. They'd just had a terrific postseason run, getting to Game 7 of the World Series before losing a close, tense contest to the San Francisco Giants.
Once the disappointment of that defeat wore off, the Royals realized they were in a good place. They had a young core of players they figured to keep together and more on the way. And they had just one huge hole to fill: right-hander James Shields, who they knew they would lose in free agency.
• Celebrate title with Royals championship gear
There would be other free-agent departures, most notably designated hitter Billy Butler and outfield Nori Aoki. But Shields was the one that worried general manager Dayton Moore.
Shields was coming off a season in which he pitched a workhorse 227 innings. Beyond that, he'd influenced every young player on the club with his work ethic and commitment to winning. Shields was a Royal for just two years, but his value couldn't be measured just by his 455 innings and 3.18 ERA.
So that's where Moore began his work. Only he didn't just replace Shields or Butler or Aoki. He looked at his club and saw needs up and down the roster. He believed the offense had been too inconsistent and that the starting rotation wasn't nearly good enough.
The Royals were dominant in two areas: bullpen and defense. Moore hoped to improve them in other areas. He would not be able to spend wildly to do it. But he believed he could.
Moore trusted his baseball judgement and he especially trusted the people he'd surrounded himself with. In eight years, Moore guided the Royals from nowhere to the brink of a championship. He was committed to winning in 2015.
Over the next 10 months, Moore would make change after change to a club that was already one of the best in baseball. He would make dramatic, impactful change with relatively modest spending. He didn't just replace Shields or Butler. He replaced them and then he added depth up and down the roster.
Here's how the 2015 Royals were different from the 2014 Royals: DH Kendrys Morales, second baseman Ben Zobrist, reliever Ryan Madson, outfielder Alex Rios and starting pitchers Edinson Volquez, Kris Medlen, Johnny Cueto and Chris Young.
Royals owner David Glass allowed Moore to bump the payroll from around $92 million to $113 million. But the Royals would still be a middle-of-the-pack team in terms of spending.
No big deal there. One of baseball's lessons these last few seasons is that it's no longer strictly about spending. It's about hiring good people, making smart decisions and sticking with a plan.
Moore hit on virtually every addition. The 2015 Royals scored 73 more runs than the '14 version. Their on-base percentage and slugging percentage went up. Their starting pitching got worse, but their bullpen ERA went down dramatically, from 3.30 to 2.72. And their defense remained one of the best in the game.
Some of that improvement can be traced to the core guys continuing to flourish. Third baseman Mike Moustakas proved himself once and for all. First baseman Eric Hosmer, catcher Salvador Perez, left fielder Alex Gordon and center fielder Lorenzo Cain were among baseball's best players at their positions.
When closer Greg Holland got hurt, Wade Davis emerged as arguably the best reliever in baseball.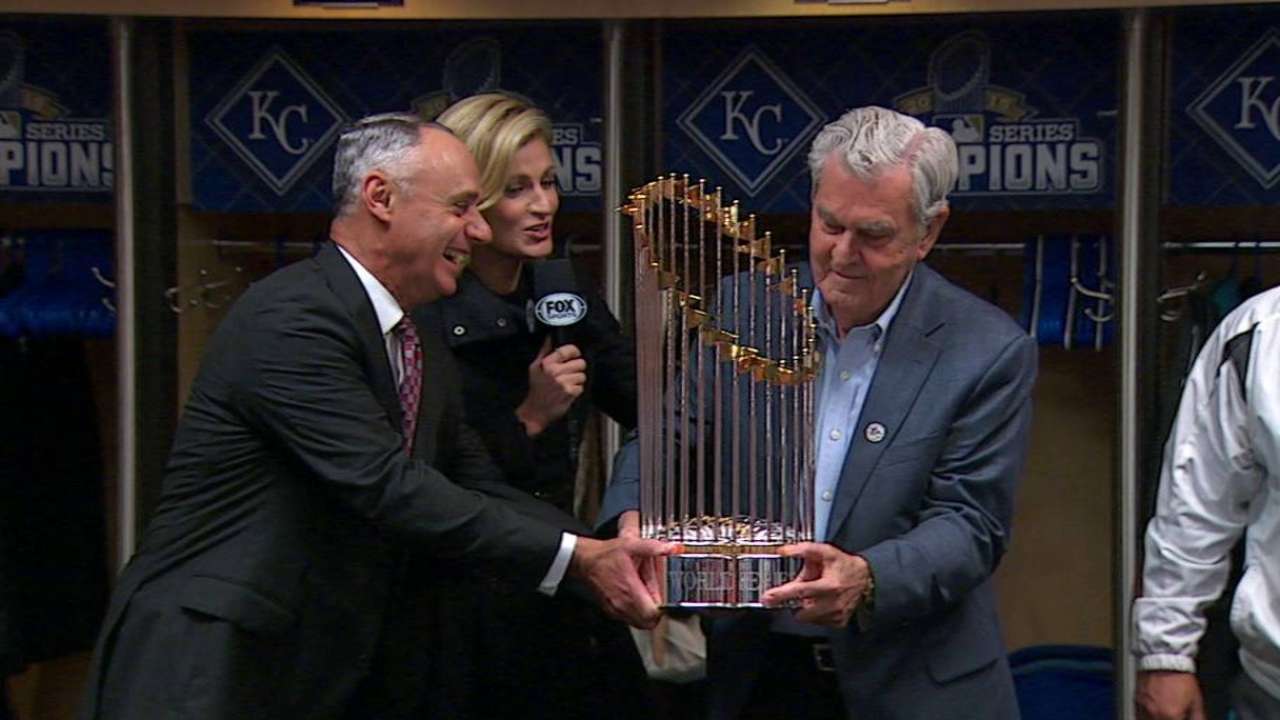 Now Moore begins again. The Royals did just what they set out to do by winning Game 5 of the World Series -- 7-2 over the Mets on Sunday night at Citi Field. As Moore begins again, he has his core of players together another year.
But Zobrist, acquired at the non-waiver Trade Deadline, will be a sought-after free agent. So will Cueto, who almost certainly will depart via free agency. Gordon almost certainly will pass up an option and test free agency.
If last offseason is a gauge, Moore may be far bolder than some people expect. The Royals will make signing Gordon a priority and likely will pursue Zobrist as well. The GM probably will attempt to re-sign Young and Madson, who appreciate the Royals helping them jump-start their careers.
That pipeline of young players Moore worked so hard to build should deliver at least one starting pitcher, Kyle Zimmer, in 2016, and perhaps others as well. As long as Moustakas, Perez, Hosmer, etc., remain healthy, the Royals almost certainly will contend again.
One thing they've learned in Kansas City is this: Trust their general manager. No one in baseball is better. He understands that roster construction is as much an art as a science.
That understanding of things large and small is what the Royals celebrated on Sunday night. From the beginning, this was a long-term project built to have sustainable success. That's why they're optimistic about 2016.
Richard Justice is a columnist for MLB.com. Read his blog, Justice4U. This story was not subject to the approval of Major League Baseball or its clubs.