Hot Stove options aplenty as Cubs eye arms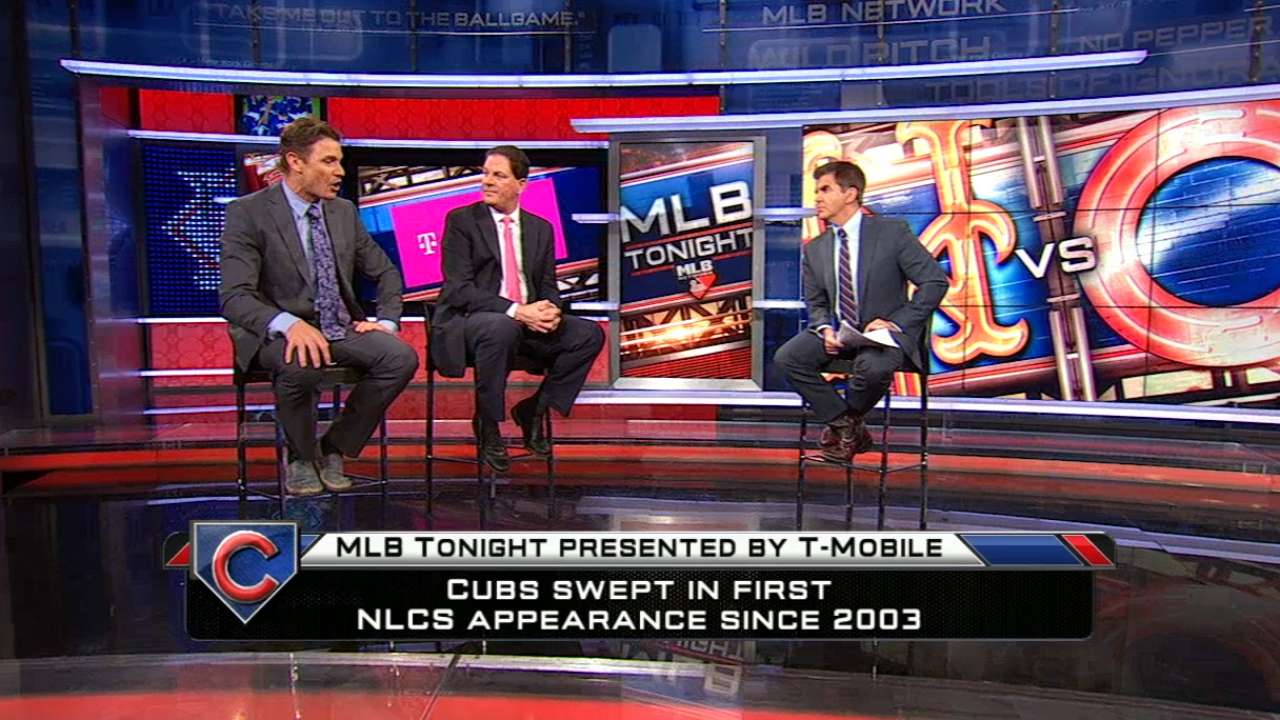 CHICAGO -- Renovation work has continued at Wrigley Field since the season ended. What about the Cubs themselves? With the World Series wrapped up following a Royals' victory over the Mets on Sunday, it's time for the Hot Stove season to take center stage.
Winning 97 games, then posting emotional victories over the Pirates in the National League Wild Card Game and the Cardinals in the NL Division Series helped the Cubs feel good about the 2015 season. But getting swept by the Mets in the NL Championship Series stung, and it's up to president of baseball operations Theo Epstein and general manager Jed Hoyer to figure out how the Cubs can take that next big step.
Tuesday marks the one-year anniversary of Joe Maddon offering a shot and a beer at the Cubby Bear as he took over as Cubs manager. What's next?
Free agents/options: Center fielder Dexter Fowler tops the list of Cubs free agents. Monday kicks off the start of an exclusive five-day negotiation window between the Cubs and their crop of free agents, which includes infielder Jonathan Herrera, outfielders Austin Jackson and Chris Denorfia and pitchers Trevor Cahill, Fernando Rodney, Tommy Hunter, Jason Motte and Clayton Richard. Starting Saturday, free agents can sign with any team.
Maddon's message to Fowler was "You go, we go," and the leadoff man delivered, setting career highs in runs scored, hits and home runs.
"He made a big impact on the field and off, and we love having him around," Epstein said of Fowler.
When the NLCS ended, Fowler couldn't predict his next step.
"I believe God has a process," Fowler said. "At the end of the day, if this is where I need to be, this is where I need to be."
Needs: Pitching, pitching and more pitching. The Cubs did finish with the third-best ERA in the NL and do have some young prospects in the organization, but that's not enough.
"We want to continue to add impact pitching, we want to continue to add starting-pitching depth at the big league level," Epstein said.
Last offseason, the Cubs lured Jon Lester to Chicago with a six-year, $155 million contract. Will they spend that much again?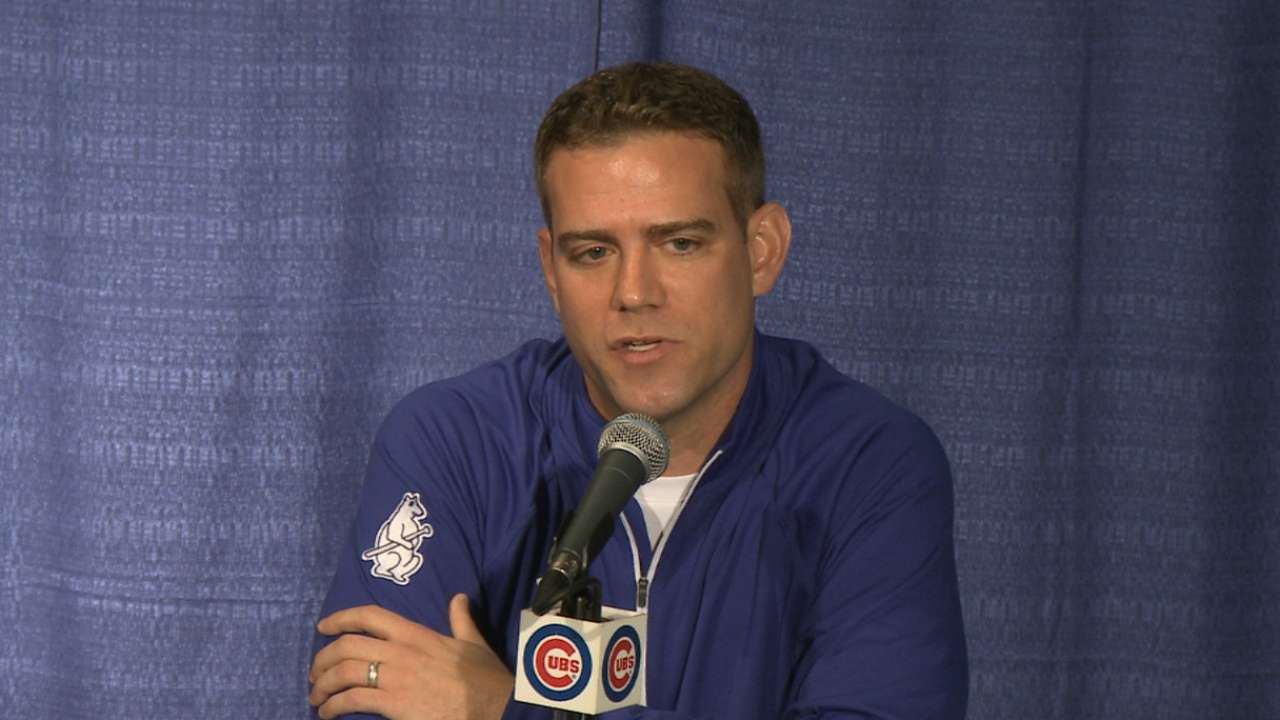 "I'm not sure what direction we're going to go," Epstein said. "Free-agent pitching is a necessary evil at times, and it's only evil because it's inherently risky. But it's necessary because you can make such an impact with your starting staff right away by fishing in those waters."
The other gap will be center field if Fowler does not return. Could Addison Russell go from his role as No. 9 hitter -- and "leadoff man in training" as Maddon called it -- to the top of the order? They'd still need someone in center.
Potential targets: The Cubs will be linked to high-profile free agents such as David Price, who was a combined 18-5 with a 2.45 ERA in 32 starts with the Tigers and Blue Jays, and Jordan Zimmermann, who was 13-10 with a 3.66 ERA in 33 starts for the Nationals. Maddon spoke highly of Price all season, and they were together in Tampa Bay from 2008-14.
The Cubs talked to the Padres about Tyson Ross and the Indians about Carlos Carrasco at the Trade Deadline in July, and they could revive those discussions. Whether it's trade or free agency, Chicago will add at least one quality starting pitcher.
Trade assets: When Russell missed the NLCS with an injury, the Cubs were able to sub Javier Baez at shortstop. Russell, Baez and Starlin Castro give the Cubs the luxury of depth in the middle infield, but one of those players could be used as a bargaining chip. Castro, 25, has four years remaining on a seven-year, $60 million contract, and he has heard his name mentioned in trade rumors, with the talk intensifying when he lost his job as the starting shortstop in early August. To his credit, Castro bounced back to lead the NL in batting in September while playing second base. That may just increase the trade rumors.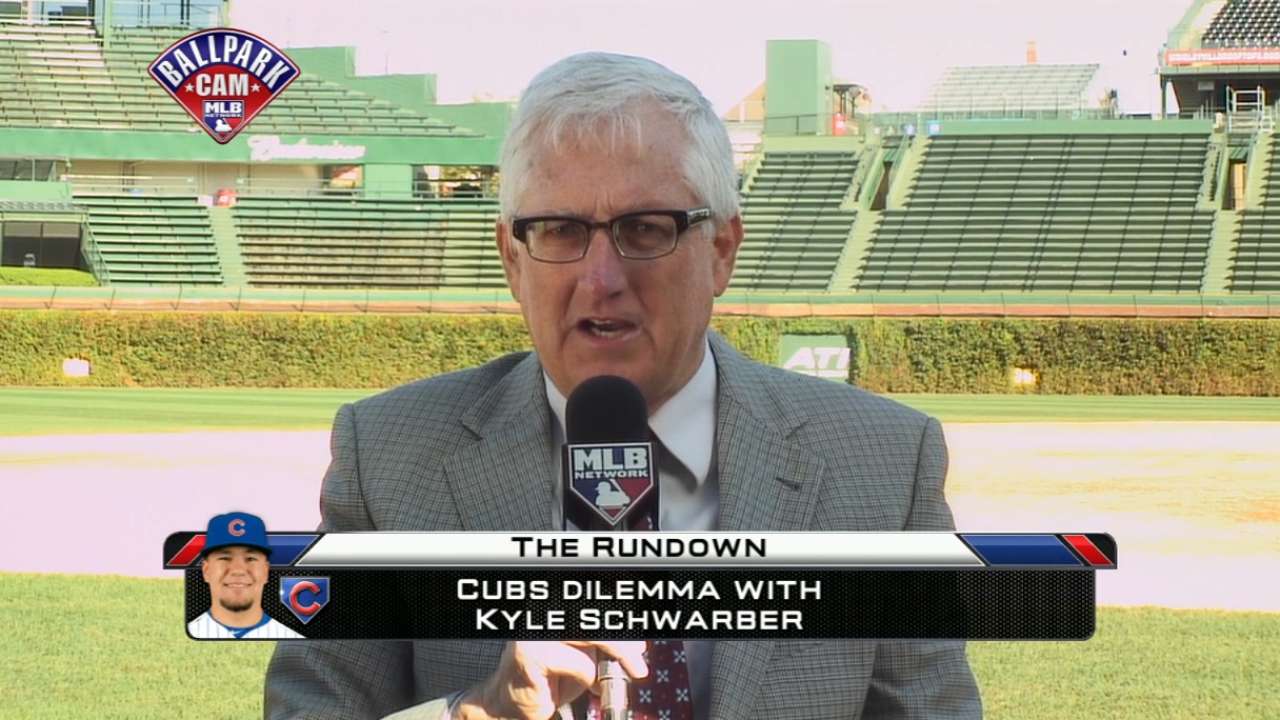 Financial situation: The Cubs have $81.5 million already committed for 2016, and that covers seven players: Lester ($25 million); Miguel Montero ($14 million); Jason Hammel ($9 million); Castro ($7.85 million); Anthony Rizzo ($5.28 million); Jorge Soler ($3.6 million); and David Ross ($2.5 million).
The plus side to having so much young talent on the Cubs roster is that they are fairly inexpensive. However, the arbitration-eligible players should all get hefty raises in 2016. That list includes Jake Arrieta, Travis Wood, Pedro Strop, Chris Coghlan, Hector Rondon and Justin Grimm.
One item on Epstein's wish list is to sign Arrieta to a long-term deal. The right-hander, who led the Majors with 22 wins, won't be a free agent until after the 2017 season.
"He's a Cub for next season, he's a Cub for 2017," Epstein said. "I'm sure there will be a point in time when we'll approach Jake and his agent, Scott Boras, and see if we can extend that window. We'd be foolish not to want to do that."
Bottom line: The Cardinals and Pirates aren't going to go away, which means the Cubs can't be complacent after posting the third-best record in the Major Leagues.
"We don't take anything for granted," Epstein said. "We have to work our tails off to get back to a position where we have another shot at October."
Carrie Muskat is a reporter for MLB.com. She writes a blog, Muskat Ramblings. You can follow her on Twitter @CarrieMuskat and listen to her podcast. This story was not subject to the approval of Major League Baseball or its clubs.