Royals WS artifacts headed to Hall of Fame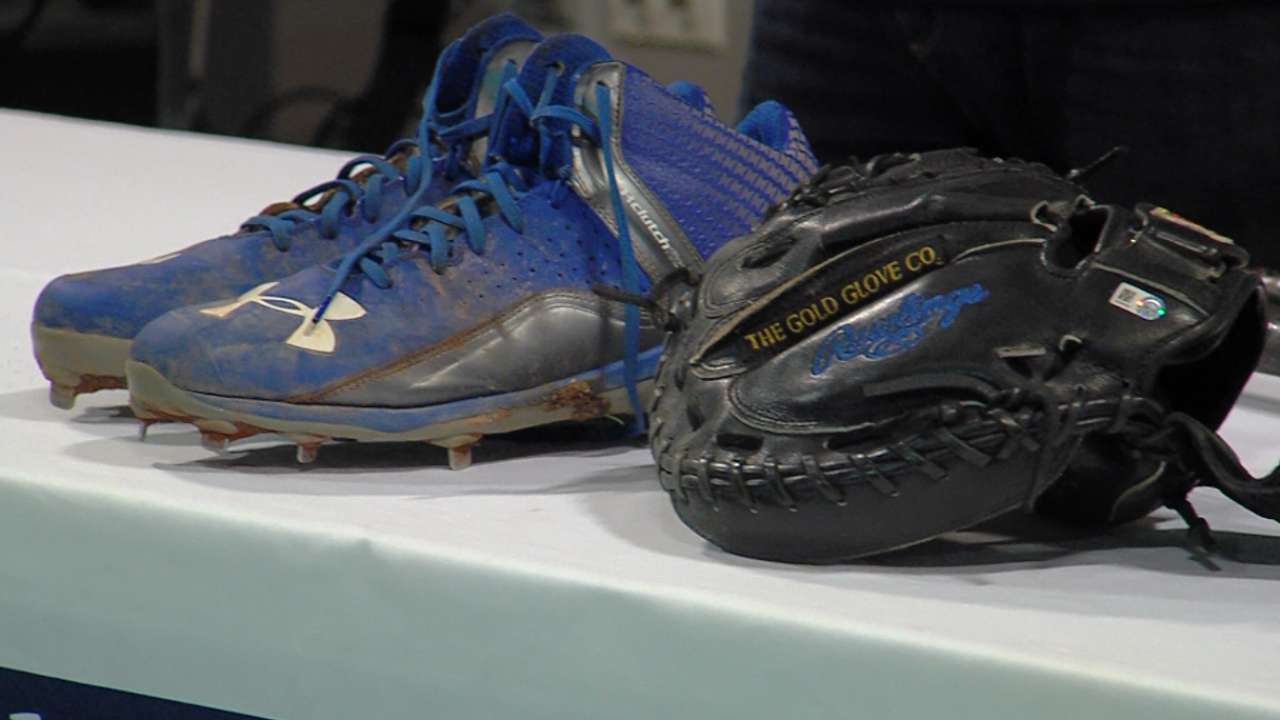 COLONIE, N.Y. -- Equipment from the World Series champion Kansas City Royals that is headed to Cooperstown is just like the team's style of play, featuring contributions from everyone.
Baseball Hall of Fame officials stopped at Albany International Airport on Monday, en route back to the Birthplace of Baseball, with game-used World Series articles that will join the museum's "Autumn Glory" exhibit soon.
• Celebrate title with Royals championship gear
The list includes the catcher's glove used by World Series Most Valuable Player Salvador Perez, closer Wade Davis' cap, bats from Mike Moustakas and Alcides Escobar, and the dirt-caked spikes worn by Lorenzo Cain in the 7-2 win over the Mets on Sunday night in Game 5. Separately, an Eric Hosmer jersey and Johnny Cueto's cap will be shipped to Cooperstown, too.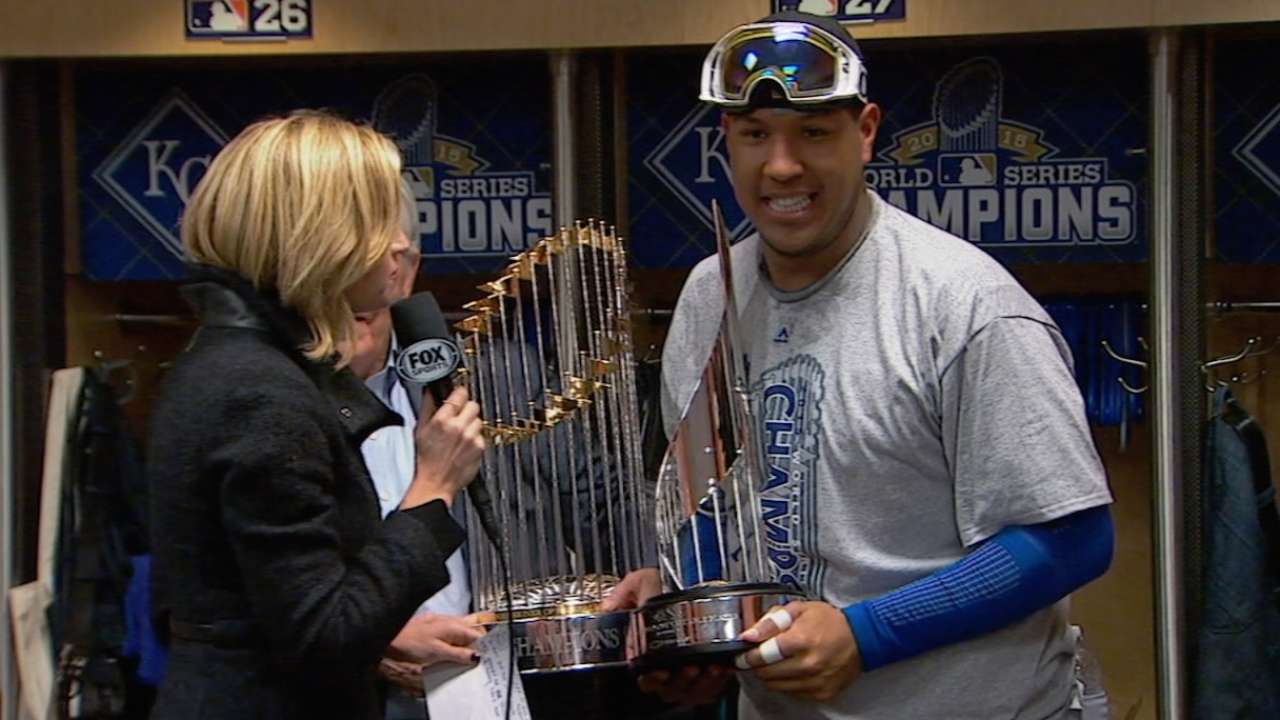 "This was a team, probably one like we haven't seen in baseball history in recent years," said Hall of Fame vice president for education and communications Brad Horn. "They had the offensive weapons to 'Keep the Line Moving.' That became their refrain all throughout the postseason."
The Royals' ability to set the table and then deliver in the clutch produced an unprecedented number of late-inning comebacks throughout the postseason.
Horn and Hall of Fame president Jeff Idelson deliberately sought out items that would tell this story.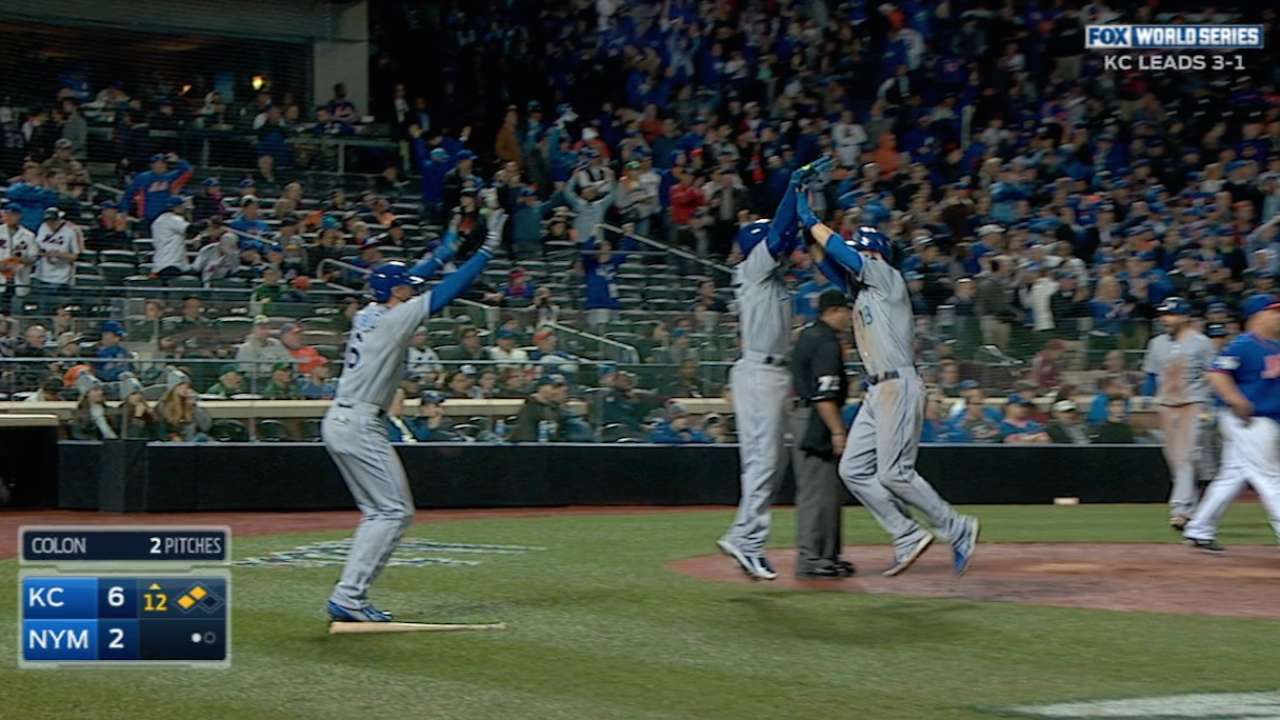 "You look at the artifacts here, from Lorenzo Cain, the great outfielder who set the table [to start the Game 5 ninth-inning rally]; Moustakas and Escobar for their key hits and offense throughout the postseason; you look at the pitching of Wade Davis and Johnny Cueto; and then Eric Hosmer, the guy in the middle of the order whose diving play at home plate allowed the Royals to tie and eventually win it -- you say, 'Wow! -- these are guys who really fueled the Royals' victory,'" Horn said. "We're really excited to be able to preserve these great memories."
Horn was stationed inside the Mets' clubhouse, hoping to perhaps secure a cap worn by Game 5 starter Matt Harvey, thinking the Series would be headed back to Kansas City when the tide suddenly began to turn. As events unfolded, he quickly hustled to the Royals' clubhouse, where players were only too happy to donate items for display in Cooperstown.
"Every piece here is made possible directly by the player," Horn said. "To a man -- whether it was Eric Hosmer, Mike Moustakas, Lorenzo Cain or Sal Perez -- they were all so thrilled by the honor. It's a once-in-a-lifetime opportunity to have their career represented in Cooperstown.
"Maybe some of these guys will go on to be Hall of Famers. But the likelihood is this will be their representation to have their Royals team spirit preserved in Cooperstown."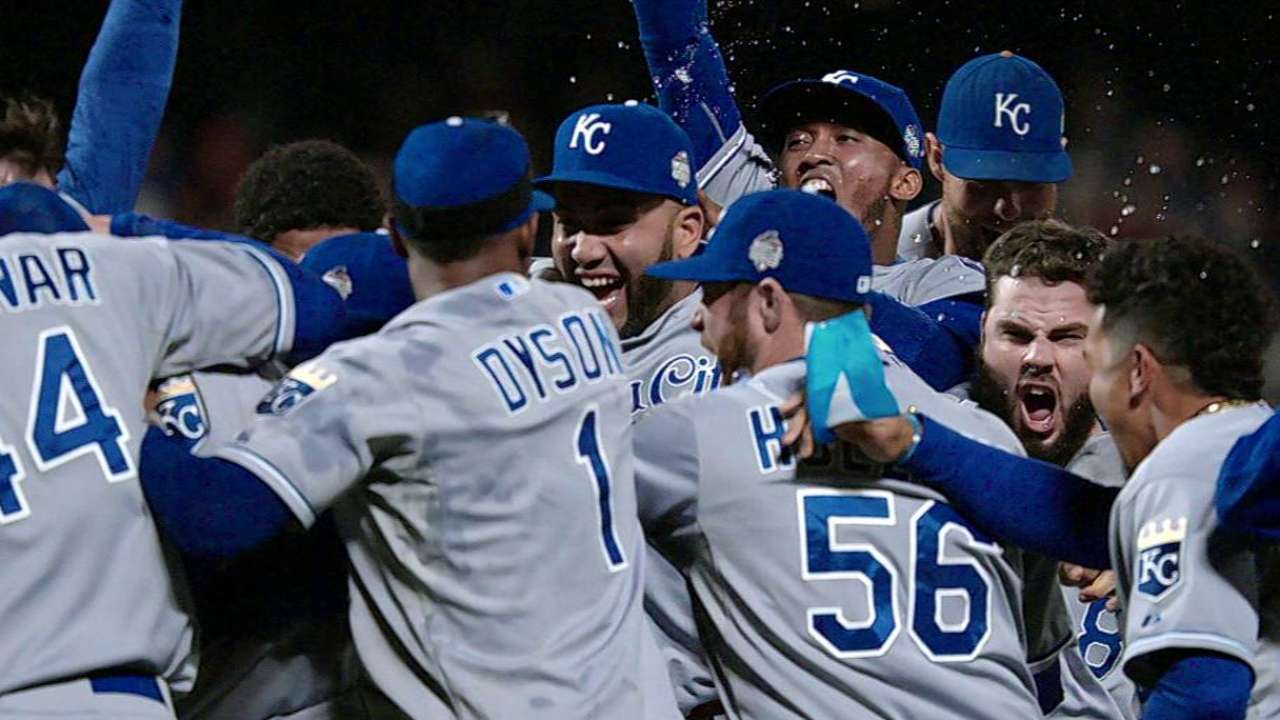 The Hall of Fame has a strict protocol for processing items. Each one is catalogued, photographed, measured and weighed before going on display.
Horn said donated items should join the "Autumn Glory" exhibit by Thanksgiving and will stay up throughout 2016, until shortly after next year's World Series.
The Hall of Fame was also able to obtain a jersey worn by Mets second baseman Daniel Murphy, who set a postseason record by homering in six consecutive games during the National League Division Series and NL Championship Series.
"This was a great World Series," Horn said. "The Royals hadn't won in 30 years, the Mets in 29. They were two very well-balanced teams. Every game within the five-game series was highly competitive.
"But this Royals team, particularly throughout the postseason, had a never-say-die attitude. That was never more prevalent than in Game 5, on the final night, down 2-0 going into the top of the ninth inning against Matt Harvey who seemingly looked unhittable."
Paul Post is a contributor to MLB.com. This story was not subject to the approval of Major League Baseball or its clubs.