MLB.com Columnist
Alyson Footer
Royals GM Moore impressed by Mets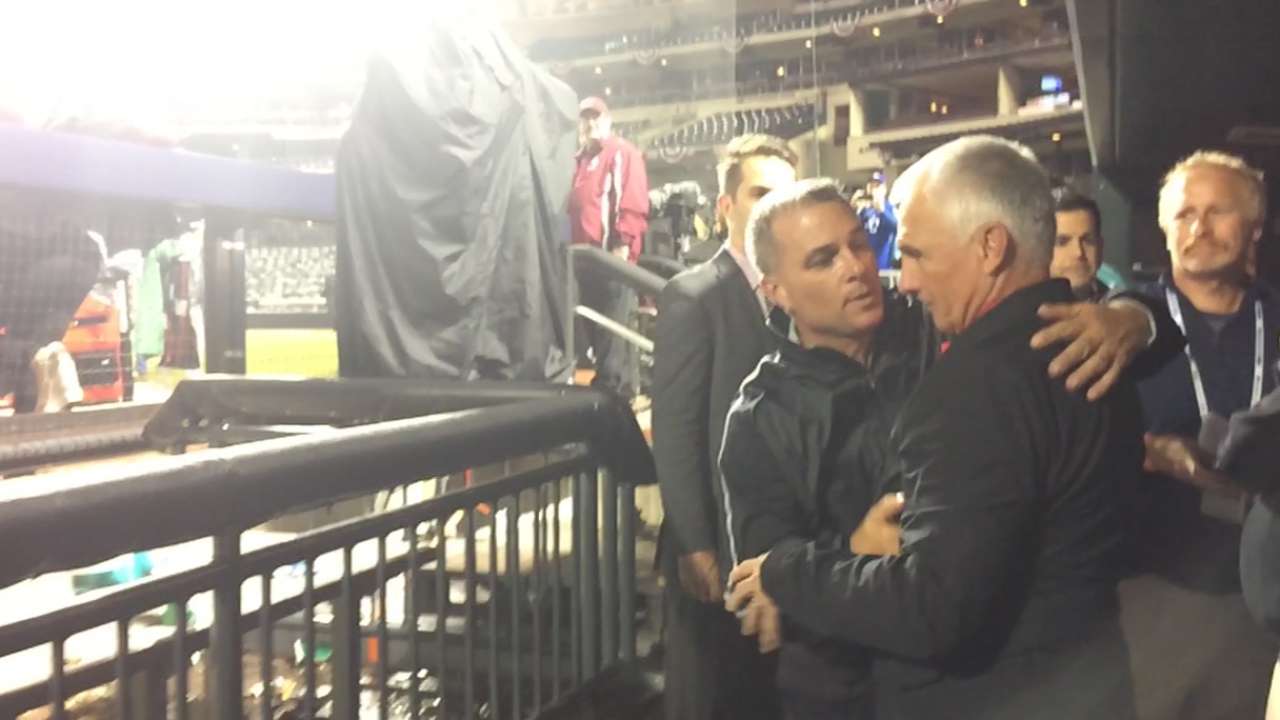 NEW YORK -- Almost an hour into the Royals' World Series-winning celebration on Sunday, general manager Dayton Moore sat quietly in the dugout, answering questions from a half-dozen or so reporters, when a familiar figure approached him.
It was Mets manager Terry Collins, in his street clothes. He had snuck over to the visiting clubhouse at Citi Field to congratulate select members of the Royals contingent, including Moore, whom he embraced and offered his well wishes.
After a brief hug between the two men, Collins disappeared back through the clubhouse, undoubtedly disappointed, but still finding the strength to show the ultimate act of sportsmanship at the highest level of this profession.
• Buy Royals' World Series champs gear
"I congratulate the Royals," Collins said in a formal news conference after the game. "They played absolutely great. Ned [Yost] has done a tremendous job. He deserves a lot of credit. They've done a great job in their organization. We couldn't get it done, and we're hoping to get another chance at it."
Moore, as he has been through all three rounds of the postseason, had highly complementary things to say about the Mets, a team that couldn't have been more different from the Royals but proved to be a tough opponent in the World Series.
Moore had a feeling the Series was going to be moving back to Kansas City, and that's understandable, given what Matt Harvey was doing to his team through the first eight innings of Sunday's Game 5. The Royals had no answers for Harvey, who was piling up the strikeouts, against a team that is well known for rarely swinging and missing.
"The Mets are an incredible team," Moore said. "That pitching staff -- Terry Collins did the absolute right thing tonight. When he runs Matt Harvey out there, there's no reason to think he's not going to throw a complete-game shutout."
Had the Royals lost the game, Moore felt the tenor of the entire Series could have been altered.
"Even though we'd still be up [in the Series] 3-2, in my opinion, the momentum of the entire Series changes, because all their pitchers have the ability to shut the best lineup in the history of the game down. We were just fortunate to keep the pressure on."
Alyson Footer is a national correspondent for MLB.com. Follow her on Twitter @alysonfooter. This story was not subject to the approval of Major League Baseball or its clubs.