Cespedes' injury hinders chance to rally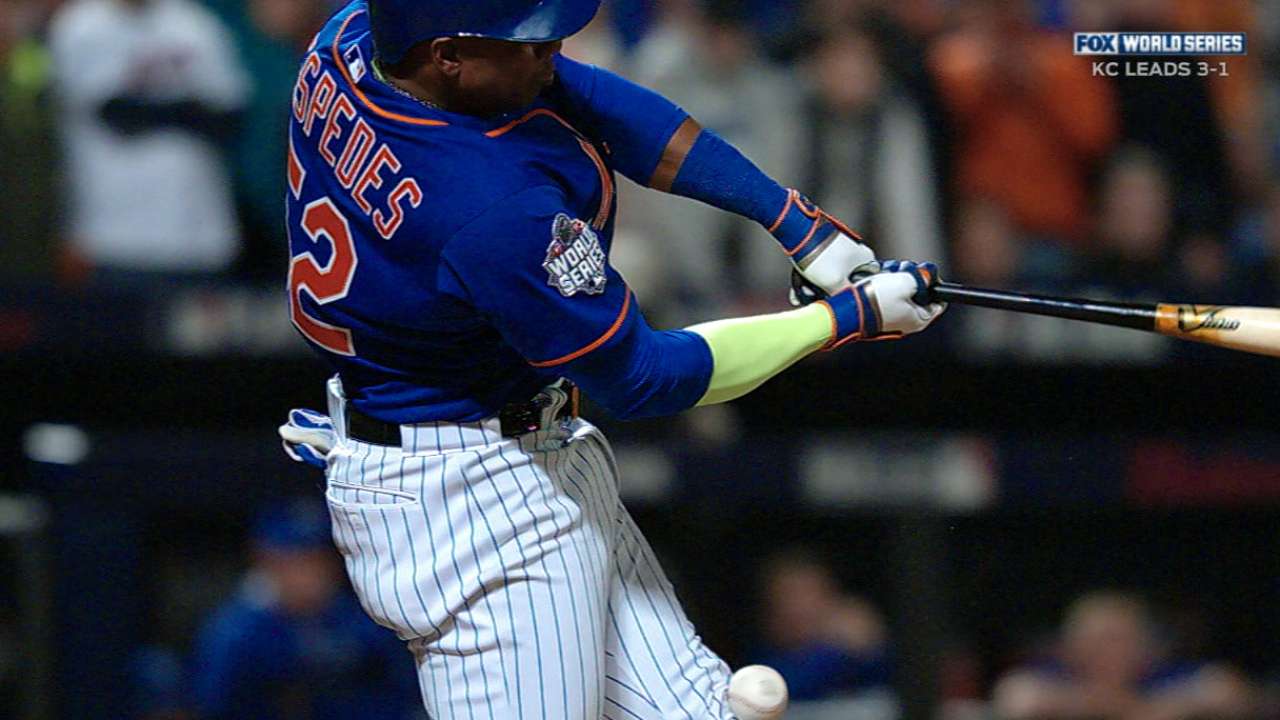 NEW YORK -- Yoenis Cespedes emerged slowly from the showers in a quiet clubhouse wearing a pained look on his face and limping heavily. He grasped for one locker, then another, in an effort to cover the distance to his own. Giving up, he tried using an office chair as a makeshift walker before backup catcher Kevin Plawecki noticed Cespedes' predicament, sat him in the chair and wheeled him to his destination.
This was the physical state of the player entrusted with the first, best opportunity to break open Game 5 of the World Series, a 7-2 loss to the Royals in 12 innings on Sunday that clinched a championship for Kansas City. Cespedes spent the final six innings receiving medical treatment for a badly bruised left knee, but not before batting with one good leg and popping out during a sixth-inning rally that briefly offered the promise of something big.
"It hurts a lot, and it's pretty swollen," Cespedes said.
Flash back to his final moments of good health. The Mets entered the bottom of the sixth inning with starter Matt Harvey cruising along with a one-run lead. Curtis Granderson opened the inning against the Royals' Edinson Volquez with a walk, David Wright singled and Daniel Murphy reached on an error by first baseman Eric Hosmer, loading the bases with nobody out.
Cespedes took a 95-mph fastball for strike one, then fouled an identical pitch off his left kneecap. He lay in the dirt in significant pain while manager Terry Collins and medical officials rushed to his aid.
Eventually he stood and bent the joint, grimacing in the process. He never tested his leg by running along the baseline, but nevertheless remained in the game to bat. He took a breaking ball for ball one, then popped out to shortstop with the infield fly rule in effect.
After he was unable to run to first base, Cespedes hopped down the dugout steps on his good leg and did not step on the field again. X-rays revealed no fracture, but his knee was severely swollen as he fielded questions in the clubhouse.
"Before taking that last swing, I realized I couldn't keep playing," he said.
Did Collins regret not calling for a healthy hitter to finish the at-bat?
"In that particular situation, to pinch-hit somebody right there, with the count 0-2, it's a tough spot," Collins said. "He said he was OK, thought he could hit, and at least he had a little feel for the game. We are just looking for a sac fly there, anyway.
"When he popped up, I know he was done when he came out of the batter's box."
Lucas Duda followed with the sacrifice fly Collins had hoped to get from Cespedes, extending the Mets' lead to two runs. When Travis d'Arnaud grounded out, the rally was over.
Twice, Cespedes was asked if he regrets not taking himself out of the game.
"I wish I could have kept playing in order to contribute to the team," he said, adding, "I really wanted to keep playing. I thought I could. It just didn't work out that way."
Cespedes, whose power surge following a July 31 trade from Detroit helped the Mets take control of the National League East, is a free agent this winter. He spoke fondly of his months with the Mets but said it's too early to predict whether a return is possible.
"It's been an incredible experience, a very special experience for me," he said. "I thank God for the opportunity to come to this team and get to where we are."
Adam McCalvy is a reporter for MLB.com. Follow him on Twitter @AdamMcCalvy, like him on Facebook and listen to his podcast. This story was not subject to the approval of Major League Baseball or its clubs.