MLB.com Columnist
Barry M. Bloom
Wright 'extremely proud' of Mets' amazin' run
Veteran 3B leads teammates in saluting fans for support
NEW YORK -- The disappointment of losing the World Series to the Royals will fade as the days turn into weeks and the weeks turn into months, Mets captain David Wright said. Only then will the Mets realize what they accomplished.
"You come so close to winning the World Series and there are different sets of emotions," Wright said after Sunday night's 7-2, 12-inning loss in Game 5 to end this year's Fall Classic.
"There's one where you're frustrated and hurt because you've made it so far and you've come so close. But on the other side, you feel extremely proud of what everyone has done and all the work that was put in to get to this point.
"It's tough now, but in the weeks ahead as we think about what we accomplished, it will bring a smile to everyone's face."
And Wright was proud. In the immediate wake of the defeat, Wright made the rounds of his somber teammates in the clubhouse to thank them for an exhilarating season.
"These guys in here and this city and this fan base turned the worst, most nightmarish year I've had because of the [back] injury into the most exciting, most fun I've ever had on on a baseball field," he told his teammates. "And I just can't thank them enough for that."
At that point he led the Mets back to the turf at Citi Field to thank the fans behind the club's first-base dugout for all their support through a 90-72 NL East-winning season, and series victories over the Dodgers and Cubs in the playoffs.
On the third-base side, a much larger group of Royals fans, friends and family were celebrating their second World Series victory, the other occurring 30 years ago in 1985.
"After that game was over, I can't tell you how many fans were screaming into our dugout, saying, 'Thank you, thank you, for everything you've done for us this year,'" Wright said. "They were so supportive. So appreciative. That's why we had to go back out to salute them. Even though we lost that game, lost that series, to have that kind of support was incredible."
He waited a long time for it all. It was Wright's first World Series at the end of his 12th big league season -- all with the Mets -- and he'd been eager to get there. That longing was compounded by the fact that Wright missed four months with what was eventually diagnosed as spinal stenosis in his lower back. And that's an injury he'll have to live with for the rest of his life.
These chances don't come around very often, Wright is well aware. The Mets have won five NL pennants in their 54 seasons, taking the World Series twice. They last made it there in 2000, when they dropped the Series in five games to the Yankees, losing across the way at Shea Stadium, now an asphalt parking lot.
Just like the Yanks back then, the Mets ran into a buzzsaw in the relentless Royals, who beat them in every phase of the game.
"There's no lead that's safe with these guys, especially a one- or two-run lead," said Wright after his team came within three outs of sending the series back to Kansas City before losing a 2-0 lead. "I've been saying that after every game."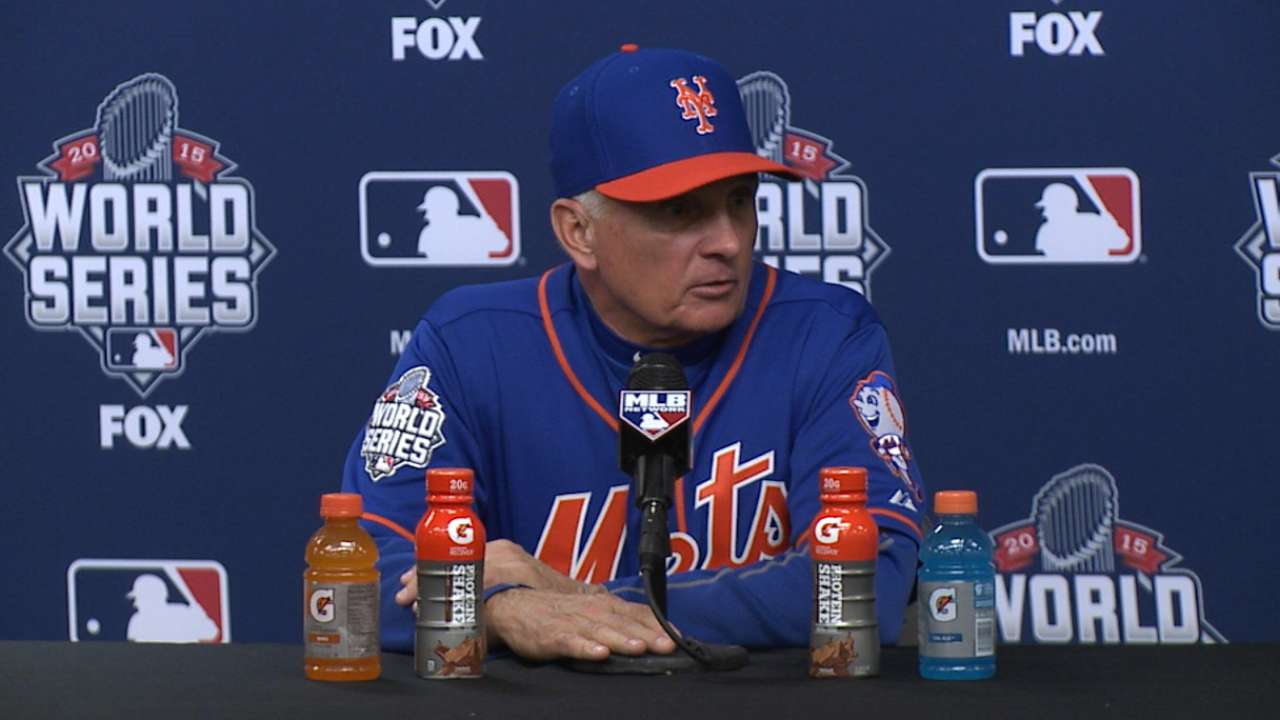 Wright didn't have a great series. He batted .208 (5-for-24) with a two-run homer that helped win Game 3 and four RBIs. He also had two errors at third base, the first leading to the unearned run that ultimately decided Game 1 at Kauffman Stadium in a record-tying 14 innings.
He made another misplay early in the game on Sunday night. Yet it was a play in the ninth inning with the Mets clinging to a 2-1 lead with one out, Jeurys Familia on the mound, Eric Hosmer on third and Salvador Perez at the plate that really determined the outcome. The infield was tucked in tight as Perez punched a grounder to Wright.
Wright quickly checked the runner and threw across the diamond to first baseman Lucas Duda for the second out. But as soon as he threw, Hosmer made a beeline to the plate and Duda's throw went wide to the backstop, allowing the tying run to score.
Duda said that Hosmer had a lot of guts to make that play. Wright added that there wasn't much he could do about it.
"It was kind of a weird play to begin with, a jam shot that took a funny hop," Wright said. "You try to check him back as much as you can, but nobody can get over there to cover third for there to be any real fake to get him to freeze or to go back. There was no doubt in my mind about looking him back and getting the play at first. The last thing I was going to do was hold the ball and let Perez be safe at first."
Familia worked out of that inning and the next, but Addison Reed was pummeled for five runs (four earned) on three hits and a walk in the 12th to settle the Series.
There would be no game on Tuesday night, and suddenly the most-anticipated series of Wright's career was over. Just like that.
"It's frustrating and it stinks," he said. "There are a few things when you look back on it we'd like to change, but when you look at it, all and all, we got beat. When we made mistakes, those guys just pushed and pushed and pushed. They put pressure on us defensively, they put pressure on our pitchers, pressure on our hitters.
"You can't look too deep into it. For these five games they just outplayed us. They were the better team."
Barry M. Bloom is a national reporter for MLB.com and writes an MLBlog, Boomskie on Baseball. Follow @boomskie on Twitter. This story was not subject to the approval of Major League Baseball or its clubs.