MLB.com Columnist
Alyson Footer
KC players and coaches bask in Series glory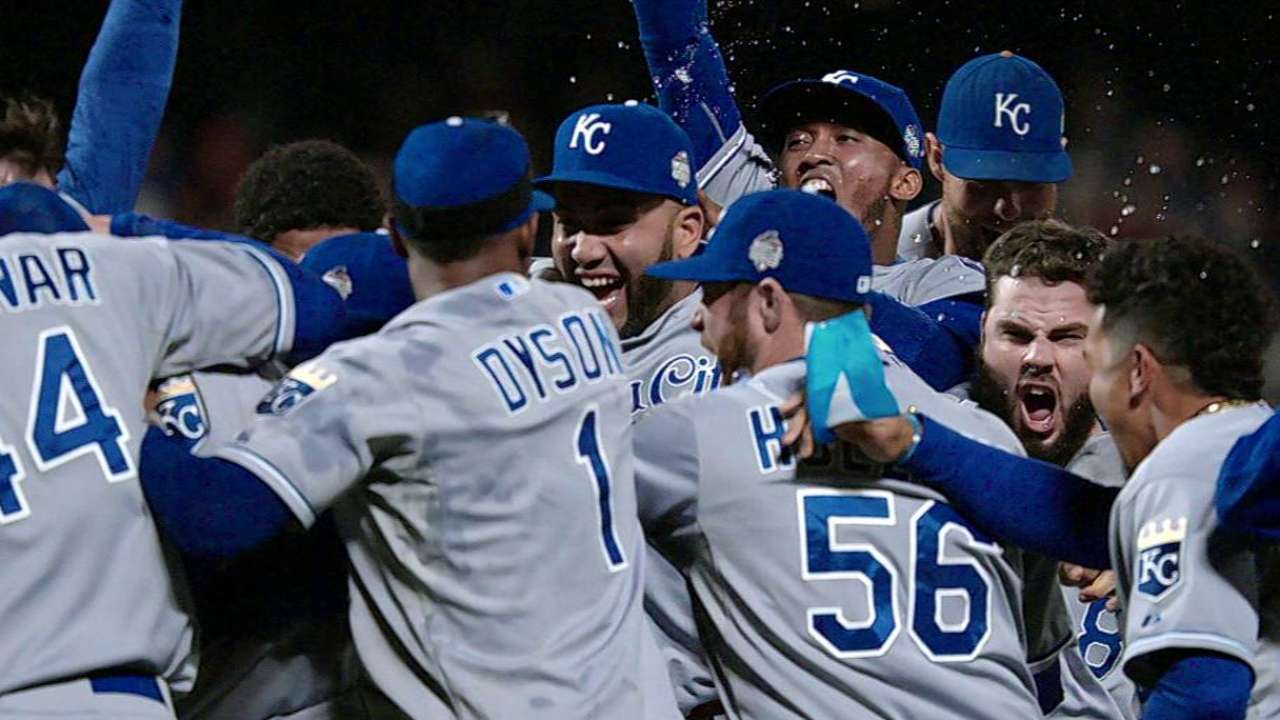 NEW YORK -- Those watching from the Royals' dugout somehow made it through those final three excruciating outs, where every pitch seemed to fly through the air in slow motion and every toss back to the mound seemed to take an hour.
The Royals were up, 7-2, in Game 5 of the World Series, having scored five runs in the top of the 12th inning, so they knew this was just a matter of time -- a very short amount of time -- until they could break loose and celebrate. But they still had to get through those last three outs.
Royals players who were watching from the dugout looked a little like a bunch of kids in need of a bathroom break -- lots of shifting from right foot to left, left foot to right. Some were hopping up and down. The only calm one, it seemed, was manager Ned Yost, who stood in his usual spot at the end of the dugout, unmoving, arms across his chest, chomping on his gum.
• Buy Royals' World Series champs gear
And then finally, the last out was made. What followed was, predictably, pandemonium.
Yost and his coaches embraced for a staff scrum while Royals players converged on the field, moving from one end of the mound to the other, jumping in unison, screaming and yelling. The Citi Field crowd was mostly quiet, except for the several hundred Royals fans that dominated the seating area behind the visitors' dugout.
As the public-address announcer congratulated the "2015 world champion Kansas City Royals," Mets fans watched silently as the visiting team celebrated, briefly, on the field before the party moved inside.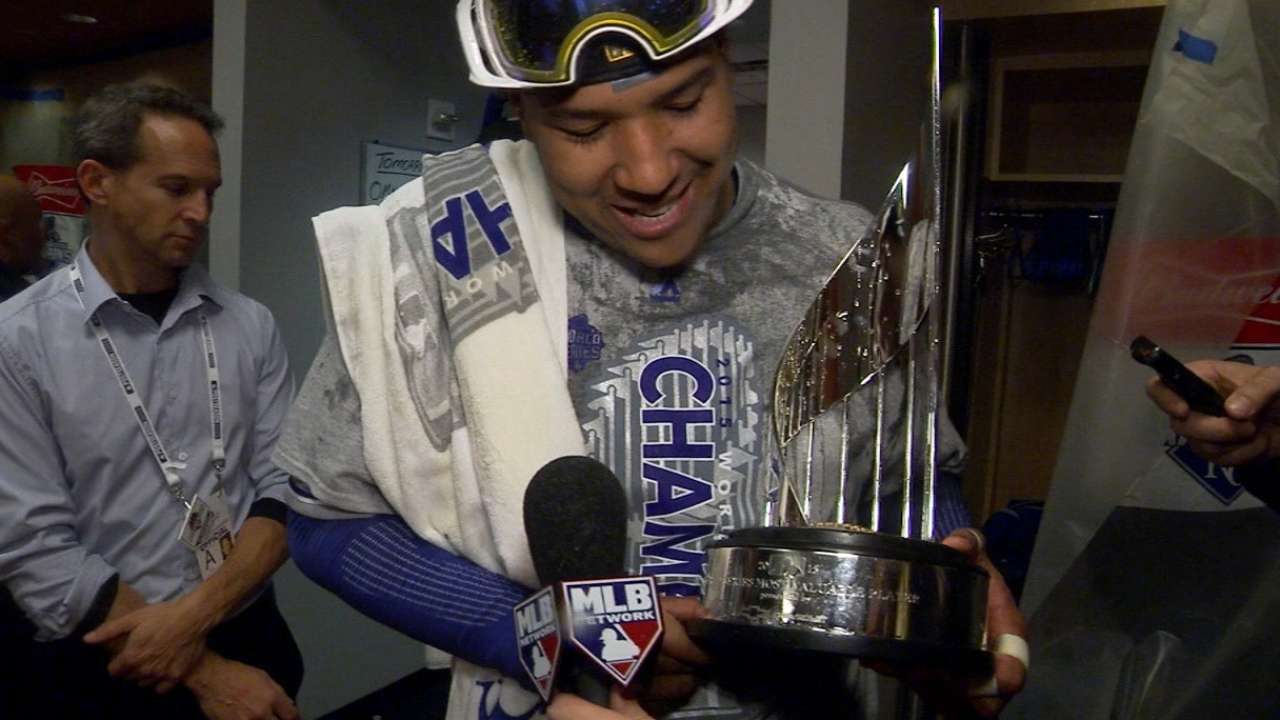 Once the trophy was presented, the champagne bottles were uncorked, and the celebration was on.
"Unbelievable," said Salvador Perez, named the World Series MVP. "I'm so happy. It's amazing. We played hard all year, and we're No. 1 now.
"We're like a family, and we never quit, never quit, never quit."
Across the clubhouse, an emotional Chris Young was attempting to put into words what this meant, so soon after losing his father. Young's dad died in September, shortly before the postseason began.
"I just believe this is his gift to me," Young said, choking back tears. Asked if he was able to dedicate some of this experience to his dad, Young answered, "I do that by the way I try to live my life. He was a tremendous man. He's enjoying this more than I am."
Because the Royals clinched on the road, most of the celebration took place inside the clubhouse. But with hundreds, and possibly closer to a thousand, Royals fans celebrating in the stands, there was plenty of reason for Royals players to take some of their party back outside.
Jarrod Dyson was certainly game. He grabbed the trophy, held it above his head and walked it over to the fans along the railing near the Royals' dugout.
Several fans touched the trophy. One man, Kansas City native Joe Zwillenberg, even took that one step further.
"I kissed it," he said, his eyes welling up. "It's almost like I want to cry."
Royals fan Lisa Garney, did cry -- as soon as she heard the national anthem before the game started.
"We went to Game 7 last year with San Francisco. We were in Toronto [for this year's American League Championship Series]. We were there when they beat out Houston [in the AL Division Series]," she said. "Now we're here in New York City to see these boys win it."
For Dyson, the impromptu decision to run the trophy outside was an easy one.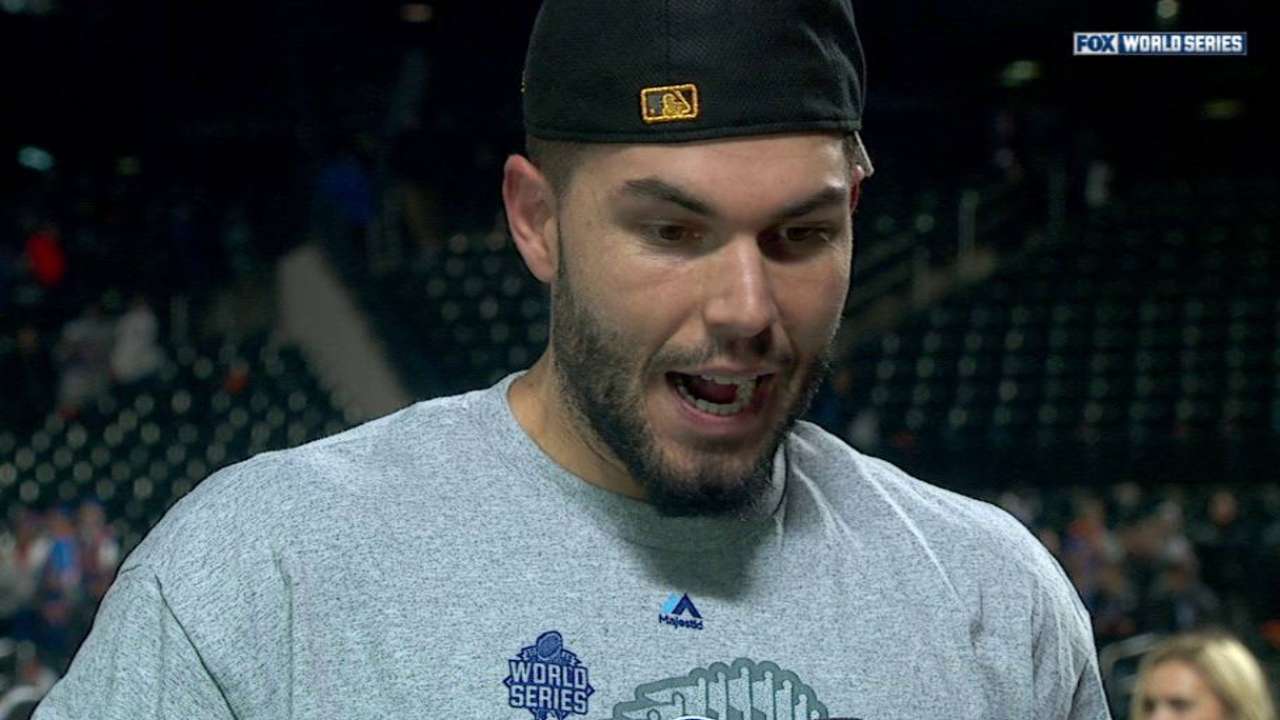 "All the fans come out and support us every day, baby," he said. "They come out and support us every day."
Several feet away, a calm but happy Dayton Moore, the Royals' general manager, reflected on the season and the World Series, and finally making it to the finish line after falling just short a year ago.
"It's special," he said. "It's special for all of our fans. The joy that these players bring all of us ... I'm happy for the Glass family. They've been doing a lot, and the fact that that Mr. Glass was able to bring a world championship to Kansas City first time in 30 years, is pretty cool. To share this with all of our alumni, especially George [Brett], makes it very rewarding."
Alyson Footer is a national correspondent for MLB.com. Follow her on Twitter @alysonfooter. This story was not subject to the approval of Major League Baseball or its clubs.