Crown town: KC treasures 1st title since '85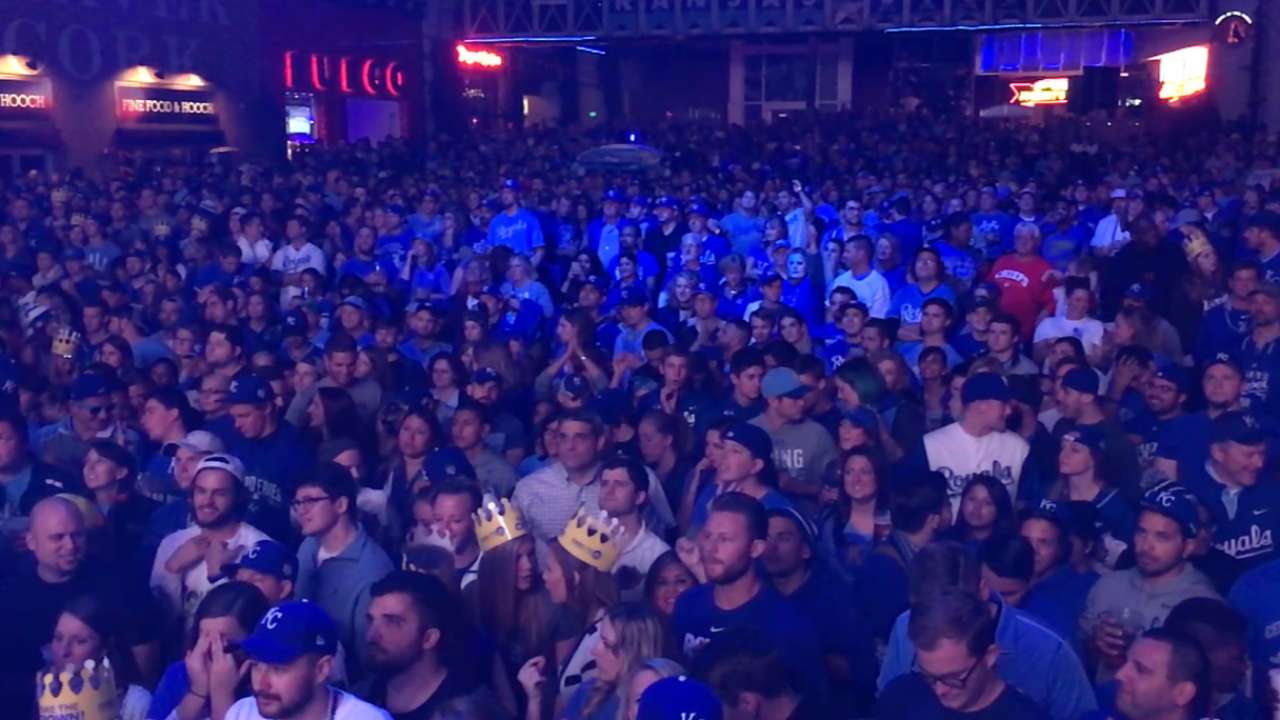 KANSAS CITY -- With the Royals down 2-0 entering the ninth inning of Sunday night's Game 5, the jam-packed crowd at Power & Light District wanted one more World Series mini-miracle.
Right on cue, their fondest wishes were realized, and now there's nothing left to do except party like it's 1985. The comeback kids did it again, earning a 7-2, 12-inning win, and Kansas City's first World Series title since '85 sent the thousands of revelers who gathered at Power & Light into a frenzy. Fans of all ages screamed and danced their way through the late-evening hours as fireworks exploded and cellphone pictures captured a golden moment.
• Celebrate title with Royals championship gear
"It has been 30 years," said Kevin Dysart of Kansas City. "Ecstatic doesn't even begin to describe how I feel."
Many of those in the crowd at Power & Light had only vague memories of the 1985 World Series win over the Cardinals, or no memories at all.
"I was 7 years old when the Royals last won the World Series," said Anna Hazen of Kansas City. "I kind of lived that through my father, because he was really into watching the Royals. Now, to have another World Championship team, it's such a great experience and provides us with memories that we will carry forever.
"It's so cool to see people out here who normally aren't that into baseball being a part of it. It just brings a lot of pride to Kansas City."
Hazen arrived at Power & Light around 5:15 p.m. CT on Sunday, and found the area already packed for a Game 5 that wouldn't start until around 7:15 p.m.
"It's nuts," Hazen said. "I think they will just about have to shut the city down on Monday, because who is going to work? And even if you do show up at work, the only thing you're going to do is talk about the game."
Congratulations, @Royals! pic.twitter.com/75BZV8H0Ke

— Kansas City Chiefs (@chiefs) November 2, 2015
Royals fans kept a patient watch on the proceedings as the Mets took a 2-0 lead into the ninth. But when Eric Hosmer's daring dash home from third with two outs drew an errant throw from first baseman Lucas Duda, the noise around Power & Light was deafening. Once the game was tied, the crowd sensed it was only a matter of time before Kansas City would prevail again in a battle of the bullpens.
I'm very happy for my hometown of Kansas City. I wish I could be there to celebrate with you all. The @Royals and fans are all .

— Eric Stonestreet (@ericstonestreet) November 2, 2015
"It's what this team does, what they are built for," Dysart said. "When Hosmer took off for home, that was it right there. It was do or die. Even if they throw him out, I like it because he was being aggressive."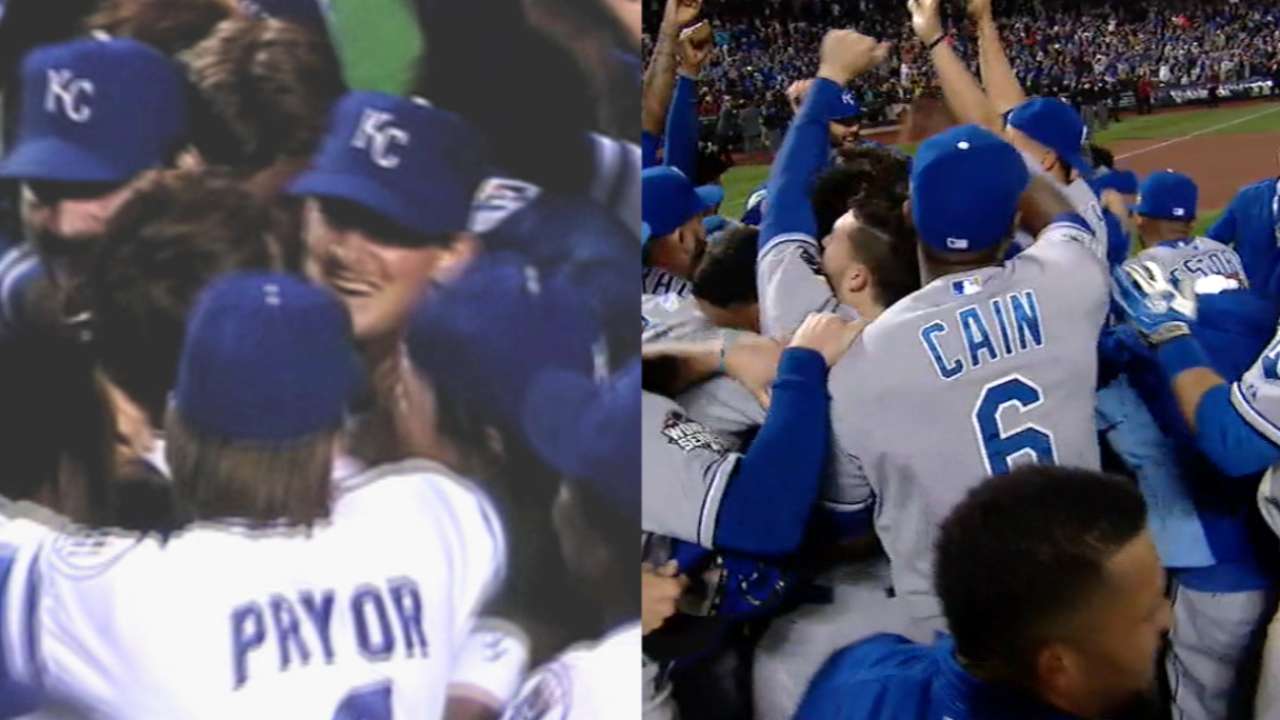 • KC to celebrate champion Royals on Tuesday
With the championship parade set for noon CT on Tuesday, Sean Horton of Leavenworth will have a day to reflect on what it all means before Kansas City turns out for a final salute to the 2015 Royals.
Glory! Glory! Hallelujah! Soooo proud of my @Royals! Congrats Kansas City! #ForeverRoyal

— Rob Riggle (@RobRiggle) November 2, 2015
"I was 4 years old when we won it in 1985, and I have memories of sitting there and watching it with my grandfather," Horton said. "Now I'm an adult and I have to say this team is my favorite. This team was young, hungry and came to play ball every day. They have made Kansas City proud, and it's going to be wild around here. The whole city will be going crazy for quite some time."
Robert Falkoff is a contributor to MLB.com. This story was not subject to the approval of Major League Baseball or its clubs.