MLB.com Columnist
Mike Bauman
KC's relief corps, comebacks too tough to counter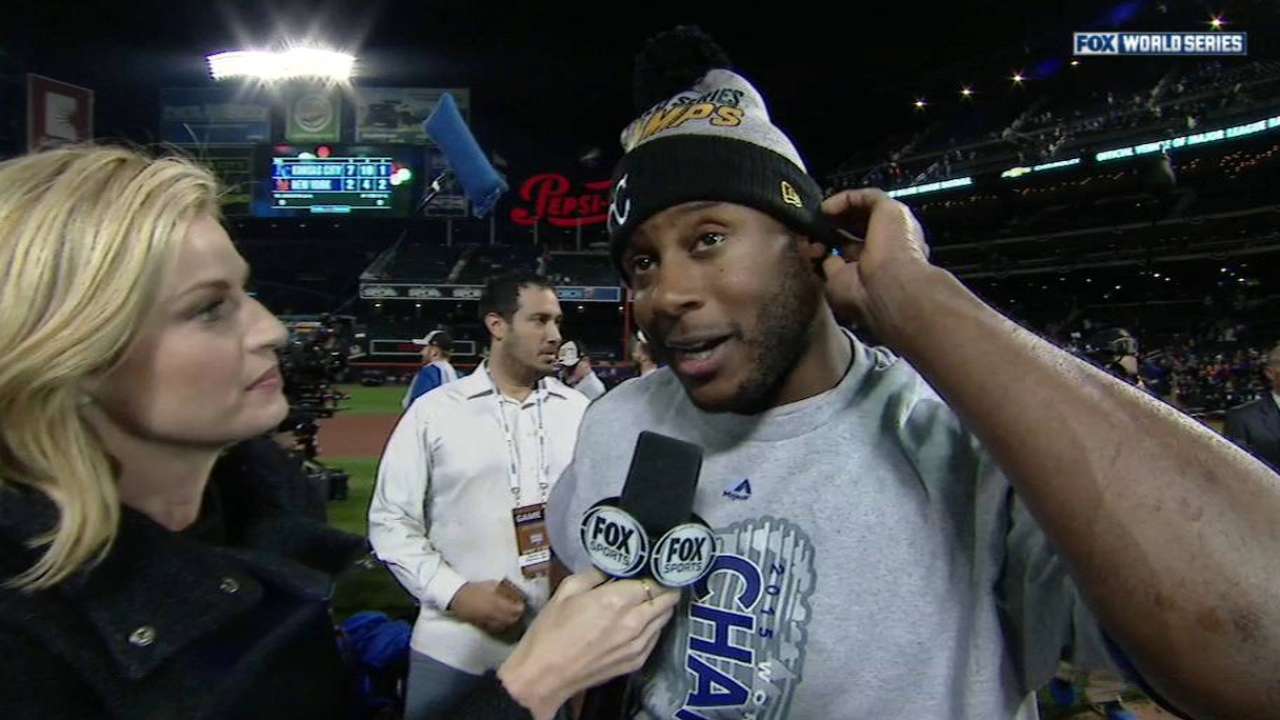 NEW YORK -- You could not beat the Kansas City Royals playing from behind. Their bullpen was too good.
But in this postseason, you also could not beat the Royals playing from ahead. They just kept coming back. Kansas City won 11 games in the 2015 postseason. In eight of those games, it came from behind.
• Celebrate title with Royals championship gear
And so, the Royals became the 2015 World Series champions because, basically, there was no way to consistently beat them.
Kansas City's bullpen was huge. But so was the Royals' indomitable spirit, the individual and collective will that allowed them to pull off these remarkable comebacks, time after time. They didn't win on the three-run homer. Kansas City won with walks and singles and doubles and stolen bases and moving runners.
The Royals' opponent, the New York Mets, has some brilliant young starting pitchers, and this should give them the chance to be a contending team for years to come. But the Mets had defensive flaws in both the infield and outfield. Each fielding mistake New York made was magnified by Kansas City's persistence.
The Royals won this Series in five games. That result said a lot more about them than it did about the Mets. Kansas City's clinching 7-2, 12-inning victory Sunday night was oh so typical in this regard. Edinson Volquez, returning from the funeral of his father in the Dominican Republic, put on a performance that was both courageous and effective. But New York's starter, Matt Harvey, was nearer to brilliant over eight innings. Going to the ninth, the Royals trailed, 2-0.
But Mets manager Terry Collins lingered too long with Harvey, and the Royals opened the ninth with a walk to Lorenzo Cain and a run-scoring double by Eric Hosmer.
"I let my heart get in the way of my gut," Collins said later.
Too late. Harvey was lifted for closer Jeurys Familia. Hosmer moved to third on a groundout to the right side, and then, on a grounder to third, he made a delayed move to the plate, alertly taking advantage of the throwing arm of Mets first baseman Lucas Duda. The game was tied at 2.
At this point, knowing the strength of Kansas City's bullpen, an objective observer could not pick against the Royals. That bullpen is the underpinning for their magnificent late-inning successes.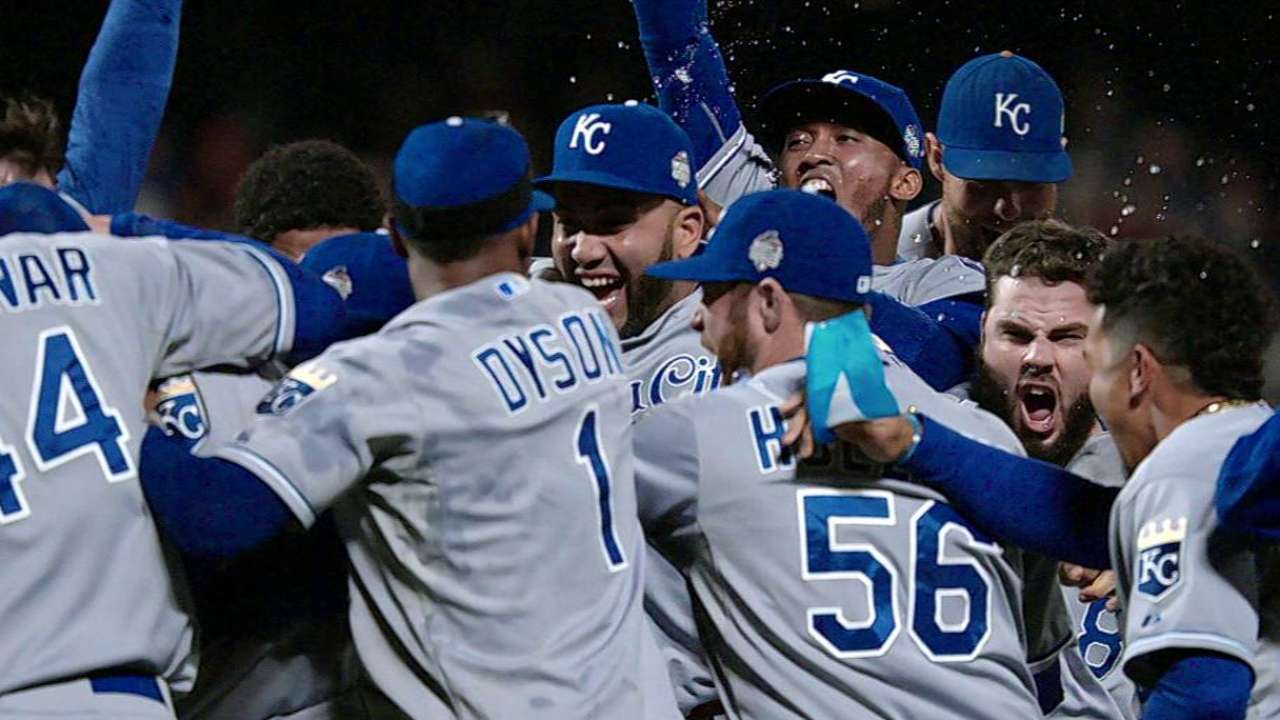 "Our bullpen is so dynamic, they give us a chance to win those types of games," manager Ned Yost said.
Royals relievers pitched six scoreless innings Sunday night, giving up just one walk and two hits, while striking out six. That would be a breakthrough performance for another bullpen. For Kansas City, it was exactly what is expected.
"I think a big benefit for us is knowing that if we're late in the game, and even if we tie the game, we still have an advantage because of how good our bullpen is," Hosmer said. "I think that's one thing mentally that we all use that kind of just makes a comeback: It doesn't seem that far-fetched when you have a bullpen, and you realize all you've got to do is tie the game and you still have a really good chance of winning it."
That's what happened in this one as well. Here, the eventual winning run scored on a hit by Christian Colon, who was getting his first at-bat of the postseason. Once again, the Royals took advantage of an error by Mets second baseman Daniel Murphy. And the topper in a five-run 12th was a three-run double by Cain that gave Kansas City its final five-run margin. All that was left was for closer Wade Davis to retire the Mets without damage in the bottom of the 12th, which is exactly what he did.
It was an amazing run. The Royals trailed in the American League Division Series against the Astros in all five games, yet won three of them. In the World Series, they trailed the Mets in all five games, yet won four of them. Kansas City won seven postseason games in which it trailed by multiple runs, breaking the single postseason record of five set by the 1996 Yankees.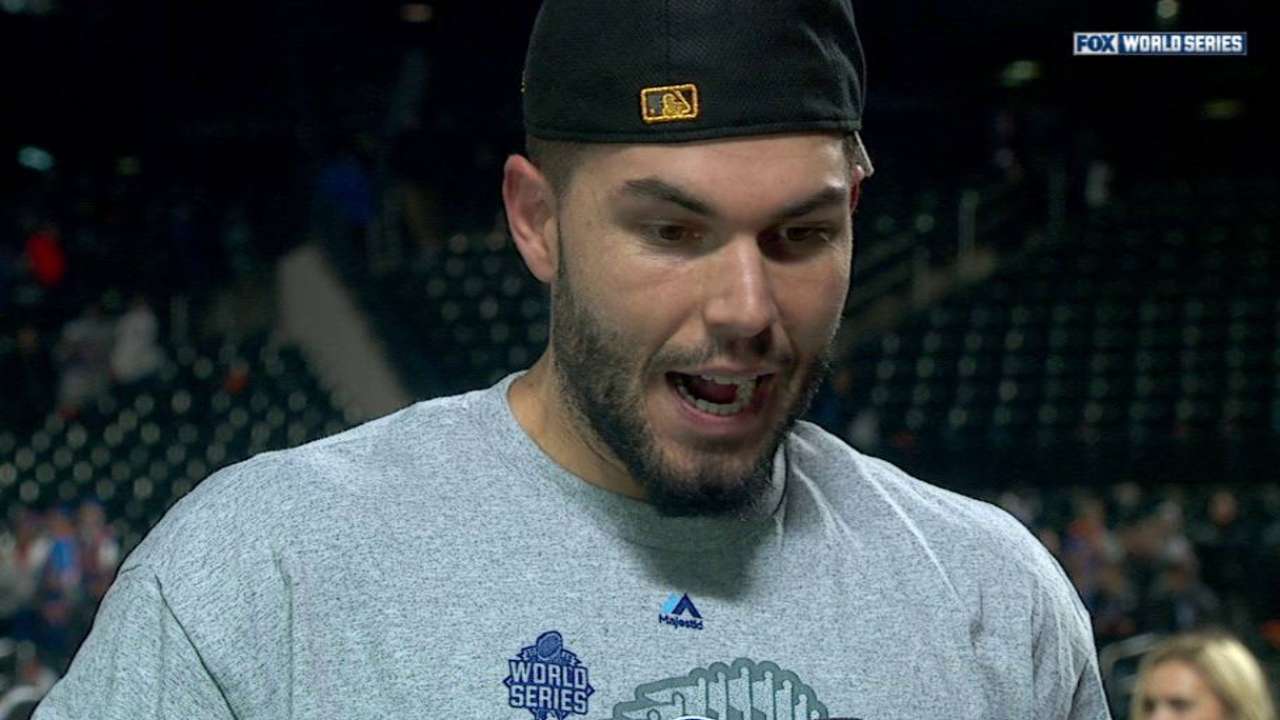 The Royals are also the first team to win three World Series games in which they trailed in the eighth inning or later, according to the Elias Sports Bureau.
"You guys know what we did all season," said catcher Salvador Perez, who was named World Series MVP. "We never quit. We never put our heads down. We always compete to the last out. And that's what we did tonight."
The Royals are undoubtedly talented, but their collective talent impresses you more than their individual talent. It is their trust in each other that makes these repeated rallies possible. They are truly a group success.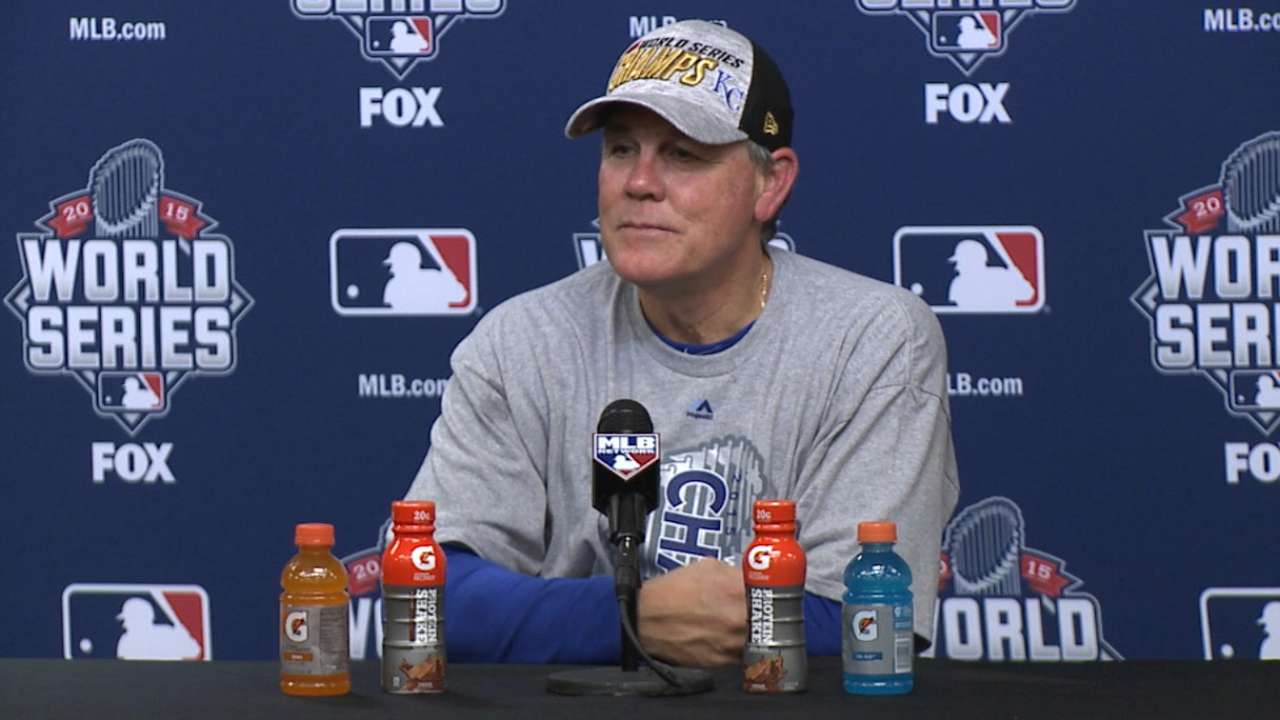 "We're fighting 'til the end," Hosmer said. "We never count ourselves out of any game. We always feel like we have a chance. When you see your teammates bearing down, when you see good at-bats in front of you, you want to continue, to keep the line moving when your spot comes up. That's what we've been doing a really good job of, bearing down in the late innings, finding a way to get it done."
What they accomplished here was Kansas City's first World Series championship in 30 years. These Royals were so good that when it mattered most, there was no real way to beat them.
Mike Bauman is a national columnist for MLB.com. This story was not subject to the approval of Major League Baseball or its clubs.