Mets congratulate relentless Royals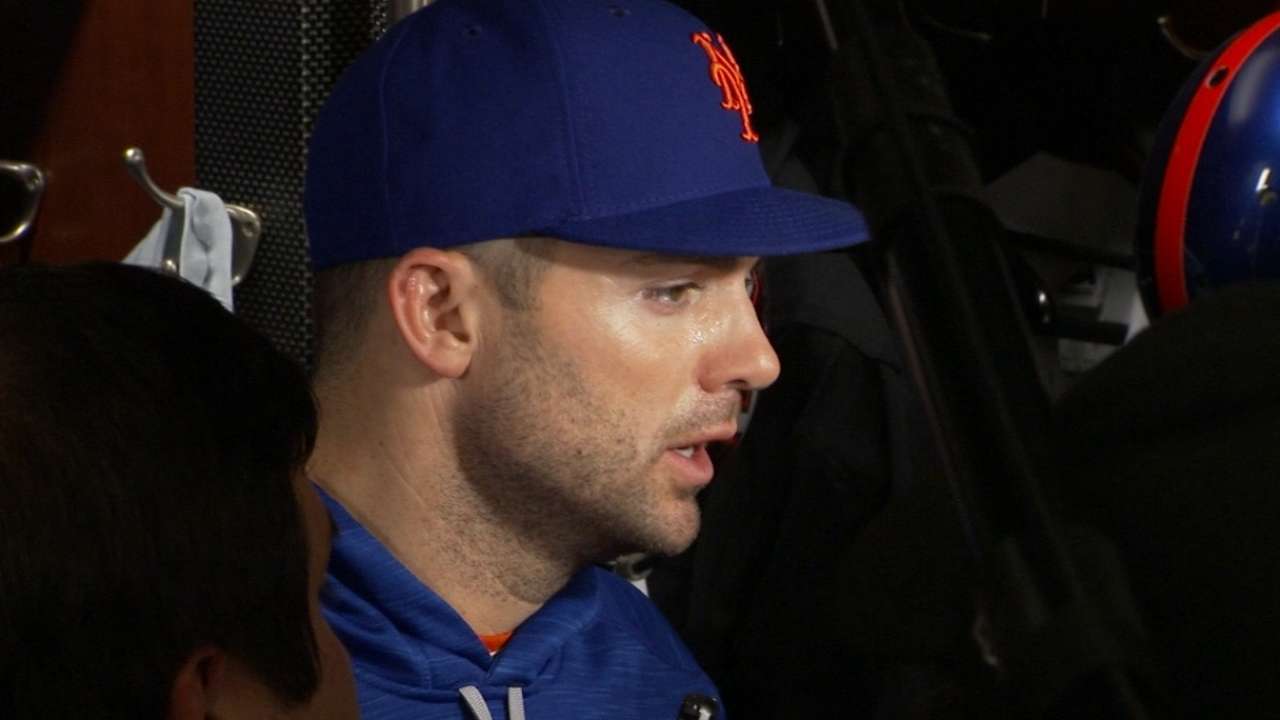 NEW YORK -- Kelly Johnson had seen this before, and he got that sinking feeling. "Here we go again," he thought, against his will but knowing all too well.
The Mets' 7-2 loss in Game 5 of the World Series on Sunday marked the second time in two seasons Johnson's team was eliminated in the postseason by the Royals. Kansas City swept his Orioles in the 2014 American League Championship Series. And it marked the fourth time this World Series that the Royals came from behind to defeat his Mets. So Johnson got that feeling after Matt Harvey walked Lorenzo Cain to open the ninth inning, beginning the game-tying rally.
"You try to fight that feeling. You don't want to have that," Johnson said. "That's eight wins I've seen them get now in the past two years. They take advantage. You really have to tip your cap."
That sentiment rang loudly and from all corners of the Mets' clubhouse after Sunday's season-ending loss. The Mets are proud to have made it this far, they are thankful for the support of their fans, and they give credit to a Royals team they've described all series as relentless.
"I congratulate the Royals," Mets manager Terry Collins said about counterpart Ned Yost's squad. "They played absolutely great. Ned's done a tremendous job. He deserves a lot of credit. We couldn't get it done, and we're hoping to get another chance at it."
"They played better than us," said David Wright. "They deserve this championship. They outplayed us. As much as that hurts, as much as it stings, we can hold our heads high and be proud of what we were able to accomplish this year."
Unheralded by many at the start of the season, the Mets overcame the heavily favored Washington Nationals for their first division crown since 2006. Then they topped Clayton Kershaw, Zack Greinke and the Dodgers in a tense, thrilling National League Division Series, before rolling past Jake Arrieta and the upstart Cubs in the NLCS.
But they could not squash the Royals, a team of sky-blue fire ants that would not die, when they swarmed. Kansas City won seven games this postseason in which it trailed by multiple runs, eclipsing the record of five set by the 1996 Yankees. The Royals came back four times against the Mets, twice in the ninth inning against dominant closer Jeurys Familia. They topped Jacob deGrom, outlasted Harvey and withstood everything the Mets had to offer in death-by-a-thousand-cuts fashion.
"It doesn't matter what the score is, they just keep hitting," Wilmer Flores said. "They put pressure on you."
Several Mets lauded the play that sent Game 5 into extra innings, Eric Hosmer's mad dash home on an infield grounder in the ninth that tied the game at 2.
"It took some [guts] to do what he did," said Lucas Duda, whose throw home from first went wide and allowed Hosmer to score.
"[Hosmer's] instincts were better than ours," Johnson said.
"There is a time in baseball you just tip the cap," catcher Travis d'Arnaud said. "They just played tremendous baseball."
Joe Trezza is an associate reporter for MLB.com. This story was not subject to the approval of Major League Baseball or its clubs.