Game 5 GIFs capture Royals' jubilation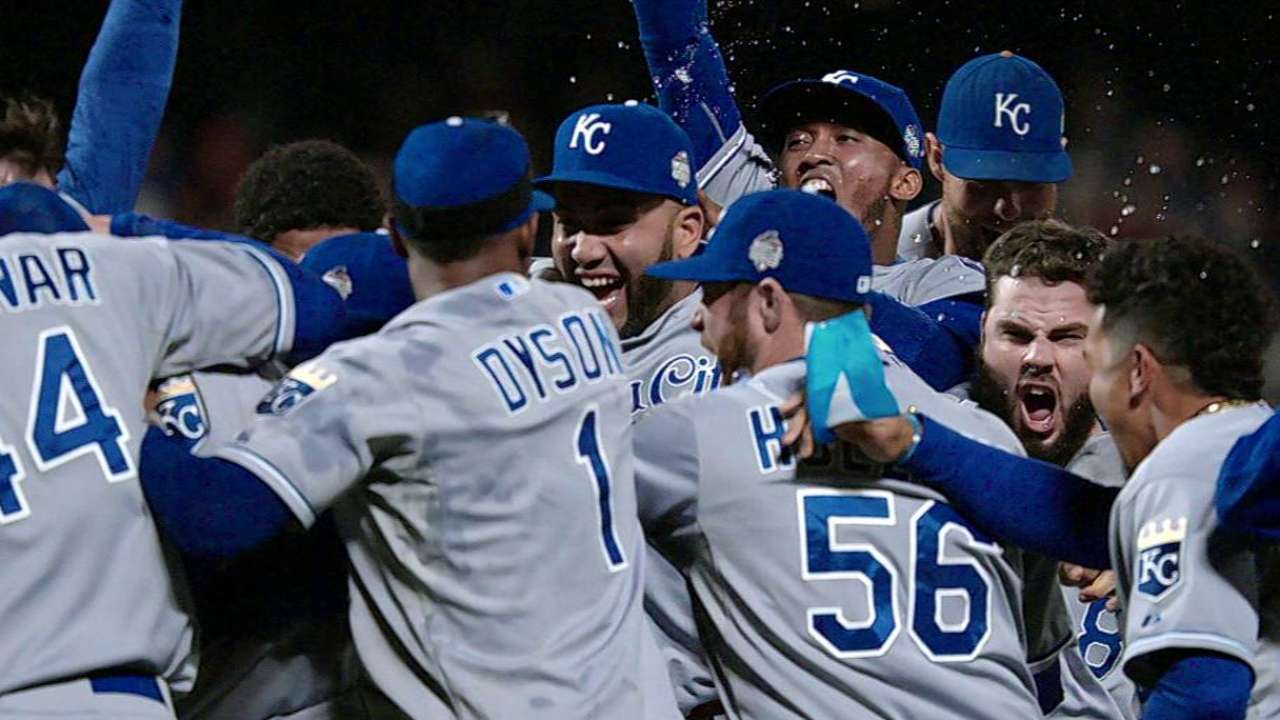 Here are the top GIFs from the Royals' 7-2 victory over the Mets in Game 5 on Sunday night to win the World Series, courtesy of @MLBGIFs.
1. Hands on hardware
The Royals couldn't wait to get their hands on the franchise's first World Series trophy since 1985.
• Shop for Royals World Series champs gear
2. Most Valuable Perez
Royals catcher Salvador Perez is one happy man after earning the Most Valuable Player Award presented by Chevrolet. He's the seventh catcher to be named World Series MVP, the first since Pat Borders in 1992.
3. Brett approves
Royals legend George Brett celebrates after Wade Davis strikes out Wilmer Flores for the final out.
4. Pure joy
Ben Zobrist sends his glove into the air as the Royals cap off an unbelievable run to a World Series title.
5. Comeback kids
Eric Hosmer is pumped up after sliding home with the tying run in the top of the ninth inning.
6. A new ballgame
Hosmer's aggressive baserunning and Lucas Duda's errant throw tied the game at 2 in the ninth and sent the game to extra innings.
7. Party in the dugout
The Royals' bench goes wild during the a two-run rally in the ninth.
8. Volquez honors father
Edinson Volquez, who attended his father's funeral Wednesday, scratched his dad's initials into the dirt on the mound at Citi Field before his Game 5 start.
9. One to remember
In his first at-bat of the postseason, Christian Colon delivered a clutch single to score Jarrod Dyson and give the Royals a 4-3 lead in the 12th inning.
10. Second time's the charm
These Royals fans had a hunch their team would make it back to the Fall Classic after coming up short in Game 7 against the Giants last year.
Austin Laymance is a reporter for MLB.com. This story was not subject to the approval of Major League Baseball or its clubs.